HOW TO START A PROFITABLE BLOG:
SUPER EASY SELF-HOSTED WORDPRESS SET UP WITH SITEGROUND
Welcome to our little blogging community! Today I am going to walk you through how to start a blog that is capable of being monetized, by setting up WordPress.org with Siteground. If this is your first time at HerPaperRoute, I'll give you a quick rundown! I'm Chelsea, I've been a marketing strategist and designer for over 15 years, and last year I took a chance and left my 9-5 to blog full time. It paid off, and I haven't looked back! I now run a successful business as a blog-at-home-mom, teaching others how to blog and how to make a lot of money doing it!

How do you start a blog?
How do you start a profitable blog?
How do you make money blogging?
I'm going to help you with all of this!
If you are new to the world of blogging, welcome! You are going to be great at it! There is a lot to learn, but I know you will be successful. It's my passion and mantra at HerPaperRoute to provide easy to understand, no b-s advice and inspiration to new, aspiring and blossoming bloggers on how to create a profitable blog and business.
My tutorials always have a money-saving edge to them too, as I do my best to provide information about the best low cost or free options and resources for bloggers. Helping you succeed at blogging is my ultimate goal and your success makes me so happy!
This guide below will show you how to:
Set up a self-hosted website with hosting & domain registration with Siteground
Install WordPress.org
Change the permalink structure
Set up Google Analytics
Set up Google Search Console
Submit your sitemap to Google
Install a theme
Install plugins
Create content
Begin a social media marketing campaign for your blog
Monetize & make money from your blog
Today is the day you start your blog! You can do it, @Herpaperroute is here to help!!
Click To Tweet
WHAT IS THE FIRST THING AN ASPIRING BLOGGER NEEDS TO KNOW?
The first thing you need to know when starting a blog is that it is completely normal to feel overwhelmed in the beginning! There are so many things to learn, especially when learning how to create a profitable blog – but don't give up! Do a little each day, vow to never stop learning and believe that you CAN DO IT. I'm here to help you.
I have tutorials for every step of the way, from how to blog, how to make money blogging and how to grow your network with social media – but first things first, we need to get your blog set up, and set up correctly so that it is capable of being monetized. I am going to show you exactly how to start your monetizable blog in this tutorial, and it will only take a few minutes! So let's get at 'er shall we?!
WHAT IS THE FIRST STEP IN STARTING A MONEY MAKING BLOG?
The first step in starting a money making blog is you need to self-host.
WHAT IS SELF HOSTING?
Self-hosting is when you own your own domain, and you pay a company such as SiteGround, or others – (here's a list of top 8 Web hosting providers)  to allow your site to be viewable and 'live' on the Internet.  Paying for this means that you own your website and all of your content – which is extremely important if you want to make money blogging. Self-hosting means that you do not use a free host (such as Blogger, Tumblr).
WHY DO I NEED TO SELF-HOST? WHY CAN'T I USE A FREE HOST?
When you pay for your hosting and own your domain, you can monetize your blog, meaning you can run ads, join affiliate programs, work with big brands and even add an eCommerce cart/shopping functionality. Free sites like Tumblr don't allow ads, and advertisers often won't work with non-self-hosted bloggers. Because when you use a free host, you don't own your website or content, the free host owns it and can shut you out whenever they please.
Free sites are not actually 'free,' because they limit your ability to earn an income, literally stopping you from making thousands of dollars a year or month!
For example, I launched a new niche blog recently and paid for a year of hosting, which was about $72 for the year. So on day one, I was out $72, but owning my blog allowed me to monetize it, and that first month I made $1,200! So although I paid $72 to start it, it allowed me to earn $1,200. If I hadn't self-hosted I wouldn't have been able to monetize my blog and would have made exactly ZERO that first month.
This is why it is recommended that anyone who is wanting to take their blog seriously and intending to make money with it, purchase their hosting/domain with a reputable host, and run their blog on WordPress.org (not WordPress.com). I will show you exactly how to do this now so that your blog can be up and running and ready to monetize today!
GOOD NEWS: SELF-HOSTING IS ACTUALLY AFFORDABLE!
You don't have to spend much to get high-quality professional hosting for your site! There are many great options for hosting plans available (I have written about my top 8) but my number #1 choice is Siteground, which we will be talking about and doing a step-by-step walkthrough in this tutorial. With SiteGround you will get free WordPress.org hosting, and a ton of web space.  I love Siteground because of the incredible amount of value they provide, at such an affordable price. When you sign up with my link you get 60% off all packages, making the starter plan just $3.95 per month!
---
HOW TO START A BLOG: HOW TO SET UP HOSTING ON SITEGROUND AND INSTALL WORDPRESS
In this video, I will show you how to set up hosting with Siteground and install WordPress.org. I also detail this tutorial in text below.
This video is a lecture that is included in my training course: BlogBoss! Profitable Blog From The Start. This course covers everything you need to know to create, run, market and monetize a blog. I cover affiliate marketing, sales funnels, list building, literally everything for the business of blogging. Sign up for the class here.

SET UP HOSTING & REGISTER DOMAIN NAME
Go to: Siteground and choose your WordPress hosting package. That link will take you directly to the WordPress hosting area, and will give you my discounted pricing options at 60% off the regular price.
I recommend the GrowBig package as for just $2 more than the StartUp package, you get double the web space and visitor capacity. The StartUp package is good, but it is limited at only 10GB webspace and 10,000 monthly visits. 10,000 monthly visits may seem like a lot to you now, but if you follow any of my blog traffic guides you will find that your monthly visits number will be well above that cap. I had 10,000 monthly visitors just 6 weeks after launching my new blog, so it's definitely better to choose the GrowBig package.
GrowBig also gives you the ability to host multiple websites which will be a big time and money saver if you want to run multiple money-making niche sites.
Select the package that is right for you and then choose 'Get a new hosting account.' Then select either  'Register a new domain' or 'I already have a domain' if you want to transfer an existing domain.
Enter the domain name you want for your blog, and make sure you spell it correctly, it can't be changed later!
Next, you can enter your account and payment information, along with selecting additional products. I highly recommend you purchase private domain hosting. This will protect your personal information.
Once you have paid, you will get a notification that your account has been successfully created! Now you can proceed to the Customer Area where you will be able to choose a username and password for accessing your Siteground dashboard and CPanel.

---
INSTALL WORDPRESS
Now you will be logged into the Siteground Customer Area. Here you will see a popup asking you if you want to have WordPress preinstalled on your account. Yes, you do! Select that option and click on the Proceed button. This WordPress SetUp Wizard makes installing WordPress super easy and is one of the reasons I love Siteground. It is very user-friendly and doesn't require any tech skills!
The next page consists of two parts. In the first one, enter the login information for your new WordPress application. ('Application' is your blog.) Choose a username and password, and make both something hard to guess. Never use 'Admin' as your username, because hackers will have no problem getting into your site with such a simple username.
Next, scroll down and pick one of the free WordPress themes available in the Wizard and click on the Submit button once again. Don't worry, you can change your theme later.
Finally, you will see a quick summary of your WordPress installation, including from where to access your admin area, your username, and your password. Click Submit and WordPress will be installed and configured for you and you will be given the login details.
---
CONGRATULATIONS!
You now have a self-hosted WordPress website that is ready to be monetized!
You can access YourWordPress dashboard and work on your blog anytime by going to http://yourdomain.com/wp-admin
But before you begin creating blog posts, there are a few necessary tasks we need to do to ensure your website is set up correctly.
TASK #1: CHANGE THE PERMALINK STRUCTURE

Make sure you change your blog's permalink structure before you start publishing posts!
1. Click on "Settings" and then "Permalinks."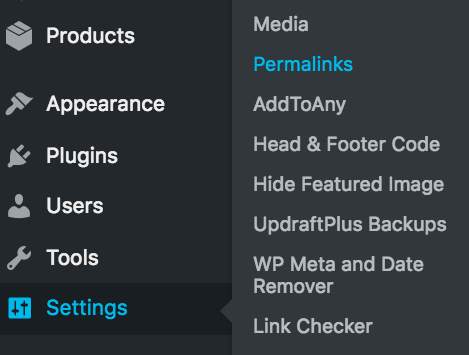 2. Then select the "Post Name" option.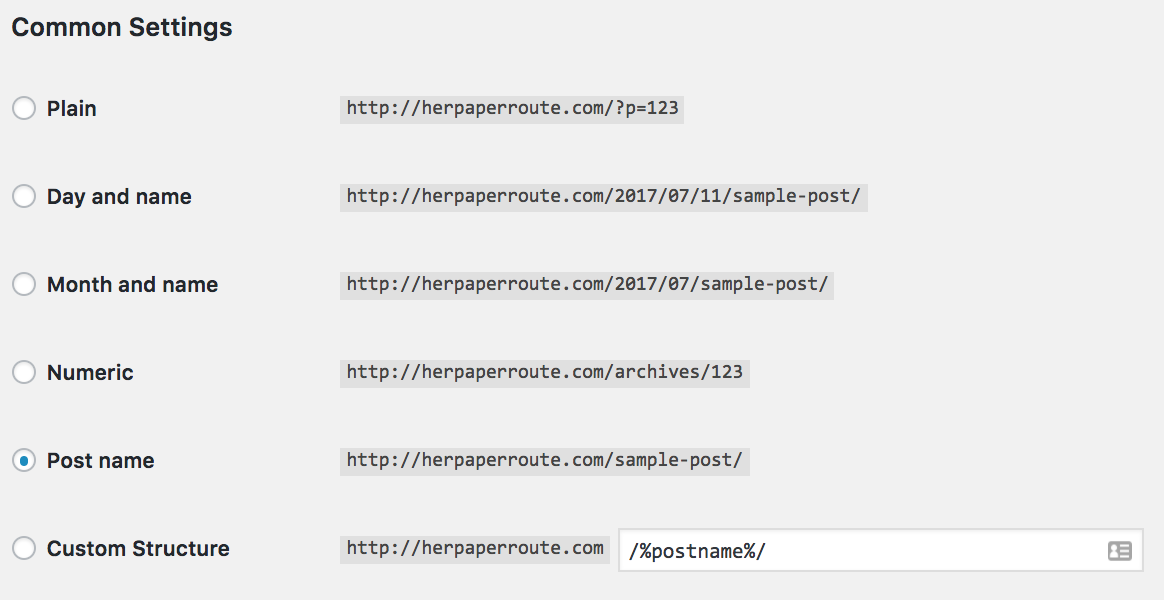 Your blog posts URL will now have the right structure.
TASK #2: SET UP GOOGLE ANALYTICS

Create a free Google Analytics account.
Install this free plugin to easily install and monitor your Google analytics within WordPress. Once the plugin is installed it gives you a message saying "Please configure your Google Analytics settings!"
Click it, then click a blue button to 'Authenticate With Your Google Account' From there the plugin will prompt you to get the code from Google and paste it in.
TASK #3: SET UP GOOGLE SEARCH CONSOLE & YOAST
The following information comes from the official guide from Yoast. Make sure you have the Yoast Plugin installed.
1. Go to Google Search Console (formerly Google Webmaster Tools) and sign in with your Google account.
2. Click the red button to add your website. 'Property' means website.

3. Next, in the popup, add your website URL and click the blue button.

4. Click the ' Alternative Method' tab. You will be given a code. Only copy the code that is in the parenthesis after content, as per the image below: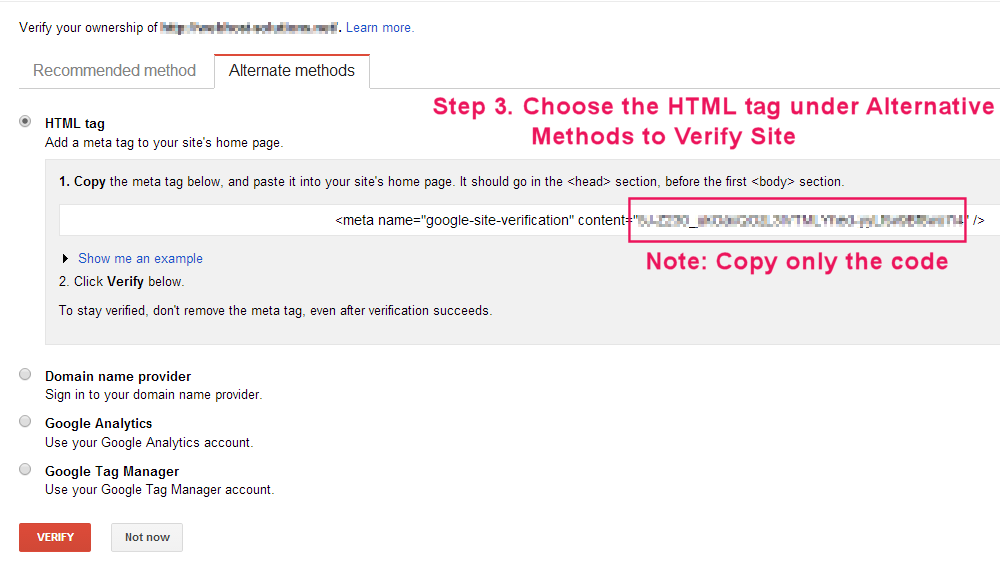 5. Go back to your WordPress dashboard and on the left hand side, click 'SEO and then 'Dashboard.'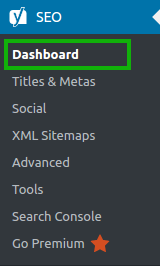 6. Click on the 'Webmaster Tools' tab and add the code under 'Google Search Console'. Click 'Save Changes'.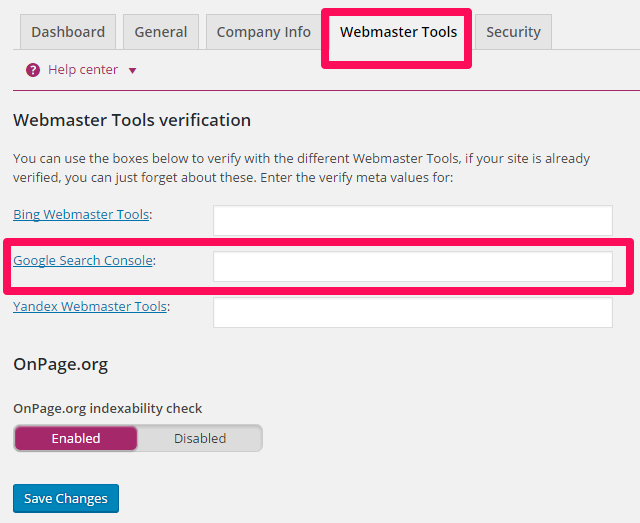 7. Lastly, go back to Google Search Console and click 'verify.'
TASK #4: ENABLE ADVANCED YOAST SETTINGS
1. In your WordPress dashboard look on the left hand side, click 'SEO and then 'Dashboard.'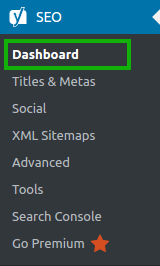 2. Click on the 'Features' tab.

3. Toggle the 'Advanced settings pages' switch to enabled.Click 'save'.

TASK #5: GET YOUR SITEMAP
1. In your WordPress dashboard look on the left hand side, click 'SEO and then 'XML Sitemaps.'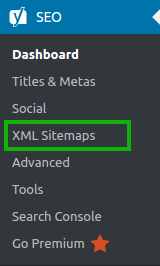 2. Toggle the switch to 'enabled.'

3. The screen automatically expands with additional options for the sitemaps. Customize your sitemap using the newly displayed tabs.
4. Click 'Save Changes' to activate XML Sitemaps.
5. View your new XML Sitemap by clicking the 'XML Sitemap' button.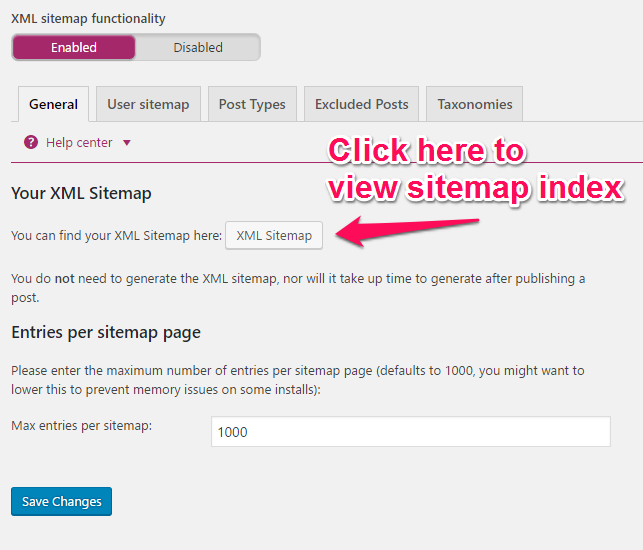 TASK #6: SUBMIT SITEMAP TO GOOGLE
Sign in to Google Search Console.
On your Search Console home page, select your website.
In the left sidebar, click Crawl and then Sitemaps.
Remove outdated or invalid sitemaps like sitemap.xml
Click the Add/Test Sitemap button in the top right.
Enter sitemap_index.xml into the text box that appears.
Click Submit.
---
INSTALL A THEME
Your new website needs a theme! When it comes to choosing a theme, you have a ton of options. I recommend you choose one that is responsive (meaning that it automatically converts to a mobile friendly version when viewed on cell phones and tablets) and one that comes with support from the developer. 
My recommendations for the best places to source a good WordPress theme are Pretty Darn Cute, Envato (Here are a few of my favorite Envato WordPress themes for under $20), and StudioPress where you can get the ever popular  Genesis Framework.
Some of my favorites from Pretty Darn Cute are:
Choose a theme you like, and download it to your computer.
To install your new theme, in your WordPress dashboard go to 'Appearance', then 'Themes' and click the 'upload' button.
---
INSTALL PLUGINS
When you first start a new WordPress site, it is very basic, having little to no functions. You need to add plug-ins to your website to make it complete.

One of the many great things about blogging with WordPress is that you have access to so many great plugins. Plugins are like apps that you install on your site to improve its functions.
Must-Have Free Plugins
These are the free WordPress plugins that I use the most and recommend to anyone starting a blog:
Yoast makes setting up SEO (Search Engine Optimization) on your website super easy. It suggests ways to improve your posts so that you rank higher in search engines like Google – aka so you can be found online and gain more readers.
JetPack may be one of the best free plugins out there, as it combines several must-have blog features that you would normally have to pay for elsewhere. JetPack offers analytics, anti-spam & security, social share buttons, and so much more.
Cache plugins are used to speed up your site. This one is great because it saves a static HTML version of your website, instead of generating pages one by one. This takes less strain on your server, creating a faster more user-friendly site, and ultimately better search rankings.
AddToAny Social Share & Follow Buttons
This is how to share buttons to your site. It is clean and out of the way, yet impossible to miss at the same time. Exactly what share buttons should be! With AddToAny your readers can easily share your content across pretty much every social network – which is awesome! Plus with simple tweaks, you can customize the look of the buttons however you like.
Backing up your site is a must, and this free service allows you to backup and store the files to a storage app of your choosing such as Google Docs, Dropbox and more.
Adds a 'Pin It' button when you hover over an image, so you can easily pin images to Pinterest.
Organize and plan your future blog posts on a calendar. Set dates for when posts need to go live and keep ontop of your deadlines.
This is the free version of Pretty Link. The free version allows you to cloak links. It is a tool that takes any regular link and makes it 'pretty' by using your own domain. (More on this coming up in our affiliate marketing training module ahead).
Pretty Link Pro is a significant upgrade to Pretty Link Lite that adds many tools and redirection types that will allow you to create pretty links automatically, cloak links, replace keywords throughout your blog with pretty links and more advanced tracking.
While you are working on your website, its good to have a 'coming soon' page that visitors can see and interact with before you go live with your finished site. You can add a 'subscribe' box to this page so you can start collecting emails before you launch.
This plugin is a must, especially when it comes to your affiliate links. You don't want to risk losing out on commissions as a result of links not working! This plugin automatically checks your website for any broken links and sends you an email whenever it finds one.
BONUS:
Revive Old Posts – Revive Old Posts is a premium (not free, but very useful) plugin you can use to keep your old blog posts constantly in rotation on social media, without having to manually re-post anything. The app takes care of everything. Get Revive Old Posts Here.
HOW TO ADD A PLUGIN
Click the link below to the plugin you want. It will lead to it's download page.

Click 'download' on that page and it will be saved to your computer.

You do not need to unzip this file, just leave it as is.

Go to your WordPress dashboard and on the left side tab click where it says 'Plugins.'

And then click 'Add New.'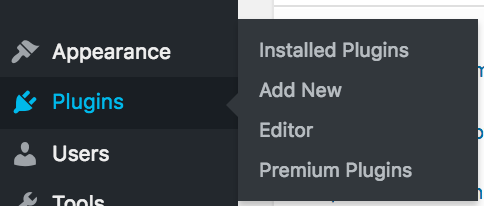 On the next screen you will see a a button that says 'Upload Plugin' Click that and upload the plugin that you saved to your computer. (You can also use this area to search for new plugins).

Once it has uploaded, you can go to your 'PlugIns' tab, find where it is and click 'Activate.'
---
CREATE CONTENT
Finally! It's time to start writing blog posts and other content.
It is recommended that you write at least 10 blog posts before you go live. That way, when people visit your site there will be a lot of content for them to read but also so that you can begin applying to affiliate networks right away. More on that later!
In addition to creating blog posts, you will need to create some pages too. You will need an 'About Me' page, as well as 'Contact' and 'Disclosure' page.
Check out my top tools apps and resources for bloggers and read these guides for help in this stage:
---
BEGIN SOCIAL MEDIA CAMPAIGN
Now that you have a good amount of blog posts ready, and your website is looking great, it's time to launch your website and officially 'go live.' This is usually done simply by clicking the button on your WordPress dashboard asking you if you are ready to go live, and then your site will become visible to the world.
If you haven't already, set up social accounts for your blog. Instagram, Twitter, Facebook and Pinterest are the big ones.
It is recommended that you post to social media ever day. It can be a huge task but I have some tips on how to automate the process, and I've written an entire guide to creating a social media game plan here.
---
MONETIZE YOUR BLOG
Once your blog is live it's time to monetize! So how do you monetize a blog? Simply put, to monetize means you have added features to your blog that will earn you money.
You should add all of these monetize features to your blog:
AFFILIATE LINKS, SPONSORED POSTS, ADS, EBOOKS + COURSES & YOUR OWN SERVICES/PRODUCTS
To get started with monetizing your blog, I recommend you  do the following:
---
CONGRATS ON STARTING YOUR NEW BLOG TODAY!
Just think of how happy you will be by this time next year, for starting this blog today! Remember to take each day in stride, work a little bit each day, and don't give up. I'm so happy that you have started!!
YAY! YOU MADE IT! WHAT'S NEXT?

BlogBoss! Profitable Blog From The Start is the online course I have created to teach the business of blogging. You will learn everything you need to know to be able to start, run, market and monetize your blog.
If you are struggling to make money blogging, you are going to love this self-paced course. I cover everything, baby!  Take a look at some of the course content here, I'm going in deep! But don't let the amount of information I am providing intimidate you, as I teach everything in step by step easy to follow lectures, in ways that are simple and straight forward to understand – no technical jargon to confuse you! Just a whole lot of value on how to take your blog and make it profitable!
This class begins August 1st, 2017 and pre-registration has now opened up, so enroll now to take advantage of the early bird discount.
Follow me on Twitter and Pinterest, and let me know your blog URL in the comments so I can check it out!
Don't forget to download my free Profitable Blog Toolkit below:
---
THE HERPAPERROUTE PROFITABLE BLOG TOOLKIT

√ YEARLY BLOG PLANNER  
√ PROFITABLE BLOG CHEATSHEET
√ SOCIAL MEDIA SCHEDULE  
√  STYLED STOCK PHOTOS
TURN YOUR BLOG INTO A MONEY MAKING MACHINE
GET INSTANT ACCESS TO THE HERPAPERROUTE PROFITABLE BLOG TOOLKIT – IT'S FREE! 
---
Pin These:
HerPaperRoute is a resource for bloggers to learn tips and tools to improve and monetize their blog and business. As such, I recommend products/brands that I personally use and trust in my business, this post may contain affiliate links where applicable.  For more information, see my disclosures.