Last updated on July 15th, 2018 at 08:30 pm
How To Start A Blog In 2018 And Make Money Blogging: The Ultimate Guide – Part 2
How to start a blog and make money blogging – This is part 2 of my 'Start A Blog' Guide. 
This post may contain affiliate links, which is at no cost to you. Disclosure.
This Is A 3 Part Tutorial
In Part 1 You Learned: 
What self-hosting is and why it's important
Set up a self-hosted website with hosting & domain registration with Bluehost or SiteGround, including secure installation of https:// certificate.
Installed WordPress.org
In Part 2 We Will Cover: 
How to change the permalink structure
Set up Google Analytics
Set up Google Search Console
Submit your sitemap to Google
Part 3:
Install a theme
Set up website security
Install plugins
Create content
Build your blog's email list
Begin a social media marketing campaign for your blog
Monetize & make money from your blog
Before we continue, make sure you sign up for access to my members-only Profitable Blog Toolkit, it includes a ton of free resources that will help you develop your blog into a business. You can get in by signing up here:
Want To Skip All Of This Set-Up Stuff?
You can! I offer a Website In A Box service where I will set up your Website for you plus give you my Be Your Own Blog Boss course, all for just $299.
With Website In A Box, you will get my full profitable blog training course Be Your Own Blog Boss, but you won't have to worry about any of the initial blog set up aspects because I will do it for you!
Let me set up your WordPress site, handle all of the hosting, domain registration, tech stuff, plus plugin and theme installation so that all you have to focus on is writing your blog posts.
This option also comes with a month of tech support!
Order the Website In A Box service here.
Rather Do It All Yourself? Cool, Read On!
How To Start A Blog In 2018 And Make Money Blogging: The Ultimate Guide – Part 2
1. Change The Permalink Structure
Make sure you have completed part 1 before starting this. Also, make sure you change your blog's permalink structure before you start publishing posts. 
Click on "Settings" and then "Permalinks."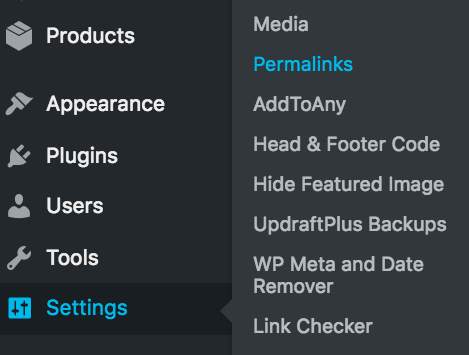 Then select the "Post Name" option.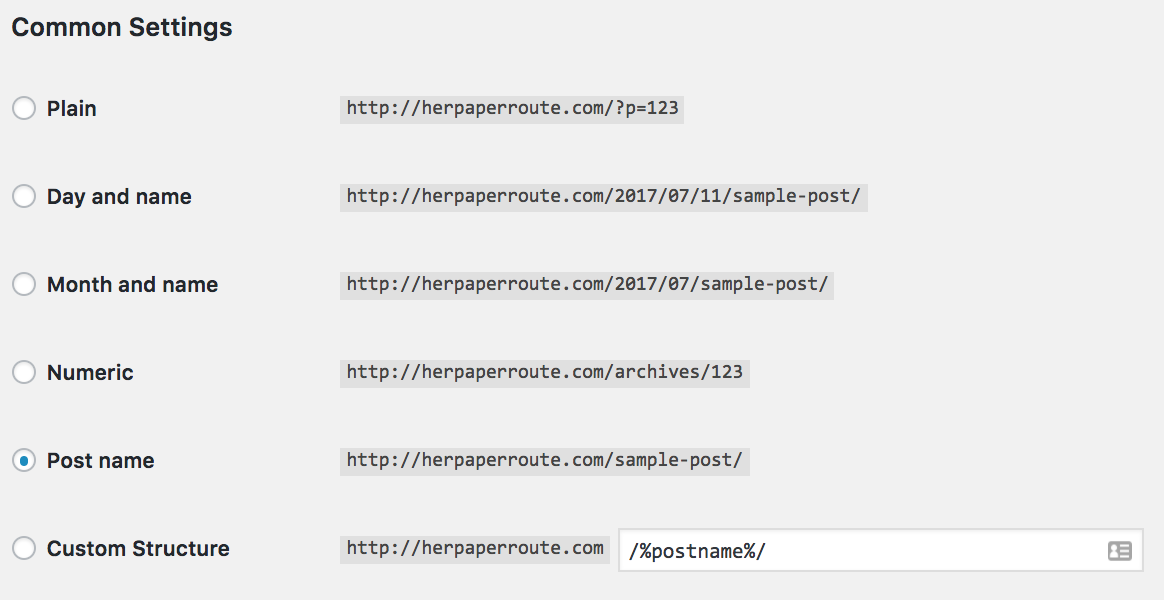 Your blog posts URL will now have the right structure.
2. Set Up Google Analytics
Create a free Google Analytics account.
Install this free plugin to easily install and monitor your Google analytics within WordPress.
Follow the plugins prompts to authenticate your account.
3. Set Up Google Search Console & Yoast
The following information comes from the official guide from Yoast. Make sure you have the Yoast Plugin installed.
1. Go to Google Search Console (formerly Google Webmaster Tools) and sign in with your Google account.
2. Click the red button to add your website. 'Property' means website.

3. Next, in the popup, add your website URL and click the blue button.

4. Click the ' Alternative Method' tab. You will be given a code. Only copy the code that is in the parenthesis after content, as per the image below: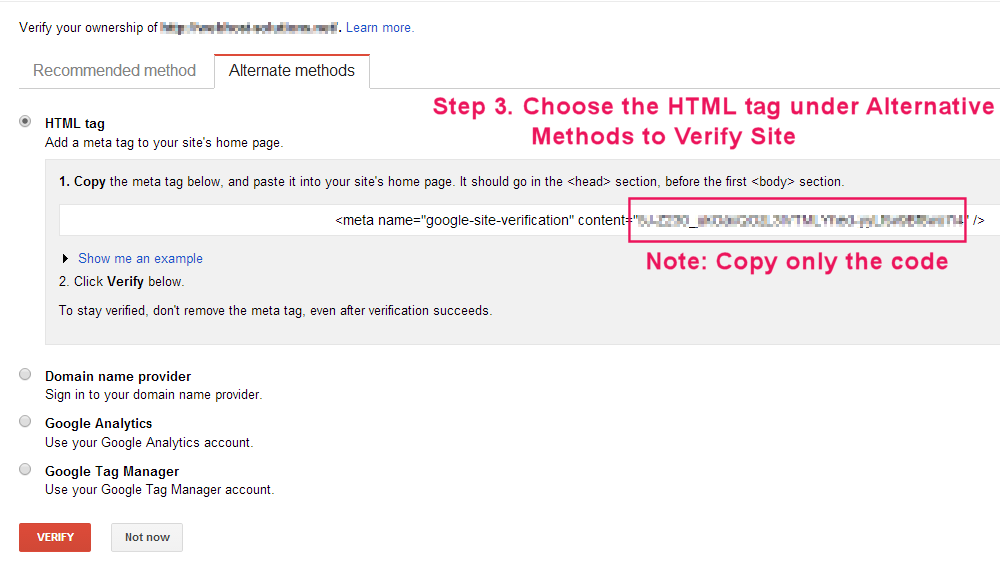 5. Go back to your WordPress dashboard and on the left hand side, click 'SEO.'
6. Click on the 'Webmaster Tools' tab and add the code under 'Google Search Console'. Click 'Save Changes'.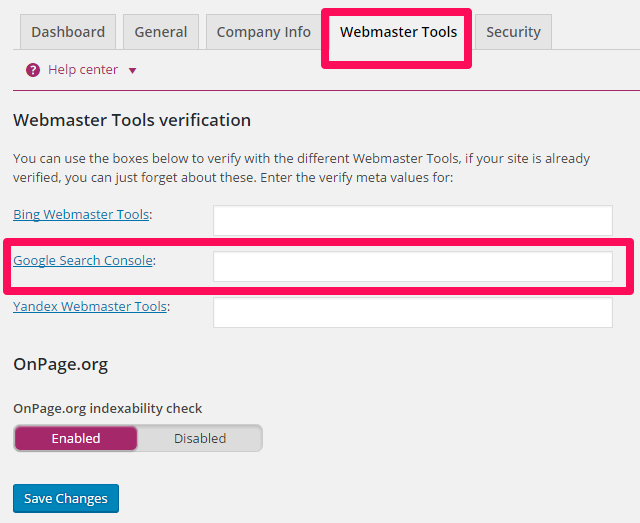 7. Lastly, go back to Google Search Console and click 'verify.'
Enable Advanced Yoast Settings
1. In your WordPress dashboard look on the left-hand side, click 'SEO and then 'Dashboard.'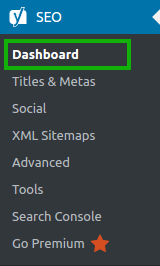 2. Click on the 'Features' tab.

3. Toggle the 'Advanced settings pages' switch to enabled.Click 'save'.

Get Your Sitemap
1. In your WordPress dashboard look on the left-hand side, click 'SEO and then 'XML Sitemaps.'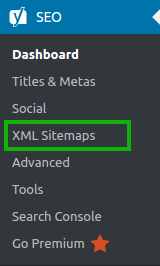 2. Toggle the switch to 'enabled.'

3. The screen automatically expands with additional options for the sitemaps. Customize your sitemap using the newly displayed tabs.
4. Click 'Save Changes' to activate XML Sitemaps.
5. View your new XML Sitemap by clicking the 'XML Sitemap' button.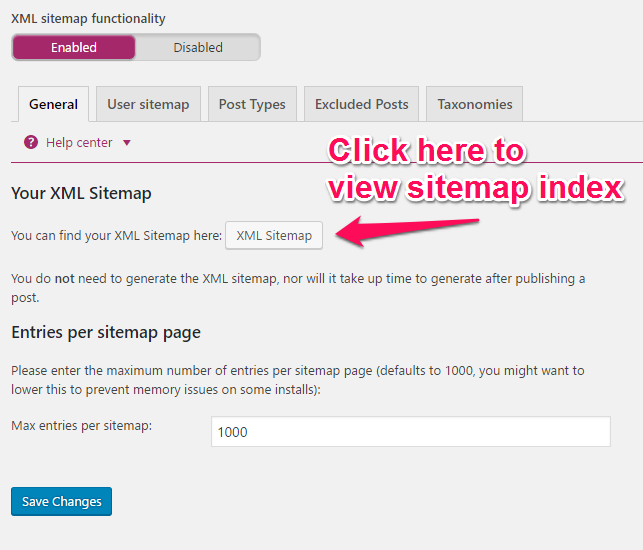 4. Submit Sitemap To Google
Sign in to Google Search Console.
On your Search Console home page, select your website.
In the left sidebar, click Crawl and then Sitemaps.
Remove outdated or invalid sitemaps like sitemap.xml
Click the Add/Test Sitemap button in the top right.
Enter sitemap_index.xml into the text box that appears.
Click Submit.
---
Utilize The Must Have Blog Tools List
Bookmark my must-have blog tools page for a list of essential tools, apps, resources and tech that I use to run my blogs. Most of them are free!
There Is One More Part To This Tutorial!
Click below for part 3.
Don't forget to download my free Profitable Blog Toolkit below:
Get Access To My
PROFITABLE BLOG TOOLKIT
The HerPaperRoute Profitable Blog Toolkit is my members-only resource library of tools to help you start a blog develop it into a thriving, income earning business!
Profitable Blog Cheatsheet!

Styled Stock Photos!

Social Media Marketing Planner! & More!
The Best Part?
IT'S FREE! JOIN HERE:
Already A Member?