Start A Blog For Your Business…This Weekend!
Discover exactly how to start a blog for your business, in this step-by-step training from HerPaperRoute. Plus, this free blogging class will show you how to use your new blog as a content marketing tool to grow your business.
In this free blogging Class for beginners, you will learn how to start a self-hosted blog the right way, so that your blog is capable of being monetized.
Yes, that's right.
This means you will be able to make money blogging!
It's our passion and mantra at HerPaperRoute, to provide easy-to-understand, no b-s advice and inspiration to new, aspiring and blossoming bloggers on how to create a profitable blog and business.
Enroll in this course now, for FREE and by the end of it you will have a live self-hosted blog, correctly set up and ready for monetization.
FEATURED IN

A step-by-step beginners guide walking you through every step of starting a professional WordPress blog.
…No tech skills required!
WHAT WE COVER IN THIS FREE BLOGGING CLASS:
01. Blogging Basics
02. Getting Online
03. Building A Brand
"Why did I wait so long to start my blog? It really was not difficult at all!"
– Kylo
Why Start A Blog?
👉 CRED (AKA BLOGS ARE COOL AS HECK)
When you have a blog, you get to help people, grow your authority, and become an expert in your niche. Blogs are used to promote any product or service!
---
👉 BLOGS ARE FULL-ON BUSINESSES NOWADAYS
When your blog is monetized, you'll gain the ability to work from home, or anywhere in the world. As a blogger, you get to make money via various revenue streams, and there is no salary cap, and no limit to how much you can earn. Plus, unlike starting most businesses, the startup fees are extremely minimal, too.
---
👉 YOU WILL LEARN A LOT
Blogging is challenging, and you will learn so many useful skills in the process. You will surprise yourself with what you can accomplish.


INTRODUCING:
Start A Blog This Weekend with HerPaperRoute
The essential start-up guide for new bloggers, giving you exactly what you need to get online. Stop putting off your dreams of entering the blogging community, and become a blogger today.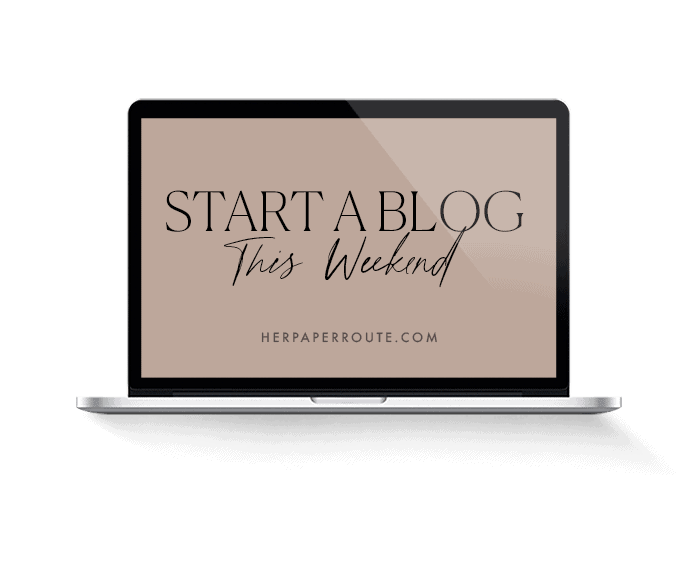 Regular Price $97
Your Price Today = $0
---
Hi, I'm Chelsea Clarke.
Welcome to the HerPaperRoute community. I'm a content creator, and business intermediary, and an expert on website monetization and affiliate marketing.
I am the founder of HerPaperRoute.com, and the creator behind hundreds of profitable niche sites.
I help entrepreneurs like you become skilled and confident to take radical action. As your own boss, you can make more paper – you just need a plan. Let's figure that out.
F.A.Q.
Name Of Program
01. How long do I have access to the course?
For life! After enrolling, you have unlimited access to this course for as long as you like – across any and all devices you own. Not only that, but your one-time enrollment fee also gives you lifetime access to any course upgrades that become available. Such as new lessons – score! You can start the class as soon as you sign up. You can go at your own pace, and can access and complete lessons whenever it suits you.
---
02. What do I need, for this course?
All you will need is a device with Internet access (Phone, Computer, or Tablet). You will also need a web hosting account, in order for your website to become live on the Internet. We show you how to do this, step-by-step.
---
Ok, Let's do this! Ready to start your blog today? Hit that enroll button and let's get started!