Website Flipping: Ultimate Guide To Buy And Sell Blogs
Ok friends, we need to talk about the benefits of website flipping. Because there are many!
Buying a website, fixing it up, and reselling it for profit is becoming more and more popular as a way to make extra income online. I've helped more than 500 creators buy and sell websites – and flipped many of my own as well.
But how do you make sure that you buy a website or blog that has the potential to be a successful flip? I'll tell you how today.
I own the Niche Investor marketplace, a platform where creators buy and sell websites, and I've sold over $4M worth of sites. So I KNOW what makes a site attractive to buyers and can fill you in on exactly what you need to know and do.
---
As an affiliate partner of various brands and sponsored content, HerPaperRoute may earn commission on qualifying purchases. Disclaimer | Advertise With Us
---
This is the ultimate guide to website flipping. In this article, we are going to be talking you through everything that you need to know when it comes to buying, improving and reselling websites.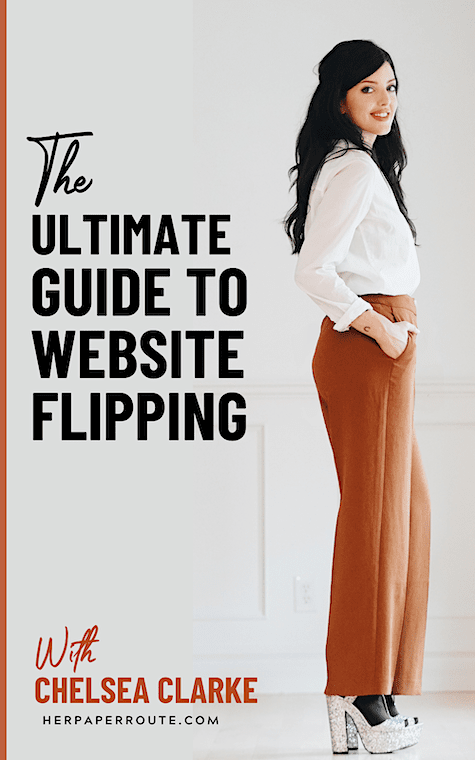 Ultimate Guide To Website Flipping: Buying And Selling Blogs In 12 Months Or Less
A Step By Step Guide To Flipping A Website
Website flipping can be a very lucrative way to make money online.
🫶 Want to Make More Money?🫶
Become a member of HerPaperRoute today and get a toolkit packed with resources to help you make that paper. All for FREE!
---
If you know how to make a website look good while generating traffic, sales, and social followers then you likely have what it takes to be a successful website flipper.
I started website flipping a few years back, and made over $60,000 in profit in the first year alone.
That's as much profit as my husband and I made after flipping our first apartment…but with far less work!
I have since flipped more than 500 websites, selling over $4,000,000 to date.
I went from flipping websites on the side to it becoming my full-time career, and have since opened the Niche Investor marketplace.
As well, I host a community for website flippers and online business owners, where I offer helpful training and live workshops, as well as members-only special events. Come and join for free here!
I have been interviewed extensively on the topic of my expertise and experience with website flipping. So, trust that you are in the right place.
Are you curious about how to get started in the niche site investing business, yourself?
Read on to discover everything you need to get started.
From where you can buy a website, why it's worth purchasing an established website, as well as top tips to keep in mind to ensure that your flip is successful.
I have made sure to cover all bases.
What Is Website Flipping?
Website flipping is the business of buying and selling websites and blogs for profit.
It simply entails buying websites that are already making some money and seeing potential in them.
You are probably familiar with house flipping, having seen HGTV shows like Masters Of Flip, Flip or Flop, and others at some point.
Website flipping (aka website investing) is similar to house flipping.
The concept is simple: buy a piece of real estate, fix it up and sell it for profit.
It is like remodeling an unfinished house, to sell for more money and gain a profit.
The same can be done with websites. Basically, you buy a website, increase its value and resell it for much higher than you bought it for. But instead of buying physical brick-and-mortar real estate, you are buying (or building from scratch) digital real estate in the form of a website.
Related: Where to buy and sell blogs online.
Flipping websites is much, much more affordable to get into than home flipping, and because the expenses are so low, sometimes the profit margins are much higher.
What Is Website Flipping As A Business?
Website flipping becomes a business as soon as you earn your first dollar from your website.
It sounds simple enough, but there are many factors to consider when deciding whether or not website flipping is right for you.
First of all, there are different angles to website flipping.
The most common way to enter the website flipping industry is to buy an established website with some content or digital product and possibly already make some money, grow it even further, and then resell this off for a lot more.
Or you can create a website from scratch, grow and monetize it, and then sell it for a good amount.
Or, you can buy a starter website that has only been set up, and then improve it, add a lot more content and digital products, and then proceed to sell it once it's profitable.
Usually, website flippers are people who are looking to buy websites with high potential, which they can add value to through design updates, SEO and content creation, and then sell the site for a profit.
Whereas the people who BUY those websites from the flipper once the site is profitable are people who don't want to spend their time building sites. They just want to acquire it once it's successful.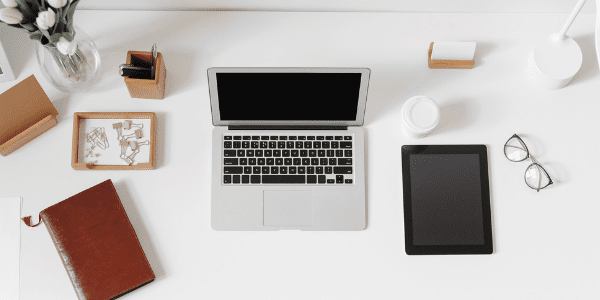 How Much Money Can You Make Flipping Websites?
Yes, website flipping can be highly profitable. I can say this from experience, as I've bought and sold several websites for thousands of dollars, and seen many people making a full-time living flipping websites.
However, it's important to understand that website flipping is not a get-rich-quick scheme and requires some work and dedication.
If you're willing to put in the effort, website flipping can be an incredibly profitable way to make money online.
Is website flipping profitable? It sure can be, when done right.
There is no cap or limit to how much money you can make flipping websites.
But to give you an idea, here are some results from my clients:
I coached Alison to develop her self-care site, she applied my blog flipping growth framework and ended up selling her blog for $35,000


Emily sold her food blog for $150,000

Beth sold her homeschooling blog for $52,000

Chrissy sold her mom blog for $105,000

Kate sold her beauty blog for $200,000

Brandon sold his yoga blog for $38,000

Kyle and Declan sold their course reviews site for $325,000

Dale has sold several sites for $30,000+
The better shape your website is in, the higher the price your website will fetch.
So it's well worth spending some time preparing your website for sale in order to get the best price.
If your website earns $1,000 a month and you have a good amount of organic traffic, then you might expect to sell it for somewhere in the vicinity of $24,000 to $40,000.
==> Get a free website valuation here to find out how much your site could sell for
How Do You Get Started Flipping Websites?
Website flipping can be a smart and effective way to make money.
There are tons of people out there that want to own a profitable blog or online business, but want zero part in the startup of one.
If you are the type of person that knows how to get the ball rolling and make profitable improvements, you may be perfect to fix and flip websites.
If you're into digital refurbishment and want to give website flipping a try, then we'll tell you all you need to know about how to go about preparing and selling a website for profit and guide you through the process.
Some people build or buy websites with the intention of flipping them for profit from the start.
While others buy websites to serve a purpose online, and then sell them when they are no longer needed or their business is merging or diversifying.
Whatever your reason for selling, you'll need to get an accurate valuation and have a realistic understanding of how much your website could conceivably sell for.
The first step in becoming a website flipper yourself, is you need a website.
If you don't already one, you have two options: either start your own website or buy an already established one.
Take this 60-second quiz to find out how much your site is worth right now!
What Does It Cost To Set Up Or Buy A Website?
The good news is that there is something for every budget.
You can buy an established site that is already profitable, getting lots of traffic. These can range anywhere from $5,000 to $5,000,000+.
Or, you can buy a starter site, one that isn't getting much traffic or making any money currently, and fix it up. Starter sites are often under $5,000.
Another option is you can start a website from scratch. Going this route means you will save money initially.
But the downside is you will spend A LOT of time building a site from the ground up. And you may end up having to spend money, in the long run, to grow it anyway.
So you can see why it pays to buy an established site that is already profitable.
Is It A Good Idea To Buy A Website That Has Already Been Established?
Seeing as you're in the market to buy an established website, know that it really comes down to personal preference and personal budget.
If you are low on funds but have lots of time to spend, a starter site may be the right choice for you.
But if you appreciate saving time, and you have the funds to invest, buying an established site will always be the better option.
Why? Because an established site already has traffic, subscribers, followers, products and content active and selling.
When you buy a site that is already earning revenue, you start earning your ROI back from day one and you can focus on improvements.
Where Do You Buy a Website?
If you're currently in the market to purchase your very first website and want to flip it into a profitable venture, then the good news is that you have two options available to you to choose from.
To help you decide which one might be the better choice for you, let's break down the differences between the two most popular website buying options below.
How to purchase a website:
Option 1: Seek Out A Website and Ask To Purchase It
One way to purchase a website is to shortlist a few that you think have potential, and then approach each respective website owner and ask them if they would be willing to sell it to you.
Keep in mind that while this option will most likely land you with a website that has plenty of potential as a monetized blog, you might find that it is a lengthier and more costly method.
Still, it's definitely worth considering if you want to make an investment.
Option 2: Purchase From Business For Sale Marketplaces
If you don't like the sound of the first option, then a much simpler way that you can get your hands on a great website is to purchase one from a marketplace that has been specifically created to sell websites.
This option takes the hard work out of having to go and find potential websites, and you can pick and choose from available listings.
As a side note, even though there are a variety of other website-buying methods available for you to choose from, the two we have listed above are the most tried and tested.
And have the highest success rates when it comes to purchasing an established website.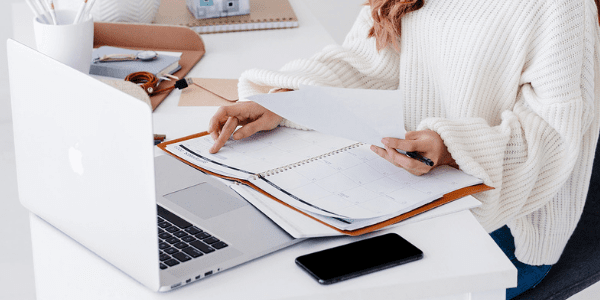 What To Look For When Buying A Website
Let's take a look at the main areas of a blog's value. When these things are running properly, they become an asset to the overall value of the website.
But when they are not up to par, they become issues that make the value of your blog less.
Niche
DA, DR, Authority
Traffic
Good SEO practices, and Google ranking
Spam Score & Backlinks
Professional Design
Quality Content
Monetization, Revenue
Subscribers and followers
To ensure that the website you purchase to flip will be a success, we've made a helpful checklist that you can use below.
Does The Website Have A Niche That You Are Interested In?
Even though you don't necessarily have to purchase an established website in a niche that you're interested in, it's certainly going to help make the process easier.
Purchasing a website in a niche that you have very little knowledge of will make the flipping process more stressful than it needs to be.
And you're more than likely going to discover that you don't have any enjoyment from the experience.
However, as a side note, you may be planning on hiring a social media manager to handle the website for you, or if you're planning on hiring writers to create content for you.
In that case, having an existing background knowledge of the website's niche won't be such a huge priority.
Is The Established Website Already Generating Monthly Revenue?
Secondly, the next factor that you should take into consideration when you are considering purchasing an established website is whether or not it is currently generating revenue or not.
Ideally, you're going to want to make sure that you are opting for a website that is already bringing a little bit of revenue but could be doing much better.
Does It Have A Good Ranking?
Another factor that you will need to take into account when choosing a website to purchase is whether or not it has a good google search ranking.
It is worth trying to get an established website that already has a great SEO value, as this will help to increase your chances of getting ranking it higher in google's rankings organically.
In some instances, when an established domain already has an excellent ranking and SEO value, it can even be used to help boost another website by linking the two together.
Whatever your plans are, it is a good idea to make the ranking of the website you are considering purchasing a priority during your decision-making process.
As if you do discover that the website is ranking pretty well for certain keywords, then this will help you to turn over a greater profit when it comes down to the flipping.
What Does The Email List Look Like?
While choosing an established website to buy, another great factor that you should take into consideration is what the website's mailing list is.
If you have already begun doing a little bit of your own research, we're sure that you'll already be well aware that one of the most lucrative aspects of any established website is how good its mailing list is!
Besides being one of the main ways of making money from a website, a strong mailing list will also have the ability to protect your website from any algorithm changes that google decides to make after you have made your purchase.
Even though there are risks associated with every purchase, taking the time to take these factors into consideration will pay off.
While choosing a website to buy, it will help to ensure that you purchase one that is going to be well-suited for your website flipping venture.
What Are The
Best Niches That Are In Demand?
A good rule of thumb when picking your niche is to purchase websites that are in the health, wealth or relationships niches.
These niches will always be popular, with endless possibilities for monetization.
But, there are many other popular niches:
Travel niche
Fitness niche
Technology niche
Food and cooking niches
Business and Finance Niche
Entertainment / Gaming niche
Relationship niche
Family & Parenting niche
Education and Career niche
Hobbies & Arts
News & politics
Product review niche
Pet niches
Health and wellness niche
Work from Home niche
Personal Finance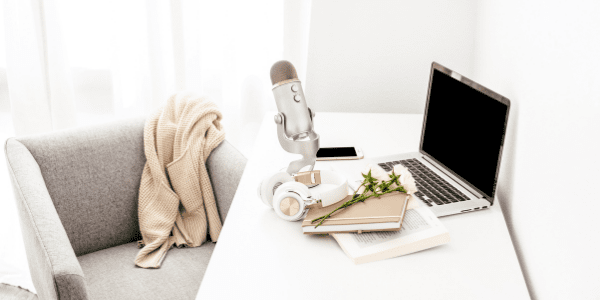 Top Tips To Keep In Mind Prior To Purchasing A Website
Alongside all of the helpful guidance that we provided you with above, there are some additional tips that we're going to be sharing with you below.
These tips help to differentiate a bad website from a good one, and in turn, ensure that you purchase a website that is going to be profitable once flipped.
Check them out below.
Tip #1: The History
Familiarize Yourself With The Website's History
First things first, one of the most important things that you can do prior to purchasing a website is to make sure that you have thoroughly done your research and familiarize yourself with the website's history.
While doing your research, you're going to want to make sure that you are taking an in-depth look at the history of the website's owners.
While also making sure that you are well aware of any changes that have been made to the website since its creation.
Even though this might seem like a waste of time, taking the time to do your due diligence will help to ensure that you are purchasing the domain from a reputable owner.
Get a free copy of the Due Diligence Checklist I use, here!
Tip #2: SEO Value
Make Sure That The Domain Has A Strong Keyword Presence & SEO Value.
Even though we have briefly touched upon this in a previous point above, it's very important that you make sure that you are taking the time to research the SEO value of the website that you are interested in purchasing.
The best way that you can do this for yourself prior to going ahead with the purchase is to simply search the website via Google's search engine on your own.
If you want to go a little bit deeper and do some digging, then you could run the website's domain through Ahrefs or SEMrush.
These tools will provide you with relevant information regarding the domain's backlinks and other important SEO information.
If you can see any major points of concern (such as a great Google ranking but very few backlinks) then this is an indication that the website's domain might not be as valuable as it looks upon first impressions.
Tip #3: Authentic Stats
Make Sure That All Statistics Are Authentic
While performing your due diligence, always ask to be added to the site's Google Analytics.
This way you can see for yourself what the traffic history is. And this will ensure that the data you see will be absolutely authentic and accurate.
Google Analytics have a built-in "view-only" format that is designed specifically for this kind of statistical sharing.
Along with this, you should also be sure to thoroughly analyze all of the data provided to you by the website owner.
While you scan through traffic numbers, page views, bounce rates, and more, we urge you to begin making comparisons of current figures to previous figures, as this will allow you to see if there are any noteworthy trends.
If you can see any huge spikes in the data and then a sudden drop-off, this could be indicative of a pricey marketing campaign or lucky seasonal keyword ranking.
Ideally, you want to see gradual organic growth that you can actually benefit from.
Tip #4: Establish Your Goal
Do you want an easy fixup, or a full overhaul?
When purchasing a website, it's important to assess what your workload will be like once you take it over.
Does the site just need a few minor fixes, or will it be a massive undertaking and months-long project?
Either is fine, but it just comes down to your personal preference, skillset and willingness.
Buying the site
When you decide on a website to buy, you can simply make an offer to the seller.
It's expected that you would negotiate until you reach a price.
If the seller works with a broker, then their broker will assist you, free of charge.
The broker will provide legal contracts, manage the Escrow transaction, and endure you receive the domain, website and all other assets in a timely manner.
In some cases, you may be able to acquire the business without having to pay the full purchase price upfront. Learn more about seller financing payment plans.
Improving The Site
Once you take over ownership of the website, it will be time to fix it up.
Here are some website flipping tips for what you can do now to improve new website and develop it into an asset worthy of selling for thousands of dollars down the road.
1. Define The Niche and Purpose
What is your blog about? What is its purpose? Did the previous owner define the niche well?
If not, this is your opportunity to define the niche now, and remove any articles that aren't within that niche.
Many bloggers throw together random thoughts about many broad topics.
This is fine if you are a hobby blogger. But if you are serious about your blog, you need to define your niche.
New visitors should be able to determine the general theme and purpose of your blog without too much trouble.
If your niche is not obvious, make it obvious. People want to follow good blogs about narrow topics that they're interested in.
And the same goes for buyers looking to buy a website. They want to buy a defined niched blog for sale as opposed to a too general undefined website.
It is always easier to monetize a defined niche blog, so it's important to nail this.
For some guidance to figure this out, enroll in our free niche discovery course. This course will help you plan out your blog's purpose, and show you how to develop yourself as the go-to authority in your niche.
2. Improve The Design
Another important thing you must do to make your website really desirable is to give it a brand update.
Branding can be the look and feel of your website, as well as what people think and feel when they think of your business.
Make a statement and create a brand image for your blog, that has a clear message.
One that will attract buyers and make someone want your website for their own.
If you're someone still using a default, lackluster free WordPress theme because you're too cheap to spend money on your blog, it's time to drop that lack attitude!
Your blog is your business and you need to invest in the right products it requires to function as such.
The look and usability of your website is extremely important. It's the first and last impression a site visitor or potential buyer has of you.
In just three seconds upon landing on your website, a visitor decides if they trust you or take you seriously or not, simply from the look of your website's design.
Appearing professional starts with your theme.
Fortunately, professional WordPress themes are extremely affordable. I recommend that a budget of $130 is all you need.
Always opt for a mobile-friendly theme.
You can get the best WordPress framework Genesis and a custom child theme from StudioPress within this budget, in fact.
Plus, with a premium WordPress theme such as this, there is no coding, design skills or tech know-how needed.
You simply download a file and then upload it to your WordPress site with a few clicks.
Here is a step-by-step guide on how to install a WordPress theme.
Even if you just put in a little time customizing your theme, your trial and error time will be well worth it.
3. Design A New Logo
One of the easiest ways to spruce up your new website is to give it a new logo.
It's free and easy to create your own logo using Canva.
Or if you'd prefer to work with a professional, hire the awesome people at 99 Designs to design your perfect logo for you.
4. Check Your Basic Website Pages
At the very least every website should have an "About" page that eloquently describes you (or your blog), your background, your philosophy, and your mission.
You should also have a "Contact" page for readers, advertisers, and contributors to reach out to you.
Create easy-to-find categories for your blog post topics. You may want to add a store, a services page, forum, or product page, too.
You also must-have pages for all 3 legal pages, which are:
Privacy Page
Terms & Conditions Page
Disclosure Page
You can use this legal template bundle for all 3 pages.
It was drafted by a lawyer and includes all of the information you need to legally protect your website. Including GDPR regulations!
6. Do An SEO Audit
Once you gain ownership of your website, go through each page and make on-page SEO improvements, one by one.
This can include adding keywords to headings, adding to the content, interlinking to other articles on the domain, and writing meta descriptions.
It's amazing how many websites don't have proper meta descriptions.
A meta description is a short description of your individual blog posts, that appears in search engine listings.
If you hope to ever rank well for core keywords related to your blog's subject, you'll have to incorporate a keyword-rich meta descriptions, ones that read like an intriguing tagline.
You can use the free Rank Math plugin to manage this and many other essential SEO functions of your website.
Ensuring that your website is optimized for all major search engine platforms will dramatically increase eyes on your site, which makes it more valuable and profitable.
6. Make It Easy To Share
Don't make your readers sweat to share your content!
Make it super easy for them, by ensuring that you have the best share buttons for your articles that encourage sharing.
Social Warfare Pro is the #1 social share plugin, which also includes features to aid your Pinterest marketing efforts, too.
Want to get into website flipping? Here's how! #makemoneyblogging #websiteflipping #blogging #bloggerlife #blogforsale #buyablog #blogtips #bloggingtips
7. Update The Featured Images
Everyone loves photos. And you may find that the site you bought looks a bit dated.
A simple fix is to update the featured images of each article with something more modern and attractive.
Just a few well-placed attractive photos can really improve the design, and they can help improve impulse clicking on your articles.
Create a folder of images that you are free to use; your own images, Creative Commons images, and paid photos from places like Haute Stock.
Related: Where to find free stock photography
8. Find Contributors And/Or Outsource
If you can't add enough content by yourself to keep your readers visiting each day, find guest writers or other bloggers that you can feature on your blog.
This adds content diversity to your blog and gives you one more link to share through your network or in newsletters.
You can also outsource the task of writing to virtual writers. To find writers, look into Upwork, Fiverr, GrowTal and Facebook groups.
9. Engage On Social Media + Grow The Email List
If you want your social media followers to grow and translate into blog traffic, you must engage with your followers.
There's no way around it.
Set aside a block of time each day that will be dedicated to social media maintenance and engagement and your numbers will increase.
You can use ConvertKit to help grow and manage your list with ease.
Be sure to put some effort into your lead generation strategy, and how you plan to grow and nurture your email list.
This is essential to flipping an online business.
Additionally, being able to sell your social accounts and email list, alongside the sale of your blog is another thing that buyers will pay more for.
Furthermore, each blog post you write should have a specific reason and should advertise/lead into a specific product/service/call to action.
Consider how you will be marketing your blog.
This can be through social media marketing, targeted ads, Pinterest, or even word of mouth.
If you have a strategy in place to get these things running smoothly and to improve over time, you will have a website that investors will be fighting over.
Who doesn't want that!?
10. Increase The Profits
Once the website is looking great and optimized correctly, all of your focus should be on monetization.
Some things you can do to improve the profitability of the website:
Improve the products that are there, and add new ones
Add more affiliate links
Reach out to your affiliate managers and negotiate a higher commission rate
Get the site on a better ad network
Write more/better product reviews
Join The Blog Flipping Society where we teach a complete profit framework, and give you personalized coaching for a full YEAR!
When It's Time To Sell Your Website
If you're wondering how much your website is worth and how to go about valuing and selling it, I have the answer for you.
Website sales are a serious business nowadays.
And some people make nice sums of money by flipping websites and selling them to people who want the ongoing income they generate.
Ensure that your website is generating money through affiliate links, ad marketing, and/or selling digital products.
Unlike in real estate, you can't go to the nearest estate agency and ask them to value your house against the current market.
We did say that website selling and buying is a fairly mainstream industry now, but where do you start if you want to sell a website?
That's not exactly common knowledge if you haven't done it before.
Rest assured, we have the answers to your website selling questions.
How Much Is My Website Worth?
There is a formula for this, but the actual market value can seriously vary from the ballpark you might figure out yourself.
If you want to sell your car, you'll look up what it might be worth so you know what to set the asking price at. Websites aren't quite as simple as that.
This is why it's best to get a valuation done for you. We offer a free website valuation tool you can use right now.
You won't get a single price from a valuation that you can expect for the sale of your website, but you'll get more of a price range.
You'll want the most for your website, we know, but you'll need to bear in mind that website prices are not based on the future potential of its performance and profitability.
Websites are valued for their current performance and profitability. We take a look at the last 6 to 12 months' earnings history.
Any website has potential with some work and industry knowledge, but investors and website buyers will want a ready-made product that will earn consistently and generate leads through web traffic.
A common standard in the industry is to sell within a multiple anywhere between 24 and 36 times a sites' monthly revenue.
So for a modest estimate, a website earning $1,000 a month with some online traffic could fetch in the region of about $24,000 – 36,000.
Now, the two most important factors are the revenue it generates and the traffic it already gets.
But those aren't the only two things the buyer will be interested in.
Your Niche Investor agent will be able to help you in determining additional assets that increase the value of your unique website.
Once you have received your valuation, you will have a good idea of how much you could get if you choose to go ahead with selling your website.
Now, let's have a look at how to maximize that profit by preparing your site for sale.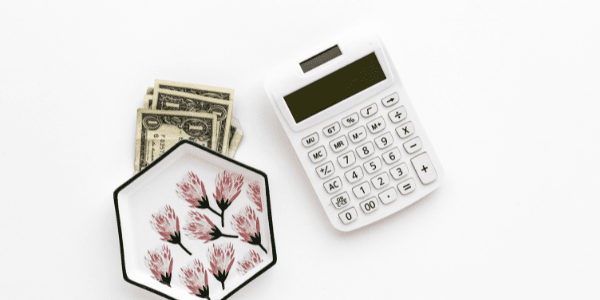 How can you increase the value of a website to Flip it for more Money?
Here are a few tips that can help you increase the value of your website.
1. Increase Income
To get the most money for your website flipping projects, you need to focus on income. The more money your website earns means the more you can sell it for.
So it's worth it to make generating sales your #1 priority.
2. Increase Traffic
Increasing traffic on your website is one of the most important things for buyers.
The more traffic you get to your website, the more attractive it'll be for potential buyers.
A few ways to increase traffic are to focus on SEO, write helpful content and use social media to drive traffic to your website.
3. Connect google analytics and keep the data handy
If you can show potential buyers how well your website performs with reports like page views, traffic sources, demographics, etc, great!
This will automatically increase the value and help you get more bang for your buck.
4. Improve User Experience
No one wants a slow, unresponsive, or hard-to-navigate website.
So a great user experience will keep visitors coming back and also help improve search engine rankings and organic traffic levels, increasing its overall value.
You can make sure all elements of your website (navigation menus, content layout, images, etc.) work together seamlessly and create a positive visitor experience. One that encourages users to spend time on the site and possibly return.
5. Develop a Monetization Strategy:
Of course, to sell your website at a premium, it has to be making money, and your website will do well if you follow a monetization strategy.
Not only will you be making money from the website while you grow it, but you can also show a potential buyer what opportunities exist for further monetizing the site.
How Can I Prepare My Website For Sale?
The better shape your website is in, the higher the price your website will fetch, so it's well worth spending some time preparing your website for sale in order to get the best price.
Remember that the two factors buyers will be most interested in are:
The traffic it generates. This means how many people come across your website through clicking from search engine results, or other means like backlinks.
The income it generates. There are many ways that a website can earn its keep.
Some of these ways include using affiliate marketing, such as with Amazon or more high-paying affiliate programs.
This is where you link to products in return for a commission of click-through purchases from your website.
Ad giants can also offer good rates of pay such as Monumetric, Adsense, and AdThrive.
You might also earn through hosting sponsored posts, offering digital products for sale, or just operating a good old-fashioned ecommerce website.
If you aren't using any of these avenues to earn income, definitely look into it before you sell, because having a website that earns money will increase its value and improve its "curb appeal" to prospective buyers.
That's the lick of paint we were talking about earlier.
In order to sell a website, you'll need to establish what elements go into the deal.
For example, you will want to include your email subscriber list and the social media accounts connected to the website, as part of the sale.
If you offer digital resources like ebooks or online courses, they will be included as well.
If your website is a membership site, you're in for a treat because these tend to sell for higher prices due to their low-effort profitability.
Once you have a price range and a comprehensive idea of what is included in the sale of your virtual property you can start looking for a buyer, or a broker who will do that job for you.
Where Can I Sell My Website?
The most common method of buying and selling websites is through broker websites.
Some reputable examples of brokers where you can browse, buy and sell websites are:
This is the marketplace I founded.
Here you can buy and sell businesses big and small. Including established content sites, e-commerce stores, affiliate sites, digital services, Amazon FBA businesses, memberships, podcasts and more.
We are an investor's supermarket, we have something for every niche, skillset and budget.
We are like a middle ground between Flippa and Empire Flippers in that we offer a great personalized and white-glove service, where we actually represent your listing.
But we don't charge extortionate fees.
At Niche Investor, we manage your listing, we deal with buyers, and we assist in the transfer of assets so you can focus on other things.
Flippa is like the eBay of the broker sites.
Many people find it a good medium for buying and selling websites. But you are on your own with Flippa, as they don't advise you or guide you through the process.
With Flippa you have to manage your own listing, deal with buyers yourself and manage the transfer of assets yourself. Flippa still takes a full-price broker commission.
This is a little more high-brow than the others. Think $1M+ site acquisitions here on this platform.
If your website isn't earning much, you can probably skip this site.
If you choose Empire Flippers, you'll need to pay a hefty upfront fee for them to post your listing and they'll also take a commission of the sale.
How Do I Sell My Website?
The easiest and safest way to sell your website is through one of the brokers we have suggested, above.
But there are others out there too, so feel free to do your own research.
Some sites use an auction system, to try to get the highest price for you.
But then again someone can end up getting quite a bargain out of your website if there isn't enough interest to drive the price up.
Other brokers just stick with straight sales where they state an asking price, then negotiate with both parties until a resolution is reached and an amount settled on.
Once you have allowed whichever broker you choose to perform a full valuation of your website, they will put it on the market for you and send it to interested parties.
When they have generated enough interest in your website, they will liaise with those potential buyers and pass on any offers to you.
This is great because it means you don't have to deal with time-wasters or scammers, as your Niche Investor agent does the vetting and the legwork for you.
We also handle the paperwork and the legal transference of the property which is no small thing if you're not well-versed in this.
If you wouldn't try to sell your house without a real estate agent, then don't sell your website without a business broker.
Essentially, from this point, you'll need to follow the instructions and procedure of the specific broker you have chosen.
They are experts at selling and transferring websites and other online property.
So as long as you trust their methods and reputation, you can lay back and pretty much relax while they take care of it all for you.
If you're thinking about selling your website then the important thing to take away from this article is that it can take some time.
If you're not a particularly patient person, then this will be bad news for you.
In order to maximize the reach and income of your website, you'll probably want to work hard on it for around six months before you look into selling it.
Why not get it valued now and in six months' time to see how much you have improved it.
Once it's on the market, it can still take a while to sell, because deals fall through and financing can be withdrawn unexpectedly.
There are a number of obstacles to negotiate, even if you're using a broker so don't expect it to be all wrapped up overnight.
If you are prepared to be patient and put in some effort on your part to cooperate with the broker you choose then website flipping might just be a profitable line of business for you.
Commonly Asked Questions About Website Flipping
How do you make money flipping websites?
Website investors make money by buying a website, improving its content, growing its traffic and revenue and then reselling for higher than they bought it for.
What are the BEST sites to flip? What are the easiest to flip?
What one person considers easy, another person may consider very difficult. So there is no way for us to be able to tell you what type of website would be easy or the best for you personally.
However, a good rule of thumb is to stick with niches you understand and have experience and expertise in personally. With revenue streams you understand how to run and grow. Or, that you are willing to outsource to a team that does.
What Are The Benefits Of Website Flipping?

In addition to the income, website flipping is a low-barrier way to make money online. Anyone can do it, and you don't need to spend hundreds of thousands to get started.
As well, it is an asset you control, unlike the stock market which goes up and down, out of your control.
With website investing, you are buying a revenue-generating asset that you can improve how you wish to, and resell when you wish to.
Another benefit of website investing is that there is a demand for done-for-you turn-key profitable websites in the market.
If you enjoy blogging, and digital marketing, these are skills you can apply to flip multiple websites a year to eager buyers.
The main benefit of website flipping is that you can make money quickly. Well, quickly-ish.
But even if you do not have any design skills, all you need to know is what to look out for when buying a website and what to do to improve the website.
The awesome thing is that the more you hold on to the website, the more it appreciates and gives you more bang for your buck.
Here are a few other benefits.
1. Low Initial Investment

The great thing about website flipping is you can get started with a low investment.
Many starter websites can be bought for $1000 or less. However, it's probably worth your time to purchase a more established site with more traction that you can scale and resell faster.
Or if you decide to create the website yourself, all you need is a good host, a domain name, and some good content.
But starting a site from scratch means you will need to spend a lot of time working on it and building it, more so than if you buy a site to flip.
2. Resell Opportunity
Believe it or not, people are willing to pay top dollar for a great website.
As long as you improve your website and make it attractive to potential buyers, there is a good chance your site will sell quickly.
3. A chance to learn new skills
Website flipping allows you to learn new transferable skills like copywriting, SEO, and web design.
These skills can be used to start businesses, get a job, or even make money as an independent freelancer.
Really it is a Win Win Win situation.
Another thing is there is really no running costs, apart from the upfront investment and hosting fees which you can get for as low as $10 a month; you don't have to pay anything else to run the website.
In fact, you can make money off the website while working on flipping it.
What's not to love?
What Are The Downsides Of Website Flipping?
The only downsides to website flipping are that:
It will take time. You should make time to put effort in, in order to see growth. Your time will be the biggest investment

As well, there is no guarantee of success! It takes work and effort on your part to see things through. But if you have the determination, it will be the best job you have ever had.
How to start a website flipping business?
The great thing is that anyone can start a website flipping business. You only need one website to start and you can decide how much money you want to spend on investing in it, as there are websites for sale for every budget.
Is website flipping profitable? How much can you make flipping websites?
Website flipping can and is profitable for many website investors. There is no cap to how much you can make.
For example, if you have a website earning $10,000 per month, you could potentially sell it for $360,000.
But there is no way to know for sure if you will be successful as a website flipper, as that will depend on your own work ethic, effort and skillset.
Website Flipping – Conclusion
There we have it! Thanks for reading.
After reading through this Ultimate Guide To Website Flipping, I hope that you are feeling a lot more confident about how to spot a great website with plenty of potential from one that just isn't worth the risk.
Remember, so long as you've got a great domain and you're ready to put in the work – you're going to find yourself with a thriving blog to flip in no time at all!
Website Flipping Courses And Coaching
As a final parting note, if you'd like some more guidance on website flipping, why don't you check out my blog flipping program and mastermind?
The Blog Flipping Society is designed for all content creators who want to flip their blog or website.
Our program is full to the brim with masterclasses, live coaching, and a supportive community that will help you begin to earn genuine revenue.
Here's an interview where I shared more website flipping tips on the Niche Pursuits podcast:
Pin This: