5 On Page SEO Tips To Optimize A Blog Post
Let's talk about on page SEO basics. Once you understand them, they are oh-so-worthwhile to get some organic traffic for your blog.
These SEO basics are straightforward to implement and very important, so don't overlook this.
5 On Page SEO Tips To Optimize A Blog Post
First, what is on page SEO? It's everything that you do to your blog post and website, to make it more SEO-friendly.
There are more than 5 things you can do to optimize your blog post for good on page SEO. But these are the first 5 things that you should do to every post.
---
As an affiliate partner of various brands and sponsored content, HerPaperRoute may earn commission on qualifying purchases. Disclaimer | Advertise With Us
---
1. Post Length
Google rewards longer posts. Not long for long's sake, but with only 200 words, it's hard for Google to find clues about how to categorize a post.
Is it about flying bats, baseball bats, British American Tobacco (BAT) or Basic Attention Token (BAT, a cryptocurrency)?
The more words you use in your post, the easier it is for Google to get the idea, and send the right kind of audience to your post.
🫶 Want to Make More Money?🫶
Become a member of HerPaperRoute today and get a toolkit packed with resources to help you make that paper. All for FREE!
---
This is why it is important to have a description of each post that you're linking to, plus it gives people a chance to find out more about the post, beyond the title.
This is particularly useful for roundup posts that address particular allergies or have easy modifications to make them gluten-free, vegan, etc.
2. Image Names and Alt Text
When you download the images to insert into your post, make sure that the image title is the name of the recipe, not IMG_20983 or similar.
The title helps to tell Google what the image about, which you want! When you insert the image, take the time to describe what is in the image, in the Alt Text box.
Alt text is designed for visually impaired people to use the internet, plus Google also uses it as further information to help them figure out what a post is all about.
It's a win-win when you write "strawberry margarita in a short salt-rimmed glass with a strawberry garnish and a marble countertop in the background."
Visually impaired folks know what is in the image (their screen readers read it out loud to them) and you've given Google another clue about your content.
Yes, it's a lot of work to go write descriptions for 20+ images, but it is absolutely worthwhile!
3. Section Headings
You should break your content up into easy to read sections for your readers, using Heading 2. This is also an excellent move for SEO.
4. Internal Links
Make sure to link to other articles on your own website. All that means is that you link to another blog post you've written. For example, this is an internal link: How To Start A 6 Figure Blog.
5. Meta Data
Fill in your metadata, post title, keyword and post description. Rank Math is highly recommended. It's free, and better than Yoast.
5 On Page SEO Tips To Optimize A Blog Post – Conclusion
These on page SEO basics are just that – BASICS! To really learn the ins and outs of SEO to help your blog rank, enroll in my free SEO course for bloggers!
---
As well, get a copy of Easy On Page SEO, by Debbie Gartner. Every blogger needs to read this book!
Debbie's SEO manual will take you from complete newbie to finally 'getting' SEO once and for all.
Her training is to-the-point, no fluff, and practical so you can have instant takeaways and start improving your blog post SEO right away.
Read my review of Debbie's book here to learn more.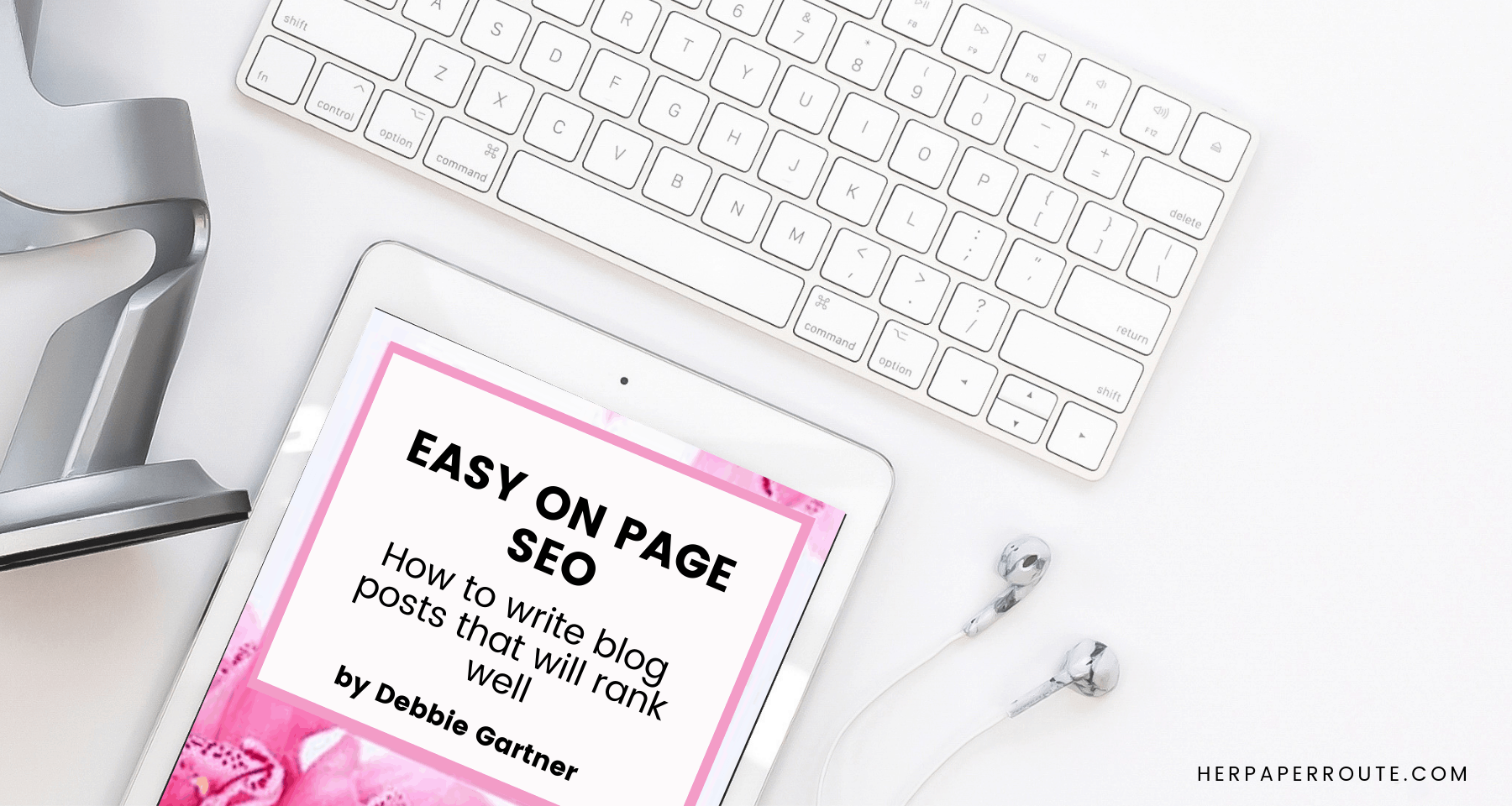 By the way, SEO is something that pays off over time. Results won't be seen right away. Start optimizing your blog for good on page SEO now, and see it pay off later. Be prepared to play the long game.
That doesn't mean that you can't get traffic in the meantime, however! Listen to this for tips on how you can gain traffic and reach your customers in other ways, aside from Google traffic.
More SEO Resources