Easy On-Page SEO Tips Book by Debbie Gartner, Review
Easy On-Page SEO Tips Book review – could you use some help with SEO? Easy On-Page SEO by Debbie Gartner is the SEO book that every blogger and business owner needs to read.
Debbie Gartner is a home decor blogger, who's seen great success in her business from her SEO efforts.
So much so, that her blog gets more than 500,000 monthly page views!
She wrote Easy On-Page SEO to share her SEO knowledge with other business owners. If you need quality SEO tips in one place, this book is for you.
---
As an affiliate partner of various brands and sponsored content, HerPaperRoute may earn commission on qualifying purchases. Disclaimer | Advertise With Us
---
Easy On-Page SEO Tips Book by Debbie Gartner, Review
Debbie aims to help other bloggers make their search engine presence stronger.
With Easy On-Page SEO, she has helped many bloggers and business owners do just that.
Update: Listen to Debbie share SEO tips on my podcast that every blogger must hear!
🫶 Want to Make More Money?🫶
Become a member of HerPaperRoute today and get a toolkit packed with resources to help you make that paper. All for FREE!
---
Easy On-Page SEO Book review – The Fundamentals
In the Easy On-Page SEO book, Debbie's focus is on attracting organic traffic to your website through on-page SEO optimization.
Basically, on-page SEO is everything that you can do to improve your website, from within your website.
Off-page SEO, on the contrary, is everything that you do for your website, away from your website. Such as social media, guest posting and link building.
To learn more about off-page SEO, read Debbie's other book Easy Backlinks.
Easy On-Page SEO Tips Book by Debbie Gartner, Review
Easy On-Page SEO Tips Book review - could you use some help with SEO? Easy On-Page SEO by Debbie Gartner is the SEO book that every blogger and business owner needs to read.
URL: https://herpaperroute.com/seobooks
What Does This SEO Book Teach?
In Easy On-Page SEO, Debbie thoroughly explains in detail:
How she got started
The benefits of SEO compared to other forms of digital marketing
The results she's achieved
How this has impacted her business
Everything you can do to improve your own SEO
Clever practical SEO tips and strategies you can implement right away in your business
What common SEO pitfalls exist, that can actually hurt your website's SEO so you know what to avoid
Is The Easy On-Page SEO Book Suitable For Beginners?
Debbie's style of writing is very direct and straight to the point so you won't spend hours reading before getting to the practical stuff; she pretty much dives straight in.
I found myself having light bulb moments numerous times throughout the whole book. The knowledge she shares is just impeccable.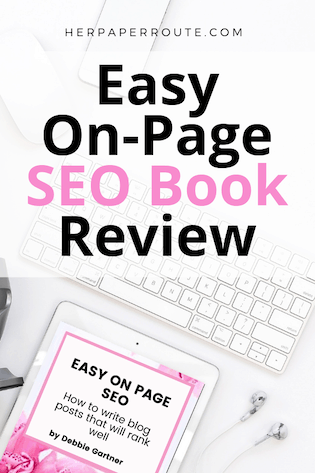 She also does a good job of getting you to think about what would work best specifically for your business.
Debbie's book is very practical, as she has learned all her skills through trial and error herself. This is a great way for beginners to learn.
With the writer being a practical thinker she has provided a 12-step guide to great on page SEO.
This will give beginners and intermediate bloggers alike a great format to follow to achieve excellent SEO content.
You will learn how to use the right words and avoid the wrong ones, while gaining a clear understanding of SEO-friendly headlines, permalinks, url's and backlinks.
All of these tools are very important and play a big part in your blog. So how you use and incorporate them will determine the impact your blog will have in ranking in SERPs.
Related SEO Tips
How Long Will It Take To See Results After Implementing What This SEO Tips Book Suggests?
Regardless of what SEO tips book you read, or SEO course you take, once you implement what you learn, it will take a while before your website starts ranking in SERPS. Maybe weeks, maybe months. And that is normal!
The time it takes you personally to start seeing results in search engines will depend on the search engines (and how well you've implemented the SEO strategies).
Easy On-Page SEO offers a great value that could really transform your business if you put what she teaches into practice.
Of all SEO tips, patience must be applied throughout the process. It takes time for search engines to pick up on your Seo efforts, but once they do the impact can be long-lasting.
They say "The day you plant the seed is not the day you eat the fruit." This quote couldn't be more relevant when it comes to SEO.
How Will This SEO Tips Book Help Me Rank In Google?
Easy On-Page SEO explains just what Google is looking for, so you know how to write your content in the way Google prefers.
SEO can seem complicated but once you understand what Google is looking for it'll be a lot easier.
Google's goal is to provide the best content for the query, as fast as possible and Debbie really teaches this concept in depth.
This SEO tips book helps the learner understand on-page optimization from the beginning right through to the end.
Who Should Read The Easy On-Page SEO Book?
Any entrepreneurs, business owner's, bloggers and digital marketing marketers would greatly benefit from the Easy On-Page SEO book.
If you want to learn and understand how Google interprets your content and delivers it in search results, this book will surely give you that insight and more.
Not only does Debbie tell you the to do's and not to do's she also explains why quiet comprehensively.
The aim of the game here is to appear on page one of Google, if not first, so it's important to learn and understand the basics of Google, keywords and SEO.
Let's face it, there are so many rules and aspects to SEO that can seem so overwhelming and daunting but it's a skill one must keep working on and perfect over time.
Debbie's Easy On-Page SEO book will set the foundations and really instill the basics of SEO which will enable you to get started and become an SEO pro yourself.
You can then build upon this foundation and begin to monitor what works for you and judge what needs adjustment with Debbie's guidance.
This book is full of so many great SEO tips, that reading it once won't be enough.
I read the book once, then put the strategies into action. Then I read the book a second time, and discovered that my perspective was different the second time around. I had gained experience so therefore my understanding and application was more advanced. I'm pretty sure I'll be going for round three at some point. – Gertrude N.,
Overall I enjoyed Debbie's writing style it felt like she was talking directly to me or like it was a one on one coaching session.
This book is definitely one worth reading if you want to improve your SEO ranking for business growth.
Save $20 when you get both Easy On-Page SEO & Easy Backlinks For SEO
More SEO Tips