Learn SEO Online – Free Skillshare Classes For Entrepreneurs
Are you an entrepreneur looking to learn SEO online? Did you know that you have unlimited access to hundreds of classes on Skillshare, for free?
It's true. Skillshare offers an unlimited two-month trial of its course platform, free of charge. Meaning you can watch as many classes as you like for 60 days.
And there is no obligation to pay for a subscription after your trial ends, so you can test it out in confidence.
If you want to learn SEO online, you will find many SEO classes taught by top SEO masters on Skillshare.
---
As an affiliate partner of various brands and sponsored content, HerPaperRoute may earn commission on qualifying purchases. Disclaimer | Advertise With Us
---
Such as Rand Fishkin who is the founder of MOZ. But it's not just search engine optimization training on Skillshare – not by a long shot!
There is actually a class for every skill an online entrepreneur could ever need. From the creative arts, to the technical, to business savvy, lifestyle, mindset development, and personal improvement.
What Is Skillshare?
Skillshare is an online learning community where industry experts create courses for those who want to learn from educational videos.
🫶 Want to Make More Money?🫶
Become a member of HerPaperRoute today and get a toolkit packed with resources to help you make that paper. All for FREE!
---
What Classes Can You Take On Skillshare?
When you sign up for your free 2 month trial, you can take any/all the courses on the platform, at any time.
Here's just a snapshot of some of the categories of classes you can find on Skillshare:
---
Creative
Animation
Film Production
Youtube
Fine Art
Graphic Design
Illustration
Music Production
Photography
UI/UX Design
Writing
Business
Accounting
Business Analytics
Entrepreneurship
SEO
Finance
Freelance
Leadership
Management
Marketing
Productivity
Technology
Data Science
Mobile Development
Product Management
Web Development
Lifestyle
Crafts
Culinary
---
SEO Cheat Sheet – Free Download
HerPaperRoute members learn SEO online, blogging and marketing in one place.
Become a HerPaperRoute member today, for $0 and gain instant access to our big resource library of tools, training and printables for entrepreneurs. Including my SEO Cheat Sheet book, giving you the fundamentals your blog needs, to start ranking on Google.
This incredible resource of books courses, and bonuses can't be beat. Where should I send your invite code? Enter it below:
Skillshare Review
As you can see there really is something for everyone on Skillshare. I've used the platform for many years, but I wanted to get a fresh perspective of it.
So, this week I gave my team member Gertrude an assignment to test out Skillshare and see if it's worth the hype. She was curious to learn SEO online, and so she enrolled in Rand Fishkin's class Introduction to SEO: Tactics and strategy for Entrepreneurs.
Here's her detailed review of Rand's SEO class, as well as her experience using Skillshare.
Signing up for Skillshare is easy, simply click this link and within a minute you will unlock the entire Skillshare library of classes. You will have a free trial, giving you unlimited access for 60 days!
Learn SEO Online – Free Skillshare Classes For Entrepreneurs
by guest contributor Gertrude N.,
Skillshare review, learn SEO Online. Case study: Introduction to SEO: Tactics and strategy for Entrepreneurs, taught by Rand Fishkin.
Rand begins with a very clear introduction about himself and his expertise. If you're not familiar with who he is, he's the founder and CEO of Moz.
Moz is a leader in the field of search engine optimization tools, resources & community. It is the system that determines a website's domain authority (DA).
Rand's mission is to make search engines, social networks and the online marketing world easier to understand and enable learners to benefit from these tools for business growth.
Moz is a very reputable company, this is well known in the online marketing world. The platform has been running for more than a decade.
With this in mind, you can rest assured that the tutor is very well experienced and knowledgeable so therefore he knows what he's talking about and that some good valuable nuggets of information are coming your way.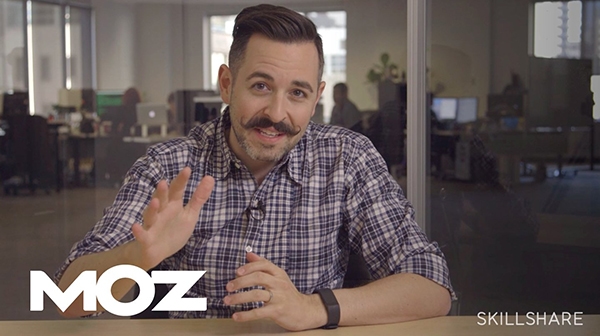 Who Is Rand's SEO Class Best Suited For?
This SEO course is best suited for entrepreneurs, marketers, founders, web designers or those who are responsible for driving traffic to a website.
Anyone who is involved in online marketing or wants to understand how search engines work for increased traffic, then this course is for you.
The tutor really breaks down the topic and gets to basics on what SEO is and how using SEO can impact your business as well as debunking the myths and misconceptions of SEO.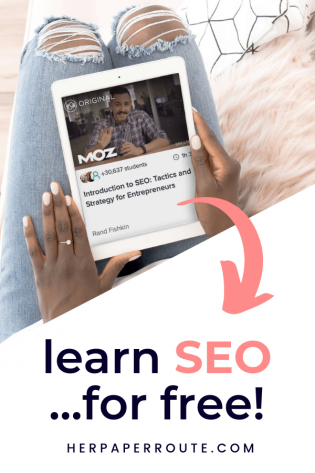 Rand uses diagrams and drawings to ensure he's fully getting his point across and often goes over what he's taught to reiterate his point.
This is great if you're a visual or practical learner like me.
I would say the Introduction to SEO course is for beginners because he does explain everything in detail.
Perhaps if you're more advanced in SEO and online marketing, parts of the course might not seem as informative compared to a beginner but overall he offers great tips, and tools which could also be of benefit to you.
Rand delivers the course in very digestible chunks using great examples and illustrations to help the learner understand.

How Easy Is It To Learn SEO Online From This Class?
Rand is very full of energy and his way of teaching is very engaging and present so therefore you don't find yourself drifting off into thinking about what's for dinner or the other million chore's and to do's you must get done.
If you are unsure on how and where to begin with learning SEO, don't panic Rand does a great job in guiding you through this.
He really helps you understand how to approach SEO by starting with a strategy.
The question, to begin with, is how can search traffic help you accomplish your business goals? Who you're trying to reach and how? In identifying the answers to these questions you are well on your way.
Once you have these answers you can really begin to strategies and figure out what keywords are best suited for your business, content you need to produce, optimization and building a presence on other platforms.
You will walk through an in-depth step-by-step demonstration on keyword research with recommended tools and websites to assist you in gathering this information for your business.
Rand educates on the different types of content that you can use to best suit your business needs.
Related: Free Cheatsheet For Bloggers
Learn SEO Online – Free Skillshare Classes, Conclusion
In conclusion, this SEO course on Skillshare was defiantly worth my time, and there's a lot to take away from tips, tricks and skills to get started or improve your SEO game and also help to improve your marketing skills.
As a beginner, this course is a great starting point and will lay a foundation for the learner to build upon. Rand really does a great job in not only explaining SEO but also the strategy behind it and the small details that make the bigger picture.
Given this course is only 90minutes long it's pretty impressive how much valuable information is shared in such a short amount of time.
This course is available on SkillShare, for free on a 2 month trial period.
During your two month trial period you will also have access to a ton of other courses on entrepreneurship and other topics of your choice to help you up your skills.
Here are a few other courses for entrepreneurs on Skillshare, that I would recommend.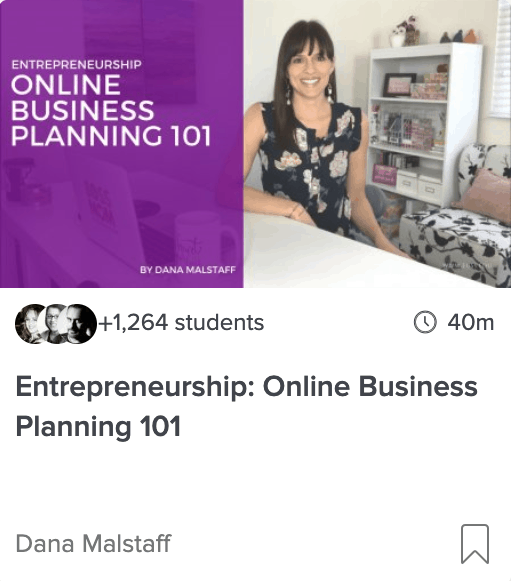 Online Business Planning 101 by Dana Malstaff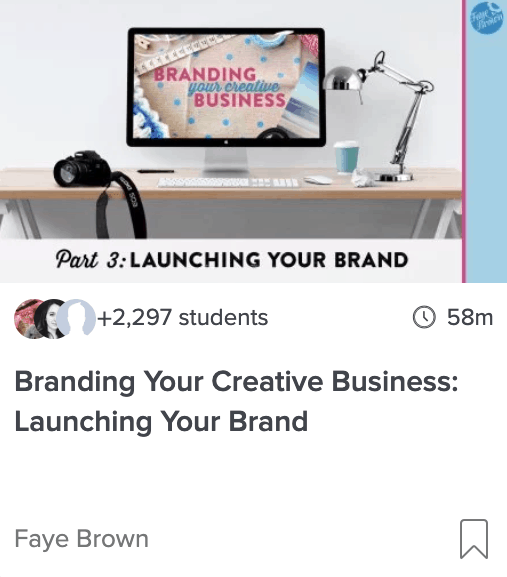 Branding Your Creative Business: Launching Your Brand by Faye Browne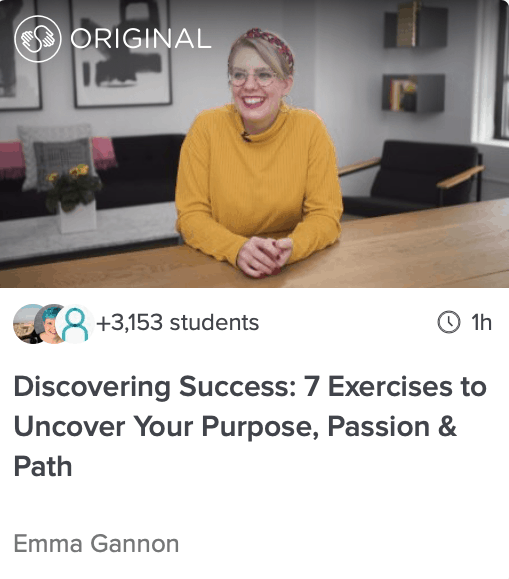 7 Exercises To Uncover Your Purpose Passion & Path by Emma Gannon
More Resources To Help You Learn SEO Online