MiloTree Review – Easiest Way To Get Free Followers, Grow List
I've been meaning to write this MiloTree review for a while now. I've been using this high-converting marketing tool to get free followers and grow my list for some time.
Since I have recently been sharing a lot of passive income ideas here at HerPaperRoute, it only makes sense to share how I get passive social followers too.
MiloTree is one of the easiest and best ways to get free followers and free email subscribers, by converting the traffic that your blog is already getting.
Sounds too good to be true? Read on for my MiloTree review, where I share my exact steps for getting the most out of this useful app.
---
As an affiliate partner of various brands and sponsored content, HerPaperRoute may earn commission on qualifying purchases. Disclaimer | Advertise With Us
---
What Is MiloTree?
MiloTree is a smart pop-up tool which increases social followers and email list subscribers.
It is a passive form of automated list growth, as it pops up on your website inviting visitors to sign up for your freebie, or follow you on social media.
If you have been visiting HerPaperRoute.com over the past months, you have probably seen the little box that pops up in the lower corner.
🫶 Want to Make More Money?🫶
Become a member of HerPaperRoute today and get a toolkit packed with resources to help you make that paper. All for FREE!
---
That box is my MiloTree pop-up, it contains an invite to follow me on Pinterest, like my Facebook page, or join my list to get free copies of my social media marketing books.
The Pinterest one looks like this on my website: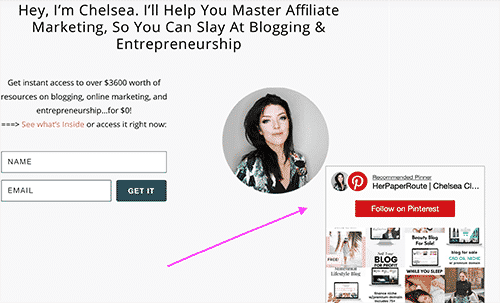 Why Do I Like MiloTree?
Before I get into this MiloTree review and explain the ins and outs of using it, here's why I like MiloTree in a nutshell:
It is a non-spammy / non-pushy pop-up
Converts really well
Increases followers/likes on Pinterest, Instagram, Facebook, Youtube
Increases ecommerce conversions to your Shopify and Etsy shop
Grows your email list subscribers
You don't need to pay more to add more social/email accounts, you get everything for the 1 price
MiloTree pricing is extremely affordable
Easy to install, easy to edit
Easy to understand analytics dashboard
Normally I am against pop-ups. But this is a pop-up I can get down with.
What Can You Do With MiloTree?
If you are trying to grow your blog/business/brand, you know how important it is to have a list, as well as engaged fans on social media.
You could spend hours every day in Facebook groups promoting your various pages and offers, asking people to like/follow/subscribe to it, but that's a lot of work.
And it isn't that effective either, because those people probably aren't all that interested in what your offers anyway.
Why not use the traffic your website is already getting, from people who are already interested in what your blog is about and convert those people to like your page?
That's what MiloTree does. It provides a simple, non-spammy, non-obtrusive popup box that is triggered when someone lands on your page.
I Hate Pop-Up Windows. MiloTree Is Not One Of Those
Personally, I hate when I land on someone's blog post and immediately the screen is covered by a big pop-up.
I immediately close them and don't even read what the pop up was for.
Those kinds of pop-ups are terrible, and never convert well!
MiloTree will never put a terrible screen-covering popup on your site. Just the small, friendly little window box in the corner of your page.
Your visitors will be much more likely to engage with a MiloTree popup.
I say this because that's how it's been working for me.
I've been getting an average of 65 new subscribers and followers each day from my MiloTree pop-up.
How Do You Get Free Followers With MiloTree?
MiloTree helps you convert your existing blog traffic into subscribers and social followers.
Typically you would have to pay a lot money for advertising to get more followers and email list leads.
With MiloTree, you get free followers without having to spend a cent on advertising.
The pop-up entices your blog readers to sign up and follow, instead of reading and leaving.

What Services / Accounts Can You Use With MiloTree?
MiloTree has an easy integration for your:
(note: click each of those links above for a special marketing guide to help you monetize/be successful on each of those platforms!)
How Does MiloTree Help Grow Your Facebook Page?
Nowadays, it's harder than ever to grow a Facebook page.
Thanks to the algorithm declining organic reach of pages in favor of increasing ad spend, and other factors.
MiloTree makes increasing your Facebook business page likes super easy and automatic.
As you can see in the example picture, my Facebook pop-up has an image and a big 'Like On Facebook' button.
When someone clicks it, they 'like' my page without having to leave my website.
So easy!
You can preview what your pop-up will look like on desktop and mobile, before you 'go live.'
This same type of popup appears to grow your Youtube channel and Instagram account.
How Does MiloTree Help Grow Your List?
MiloTree integrates with your email service provider, so you can use the popup to advertise your opt-in freebie.
It will pop up on any page on your site as your visitor scrolls.
Here's what one of my MiloTree email popups look like:

This is essential because even if you mention your freebie and display optin forms within your blog posts, people can miss it.
When a little MiloTree box pops up on your visitor's screen, they can't help but notice it.
For email marketing, I use ConvertKit to manage my list and newsletters.
MiloTree integrates seamlessly with ConvertKit, allowing you to choose which of your ConvertKit forms the new subscriber will automatically be added to, and how you want to tag them.

Tip: I've created a 'MiloTree' tag in ConvertKit, so I know that these leads came from my MiloTree popup. You can add multiple tags here.
MiloTree Integrates With All Of TheseEmail Providers
ActiveCampaign
AWeber
Campaign Monitor
Constant Contact
ConvertKit
Drip
FeedBlitz
GetResponse
GoDaddy Email Marketing
iContact
Infusionsoft
Mad Mimi
MailChimp
MailerLite
ONTRAPORT
SendinBlue
How Does MiloTree Help Grow Your Pinterest Page?
In the same way as MiloTree grows your Facebook, Instagram and Youtube pages, a similar pop-up exists to grow your Pinterest account.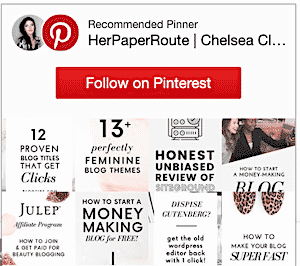 But I really like how with the Pinterest one, it displays your recent pins.
This way your visitors get a sense of the cool stuff that you pin, so they are even more excited to follow you.
And if they aren't interested in following you there, they can close the popup at any time.
Everything is very seamless. This tool is the easiest way to get free followers, who actually are interested in what you do.
Can You See How Many People Click Your MiloTree Popup?
Yes, MiloTree gives you a simple analytics dashboard where you can see exactly how many people clicked on your popup, broken down by each service/account.
The analytics dashboard has all you need, nothing you don't.
You can also use this dashboard to track how your various accounts are growing. Here's what the Pinterest one looks like:

For more blogging + business tips, follow me on Pinterest @HerPaperRoute
How Much Does MiloTree Cost?
MiloTree pricing is very straight forward. It is $9 per month, and you can have unlimited leads/traffic and clicks.
Other opt-in capture products (like HelloBar) charge you more once you reach a certain amount of clicks.
But with MiloTree, you just pay your monthly $9 subscription for your website and that's it.
Milotree offers a 30 day free trial. However, I just went right to a paid subscription. It's that good.
How Many Websites Can I Run MiloTree On?
You can run MiloTree on as many websites as you like, and have them all under one account. You would pay per website.
But, they do offer discounts on multiple websites.
So if you have more than one website, simply contact their support to ask about installing the code on multiple websites, and you may get a discount.
I have added 4 of my websites to MiloTree, and am a very happy customer.
How Do You Install MiloTree?
When you sign up for MiloTree, you have the option to install a plugin, or just copy and paste a line of javascript. I prefer the javascript option.
MiloTree installation help:
To install MiloTree using the code, paste it to the <head> section of your website. If you are using a Genesis theme, this can be done easily via the customizer.
Just paste the code at:
Customize » Theme Settings » Header / Footer Scripts
If you aren't using a Genesis Theme, use the free AddFunc Head Footer plugin to do this.
What Settings Can You Control?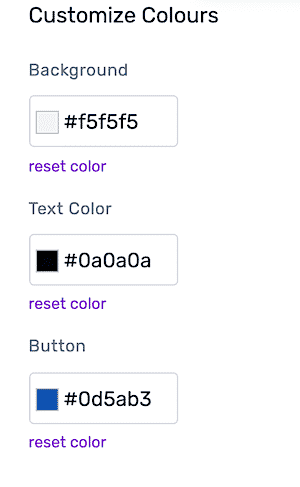 You can choose how, where and when your pop-up appears, as well as select the colors.
In addition to setting the pop-up colors, MiloTree gives you many additional settings that you can control.
I appreciate that it gives you the ability to:
Choose the pop-up position
Choose how often the pop-up appears
Choose to delay the pop-up until visitor scrolls
Choose whether or not to show the pop-up on mobile
Choose whether or not to show the pop-up on desktop
Choose whether or not to show the MiloTree Logo
Choose specific pages to show or hide the pop-up, or have it appear sitewide
Who Would I Recommend MiloTree To?
As I was testing the app for this MiloTree review, I was looking at it from both a technical standpoint and an economical standpoint.
I was taking into consideration the services provided, how well the pop-up converts, how easy it is to install and use, and how affordable it is.
Overall, I found that MiloTree is a really useful tool, one that I would recommend to any blogger and business owner looking to get free followers, grow their list and social accounts with ease.
MiloTree is completely easy to install and use, anyone can do it. In my experience, it converts very well. It has helped grow my list and followers on auto-pilot.
Not only that, but I am happy to be a paying customer of MiloTree myself, and will continue to use it for the foreseeable future.
I didn't just use it for the purpose of doing this MiloTree review, I really do use it myself.
MiloTree pricing is very affordable, at only $9 per month it makes economic sense.
I'm impressed that they don't charge extra for extra social accounts, or charge any upsells. You just pay $9 flat, and get full access to all services, for as many accounts as you have.
I also appreciate that they offer a discount when you add multiple websites.
MiloTree Review – Conclusion
So wrapping up this MiloTree review, I highly recommend this tool to anyone who wants to get free followers and more email subscribers. You can save time and money, and grow your accounts on auto-pilot.
It's helped me, and I think it will help you too.
Try it out and see for yourself! Get MiloTree free for 30 days right here!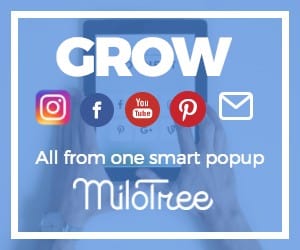 Keep Reading