LeadPages Review – 9 Best Features To Convert More Customers
LeadPages Review: Most web page builders are simple and straightforward enough, but usually, they are only focused on design.
They're not always geared toward converting your visitors to become paying customers. LeadPages, however, does both.
In this article, we will dig into its most important features and discuss its pricing and value for money. We will also compare it to certain alternatives, and review some pros and cons.
If you're curious about why so many marketers choose this page builder and come to determine whether LeadPages is right for you, read on!
---
As an affiliate partner of various brands and sponsored content, HerPaperRoute may earn commission on qualifying purchases. Disclaimer | Advertise With Us
---
LeadPages Review: What Exactly is LeadPages?
LeadPages is not like your regular website builder. It is specifically geared towards converting your site visitors into paying customers.
This software is built with this very important intention in mind.
And it has several tools in its box to meet this goal…
🫶 Want to Make More Money?🫶
Become a member of HerPaperRoute today and get a toolkit packed with resources to help you make that paper. All for FREE!
---
It is primarily a landing page builder, focused on helping you create high-converting sales pages and, ah, lead pages.
But it also offers additional tools for conversion such as a dashboard to track leads, and a checkout to process payments.
If you're getting into website flipping for profit, you should look into software like LeadPages.
As it makes it very quick and easy to design pages for your opt-in freebies, affiliate promotions and digital product offers.
Without ever needing to code or hire a designer.
Using this software to build your landing pages couldn't be any easier to use.
You simply pick out a theme and drag and drop different elements of the page where you want them, customizing as much as you like, and in accordance with your branding.
All Leadpages templates are web responsive, which means that they look great on any size of device.
And you get an unlimited number of landing pages.
You can add email capture forms to any landing page to build your email list, and this can be integrated with certain email building and marketing apps, such as ConvertKit.
What's more, you can turn any page into a sales page simply by dragging and dropping a checkout onto it.
Let's take a look at all of LeadPages best features. Sign up for your free trial of LeadPages now so you can follow along!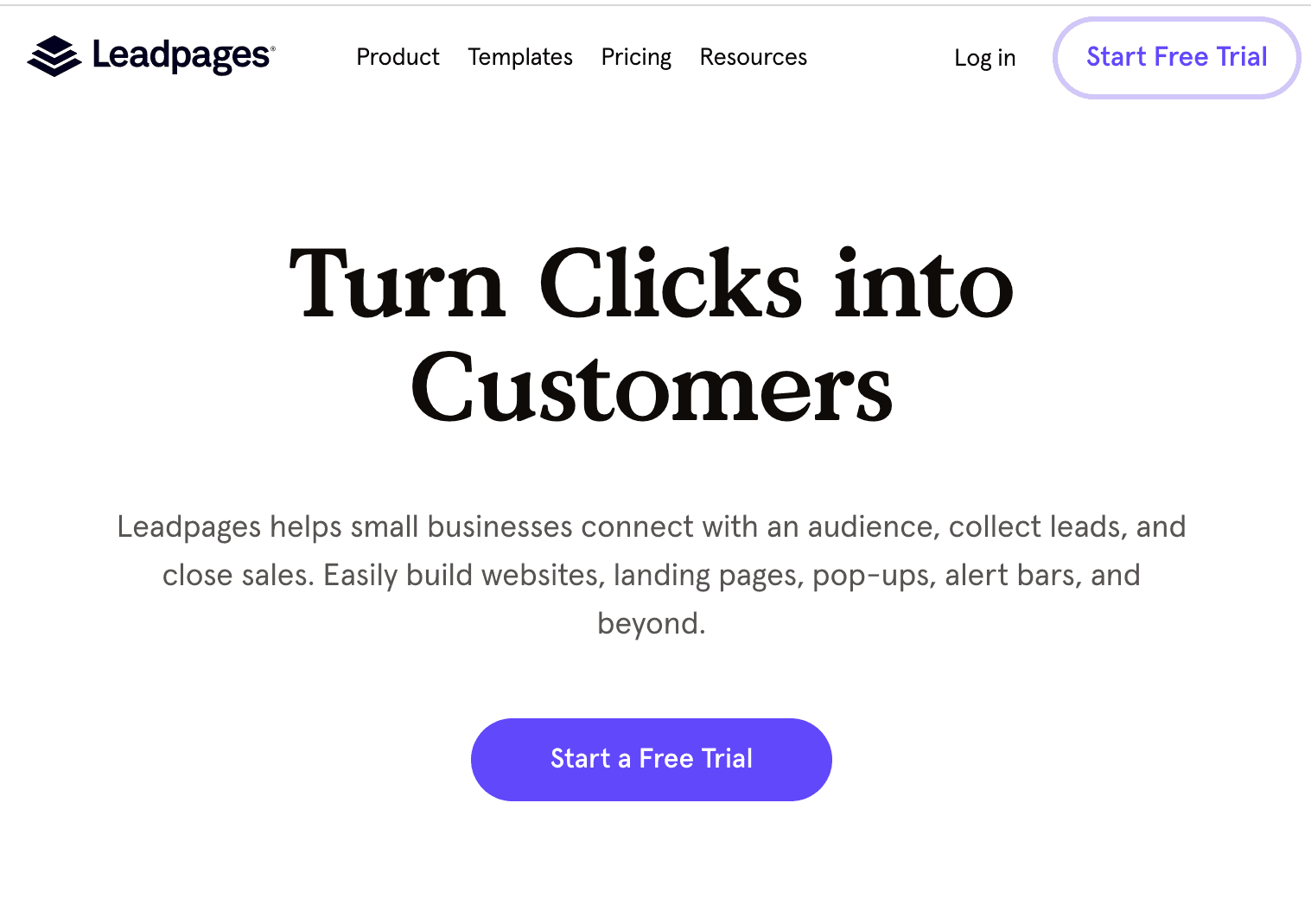 LeadPages Features
1. Free Hosting
For this LeadPages Review, it is important to point out that this software includes hosting for all of your pages, which is fantastic.
Whereas most website hosts charge about $10 or so per month, LeadPages will host your site for free, if you don't already have a host in place.
2. SEO Features
LeadPages includes some on-page SEO features to help boost your website's rankings in the search engine results.
You can set your SEO site title, add a meta description, and specify which keywords you want the site to rank for.
3. Countdown Bar
One of our favorite features of Leadpages is the countdown bar.
This alerts any visitor to your site that any offer is running out of time, which can often give them the sense of urgency which pushes them to buy from you.
Whether they're buying a product or a space on a webinar.
4. Conversion Analytics
Leadpages also provides conversion analytics that enables you to see at a glance what it is and what isn't converting visitors into paying customers.
5. Shutterstock Premium Images
You can purchase Shutterstock premium images right inside your Leadpages account and enjoy unlimited use of them.
6. Social Share Buttons
Visitors to your site can share your pages on social media, including Facebook, Twitter, and LinkedIn.
7. Embed Handy Widgets
You can embed a Calendly calendar to enable your website visitors to make appointments with you.
Or you can embed videos to your website perhaps demonstrating the unboxing of your product, or simply how to use it.
8. Zapier Integration
LeadPages offers many integrations, but the best of these has to be Zapier, which in turn integrates with a further 1000+ apps.
9. Drag And Drop Page Builder
LeadPapges makes it super easy to create beautiful page designs.
Use one of their many templates, or create your own from the easy-to-use drag and drop page builder.
Free Preview
To get a sample of what the Lp dashboard looks like from the inside, watch the video below:
LeadPages Pricing and Value for Money
LeadPages allows its customers to choose to either pay monthly or annually. Annual plans are the best deal!
Standard Plan
When this article was written, the standard plan cost just under $50 per month. This plan includes the following:
1 Website
Unlimited Landing Pages, Pop-Ups, Alert Bars
Unlimited Traffic & Leads
Free Hosting
Mobile-Responsive Site Templates
Lead Notifications
Email Tech Support
40+ Standard Integrations
You can save over $100 on this plan by paying annually rather than monthly.
Pro Plan
When this article was written, the standard plan cost just under $100 per month. This plan includes everything on the standard plan, plus the following:
Priority tech support, including by phone and chat
Online sales and payments
Unlimited A/B split testing
You can save over $300 on this plan by paying annually rather than monthly.
Free Trial
You can also sign up for a 14-day free trial.
This is a great way to see how you get on with the software, and whether it can deliver what it's meant to and drive sales for your business.
This is available for both the standard plan and the pro plan.
Value for Money
Standard Plan
Sadly, the standard plan doesn't offer any A/B split testing, which means that you can't really test whether different tweaks of your landing pages actually generate more conversions.
And because of this factor, it's only slightly better than a free WordPress site with a handful of extra handy widgets.
So on that basis, I would argue that the standard LeadPages package isn't necessarily good value for money.
Pro Plan
The Pro plan on the other hand is excellent value for money in my book.
But this is mostly derived from the fact that you can use it for up to three different websites simultaneously.
So you effectively get triple the value for only double the cost of the standard plan.
And you also get A/B split testing thrown in, combined with instant tech support.
Although, if you are considering the Pro plan, I would strongly recommend that you opt to pay annually because this will save you a considerable amount of money.
My Experience Using LeadPages
For years I had built all of my sales pages and opt-in pages on WordPress. But in 2021 I purchased a website that came with a busy digital products business, and all of its sales pages were built on LeadPages.
I got to spend a lot of time using LeadPages while running that business. I discovered that LeadPages is very user-friendly, dependable and efficient.
Using Leadpages meant I cut down on the time it normally took me to build sales pages! I would recommend it to anyone.
Learn more about buying and selling profitable websites here.
What Other People Say About Leadpages
As you may imagine, the Leadpages website features many glowing testimonials about their service.
But you should not make your mind up about such services through this alone.
This is why I took to Trustpilot to get a more balanced view.
I am pleased to report that when this article was written, Leadpages had earned an average 4.7 stars out of 5, after approximately 290 individual reviews.
Over eighty percent of reviewers scored it at a full 5 stars out of 5.
Leadpages Alternatives
Leadpages Vs ClickFunnels
ClickFunnels is also a great plantform for creating landing pages and converting website visitors into paying customers.
And it's the platform that Leadpages is most frequently compared with.
But there are some significant differences between the two platforms…
What is the difference between Leadpages and ClickFunnels?
ClickFunnels is definitely costlier than Leadpages, with the standard ClickFunnels plan costing about the price of the Leadpages Pro plan, while its Premium plan cost just under $300 per month when this article was written.
But on the flip side, it does offer more features, particularly with regard to sales funnels, which is beyond a shadow of a doubt its strength.
And it has more to offer when it comes to following up with visitors.
Leadpages Vs ConvertKit
ConvertKit is another online platform for website content creators to build landing pages and build their email marketing list.
But, there are some very stark differences between the two platforms. Essentially, ConvertKit is an email marketing platform – the best email marketing platform in my books!
But ConvertKit is not a landing page builder. Yes, although it has a landing page builder feature, its not its main focus, and its landing page feature is very limited.
ConvertKit includes a dedicated email builder where Leadapages does not. So the two aren't really comparable. Its like comparing apples to oranges.
Leadpages Vs Elementor
I would say that Elementor would be the most similar tool to LeadPages. Both are drag and drop editors.
But where Elementor lives solely on your WordPress site, LeadPages lives on its own server.
So if your website were to go down for some reason, only when using LeadPages would your pages would still be reachable.
Elementor is a great option for new or intermediate bloggers. It's free but has a super affordable price if you wanted to upgrade to the pro version.
It's easy to use and you can create some amazingly beautiful pages with it!
It works on WordPress so the downside is that it does take up space on your server and if the plugin is deleted you'll lose the formatting of your page (but you won't lose the content as you would for other plugins like Thrive Architect or Divi)
LeadPages also has a cool feature where you can place a line of code on any site you use, like Teachable, and the LeadPages design your created will appear on your Teachable site, in place of the default Teachable sales page. You can not do that with Elementor.
LeadPages of Pros and Cons
Pros
Ease of Use
On trying this software out for ourselves, we were actually blown away by just how easy and intuitive the Leadpages site builder is to use.
Excellent Tech Support
Not only does Leadpages offer free virtual workshops for using their software, but you also get step-by-step how-to articles, and friendly human support too.
Unlimited Leads and Traffic
Similar platforms usually start to charge their clients more, according to how many visitors they draw to the site and how your following and your leads grow.
But you don't have to worry about that with Leadpages because they will just charge one flat rate, unencumbered by business growth.
Cons
Each platform has its pros and cons.
No Special Member's Area
Although you can set up pop-ups to request a site visitor's email address, there's no actual membership section for your visitors.
Doesn't Include an Email Builder
It sure helps with your branding if you can ensure that the landing pages are congruent with the emails that you send out to your email list.
However, Leadpages doesn't actually offer an email creation service, which could make this tricky.
Tracking Is Per-Page
Because it's separate from WordPress, you need to set up your pixels, Google analytics code, and any other conversion tracking individually on each and every page you create.
Frequently Asked Questions About LeadPages
What is LeadPages good for?
LeadPages is good for building professional-looking sales pages and opt-in pages. You don't have to be a designer.
Is it easy to use LeadPages?
Yes, it is very easy to use LedPages. You simply drag and drop content boxes where you want them to go, and change text, fonts, colors and elements with the click of a button. I love the analytics, being able to quickly duplicate my pages, and the fact that it's hosted on an outside server. If my site broke tomorrow my funnel would still be working.
Is Leadpages good for SEO?
Yes, LeadPages has built-in SEO capabilities allowing you to set the meta descriptions and keywords for each page you create. Which will give your pages the chance of showing up on Google and other search engines.
LeadPages Review – Final Verdict
There are several reasons why I absolutely love LeadPapges:
It's very easy to use once you get the hang of it. Like all new programs, there's a learning curve when you get started
You can integrate it with Teachable very easily which is amazing! You don't have to use Teachable to create your sales pages at all, they can all be via LeadPages. That way, you can have countdown timers, you can re-direct to tripwire pages, upsells, etc.
Analytics and data. Again, the more data you have the better! With LeadPages you can see on your dashboard how many people have viewed the page, the conversion rates of your opt-in pages, and you can also set custom date ranges in order to track conversions on sales during specific time frames like launches.
It's NOT tied to your WordPress website. This means, if your site goes down or there's an issue with your host, your sales pages are not broken. If your email service provider and LeadPages are still running, then you're still making sales and income even if your site crashes.
LeadPages Review – Conclusion
So, Leadpages sure does have some excellent qualities and features.
But to get any real value from it, we would argue that you have to go for the pro plan rather than the standard plan, which costs more, coming in at about $74 per month.
But if you have three sites that you are working one, in our view, the pro plan is definitely worth the extra money.
Especially when you take into account the other benefits, including phone tech support, and online sales and payments.
Sure it's not perfect, for example in how it doesn't provide you with an email builder, but to be honest that's something that you can easily work around, by using an integration like ConvertKit.