Start A Blog For Cheap – Where To Save And Where To Spend
Starting a new blog is an exciting thing! Starting a blog for cheap is even better, and completely possible.
The world of blogging is a fantastic creative and fun one, and one that has the potential to make you a lot of money too, if done right. Click here for my free step-by-step beginners guide on how to set up a blog!
Start A Blog For Cheap – Where To Save And Where To Spend When Launching A Blog
There is much to consider when gearing up to launch a new blog, from choosing a web host, designing your brand, creating content, promoting that content, figuring out SEO, figuring out how to get people to actually read and follow your blog… the list goes on and on.
It's no wonder new bloggers can feel overwhelmed and confused, and if that's you, fear not, you are not alone.
---
As an affiliate partner of various brands and sponsored content, HerPaperRoute may earn commission on qualifying purchases. Disclaimer | Advertise With Us
---
Don't Get Overwhelmed
You can do this! Creating a blog is not a race, vow to work on your blog a bit each day.
In my many years as a marketing strategist for corporations, I have launched hundreds of websites for people and companies and know exactly what works and what doesn't when launching a project.
🫶 Want to Make More Money?🫶
Become a member of HerPaperRoute today and get a toolkit packed with resources to help you make that paper. All for FREE!
---
Better yet, I know the real cost of starting a blog and can confidently tell you where you should spend a little money upfront, and where it's better to save your money.
Launch-Mode Doesn't Have To Cost Much
It's easy to get caught up in the excitement of launch mode, and either spend too much on things you don't need or, even worse you may not spend enough on the things you do need and risk hurting the chances of your blog's growth over time due to lack of utilizing the right tools now.
Continue reading to find out what things you should be investing into your blog, and what things are best to save on, consider spending on later, or skip altogether. It is totally possible to start a blog for cheap!
Where To Save And Where To Spend When Starting A Blog
So you have made the decision to finally start the blog that you've been thinking about forever – hooray!
But you are feeling easy about spending money upfront on it yet because you are unsure if blogging will be something that you will stick with, or unsure if anyone will read it.
You may be thinking that if your blog "blows up" in a few months, that putting money into it then will be "worth it" but not yet.
I can tell you that if you are waiting to invest money into your blog until it "blows up" later, you will be waiting a long time, possibly forever.
The Business Mindset
There are some things that you should put a bit of money into, in order to give your blog a chance at succeeding.
The "free or cheap only" mindset is a common one of newbie bloggers, and I get it, it can feel like a risk to pay for something now that isn't necessarily guaranteeing a return in profit.
But your blog is a business, and I recommend you go in with a business mindset from the start. Take your blog seriously and put in the investment where it matters. You need to tell yourself that you will stick to blogging and believe that your blog will succeed.
Additionally, when you invest a bit of money into your blog in the beginning, you are actually more likely to stick with it, and see its profits, because you have something invested in it financially.
Starting A Blog For Cheap: Spend Vs Save
Hosting
It is important that you own your domain and self-host on WordPress.org (not WordPress.com) so that you can monetize your blog from the start.
'Free' sites like Tumblr and Blogger are problematic because you can't monetize (make money from your blog), as you don't own your hosting or content, and companies won't or are less likely to hire you to write sponsored posts, run their ads or join their affiliate programs if you don't own the website yourself.
To self-host your blog, all you need to do is purchase hosting and a domain.
Paying for hosting is actually super affordable, often at less than $3 a month, and often come with a free domain, free email, security and other all-important features to help your blog succeed.
I recommend Bluehost as the best, most secure and reliable web host. Their WordPress.org hosting plans include a free domain, email, a ton of web space, security SSL ticket, and other important features. You can take advantage of my partner discount and get hosting for just $2.95 per month: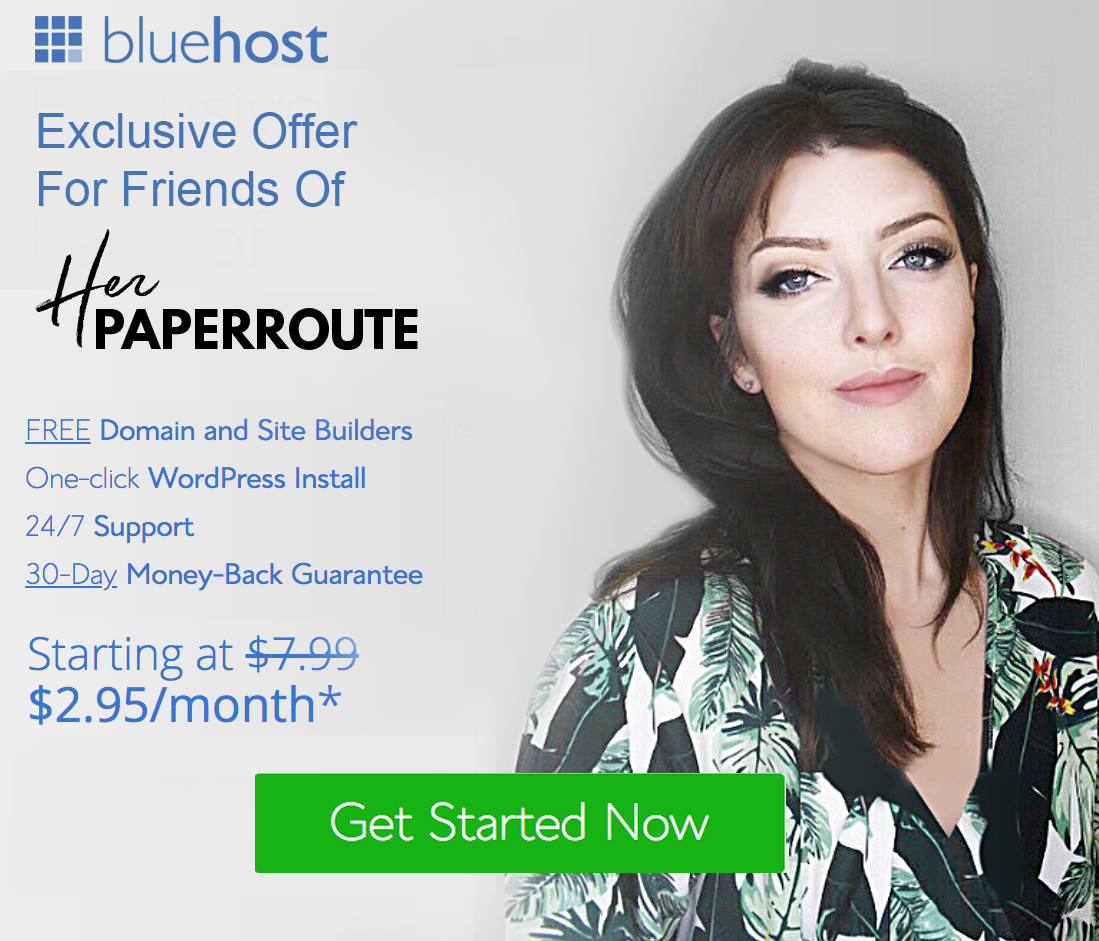 Since you can't earn money from a blog on a 'free site' such as Tumblr or Blogger, it is actually incredibly expensive NOT to self-host, as 'free sites' stop you from earning hundreds or even thousands of potential monthly blog revenue.
It is best to spend the $3 to self-host your blog with Bluehost or another host from the start so you can earn money blogging right away.
SiteGround is another popular webhost, plans start at $3.95 per month.
This FREE guide will show you how to set up a self-hosted blog in minutes, as well as show you how to monetize it right away.
Theme
Did you know that there are literally hundreds of super rad premium WordPress themes for less than $30?!
Gone are the days when you would have to shell out a thousand dollars to have a custom theme designed, as now you can get beautiful, responsive and unique themes for crazy cheap.
Envato ThemeForest is a budget-friendly source for WordPress themes, with themes starting at just $10. Here are a few of my favorite Envato WordPress themes for under $20.
You could also use a completely free theme, there are lots of good free themes too, but free themes tend to come without support, and sometimes aren't updated when WordPress comes out with new versions of itself. It's better to spend a little bit on your theme and have something that will be guaranteed to run smoothly.
As your blog grows you will likely want a gorgeous premium theme with more features, though. You may want a premium theme from the beginning, and if so I can recommend a couple awesome resources.
[adsense]
For feminine WordPress themes, check out both of these sites:
How To Get A Free Installation Of Your WordPress Theme
No matter which WordPress theme you purchase, if you buy it via clicking any of my links above, simply send me a copy receipt, and I will install it for you, for free! Contact me to arrange this service.
Design / Creative
The look of your brand is crucial to the success of your business. You need high-quality imagery! Fortunately, there are ways to have a high-quality look, without a high price tag.
Images
Having high-quality images on your website is so important. Ideally, you want photos no one else has, and to do that will either mean you hire a professional photographer ($$), or you take photos yourself (Free).
If paying for a photographer isn't in the budget, and you aren't able to shoot photos yourself, there are some great stock photo subscription services you can subscribe to.
There are a ton of completely free stock photo resources out there! Check out this list of free stock photo sites.
Logo, Graphics/Images With Text
When you are developing a new business, you may want to create your logo and graphics in as cost-effective manner as possible. Sure you could hire a professional graphic designer to do this for you, but if you are on a budget there are ways to do it more affordably.
Canva is an awesome program that allows you design graphics for free and offers hundreds of templates to make for professional-looking designs even if you aren't design-savvy yourself.
It's great for adding text to images to create share-worthy graphics for Pinterest and other social media.
You could easily design your own logo on Canva for free, or pay someone on Fiverr to create your logo for just $5! I am not trying to put designers out of business (I am a designer, after all!) but when you are just starting out your money can be better spent in other areas.
I also recommend you consider subscribing to Envato Elements, for unlimited photos, graphics, fonts and even WordPress themes!
Website Design
I can't tell you how many times I have gone to someone's website where they are claiming to be an expert at something or trying to sell a product, yet their website design is so poor that it makes them look amateur, devaluing their business and products completely.
If you want your viewers to take you seriously and ultimately become a paying customer, you need to impress them with a professional and well-designed website.
That's not to say you need to spend a ton of cash on a web designer, as it is fairly simple to install your theme and make minor adjustments to the site's appearance yourself if you are familiar with how to do it, or willing to learn.
If you don't know how or feel confident, or lack the desire to learn, I recommend spending a bit of money up front just to have a designer or a virtual assistant review your website and make sure everything runs and looks right.
Save on graphics by photographing images yourself or using free image sites. If you can budget for a stock photography subscription or even hire a photographer, that's awesome but not necessary when just starting out.
Spend a little on hiring a web designer or VA to design or review your website if you aren't comfortable doing it yourself.
A Content Scheduler
When you launch your new blog or business, you are going to need to promote it every day, all day across multiple social media platforms.
It is a lot of work that could take a lot of time if you had to do it all on your own. Thankfully there are programs that can automate the process and post for you.
I use SmarterQueue to do this for auto-posts to Facebook and Twitter. This app has so many awesome features – but my favorite is that you can set your evergreen content to continue to post forever.
You can try for a free month of SmarterQueue Here, and if you like it, plans vary in price, depending on what you need.
Another option is Buffer, although you are more limited with Buffer, the free plan is pretty good if you don't want to schedule very often.
Related: Why I Left Buffer For SmarterQueue
Pinterest Scheduling
To grow your traffic you need to use Pinterest, and for that, pin scheduling apps are a must!
It is recommended that you be pinning content at least 40 times a day in your Pinterest boards and group boards, but I pin over 200 each day, so I use these two apps to auto-post throughout the day.
Tailwind is an epic Pinterest scheduler. It allows you to automate your Pinterest, so pins are firing out all day every day, without you having to do a thing.
Try it free for a month, and then if you wish to continue using it, it costs $10 per month.
Check out my guide to using Tailwind here.
Spend on the Tailwind for sure, it is well worth the small investment!
Instagram Scheduling
You can use Planoly to plan and style your Instagram. The free plan allows for a limited amount of uploads per month, but offer a great way to make your Instagram grid beautiful. Planoly also is great for finding hashtags to use with your posts.
The premium plans allow you more uploads and features, including the ability to add shoppable links to your Instagram.
An Assistant
There are literally a million things to do when starting and then running a blog.
And then a million more things to do if you are running a blog with the intention to earn a profit! It is completely possible to everything on your own, but having some help here and there will definitely make things easier, not to mention save yourself a ton of time.
I had a student who was a new mom, and she was starting a blog for the first time. We were working on her blog development, and I was helping her create an action plan for her launch.
As any mom and mom blogger can tell you, our "free time" is precious and rare, so finding the time to do everything that is required to run a blog all on your own can feel overwhelming.
She told me that she was considering hiring a full-time assistant to come to her home each day to help run her blog, and asked me if I thought it was a good idea.
I agreed that yes, having someone help with the (many!) tasks involved with starting and running a blog was a good idea, but that having an in-person employee at this stage in her business was not.
I explained that hiring an assistant is expensive, and something she could consider down the road when her blog is making an income, as currently, she had zero income, zero followers, and zero customers.
[adsense]
A more affordable option is to hire a VA, or work with a student marketer.
Someone that would do all of the daily blog tasks online, without having to be an employee in her home. I recommend that anyone who is running a blog go and trademark your blog name immediately. Also, it pays to hire an experienced virtual assistant (VA), especially where a budget is involved.
Consider that a VA costs about $300 for 30 hours of work, whereas 30 hours in wages for an in-person assistant would cost well over $600.
A reputable VA company can provide professional service where its VAs can do anything and everything business-related.
From bookkeeping, researching, file management, website building, social media management, customer service… truly anything you need, and for a better cost than having a full-time in person employee.
I have used Acadium as well as 24/7 Virtual Assistants for several projects and can attest to the incredible value they provide.
When starting a new business or blog, save by hiring a virtual assistant, instead of spending too much on an in-person assistant. You may have the money coming in later to be able to afford an in-person assistant, but a VA can do anything you need at a more affordable cost, online.
Related: Go Viral On Instagram (Without The Risk Of Being Shadowbanned) With This Trick
Advertising
I know some bloggers that have great success with using for – pay Facebook and Twitter advertising, but they started using it once they had already established their businesses themselves for a few months.
Paying for Twitter and Facebook advertising can be great once you have a developed product, but when you are just starting out it isn't recommended as the return on investment may not be valuable yet.
The cost of paying for advertising in your blog's early months could be quite expensive.
I would recommend taking advantage of free advertising as much as possible (Facebook groups & Pinterest groups, for example) and then looking into paid advertising later on, once you have built up a bit of a following already.
Join as many blogging groups on Facebook as you can find, and spend some time each day in the groups talking to other members and sharing your links to promote your blog for free.
Related: How To Find & Join Pinterest Group Boards
However, this is just a suggestion, you may have a stellar product that just needs people to see it and paying for advertising from the start may be right for you. Enroll in my free blog starting training here!
Although I recommend utilizing free advertising in the beginning stages, this is a personal decision for you to decide what's best for your unique brand, ultimately!
READY TO GET SERIOUS ABOUT YOUR BLOG?
Learn the complete business of blogging in the online course BLOG BOSS and start making money from your blog today:
---
Did You Start A Blog Today? Let Me Know In The Comments Where You Need Help Most! And Feel Free To Share Your Link!