4 Avoidable and all-too-common Pinterest mistakes that hurt your business.
Pinterest has the power to grow your business and blog traffic in record time. Even a brand new blogger can get thousands of page views from the start, by using Pinterest strategically. But there are a few common Pinterest mistakes that can get in the way of your blog's growth.
This site features ads and affiliate content Disclosure • Advertise with us
Are You Making Any Of These Pinterest Mistakes?
If You Are Struggling To Get Traction On Pinterest…
There are a few steps you need to take to ensure that your Pinterest account will be seen and adored by the masses.
As well, there are a few common newbie mistakes that could be holding you back, too.
~ Pin This ~
Pinterest Mistake #1 – Poor Quality Images
Take a moment to scroll through the main feed on Pinterest and you will notice that every image in the top search results have something in common.
It's that they are visually pleasing to look at.
Pinterest Is A Visual Platform, And So One Of The Most Important Things To Have Is High-Quality Graphics For Pins
Pins that do well on Pinterest, and as a result do well for your traffic and business are overall high-quality.
They are high resolution, the fonts and colors go together, nothing is too loud.
It is so important to make beautiful pins if you want people to share them, but unfortunately, design skills aren't in everyone's wheelhouse.
Knowing how to create Pinterest images that will appeal to others from a design standpoint can be hard to decipher.
There are free online tools such as Canva, which you can use to easily create Pinterest graphics.
When making Pinterest pins, only pin vertical, long images. No squares, no horizontal.
To help you with this, I've created my Viral Pin Formula book, where I show you exactly how I create pins that go viral and get thousands of impressions, repins and click-throughs.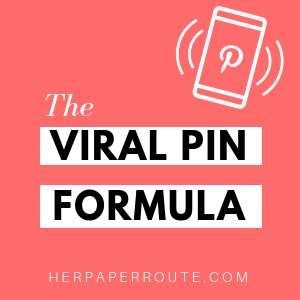 Let me know where I should send your free copy of the Viral Pin Formula book:
For complete lessons on how to use Canva, and how to brand your pins, blog and other online content effectively and affordably, enroll in my Pinterest Marketing Course, which covers every aspect of using Pinterest as a marketing tool.
Related: Viral Pinterest Images Hack Proven To Make Pins Go Viral
Pinterest Mistake #2 – Neglecting Pinterest SEO
Until recently, there was no 'social' aspect to Pinterest, so it wasn't considered a social network.
But now Pinterest has launched 'Pinterest Communities' which adds a whole new social element to the platform.
But regardless of the recent social capabilities of the platform, it's important to know that the thing that matters most about Pinterest is that it is a search engine.
Because it is a search engine, SEO is the one crucial thing you need to take into consideration.
You need to use good keywords in the descriptions of your pins, bio and boards.
Make it easy for people to discover you when they search for what they need in the search bar.
Here are some tips on Pinterest SEO.
Pinterest Mistake #3 – Being An Information Hoarder
Don't be an information hoarder! Be an information curator!
Think of Pinterest as your own art gallery, and consistently put the work of others on display, not just your own.
Take pride in sharing the pins of other bloggers in the community, especially if they are in your niche or doing something similar as you are.
You are not in competition, in fact, sharing pins from your peers will only help your success, as you will reach more readers the more you share (and your peers will likely share your pins in return!)
Pinterest Mistake #4 – Going At It Alone
You need to be pinning your images to as many group boards as possible, several times a day every day.
But you don't have to do all of that pinning alone – in fact, there are tools that can automate this task for you.
Related: Where To Find Pinterest Group Boards And How To Join Them
I recommend you start with Tailwind. This is an incredible online tool that will auto-pin your content to all of your group boards.
I have a detailed tutorial on how to rock Pinterest with Tailwind here.

Learn Pinterest Marketing
I teach a Pinterest Marketing Masterclass where I share my strategies on using Pinterest as a marketing tool.
You will learn how I create viral pins with strong SEO that send thousands of visitors to my blog each day.
Enroll today!
Are we following each other on Pinterest? We should be! @HerPaperRoute
Keep Reading
21 Tips For New Bloggers From Pros
Common New Blogger Mistakes To Avoid