Pinterest Unblocked: Suspended On Pinterest? Website Blocked? Do This
Is your website blocked on Pinterest for spam, by mistake? Pinterest suspended your account? Here's how to get Pinterest unblocked.
It's such a terrible thing when you go to pin something from your blog one day, and you discover that your website has been blocked by Pinterest.
Or even worse, your entire Pinterest account has been suspended.
You get the dreaded 'Sorry, we blocked this link as it may lead to spam' error message. Every link to your website is suddenly blocked, and your Pinterest traffic is now tanking as a result.
---
As an affiliate partner of various brands and sponsored content, HerPaperRoute may earn commission on qualifying purchases. Disclaimer | Advertise With Us
---
Perhaps you did nothing spammy at all, yet here we are.
It appears to happen out of nowhere. Suddenly, you find yourself in Pinterest jail. For anyone who counts on traffic from Pinterest, this is devastating.
Fortunately, hope may not be lost! There are some things you can do to get your suspended Pinterest account reactivated, and your website unblocked.
🫶 Want to Make More Money?🫶
Become a member of HerPaperRoute today and get a toolkit packed with resources to help you make that paper. All for FREE!
---
Why Is Your Website Blocked On Pinterest For Spam, Or Your Account Suspended?
There are many reasons why you could have ticked off the spam-bots. And sometimes, you could have done nothing at all.
Pinterest is one of the best platforms for traffic. There's no question! Organic Google traffic may be the holy grail, but organic Google traffic takes months and years to achieve.
Pinterest provides a way to fast-track the growth of your blog and business, by giving you free traffic from its platform. There are 300 million monthly users on Pinterest, after all.
For some bloggers, Pinterest is their #1 source of traffic. So you can imagine how awful it would be to suddenly lose all of that traffic overnight.
The error message looks like this if a website has been blocked: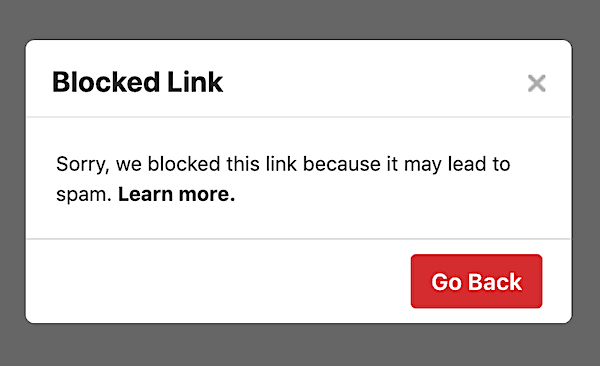 Pinterest wants to cut down spam, and so they actively suspend and block accounts and websites that their bots pick up as potentially harmful.
It could be that an account posted repetitive pins, repetitive descriptions, linked to low-quality content or any number of reasons.
Unfortunately, this is an automated process, and often good accounts and websites get caught up and suspended and blocked by mistake.
I have seen this happen to many bloggers, and it's happened to me too! But the good news is that I was able to get my own Pinterest account reactivated and help others in getting theirs back too.
If you follow the tips below, you may be able to get your account unsuspended and our website unblocked.
Learn how to get Pinterest unblocked now.
Disclaimer: I am not an employee of Pinterest, and I do not know exactly why you may have been suspended. I am only sharing these tips as they are my personal experience from having this issue myself. Always make sure that you are following Pinterest's TOS.
How Can You Avoid Getting Suspended On Pinterest
Here are some general good practices you should be aware of, so you can avoid getting your account suspended on Pinterest in the future.
Don't pin the same pin over and over again.
Spread it out over a few weeks before pinning it to another board.
Make new pins for old blog posts regularly, with unique descriptions.
Make sure that every time you do pin a pin that you have previously pinned before, you give it a brand new description. With different keywords. I know this isn't always possible (especially when using a scheduler) but for manually pinning, make it a priority!​
Always embed the proper Pin ID Into Your Pins
Make sure that you put the original pin's pin ID into the share pin embedded into your post. This way, when someone pins your blog post it creates a repin of the original pin, instead of creating a new pin.
When you've done this, you don't get a million pins of the same image floating around Pinterest. You just have the one pin that gets repinned by everyone. To learn how to do this, read this important Pinterest marketing tips guide.
And to make it easy, you can use this tool that I swear by.
Focus on pinning to your own highly keyworded boards, rather than group boards.
These days, group boards are becoming a bit of a mess.
Stick with your own boards primarily, and pin to a group board only if its on-topic, highly keyworded, and not full of random spammers.
You can check the quality of all your boards in Tailwind to see if a group board is worth keeping or leaving.
Have a wide variation in the designs of your pins.
Use different colors, fonts, images, and layouts. Don't make them all look similar.
I know, for branding purposes it is nice to want to have a cohesive feed of similar-looking pins. But for your own sake, mix it up.
What To Do If Your Account Is Suspended Or Website Blocked On Pinterest
So long as you weren't doing anything spammy or against the TOS, there are some things you can do to to get your account back, or website unblocked.
Step 1 Contact Pinterest
Was your website blocked on Pinterest? The first step is to contact Pinterest to appeal your suspension or block. Here's the contact page and here's where to click:

Follow the prompts to reach the area where you can describe the issue. Explain that you believe your account was suspended or website blocked on Pinterest by mistake, and list some reasons why you aren't a spammer.
Some things worth mentioning (as long as it's true) that you:
Have never spammed Pinterest
Don't pin the same pin repeatedly
Write unique pin descriptions for every pin and repin
Don't steal other people's pins or copyright
Your pin designs have variation
Your website content is high quality
You don't post anything against the TOS
Your website uses a secure SSL certificate
Your website has a proper legal privacy page
Anything else you can think of that would be a reason why you belong on Pinterest
If you were running paid Pinterest ads, you should also mention that you are an active advertiser who wishes to get your ads back up as soon as possible.
Copy all that text you just wrote, because you will need it for the next step. Send the message.
2. Check Your Inbox
You will then get an automated email back. It may look something like this:
3. Reply right away
Reply to this email with the text you just copied. The response you got isn't from a human, so you need to keep on replying until you reach a real human who will manually look at your account.
You may get a second automated email saying that you won't get your account back or website unblocked. Again, this isn't a real human, no one has actually looked at your account yet, so keep emailing.
If all goes well, eventually, you should be able to talk to an actual person at Pinterest and get it sorted out. If so, get ready to do a happy dance when you finally receive the "Sorry, that your website was blocked. Occasionally good sites get caught in the mix by mistake" email, and your account will be reactivated in good standing.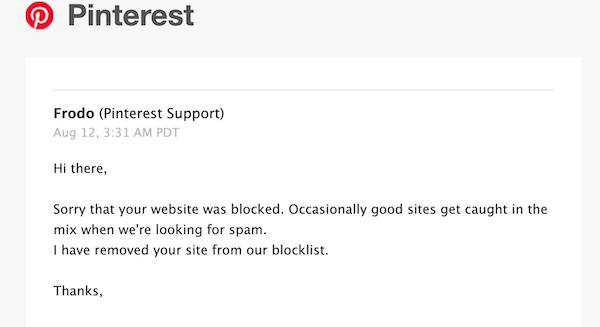 Website Blocked On Pinterest For Spam – What To Do, Conclusion
So long as you legitimately didn't do anything spammy or against Pinterest's TOS, you should be able to appeal. And hopefully, you will be able to get your website blocked on Pinterest unblocked, or your suspended account reactivated.
The most important thing is that you keep on contacting until you reach a real human. Because it takes a real human being to manually look at your account, and unfortunately there are many automated roadblocks along the way.
For more of my Pinterest tips, check out these articles now:
On the most recent episode of the HerPaperRoute Podcast, I'm sharing some no BS confidence + mindset boosting techniques to help squash anxiety and thrive as an entrepreneur Listen to the episode here!
Resources For New Bloggers
Resources For Advanced Bloggers
Learn how to add a tripwire to your opt-in page to increase your blog income on auto-pilot.
These are the legal pages your blog needs so you don't get sued.
Get Your Free Blogging + Pinterest Toolkit, For Free!
Enter your email below, and I will send you an invite to access the HerPaperRoute toolkit, a members-only resource library of blogging tools, courses and books.
You get all of them for free! Including my Viral Pin Formula book, a must for any blogger who wants to grow their blog traffic with Pinterest.
Let me know where to send it:
Did you find this guide on unblocking a website blocked on Pinterest helpful? Please pin it!