How To Create A Blog Media Kit And Work With Brands
Having a blog media kit is a great thing to have. Do you have a media kit for your blog, yet?
When it comes to monetizing your blog and working with brands for paid sponsorships, it's important to have a media kit ready.
If you don't yet have your blog set up correctly for monetization, you need to read this first!
How To Create A Blog Media Kit And How To Work With Brands As An Influencer
"What is a blog media kit?"
"Why does my blog need a media kit?"
"How do I make a blog media kit?"
"How can I work with brands and get paid to blog??!"
One of the things I like best about hosting a members-only blogging community (called the HerPaperRoute Toolkit, you are welcome to join below, it's free!) is answering your questions individually, giving one on one coaching to new bloggers on how to improve and monetize your blog, and then seeing how your blog grows and prospers.
---
As an affiliate partner of various brands and sponsored content, HerPaperRoute may earn commission on qualifying purchases. Disclaimer | Advertise With Us
---
Something that I get asked a lot is about creating a blog media kit and how to use them to get paid blogging jobs. So this post addresses just that!
Get The Profitable Blog Toolkit By Joining Here
Creating A Blog Media Kit & Working With Brands
Making a media kit and pitching to brands is a lot less complicated than you may think.
🫶 Want to Make More Money?🫶
Become a member of HerPaperRoute today and get a toolkit packed with resources to help you make that paper. All for FREE!
---
You don't need any fancy software or a design degree to create one, and there are literally thousands of brands out there dying to pay bloggers to blog about their products.
This post will explain how to create a blog media kit, why you need one, and how you can use it to pitch to brands for paid sponsorships.
If you don't want to create your own blog media kit from scratch, you can use my Media Kit Template.
The info is taken from a lesson in a course that I teach called The Blog Monetization Course. I decided to share the lesson here to help you in your blogging journey.
If you find it useful and are interested in learning more about making money as a blogger, I welcome you to take the course!
What Is A Media Kit?
A media kit is a 1-2 page PDF that advertises your blog stats. Such as what your blog is about and how many social media followers you have.
Why Does My Blog Need A Media Kit?
You need a media kit to send to companies when you propose partnerships with them for paid blog sponsorship.
You need a media kit that shows why you are an influential blogger and why they should work with you.
A blog media kit is needed for working with brands as an influencer, but you do not need a media kit to work with brands as an affiliate, but it's still good to have one ready.
Related: How To Create An 'About Me' Page That Converts To Subscribers & Sales
What Is The Difference Between An Influencer And An Affiliate?
An affiliate is a blogger who has joined the affiliate program of a brand, and blogs about a product, with links to the product's sale page.
For example, many top brands host their affiliate program on the AWIN affiliate network.
Another affiliate network that I LOVE making money with is this one.
Affiliate links contain an affiliate tracking code unique to the blogger. If someone buys the product the blogger earns a commission from the sale.
It does not cost the buyer anything, and it is relatively easy to become an affiliate for a brand. You don't need a ton of traffic or followers to do so.
Affiliate marketing can be very lucrative, depending on how well you write about and 'sell' a product. Check out this list of high-paying affiliate programs you can join today!
Once you have a good amount of traffic and followers you may be considered an influencer. An influencer is paid by a brand to post about their products, (called sponsorships) and make money simply by posting the content, no matter if the product sells or not.
You will need to prove to a brand that you are an influencer to be considered for a paid sponsorship – a media kit will help you.
You can absolutely be both an affiliate and an influencer for a brand.
How Do I Make A Media Kit
It is actually very simple to make a blog media kit, and you can do it online for free.
Canva has a ton of free media kit templates, all you need to do is drop your info in.
2. I've created a professional 9-page media kit template that you can customize yourself. Get it here!
What Do I Include In My Media Kit?
A photo of you
Your blog logo
A screenshot of your blog's home page
What your blog is about / what you write about
Links to your top/best posts
A short bio about you
Your social followers on all social media platforms
Your traffic – Check your Google analytics to see how much traffic you currently have coming in per month and list the number of page views, sessions and/or users
The number of subscribers you have on your mail list
Who your audience / demographic is – I use a free online tool called Quantcast for this
List your rates and advertising policies
List where sponsored ads will appear
The design of your media kit should match your brand / site design. Use the same colors and fonts.
What Are My Posts Worth?
Once you have your blog media kit ready, you can determine what your posts are worth (what to charge) and then start approaching brands.
How much of an influencer you are depends on how many social media followers you have, and how much traffic your blog gets. The more followers and traffic you get, the more you can charge for sponsored posts.
The typical rule for charging for posts is $10 for every 1000 followers you have. So if you have 5000 Instagram followers, you could charge a brand $50 to post a 'gram about their product.
Take a look at your ranking on SocialBluebook to see what they suggest you charge.
Brands are looking for influencers with engaged followers, meaning followers who actively comment on your posts.
How To Pitch To Brands
You can contact a brand that you want to work with directly, simply by sending them an email, and you can also join an influencer agency.
Influencer agencies are free online social networks that connect bloggers with companies. I like Izea & Linqia.
Networks are for influencers to work with brands to make money from sponsored blog and Instagram posts.
You will get paid by leading brands and agencies to produce and share sponsored content with your social media followers.
When contacting a company with a proposal, keep this in mind:
Keep it short and to the point
Mention your best stats / most followed accounts
Clearly explain why you are a great brand ambassador FOR THEM, and what THEY will get / how they will benefit from working with you
Mention why you love their products/brand and exactly how you intend to promote their products/ brand
Include a link to your media kit (not an attachment)
Don't get discouraged if you get rejected a few times (or a lot of times!), continue to apply to brands until you find the right fit.
And always continue to work at growing your blog and social accounts.
You can follow my free social media strategy for help with that!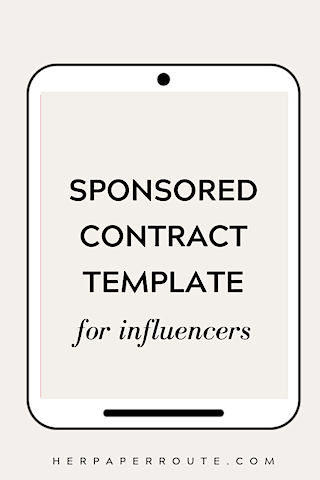 More Resources For Working With Brands
Make sure that you use a legal sponsored posts contract for every deal you do. Here is a sponsored post template you can use. And as mentioned, I offer a fill-in-the-blank, professional Media Kit Template.
As well, enroll in this Social Media + Influencer Marketing Course to learn more about the business.
Keep Reading