Avoid The Instagram Shadowban With This Trick
Are you a victim of the Instagram Shadowban? Some say it isn't real.
But for anyone whose posts have been mysteriously blocked from appearing in search results on IG, you know that the Instagram Shadowban is very much real, and frustrating as hell.
In this post, I will show you how to avoid the Instagram shadowban, give you a list of the banned hashtags, and offer some advice on what to do if your account has been shadowbanned.
Avoid The Instagram Shadowban With This Trick
Instagram is one of the most popular social networks. And it doesn't look like that will change any time soon.
---
As an affiliate partner of various brands and sponsored content, HerPaperRoute may earn commission on qualifying purchases. Disclaimer | Advertise With Us
---
But like all social networks, there are various algorithms in place. Usually, these algorithms are there to keep the best quality content at the top of search results, and the lowest quality, or spammy accounts hidden.
Fair enough. But there are some algorithms that hurt regular, non-spam account holders too. And the Instagram shadowban is one of these.
What Is The Instagram Shadowban?
If you have noticed that your engagement on Instagram is dropping lately, are gaining fewer followers than usual or discovered that your images are no longer showing up in hashtags results, you very well may have been shadowbanned.
🫶 Want to Make More Money?🫶
Become a member of HerPaperRoute today and get a toolkit packed with resources to help you make that paper. All for FREE!
---
The Instagram shadowban is when Instagram hides your account from everyone who isn't already following you.
Your account and images don't appear in any search results, and the hashtags that you use in your posts don't lead to any hashtag search results pages.
So ultimately, no one can see or find your account, making it impossible to grow your Instagram following. You could be a victim of the Instagram shadowban and not even know it.
More and more Instagram users noticing that they have become a victim of it. Myself included, at one time or another. And I have been able to recover my account successfully.
Why Are Instagram Accounts Being Shadowbanned?
There are a few reasons why accounts are being shadowbanned on Instagram. Your chances of being shadowbanned are high if you do any of these things:
Posting & following accounts too fast – Instagram has daily and hourly limits
Hashtag Over-Use – Using the same hashtag several times
Using Banned Hashtags – See banned hashtags list below
Using software that violates Instagram's Terms of Service – Such as using follow bots, auto-like apps
Your account is continually being reported
It's worth mentioning that many users are claiming that their account was shadowbanned soon after switching to a business account.
With some wondering if the Instagram shadowban is in place to lower the reach of businesses as a way to encourage business owners to spend money on paid Instagram advertising.
Facebook lowered the reach of pages, and since Facebook owns Instagram, one has to wonder.
But this has neither been confirmed nor denied by Instagram officially.
So although it is a recognized theory among several account holders in the online community, without confirmation from IG it is only speculation.
There are a few ways to avoid the Instagram Shadowban, and one way is to make sure that you never use a banned hashtag.
What Are Banned Instagram Hashtags?
Did you know that there are hundreds of banned Instagram hashtags? Instagram has banned or restricted a ton of words that are offensive, 'spammy' or simply over-used.
If you use any of these hashtags your post may not appear in search results, and your account may be targeted for a shadowban.
You can download the list of banned or restricted Instagram hashtags for free, via the HerpaperRoute Profitable Blog Toolkit.
It's free to be a member, and you get benefits such as discounts and free resources on Instagram and blogging.
We don't send spam – just helpful, interesting resources related to blogging and Instagram to help you grow!
Access it here:
Warning: Some of the words in the banned hashtags list may be offensive to some readers. Many of the words are slang or curse words, as you would expect to be banned. Interestingly enough, there are many harmless-seeming words (#kansas, #newyears, ) that are banned too!
How Do You Know If You've Been Shadowbanned?
To find out if your account is shadowbanned, do a shadowban test. First, log into Instagram from a different account, which doesn't follow your account, then look up one of your recent hashtags.
If your image doesn't show up in that hashtag's search results when viewing from a different account, there is a good chance you have been shadowbanned.
If you don't have any secondary accounts, ask someone who isn't following you to check if your posts appear for them via their account.
How to avoid the Instagram shadowban!
How To Get Un-Shadowbanned, And How To Avoid Being Shadowbanned In The Future
If you have been shadowbanned, the good news is there are a few ways to un-shadowban yourself, and ways to prevent yourself from being shadowbanned in the future.
As a rule, never use a banned hashtag. But even if you memorize the list of banned Instagram hashtags, it would still be easy to accidentally use one at some point. As well, it can be hard to know if a hashtag is banned, as new hashtags are banned often.
Thankfully Tailwind came up with a feature to help you find the best hashtags for your posts, without ever using a banned hashtag again.
This tool will suggest the best hashtags to use on a post, and steer you away from using any banned ones. Just type a hashtag into a draft post and the Tailwind Hashtag Finder will suggest other related hashtags to add.
Tailwind for Instagram members already grow their likes per post five time faster than non-members. This Hashtag Finder feature is sure to increase that number even more.
Avoid The Instagram Shadowban With This Trick
It is essential to use hashtags when posting content to Instagram, in order for people to find and follow you. It can be difficult to know what hashtags to use in order to best attract potential followers and customers.
However, a known cause for being shadowbanned is using the same hashtag too many times or using a banned hashtag.
The Hashtag Finder feature from Tailwind will not only help you discover and use the best hashtags, but it will also help you avoid being shadowbanned completely.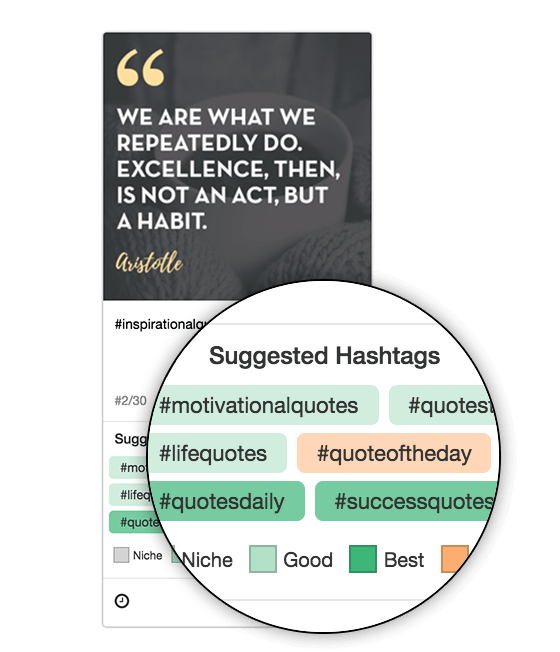 The Tailwind Hashtag Finder finds and suggests the best hashtags for your posts, eliminating the possibility of using a banned or broken hashtag which could get you shadowbanned.
It also includes the ability to make hashtag lists for easy copy and paste later.
Another feature that I love is the color guide, which will direct you to use "Good" and "Best" hashtags to make your post more competitive.
As well as give you an alert for hashtags that are less competitive and more likely to get buried.
Try Tailwind For Instagram Free
I've been using Tailwind for a few years, both for my Instagram and my Pinterest. Thanks to its pin scheduling and tribes features, it has helped me grow my Pinterest account to more than 10,000 followers and 500,000 monthly page views.
You can try Tailwind free for a month, and if you love it as much as I do, you can choose to sign up after the trial ends (but there is no obligation.) My link there gives you $15 credit if you decide to upgrade.
Tailwind for Instagram costs $9.99 per month if paid annually, $15 per month otherwise.
Tailwind for Instagram is considered a separate product from Tailwind for Pinterest and incurs a separate charge. The free trial of Tailwind for Instagram is available for existing members of Tailwind for Pinterest as well as non-Tailwind members.
These are my personal results, but Tailwind also publishes the Typical Results of Tailwind for Instagram Members every year. You can see exactly what the average growth rate looks like for their members.
Instagram Shadowban Fix
If you are a victim of the Instagram shadowban, here's what to do to fix it, and get your account back in good standing.
Shadow ban Instagram fix:
1. Stop using any automation that is against Instagrams' Terms Of Service.
Revoke access from your API. This means stop using any bots or apps that auto-like or auto-follow accounts on your behalf.
Log into your Instagram account on a desktop computer and in the 'edit profile' area, you will see a tab for 'Authorized Applications.'
Remove any applications that could potentially be a problem.
You can keep scheduling apps such as Tailwind, as Tailwind is an official Instagram partner, and the app actually helps your account by suggesting relevant non-spammy hashtags.
If you aren't yet using Tailwind to schedule your Instagram and Pinterest posts, you can try it free here.
3. Switch back to a personal account
Switch back to personal for a few days, or longer if you like. A business account on Instagram allows you to access additional features such as analytics that are not available on a personal account.
However, these features may not seem to be worth the hassle or risk of a shadowban, so it could be better to just keep your Instagram account as a 'personal' account, even if you use it for your business.
4. Take a break for 48 hours then engage manually and abide by Instagram's limits.
Instagram has daily and hourly limits for how much you can use its features.
This includes limits on how many comments you can post and how many accounts you can follow and unfollow at a time.
5. Don't do anything that could get you reported
Make sure you don't post anything that someone may deem reasonable to report you for, as accounts that are reported often fall into 'shadowban territory.'
6. Avoid The Instagram Shadowban With This Trick
As mentioned, I recommend using the Tailwind Hashtag Finder App. It makes it possible to reach potential followers and customers on Instagram, without the risk of being shadowbanned for the wrong hashtag.
Tailwind was the first Instagram scheduler that can suggest the best hashtags for posts, and remains the leading tool for Instagram scheduling as well as Pinterest scheduling.
This way, you won't risk the chance of accidentally using a hashtag that is on Instagram's banned hashtags list.
Download The FREE Instagram Hashtags eBook
For maximum reach on Instagram, download the HerPaperRoute Hashtags Database eBook, below! It is packed with over 1000 of the best safe hashtags to use on Instagram, organized by niche.
Become shadow ban Instagram proof!
These are all safe hashtags to use on Instagram. Your free copy is waiting for you in the HerPaperRoute Profitable Blog Toolkit.
This is my members-only resource library of tools to help you start a blog develop it into a thriving, income-earning business, and you can have it for free. Just tell me where to send it.
Keep Reading
Love These Instagram Marketing Tips?
For more Instagram and blogging tips, follow me on Pinterest and Instagram, and please share and pin this post. Your support is hugely appreciated =)
– Chelsea