5 Strategies: How to Make Money With Instagram Stories
If you want to book more clients and sell more of your products and affiliate offers, you need to know how to make money with Instagram Stories.
Instagram Stories has quickly become one of my favorite ways to connect with my audience and convert followers into customers.
The best part is that selling on IG Stories never feels pushy, sleazy, or icky. The entire sales process can be super easy and personal, which I love.
Today, I want to share 5 strategies that you can use on Instagram Stories to make more money in your business — and they're all super simple, quick, and easy to implement.
---
As an affiliate partner of various brands and sponsored content, HerPaperRoute may earn commission on qualifying purchases. Disclaimer | Advertise With Us
---
Side Note: Anyone can use these strategies, whether you have 100 followers, 1,000 followers, or 100,000. So listen up!
How to Make Money With Instagram Stories – 5 Strategies
In order to make money with Instagram Stories, you need to commit to consistency.
🫶 Want to Make More Money?🫶
Become a member of HerPaperRoute today and get a toolkit packed with resources to help you make that paper. All for FREE!
---
You must make the time and effort to show up consistently on Instagram Stories.
You can't just show up every once in a while when you have something to promote.
Stories help you build the know, like, trust factor with your audience in a really easy way. But you have to commit to doing them on a regular basis!
Personally, I suggest creating 5-10 stories a week.
What will your schedule be?
Decide right now and then stick to it for the next 30 days!
5 Strategies For How to Make Money on Instagram Stories
Before we dive into these 5 strategies for how to make money on Instagram Stories, download the IG Story Prompts for free, and use them alongside the steps in this article.
Strategy #1. Include Links In Your Stories
Did you know that the link in IG Stories feature is available to everyone? Regardless of how many followers you have!
You used to need to have 10k followers to access the "swipe up" link feature. But not anymore!
Nowadays, everyone has the capability to add a clickable link to their Stories!
You can link to your website, your affiliate links to products and earn commissions, your affiliate LTK Shop, your sales page….anything!!
I love adding affiliate links on my Instagram, it generates income easily.
(What is affiliate marketing and how do you make money with it? Read this!)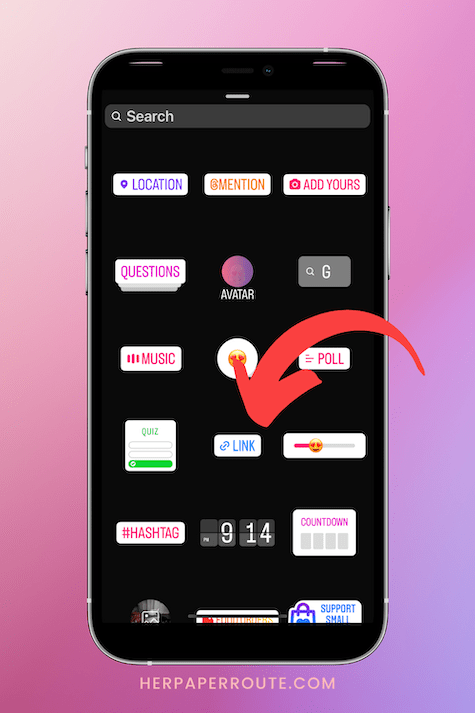 Simply navigate to the 'stickers' area, and select the 'link' sticker that looks like this: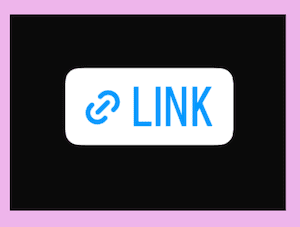 Then, add a URL and whatever text you want to appear on the sticker.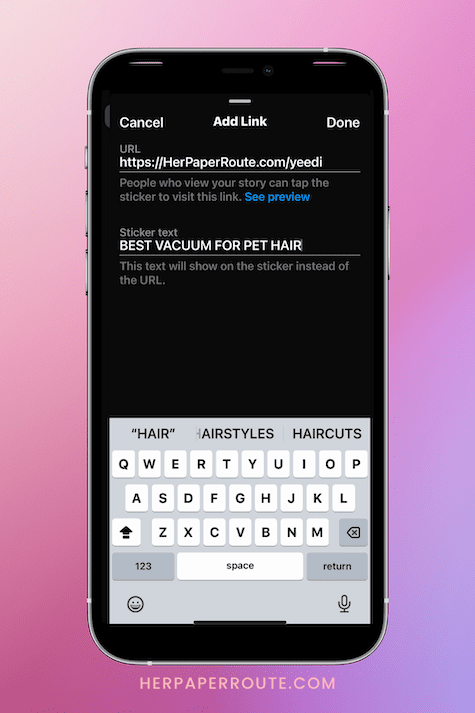 It will look something like this, and people will be able to click the link while watching your Story: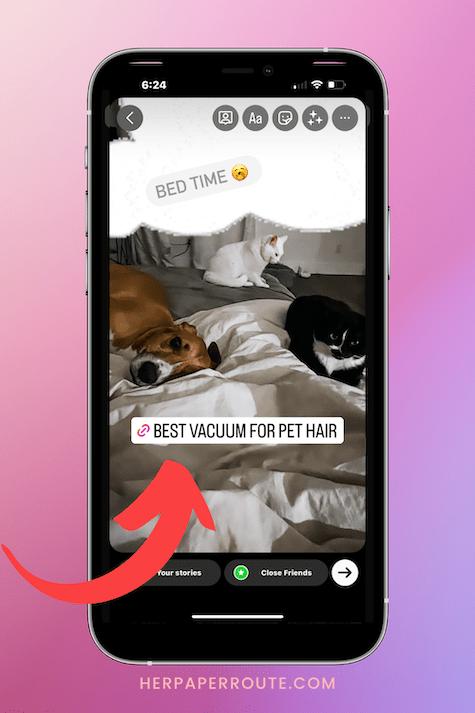 If you directly link to an affiliate offer, make sure you use the proper FTC disclosures.
Learn more about posting links on Instagram.
Strategy #2. Start a Waitlist
If you're gearing up for a sales campaign or launch, start a waitlist of interested people on Instagram.
I like to keep this whole process super casual and make it as easy as possible for people to join my waitlist.
Here's what to do to implement this waitlist strategy using Instagram Stories:
1. Come up with an incentive for people to join your waitlist. For example, early-bird pricing, a discount, early access to purchases, or a special bonus.
2. Talk about your upcoming offer on Stories and mention the waitlist. Don't forget to share the waitlist incentive.
3. Give your followers a super easy way to indicate their interest. Either include the link to the waitlist right in the Story
(As noted, the link feature is available to everyone regardless of follower count nowadays. The link feature can be found in the 'sticker' area.)
You can also use the 'Poll' feature to get a few "yesses" from your audience, Just have them tick "Yes" on a poll! Easy peasy.
Don't have them click the link in your bio, head to a signup form, and then enter their name and email to sign up.
4. Add the names and handles of people who click "yes" to a list on your phone.
5. Reach out to each person one-to-one to let them know you've added them to the list.
Give them a few details about the upcoming offer, tell them when it will be available, and ask if there's any way you can support them in the meantime.
6. On the big day, message these people on IG to share the offer with them. Ask if they have any questions, express your excitement, and give them the link to purchase.
Related: 15 Captivating Content Ideas For Instagram Stories And Reels
Strategy #3. Host a Mini-Training
Mini-trainings on IG Stories are a great way to establish your expertise while also pitching something in a seamless way.
Here's what to do:
1. Come up with two topic ideas you think your IG followers would want to learn about.
The topics should be specific and results-focused, and each should be tied to a paid offering you sell.
2. Run a poll on IG Stories asking people to vote for which of the two topics they want you to do a mini-training on.
3. Later that day or the next day, check the results to see which topic won. Then come up with 3 tips or a 3-step mini-training on that topic.
4. Jump on Stories and share tips or steps. Do this face-to-camera and add text on the videos just in case people are watching with the sound off.
5. At the end of the mini-training, let people know that if they want to dive in deeper, you have a product/service/course that can help.
Talk a bit about the offer and give people a direct CTA. I like to have people send me a message to get more details.
Strategy #4. Share Testimonials
Again, this strategy is so simple yet not enough people are doing it.
Simply post a testimonial that serves your business in your Stories. It could be your client, student or a happy customer that raves about an affiliate product that you promote.
Pssst. Need the inside scoop on testimonials — what they are, how to get the best ones, and where to share them?
We dive into testimonials super deeply in this article!
Testimonials are the best kind of word-of-mouth advertising there is.
They not only show other people in your audience what's possible for them, but they show that you are someone who helps people get results.
The testimonials strategy can be done pretty much every single day on stories.
You really can't go overboard with them!
The best thing to do is make a habit of it.
Whenever you get a nice comment, message, or a client/customer tells you about their results, screenshot it.
Save it in a designated folder on your phone or computer and then share it with your followers on IG Stories.
Add some text on top of the screenshot to explain the scenario or hop on video and talk about how you worked with that particular client or customer.
Finally, talk about your offer (the service, product, or course that that person purchased from you).
End by giving your followers a CTA. For example: "DM me if you want to learn more!".
Strategy #5. Automate A Funnel Inside Your IG DMs
On the topic of DMs, I have a pretty awesome little automation hack.
You may have seen me in a summit or workshop, and heard me say "DM me the word blogstart on Instagram to get free access to my blog starting course."
When someone does that, they instantly get a message back from me that includes a link they can use to enroll in my program fro free.
But it's not me sitting there waiting for DMs or typing anything out each time.
It is all done via automation, which is triggered when that word is used in a message.
Test it out! DM me on Instagram @HerPaperRoute and include the word blogstart and see if you are automatically given free access to my class!
To set this automation up for yourself (using any trigger word you want) simply use this handy little automation tool.

It is super simple to use. Everything is drag-and-drop from a visual dashboard. No coding skills are required.
When it comes to IG, I always suggest taking it to the DMs.
This is where so much of the magic happens: the conversations, the conversions, and the relationships being formed.
And using your Instagram Story as a jumping point to get people into your DMs is a solid way to make more money.
How to Make Money With Instagram Stories – Conclusion
Do you have a strategy for making money on IG Stories?
Which of these 5 strategies is your favorite? Which ones will you be trying out next? Let me know in the comments.
And make sure you download my 30 Instagram Story Prompts bundle for FREE here!
READ THIS NEXT