How To Make Affiliate Marketing Money Without a Website
Are you wondering how to make affiliate marketing money without a website?
This is a question I have been asked many times and many people get confused with, thinking the only way to be an affiliate marketer is by having niche websites.
But, it's entirely possible to make money online without a website or blog!
And I'm going to go into more detail below on how you can do this.
---
As an affiliate partner of various brands and sponsored content, HerPaperRoute may earn commission on qualifying purchases. Disclaimer | Advertise With Us
---
How To Make Affiliate Marketing Money Without a Website?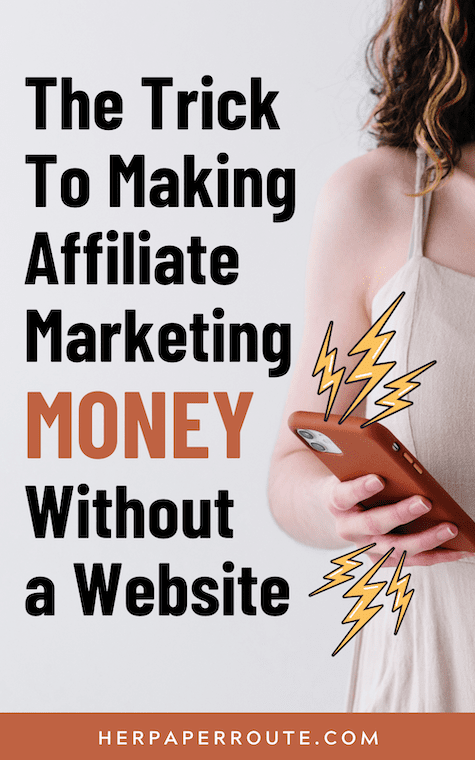 Over the years, affiliate marketing has developed and many people make affiliate marketing money without a website or blog and actually become super successful.
Take LTK for example. It's a platform where you can post images and collages of products. And, you get a commission when anyone buys from the brands you tagged in the image.
🫶 Want to Make More Money?🫶
Become a member of HerPaperRoute today and get a toolkit packed with resources to help you make that paper. All for FREE!
---
Take a look at what my LTK account looks like.
If you are consistent, you can earn good money with LTK. But you'll need an invite to get into LTK: use my invite form, and you'll get a bonus $25 cash if you are accepted!
To be accepted into LTK you don't need a website, but you will need to have an engaged audience and a social presence (IG, TikTok or Youtube) that shows your style.
There are multiple free and cheap ways you can build your brand and advertise your offers.
Some things to remember are;
You will need some sort of online presence.
Every affiliate program will be different and many will want to know how you will promote their products.
Some may actually require you to have a website.
Learn more about making money on LTK.
Just because you decide not to have a website, doesn't mean you can escape creating content.
Affiliate marketing requires a lot of dedication and effort.
First, why would you
NOT

want to have a website?

This is important to ask yourself.

Because having a website is good practice overall. Your website is your 'home base' for anything you want to do.

And, let's be clear here, you do not own your social media.

When you build your business on someone else's platform, you have zero control over what happens to your account.

You are taking a big risk by relying solely on platforms you don't own. Zuckerberg could shut you down at any moment and you would lose everything.

But when you have a website, you actually own that piece of digital real estate. And you control it.

Also, it is simple and cheap to start a website. You can have your site up and running in less than 10 minutes when you follow my free guide.

Another popular way to get a website is to buy a fully built and profitable one that is already established.

Just know that acquiring a website is pretty easy, and you have options.

Now, if you're still sure you don't want to have a website, let's take a look at other ways you can make money with affiliate marketing without a blog.
Educate Yourself About Affiliate Marketing
This is step one and it's not to be overlooked. Make sure you read this guide first: Learn Affiliate Marketing For Beginners.
It's a free guide, and it's full of everything you need to know to get started.
Read The TOS
It's advised to read up on the rules for each social media account as they will be different for each.
Always check the TOS rules and regulations of both the affiliate program and the social platform before you start posting affiliate links.
Do It Legally
It is the law that you must disclose when you use affiliate links, and always follow FTC guidelines.
When you have a website, complying with this is as easy as putting a disclosure on each blog post that says something like "this post may contain affiliate links." And then link to your legal affiliate disclosure page. <– see the legal page templates in there!
On social media, any post you publish that includes an affiliate link, affiliate coupon code or sponsored content must include #ad or #sponsored hashtags in the caption.
Depending on the platform you may also need to mark it as sponsored content through a branded content setting.
Be Cool About It
Do not just go spamming your link everywhere, but focus on building your audience with helpful content and having real conversations. Some posting tips for social media;
Use the RVL formula: This stands for; Results Value Lifestyle.
Social media is meant to be social and people don't actually go there to be sold to.
Although many people are making a fortune affiliate marketing on social media, it's important to get a balance in your posts otherwise you'll put people off.
Use a link cloaker like Pretty Links to shorten your links and make them look less unclickable.
Be consistent with your posting schedule.
Posting once a week isn't enough, you need to be the face of your brand daily. Offer a ton of value for free and have conversations every day.
Join Some Affiliate Programs
In order to start earning affiliate marketing money without a website, you will need products to promote.
For this, you will sign up for a few affiliate programs, for the products that interest you.
Another way to find proven affiliate products to promote is by becoming an affiliate for a course or product you've used.
Most established course owners will have an affiliate program and information courses pay some of the highest commissions of 40-100% of the sale price!
High ticket affiliate marketing is the best way to earn a full-time income from affiliate earnings so you can ditch your 9-5!
7 Creative Ways to Make Affiliate Marketing Money Without a Website (or Blog!)
Social media is one of the top ways you can find potential customers in your niche and promote your product to them.
Most people have a social media account, whether that's Facebook, Pinterest, Twitter, LinkedIn, Instagram or TikTok, etc.
The trick is to work out which social media platform your ideal customer is hanging out on.
Let's explore how to make affiliate marketing money on online, without a website, by looking at how to be successful on the different platforms.
1. How to Make Money On YouTube With Affiliate Marketing
Affiliate Marketing on YouTube is becoming a popular and lucrative way to make money online.
YouTube video creators are making thousands of dollars monthly and some of the most prolific YouTubers are even making over a million dollars a month!
These types of earnings sound insane right!?
These super high earning YouTubers make money from a mix of ad revenue, merchandise from their personal brands, and affiliate marketing on YouTube.
There is life-changing money to be made by starting up a niche YouTube channel.
But, it's not an easy road and it takes serious dedication, consistent hard work, a bit of luck and of course the will to never give up.
Now, Youtube is not a platform that I have focused on for my own brand personally. But, my husband Nick is a full-time Youtuber who earns his income from his Youtube channel Rad Dad Builds:
Many successful YouTubers report not getting many views or follows for years, then one video just seems to explode, going viral and putting them on the map.
This was the case for Nick, as in the last year his channel really started to grow in the woodworking niche.
His channel earns from these primary sources: ad revenue, affiliate marketing and brand sponsorship.
Running a Youtube channel takes work. But it's super easy to start a YouTube channel.
You could shoot a video and upload it to YouTube in a few hours if you really wanted to.
Even though this is true, a good idea is to take a few hours to plan out a profitable YouTube niche and how to start affiliate marketing on your YouTube channel.
Here are some tips to get you started.
Research a profitable channel niche. Some ideas that are doing well at the moment are; tech videos, how-to videos, gaming videos, product reviews, vlogs, make money online, food, travel and fashion.
Choose a video editing software to use. There are many free and paid video editing software you can choose from. Some free ones are; Blender, Lightworks, Shotcut and Davinci Resolve. If you have a little money to invest you'll get a lot more features and won't have to endure the ugly watermark on your videos. We use Adobe Premiere Pro.
You can shoot your videos on your phone or computer webcam to keep the costs down at the start.
Once you have some cash, invest in a decent lapel mic and webcam to get crisper sound and images. Check out my equipment recommendations for creators, here.
[amazon link="B01N5UOYC4″]
Next, you will want to create videos consistently at least once a week.
The more content you produce, the more chance you have to increase your views, followers and get more eyes on your affiliate links.
Be sure to write keyword-rich descriptions under your videos and add in a CTA (Call To Action).
These CTAs can be in the form of an affiliate link, a link to a free giveaway with email capture or a link to one of your social media accounts.
Tips to Make Your YouTube Content Stand Out
It will take time to find your voice and start making awesome video content.
But know this is normal for everyone, even the YouTube big hitters!
If you take a look back at their first few videos, most won't be that good.
Knowing that imperfect action is the way to perfect action and just getting started is essential.
Looking back, it took me all day to edit my first few videos and they still looked awful!
But they are definitely getting better and I'm thankfully getting a bit faster with the editing!
Here are some extra tips on how to make your YouTube content epic…
Don't make the video about you, make it about the audience.
Try not to have a really long, waffling intro or a long-winded intro vid of your brand, this is just egotistical.
People don't have much time, give them the information as concisely as you can.
Write out a script.
It's a good idea to write out a script for your video, to cut out the waffle. Some people can just talk but I've definitely learned that having a script helps me give a more polished and engaging performance.
Make your videos niche-specific.
Affiliate marketing on YouTube will bring you more profits if you stay in your lane and build your authority in one area.
If you try to promote random things across multiple niches, you won't build up a trust factor and will have a harder time making commissions.
Use pattern interrupts.
This means changing things up in your video to keep it interesting. If everything is the same the whole way through you risk sending people to sleep or them clicking away.
Some examples of pattern interrupts are;
Changing where you're standing in the video
switching the shot from your face to showing your screen
adding in images, text or even videos that describe what you're talking about
Create engaging, scroll-stopping thumbnails.
Having a clear, bright thumbnail can be the difference between someone clicking on your video or not. It can take time to get this right.
You can create thumbnails easily for free in Canva but play around with text size and fonts, colors and how you position photos.
As well, you can get expert thumbnails made on Fiverr or with a pro designer.
Show enthusiasm in your video.
This ties in with the pattern interrupt and keeping your viewers engaged and awake. If you speak continually in a slow, monotone voice, it's very likely a viewer could click away from your video or fall asleep!
If you're not the most energetic person, it's still possible to put your personality into the video with a few jokes, a unique quirk or something that will keep watchers wanting more from you.
[amazon link="B07GTBWHJH"]
Offer your viewers an incentive to stay around.
Teasing a free lead magnet is a great way to encourage a viewer to stay around till the end.
Most of us haven't got long attention spans so offering a freebie, or some extra cool information at the end, will increase your viewer watch time.
An example is; "Stay with me till the end, and I'll share with you an easy way to get more subscribers."
Strategies to Get More YouTube Views and Subscribers
Creating useful, engaging video content that will help your followers is the number one key to gaining views and subscribers.
Alongside this, there are other methods to get your videos seen and shared.
Obviously, you can do paid ads on YouTube or Facebook but if you have a new channel, it's a good idea to increase your audience organically first.
Create content that your niche actually wants to know about.
Before you start you can perform some market research. Ask people what they need help with or look at questions people are asking in your niche.
Ask viewers to subscribe at the beginning and end. Encouraging a CTA (call to action), gives your viewers a direction.
If you don't ask you don't get!
Add a watermark to your videos.
A watermark is essentially a little image on the bottom right-hand side of your videos that when clicked on, allows people to subscribe to your channel. You can use a free YouTube subscribe button or add your own logo.
This will encourage more subscribers as it will show continually as people watch the video.
Promote your videos across other social channels.
You're likely to have different followers on your other social media channels and sharing your videos here will pique their interest.
You can even create a short teaser video talking about what the video has to offer to create click-throughs.
Don't forget to email your list and let them know when you drop a new video.
Email marketing isn't dead and still accounts for a whopping 66% of sales according to experts. More on email marketing in a moment!
Respond to comments and nurture your followers.
YouTube is also a social network alongside being a video powerhouse. People flock here to learn, be entertained and also engage with others.
Take time to respond to likes, comments and questions which will encourage viewers to come back for more.
If people are ignored after posting a question, it's likely they won't appreciate this.
How to Add Affiliate Links to Your YouTube Videos
After you've chosen your niche and the types of videos you want to produce; eg; how-to's, reviews, a vlog etc…and you've got your affiliate links, where do you put them?
The best place is to put the affiliate links into your video description.
Be aware – you don't want to stuff your description with links, as this looks desperate and you have to realize that YouTube wants people to stay on their platform as long as possible so they won't favor you for this.
The performance of your video could be affected if you have too many links in your description.
In the screenshot above, you can see one of my Youtube videos, where I have included an affiliate link in the description for my favorite CRM tool.
Also, I recommend that you use a link shortener to make your link look tidy and less spammy.
A great free link shortener software you can use that also tracks your links is Pretty Links.
(But to use Pretty Links, you will need to have a website! So a no-website-required alternative would be Bitly).
Focus on Posting YouTube Videos Consistently
If you've got a hectic work life, full-on family or you're just a solo creative who hates scheduling, this is tough!
It can be really hard to get into the routine of shooting, editing and uploading to your YouTube channel consistently.
I know this! As mentioned, Youtube is not a focus for me, so its not something I worry about.
But for my husband, Youtube is a main focus in his business, so it's crucial that he keep a consistent publishing scheduling with new videos for his audience.
The thing is, your followers and YouTube favor you being consistent and posting videos regularly.
If you start posting x3 a month, then suddenly drop to 1 or none in one month, you may risk losing subscribers.
Start with whatever you can comfortably handle in the beginning. If that's just one, that's ok but stick to one a week consistently.
When you have more time, increase your video posting to 2 or 3 a week.
Focus on quality over quantity though.
Check your stats to see your watch time.
If people are leaving early on in the video, re-assess the first few minutes and focus on making it more engaging.
Maybe you are putting people off with a long-drawn-out intro. Or maybe you're waffling and not hooking people at the start and getting them excited about what you will talk about.
Just Get Started!
The best advice is to just get started if you want to make money with affiliate marketing on YouTube.
You can even start a YouTube channel just with a smartphone!
Take imperfect action and develop your voice and brand over time. When many successful YouTubers started out their videos weren't good, but they kept going and now make millions a year!
Statistics show that YouTube reaches more 18-49-year-old than any other broadcast or TV network.
YouTube accounts for two-thirds of the premium online video watched across all devices.
YouTube has 2 billion users worldwide!
Get a piece of that pie today and start affiliate marketing on YouTube with a new channel. Video is only going to increase in its popularity and is the best way to make money from affiliate marketing.
Many super affiliates earning six or seven figures, do so by running their whole affiliate marketing business through YouTube.
According to statistics, YouTube is the second most popular social media site only beaten by Facebook. 1 billion hours of YouTube videos are watched a day, which is more than Netflix and Facebook combined!
Getting yourself a niche YouTube channel to promote your products on, is a great way to earn money affiliate marketing without a blog.
YouTube can be a slow burner so it's important to focus on creating awesome, helpful content in the first year.
Videos you post on YouTube will never disappear like on other social media sites, meaning you can potentially make money from a video for years to come.
Write in-depth descriptions, add in your affiliate link and add targeted keywords in the title and as tags.
2. How to Make Money On Instagram With Affiliate Marketing
If you love Instagram and have started to gain a decent amount of followers, it could be the right time to look into how to make money on Instagram with affiliate marketing.
With over 400 million active monthly users and around a 4.21% engagement rate (which exceeds Facebook and Twitter), Instagram is where it's at.
When used correctly, you will be able to make sales as an affiliate and build a lucrative online business.
While this is true, it takes some time to build up your followers and become a prominent force.
Many influencers and micro-influencers do well on the platform and some do make money without ever having a website.
This is because, before they even thought about monetizing their accounts, they built up a following of hungry fans who love everything they do and say.
This, in essence, is what you have to do to be a successful affiliate marketer.
Whatever platform you're on, you have to build up the know, like and trust factor and give people a reason to follow you and listen to what you say.
If you already have a large following on Instagram, you will have a head start.
You can leverage this following and partner with prominent brands to promote their products.
If you don't have a decent-sized following yet, this is what you need to work on before you even think about making money.
Take Action To Increase Your Followers
Like on the majority of social media platforms, increasing your followers is usually one of the hardest parts.
When you start, it can be quite slow going but remember that most popular Instagrammers will have only had a few followers in the beginning unless they are a celebrity.
Work on building a strong following daily and know it takes time and patience.
Focus on getting quality followers also, as having 1,000 targeted followers will make you more money than 100,000 that aren't interested in what you are doing or promoting.
Here are some tips;
Post clear, quality and engaging photos
Be active and respond to all comments on your account
Follow 5-10 other accounts daily and like/comment on a few photos in each
Write short, catchy captions with a bold first sentence to grab attention
Mix up your captions between stories, questions, inspiring quotes, tips, and minimalistic
Use up to 30 relevant hashtags and mix them up. When you start out, try targeting a mix of hashtags with lower follower counts and only a few with a large following. If you just use all hashtags that are super popular, your post will get buried amongst the accounts with large followings
Write an Awesome Bio and Add Your Link
To make affiliate marketing money on Instagram, you have to place your link in view of your potential customers.
Instagram doesn't let you post links everywhere like other social media platforms, you can only have one link in your bio and can only place links in your stories once you have 10,000 or more followers.
But you can be strategic and use your one link in bio to link out to a dedicated page of links, like this.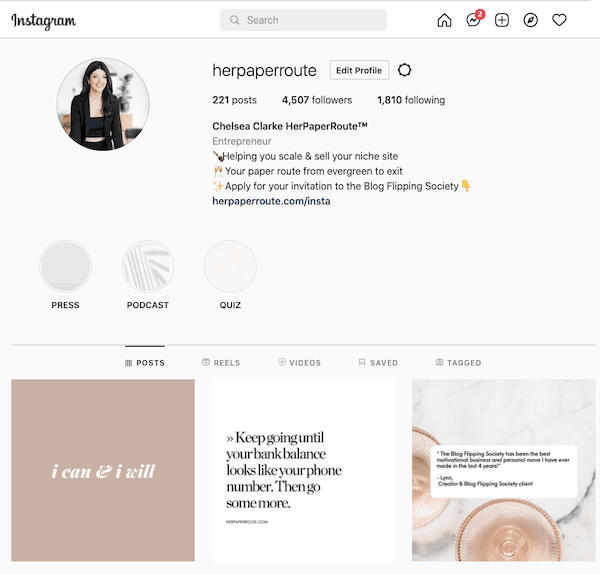 Connect with me on Instagram @HerPaperRoute
In your bio, explain who you are and what you do with your unique personality.
Detail your hobbies or interests (as they relate to what you plan to sell) and anything you think might be of interest to your followers.
Remember, before you sell you are trying to give people a reason to follow and resonate with you.
Add targeted keywords into your bio which will help people find your account.
Have a think about what are the core values and interests of your audience?
For example, if you're in the fitness niche, keywords might be; living well, vegan recipes, healthy living, natural living, workouts for women etc.
Emojis are great to use in your bio to break up text and make it pop a little more.
They also add in a little more fun and can be used to highlight certain parts of your bio.
Only Post Quality Photos and Videos
Instagram is a visual social media platform and people come here primarily to scroll through stunning photos.
Yes, the Atlantic made a bold claim that bright, clean, aesthetically pleasing images are no longer in style on Instagram.
But we argue that such a claim is FALSE.
Fact: the majority of people find attractive, well-lit photos to be attractive.
To make people stop scrolling and stop at your account, you have to give them a reason and an eye-popping feed will do that.
It's ok to use your smartphone to take your pictures and videos.
Just take some time to edit with a light and airy Lightroom preset filter, and take advantage of free photo editing apps to improve your shots.
If you take a look at some of the most popular Instagram accounts, they will generally have an aesthetically pleasing cohesive theme.
Choose one color palette and one type of lighting for your photos so your feed looks professional.
The Planoly app is a great tool that will let you plan out your feed.
You can download and customize free presets which will transform your photos in a single click and give your account a cohesive look.
Once you get your feed looking amazing, your follower count will grow and so will the eyes on your affiliate link.
Having a stunning Instagram account may also get other big brands interested in working with you to promote their products.
Focus On Promoting One Proven Product
Learning how to make money affiliate marketing on Instagram can take time. And one of the biggest reasons people fail is by promoting products like a slimy salesman.
People don't originally come to Instagram to buy.
They go there to be entertained, inspired visually, and to share some of their own pictures.
If every one of your Instagram posts is ''buy this'' and then the next day you say ''oh and this product is really good also'', you'll likely push followers away rather than gain them.
Influencers who have huge followings may be able to promote a few different products a week, but until you reach that status focusing on one product you've either used or know is awesome.
Affiliate marketing on Instagram is NOT a get-rich-quick scheme and you have to be willing to put a lot of effort in to make it work.
You may think Instagrammers become successful overnight, but in reality, they've spent years building up their followings.
You can make money affiliate marketing on Instagram if;
You have a long term over short term mindset
You choose a proven product to promote
You build an eye-catching, beautiful Instagram feed
You connect with followers and actively engage new users
You post consistently
You use the right hashtags and target lower competition ones in the beginning
You share interesting, engaging content and DON'T just sell
3. How to Make Money On Twitter With Affiliate Marketing
Twitter may not be your first choice of social media platform to up your affiliate marketing game, but do it right and Twitter can bring you in new leads and fans like clockwork.
With around 326 million monthly active users, Twitter is a social giant where people flock to see news about celebrities, their favorite brands and to connect with other like-minded people.
Although using Twitter for affiliate marketing is a good idea, it can take a while to understand the platform and to learn how to leverage it for your needs.
Let's take a moment to dive into what Twitter actually is and how to use it to your advantage.
What is Twitter and Why Should You Use It?
Twitter is a microblogging and social networking platform which allows its users to post ''Tweets'' of under 280 characters.
Founded in 2006, around 500 million Tweets are sent each day and 63% of Twitter users are aged between 35-65 years old.
Around 40% of Twitter users report buying something after seeing it on the Twitter platform.
As you can see, Twitter can be a useful part of your social media strategy.
Benefits of Using Twitter for Affiliate Marketing
Twitter has many benefits for large brands, small businesses, and budding entrepreneurs.
It's a good idea to sit down and brainstorm the exact goals you want to achieve using Twitter for affiliate marketing.
Here are some of the benefits;
Getting new eyes on your affiliate brand and building your authority
Increasing your flow of leads to turn into customers
Get more exposure for your blog posts and YouTube videos
Make connections in the industry
Connect with new and old leads and build longer-lasting relationships
A good idea is to take a look at what other affiliate marketers and businesses are doing on their Twitter feeds.
You can use FollowerWonk which allows you to explore and grow your social graph, comparing your feed to others in your industry
Here's how to improve your results using Twitter for affiliate marketing.
Create an Awesome Twitter Bio
Think of your Twitter bio as your CV.
You have to sell yourself to people as this is the first bit new followers will see and make a snap judgment on when coming across your Twitter feed.
Your bio needs to;
convey who you are and what you can do for people
be friendly and inviting
and sell you as an expert in your niche.
You only get 160 characters here, so you might need to play around with the text a bit.
You can also include a Call To Action (CTA) here like a link to your free training or email capture.
There is a website section you can add the link to your blog in.
Barbara Corcoran on Twitter has her profile set up perfectly.
Have A Pinned Tweet
A pinned Tweet is essentially a post that will stick to the top of your feed, being the first thing people see after your bio.
This is a prime piece of real estate!
This is where you can again give potential customers a CTA, with a Tweet encouraging them to subscribe to your YouTube channel or download your free cheat sheet for example.
Below you can see I pinned a tweet that links to my free affiliate marketing guide.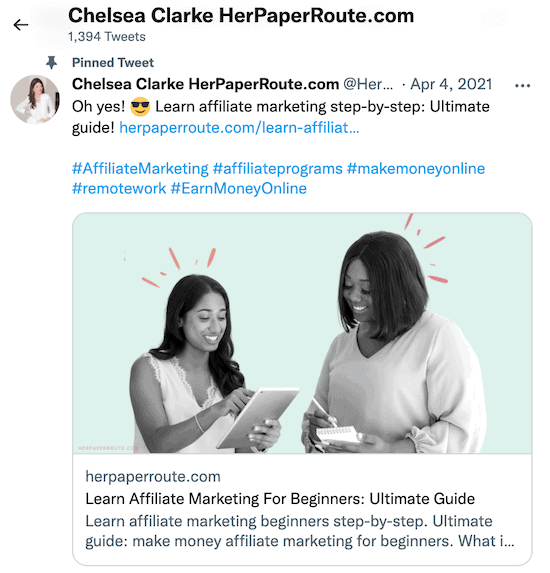 Follow me on Twitter @HerPaperRoute
Engage with Followers and Influencers
Just like on other social media platforms, Twitter is designed to be a 'social platform.'
Don't just spam your affiliate link or offer to everyone you come across, reach out and actually have a conversation!
Yes, a conversation!
Show someone you are not just a robot and actually ask them about themselves, their dreams, and plans for the future.
I can't stress what a difference this will make.
If someone follows you or comments on your Tweet, send them a real message asking about them or their life, don't just send a link!
Joining Twitter chats relevant to your niche is another great strategy to make connections and learn from others.
Don't shy away from interacting with influencers, as they may even help you promote your brand in the future.
Nurturing these relationships takes time, but show support for what they're doing, and later down the line they may return the favor.
Post Tweets Regularly
Big movers in the online world recommend Tweeting anywhere between 3 times daily up to once every hour for the best results.
This can get very overwhelming quickly, this is why if you're a solo entrepreneur it's a good idea to use a social media scheduler.
There are many paid and free schedulers out there, but I love this one.
I like to sit down on a Sunday and schedule x3 a day for the week. It can take some time, so thank god they only up to 280 characters!
Other social media management tools to mention are;
TweetDeck (free)
Feedly
CoSchedule
Sprout Social
Buffer
Social Media Pilot
Mix Your Tweets Up
Nobody wants to be bombarded with you promoting something to them every day.
You will find people will unfollow you if you do this.
Create tweets that will engage, inspire, educate and occasionally entertain.
Some ideas for Tweets are;
Asking questions or creating a poll
Inspire with a quote
Post a link to your recent blog post or video
Create a value-packed free giveaway
Show your lifestyle and tell people what you're doing
Share followers and other industry content
Go live offering a tip or talking about your latest post/video
Use The RIGHT Hashtags and Don't Overdo Them
Research has shown that Tweets with 1-2 relevant hashtags have a higher engagement rate than ones with 3 or more!
If you've been using more than 2, now's the time to narrow down your tags on each post.
But how do you decide which are best?
A good idea is to use the Ritetag chrome extension which will give you hashtag suggestions and allow you to compare the stats of hashtags to see how well they're performing.
4. How To Make Affiliate Marketing Money On Pinterest
We wrote a full guide on how to make money on Pinterest with affiliate marketing.
Pin and read that article for sure!
5. Email Marketing
However you plan to make affiliate marketing money without a website, it's advised to build an email list.
Social media accounts always run the risk of being banned or hacked, but an email list is always yours.
Get people onto your email list by creating a valuable lead magnet.
Some ideas are;
Free video tutorial series
Swipe files
Pre-written emails people can model
Social media posting cheatsheet
Free books or audio files
A coaching call
Access to your secret training group or membership site
A planner
Free software download
A free funnel or website set-up
Check out this list of awesome lead magnet ideas.
Because, the truth is, the majority of people will not buy your product straight away; they will need to follow you for a while.
This gives you time to build up the know, like and trust factor and send people valuable content to help them get nearer to their goals.
==> Use the "jab jab hook" method where you only pitch every 3rd email.
Tell stories, entertain and give value and don't just sell.
If you do this, you'll build up an email list that will be repeat customers for years.
6. Talk to People
Yes, actually talking to people – having REAL conversations can be one of the best ways to start making affiliate commissions.
I'm an introvert, and when I first started my business, I wanted to avoid talking to people and just have everything automated.
But, I quickly discovered, talking to people and actually being real with them was the way forwards.
While you might think you're no good at selling…. that's ok!
With time and more practice, I became better and more comfortable talking to people. And I learned that I am actually a pretty great salesperson.
I know, the word 'sales' person/man/woman gets a bad rap. You picture a pushy, loud, arrogant person whose only focus is to close a deal, at all costs.
But that's not how I roll. How I do sales is simply by being human, having genuine conversations and building relationships. The sales occur naturally from there.
When you focus on having real conversations where you don't start with a pitch, you may find that you come to enjoy selling too.
ask someone how they are
what's going on in their life
what their dreams are for the future
what's been getting in their way
and genuinely care about what they tell you
Having these conversations will actually help you diagnose whether your product can help a person or not.
If not, be ethical and DON'T sell it to them! If they reached out to you and you sell information products, ask questions like;
Can I ask why you reached out to me?
Then dig deeper with things like;
Can you tell me more about that?
What do you mean by that?
Why do you think this problem exists?
Once you've asked a few questions and got them to open up, ask things like;
Tell me more about your work/goal/life and what you do?
How is that working for you?
What do you think needs to happen for you to reach your goal 1 year from now?
Obviously, every conversation will be different.
You will have to tweak the questions depending on what you're selling and the situation.
But start to think of yourself more like a doctor, not a salesperson.
Really try and diagnose what people's problems are, why they reached out to you and whether you can help them.
If you feel your product could be a fit for someone, slowly transition the conversation into how your product could solve their problem.
Focus on the benefit for the person, not just how great your product is.
7. Paid Advertising
I'm a big advocate of using free, organic methods to drive traffic to your brand and affiliate offer when you're starting out.
You don't want to be spending money on ads when you are still working out your offer and finding your audience.
You should only consider paying for ads if you have already made some commissions with affiliate marketing. It's a big risk to spend money on ads when you are just learning the ropes.
But once you have got this nailed down though, setting up a paid ad campaign can be a brilliant way to get your offer under the right noses and increase followers.
When you have some steady cash coming in, this is the time you can start investing some of this into PPC campaigns and ads on social media.
Ads are a way to retarget people who may be looked at your offer or landing page but never purchased.
These people can be retargeted with an ad campaign.
Twitter Ads
Once you sign up for Twitter ads, you can choose the objective of your campaign eg; followers, tweet engagements, website clicks or engagements, promoted video views or website clicks/conversions.
Twitter also allows you to promote your affiliate offer which will show up in people's feeds as ''promoted''. In this type of ad, make sure you strike a balance between value and promoting your offer.
No one wants to be sold to all day long on any platform.
Include an image with your ad and maybe a tip that addresses your ideal customer's pain point. Basically, something that will encourage the potential lead to click on what you have to offer.
How To Make Money With Affiliate Marketing Without a Website? – Conclusion
So, this was how to make affiliate marketing money without a website or blog.
As you can see, it's entirely possible to build your whole business using the tips above.
But be aware it can take some time to build up your authority and gain people's trust.
Because, although you can make money with affiliate marketing without a website, overall, having your own website really helps and will make it easier!
Either way, have a long-term goal mindset over a short-term mindset and you will be fine.
Success with affiliate marketing doesn't happen overnight. Be patient, be persistent, be consistent.
Keep Reading: