Ultimate Honeybook Review (2024) Coupon Best CMS
The Ultimate Honeybook review to help you become more organized this year.
One of the things I have done to become more organized and productive in my business a few years back is I started using Honeybook.
And it has been an absolute lifesaver. So much so that I don't know how I ran my business before, without it.
So, I thought I to share my experience with you, in absolute detail.
---
As an affiliate partner of various brands and sponsored content, HerPaperRoute may earn commission on qualifying purchases. Disclaimer | Advertise With Us
---
This Honeybook review will cover what is Honeybook, Honeybook pricing, all the many features it offers, Honeybook accounting, the workflow, Honeybook payment processing, and more.
I will also share my tips for how I use the best CMS to make my life as a business owner easier.
Honeybook Review: Profitable Client On-Boarding Software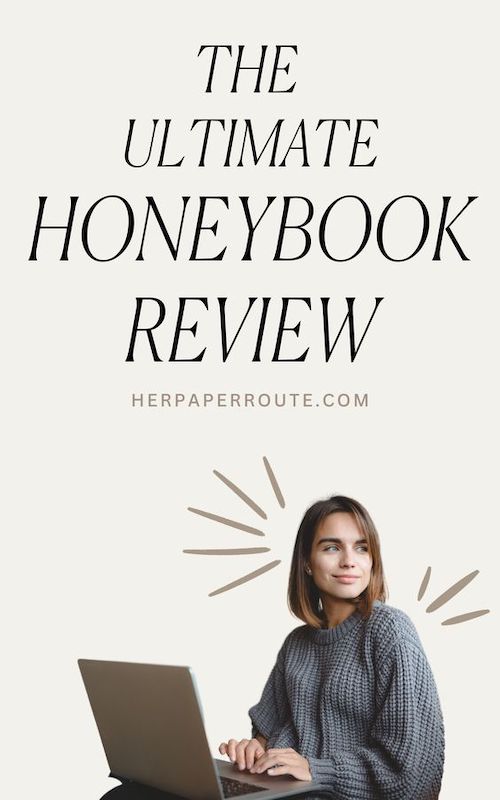 Feeling scattered? This is the ultimate of all Honeybook reviews to your rescue! As a business owner, how many times have you been in a position where you're struggling trying to make sure your workflow is seamless?
🫶 Want to Make More Money?🫶
Become a member of HerPaperRoute today and get a toolkit packed with resources to help you make that paper. All for FREE!
---
Handling a business is more than just looking for a client, doing the tasks, and receiving payment.
It's a lot more than that and the hardest part is trying to keep track of the little details that we tend to forget especially if you are a busy business owner.
And not to mention if you have never tried any CMS (client management software) before and you have zero knowledge on how to operate one.
If you're looking for the best CMS software, I highly recommend Honeybook.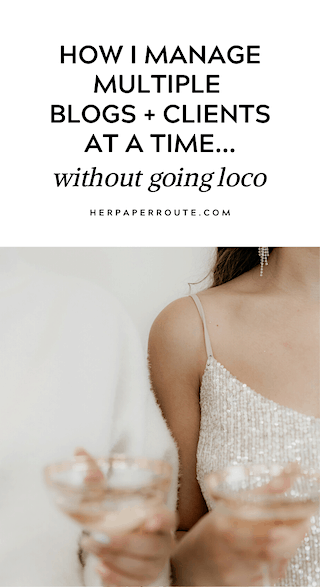 Yes, there are plenty of other CRM platforms out there.
But in today's post, I am going to dive deep into this single most useful client onboarding software to help you understand more why I think Honeybook is a great CRM software for your business.
First things first, sign up for your free Honeybook trial, so you can follow along with this Honeybook review.
My link gives you a special discount!
This is a special offer for HerPaperRoute readers (you can't get this discount on their website) and it includes:
A free trial
Complimentary white-glove onboarding service. The team at Honeybook will set up your workflows for you, and even import your clients and project data from whatever current CMS you are moving from.
Exclusive first year discount
1 year, virtual membership for entrepreneurs with me via 'The Clarity Kit' (details at end of this post)
Short On Time? Watch The Video of my Honeybook Review:
Is Honeybook only for Photographers?
You may have heard about Honeybook being very popular among photographers.
When it was first created, it was developed with photographers and creative freelancers in general in mind.
But Honeybook is not just for photographers at all! It offers incredible features that suit any type of business and business owner.
Let's explore these features now.
The Best Unique Features of Honeybook CMS
At its core, Honeybook is a customer relationship management software that allows you to manage everything from the platform.
When you sign up for Honeybook, the first thing that you will notice is the customization of a few things that are related to your business and branding.
These include your company's name, logo, invoice memos, and a lot more.
And, you can have more than one company on your Honeybook account, with each additional company having their own portals and workspaces.
This is perfect if you are like me and own multiple blogs, and need to keep their projects and finances separate.
When you are finally logged in, you will see that everything is seamlessly divided into different sections on your main dashboard. You will be able to see the sections for:
Projects
Calendar
Bookkeeping
Resources
Templates
Each of these sections functions differently in helping you to keep track of your proposals, clients, progress, invoices, projects, meeting, and many more.
Honeybook software helps in streamlining your business by creating automated processes while you are still focusing on working on your actual work.
This helps in ensuring that you are still profitable even though you are busy working on your current projects.
The workflow is also customizable and very easy to use. For most people, they tend to start their business by handling everything by hand.
From meeting with clients by filling out paper contracts to accepting payment only in cash or check. The transition may take a while if you used different CMS software in the past.
However, once you start using Honeybook, you will love how simple Honeybook is.
Having one reliable platform to help you communicate electronically, send proposals and contracts, and invoicing your clients is a valuable investment.
This will not only bring good experience to you but to your clients as well.
With that being said, we are going to explore each of the section to better understand what you can expect from this CMS software.
Client Intake Form
If you are busy business owners who do not have the time to accept all interested clients, you might want to utilize the contact form.
This feature helps you to separate serious clients from not-so-serious clients.
It also helps you stay aligned with the right clients.
You can easily customize this form and embed it to your website within as little as 5 minutes.
Project Management
When it comes to task management, Honeybook allows you to keep track of different stages of your projects and manage your clients a lot easier.
The best part about project management in Honeybook is how you can easily share files and organize payment schedules.
Honeybook is the best project management software for flexible communication between business owners and their clients.
On top of that, you can also send automated emails to your clients after 30 days of your session.
This allows you to gather both Facebook and Google reviews from your satisfied clients without you needing to send separate emails to each of them.
When it comes to Honeybook, the organization is the main recipe for this CMS software.
I love that the software comes with templates for proposals, contracts, emails, and brochures.
The fact that you can easily send these will all the info on your pricing in less than 5 minutes is beyond amazing.
Questionnaire
One of the most important things when it comes to working with your clients is understanding things from their perspectives.
This is why sending questionnaires is crucial especially before the project starts.
With Honeybook, you can easily customize questionnaires by using the templates and personalize them according to your needs.
Once you are done, you can either automatically send the email via the platform or you can also save it as PDF and print the file.
Client communication is the key to a successful business.
This is why I think using Honeybook's questionnaire feature is a great step in managing your clients and projects.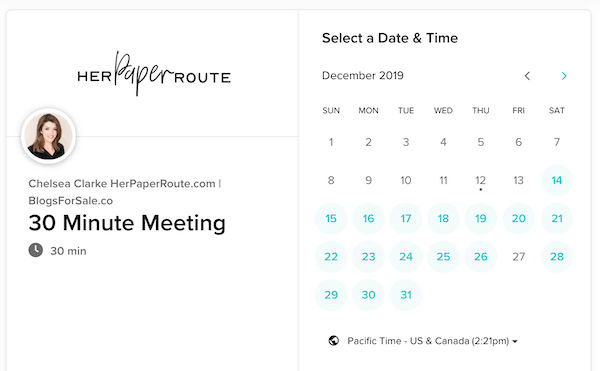 Calendar Management
The calendar features help you to keep track of your progress with each of your clients.
What I love the most about this is how you can integrate Google Calendar and Calendly appointments with your Calendar easily.
Many business owners struggle trying to have a clean and organized calendar.
Sometimes, they are overbooked and double-booked because of a lack of organizational skills when it comes to calendar management.
This is why using Honeybook as your one and only client onboarding software is very important.
You get to be the boss of your calendar instead of letting your business be overwhelmed by appointments and meetings that you are not even aware of.
Honeybook helps to sync up your calendar so that you can view all of your projects seamlessly.
It does feel nice to have one dashboard for all of your projects.
The Workflows (Automation)
When it comes to choosing a CMS software, one of the most asked questions is, "How good is the workflow?"
With Honeybook, you can easily automate most parts of your business.
Some of the workflows that you can do include sending:
A link to book a discovery call (Honeybook integrates seamlessly with Calendly)
A link of the questionnaire to learn more about your clients before the project starts
A proposal and or contract for the project (including requesting esignatures)
Sending invoices (clients can pay you via the Honeybook payment processing, or you can request payment via PayPal directly) Honeybook will send a reminder to your client before the payment due date, as well as after, if they are late to pay.
Sending an automated follow-up email after the completion of the project
When it comes to the project queue, you are able to set things up the way you want them to be.
Depending on the nature of your business, it is important for you to be able to track everything well.
On days that you are busy with schedules, Honeybook works as a reminder of showing you what tasks need to be prioritized first.
With this feature, it allows you to maintain a seamless workflow.
The Templates
One of my favorite features is how easily customizable the templates for proposals, contracts, brochures, and invoices are.
You should start by creating your templates in the 'templates' section, and not within the individual projects.
This way, you can create a document that can be edited and reused with other clients with ease.
The brochure is the best template to start with, as you can include a sort of media kit-like proposal for the project that you are pitching to a client, and include a selection of packages they can choose from.
You can then bundle their invoice right into their brochure.
For most business owners, the least fun part is probably invoicing the clients.
If the nature of your business tends to revolve around being creative with your clients, being able to apply that same creativity to your templates might be important to your business.
Honeybook enables this mindset.
By configuring the templates, you can easily show your clients the details of your pricing, which is included in each package or service, how they can book you for projects, etc.
Honeybook is not as complicated as most CMS software out there.
And that is definitely one of the reasons why I love Honeybook, and why most business owners are shifting to Honeybook.
Everything is easily adjustable and cleanly laid out for you to make sure you can make the changes as you go.
With just a few clicks of the buttons, you can send brochures, proposals, contracts, and invoices easily to your prospective client.
In a case where you need to set up a payment plan, you can also specifically do this to make sure your clients are well aware of when payment should be done.
For business owners who prefer breaking their pricing into multiple payments, you can easily offer retainers to your clients too.
Client Portal
Every step of your client's journey working with you is managed from inside Honeybook.
What's really cool is that each of your clients will have its own client portal which they can log in to view, sign and access all of their contracts and forms.
Contracts and Legal Matters
Just like the rest of the automated features of the Honeybook, contracts can easily be sent to your prospective clients by simply clicking the send button.
When it comes to putting together your contract, you will need to add your own legal information.
Depending on what type of business you run and the specific needs of your project, you will need one (or a couple) of these lawyer-drafted legal contract templates:
Once you have your legal contract, simply bring it into Honeybook, and include blocks where your client needs to fill in their own information.
Then, with the click of a button, you can send it to them to sign.
Time Tracking
If your projects require you to log in your time, Honeybook allows you to track your time easily Honeybook
This is not an actual timer.
However, with this time tracking feature, you can still create invoices from your tracked time to make everything a lot easier for you.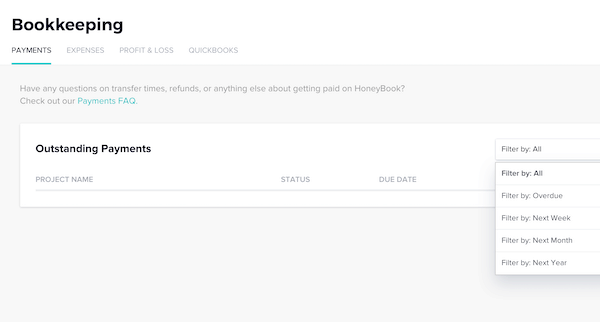 Honeybook Accounting and Bookkeeping
Honeybook offers a really handy bookkeeping feature, and it also integrates with Quickbooks.
Without Quickbooks connected, Honeybook's own bookkeeping features can help you keep track of your earning and how much you're spending on your business. Including managing the profit and loss of your blog.
This feature can offer convenient glimpses into your business expenses and view your cost of goods and profit all in one organized place.
And, with the Honeybook Quickbooks integration, you can use it for all of your business accounting, and just send the CSV over to your accountant come tax time.
Honeybook Payment Processing
Here's how Honeybook payment processing works. Your clients can pay your invoices directly from the invoice you send them.
Honeybook works with Stripe, so you can be paid via credit cards. Honeybook doesn't take a fee, but you will be charged the regular Stripe fees.
Then, Honeybook will pay you out either via Stripe or as a bank transfer. They pay you in your bank's currency and charge your clients in that same currency.
This can't be changed (at least at the time of writing this Honeybook review).
This one-currency does make things really easy for most people.
But for me, I run a business in US funds, but live and bank in Canada. All my services are in USD, all my clients are American and they pay me in US funds, then I cash out in Canadian later.
So the fact that you can't change the client charge currency to USD, while having a Canadian bank attached to my Honeybook account means that I can't use Honeybook's payment processing.
So I have a workaround for not being able to use the Honeybook payment processing:
What I do is I send my client an invoice directly via PayPal or Stripe, and get paid in US funds that way.
Then I just manually update their project as 'paid' once they've paid my invoice.

I just bypass Honeybook's payment processing altogether.
It's a simple workaround.
But I hope that in the future, Honeybook updates this so that we can charge in any currency we want to, no matter what our bank currency is, so we could just use Honeybook's payment processing.
That would make things more seamless for us multi-currency global entrepreneurs.
Honeybook Community Feature
And oh, did I mention the community? Yes, Honeybook is more than just regular CMS software.
The fact that you easily find your community by narrowing down the location makes this CMS platform worth the investment.
You will never feel alone in your business journey anymore because Honeybook helps you connect with the right community.
Honeybook Pricing – How Much Does Honeybook Cost?
Honeybook pricing is simple. If you are signing up for Honeybook without my discount link, you will see two options of payment.
You can either pay $40 per month or $400 per year.
With each of these plans, you will get access to a 7-days free trial to test out Honeybook to see if you will like it.
You do not need to type in your credit card number and all you need to do is experience the software within that 7-days free trial period.
Now, to really save money, use the HerPaperRoute deal!
HerPaperRoute Honeybook Special Deal
HerPaperRoute readers get a special discount when you sign up using this link right here.
This is a special offer for HerPaperRoute readers (you can't get this discount on their website) and it includes:
A free trial, no credit card required
Complimentary white-glove onboarding service. The team at Honeybook will set up your workflows for you, and even import your clients and project data from whatever current CMS you are moving from.
35% off discount
When you're signing up for Honeybook using this discount link, you will get 35% off.
And just like the regular options, you are still able to test out Honeybook for free for 7 days.
Extra Bonus!
As a special bonus, if you do use my discount link, and then upgrade your free trial to a paid membership I will give you a special bonus as a thank you.
I will enroll you in my exclusive year-long virtual membership for entrepreneurs and bloggers known as The Clarity Kit!
This program walks you through 12 months of productivity resources, helping you stay focused and organized while developing your business and blog into a profitable and organized system.
I help you know what to focus on when, streamline your workflows and stay productive (and sane!) as you grow your business.
This 12-month program also includes a special Honeybook workflow workshop, where I show you my exact system for setting up my Honeybook pipeline, with step-by-step training on how you can funnel your clients into your own workflows with ease.
This is the best way to manage all of your many projects and clients, without the overwhelm!
To claim this extra bonus, simply sign up to a paid Honeybook plan using this link (or any of the links on this page), and then I will get a notification automatically and will send you access to the Clarity Kit ($59 value) for free, soon after.
Would I Recommend Honeybook?
For busy business owners, Honeybook offers a ton of great features that are not only easily customizable but also user-friendly.
Plus, the community aspect where you can find clients, network, and promote your business is an awesome bonus that you won't find in any other CMS tool.
Even if you are not good with software and have absolutely zero knowledge of how to operate a CMS tool, you can always watch their tutorials, read FAQ, or ask their super-friendly customer service team, who are awesome!
Without question, the unbeatable support is what drives me to think Honeybook is one of the best CMS platforms out there. Their team values and treats their customers very well.
You can also ask me questions about Honeybook too. As an official Honeybook Educator, I can answer your questions about the platform and provide assistance at any time. Send me a message.
I love the overall design of Honeybook software. It's clean, minimal, and not distracting. This is very important when it comes to maintaining good branding with your clients.
Most people like something that is not too "busy" and contains too much noise. With minimal design, you can be sure that Honeybook will not conflict with your brand.
Remember that you want to grow your business and continue to evolve. Learning a few things here and there will be a valuable lesson for you.
And I can ensure you that Honeybook has everything that you need as a business owner. The best part about Honeybook is how it truly is an "all-in-one" CMS platform.
From client communication to project management, calendar management, and even invoicing clients; you get everything for 35% off plus a free trial when you use my link.
That offer can't be claimed from the Honeybook website directly, it's a special deal for HerPaperRoute readers only.
What more do you need?
Honeybook Free Trial & Coupon
Overall, I highly recommend Honeybook for busy business owners like you. Ready to start your free trial of Honeybook's "all-in-one" features?
And remember, if you do upgrade to a paid plan, I will send you free enrollment into my 12 month virtual membership, for free!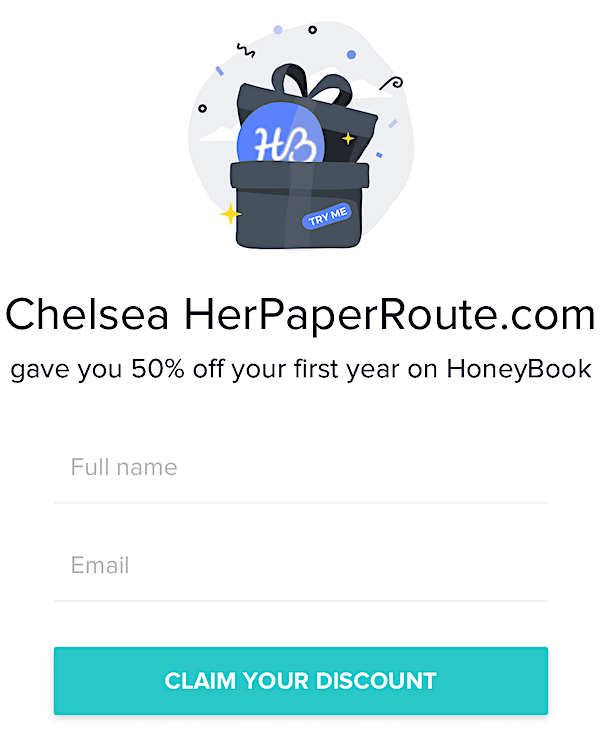 More Business Tools & Resources
I hope you enjoyed this comprehensive Honeybook review. Please click the share buttons to pin and share this Honeybook review around.
Pin this: