How to Start a Shopify Store
How to Start a Shopify Store: Shopify is one of the fastest-growing stocks right now. And it's no wonder. With the pandemic, the business world going virtual, Shopify is a hot pick.
I bought a lot of Shopify stock via my Wealth Simple Trade app last year, and have been happily watching my gains.
But you don't need to be a stock investor to make money with Shopify, You can become a seller on the platform itself.
In this article, we will dig into everything you need to know for how to create a Shopify store.
---
As an affiliate partner of various brands and sponsored content, HerPaperRoute may earn commission on qualifying purchases. Disclaimer | Advertise With Us
---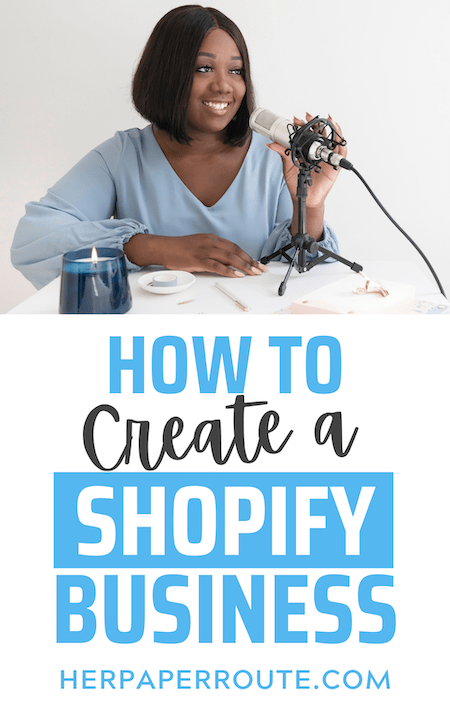 How to Start a Shopify Store
This interview is with Jessica Lee from Non-Techie Entrepreneur. Jess is a Shopify expert who has created multiple e-commerce shops and has helped over 1,000 clients to launch their own e-commerce stores.
If you've been wondering how does Shopify work or what to sell on Shopify, keep reading!
🫶 Want to Make More Money?🫶
Become a member of HerPaperRoute today and get a toolkit packed with resources to help you make that paper. All for FREE!
---
This interview is full of golden nuggets on how to start an eCommerce business.
Jess is a serial entrepreneur helping small business owners and entrepreneurs build profitable businesses.
She's been developing and building websites for 8+ years and has had the pleasure of teaching over 6,000 students on starting a business and various skills for running an efficient business. Jess is also the mother of an extraordinary son with an entrepreneurial mindset.
How did you get started as a Shopify business owner?
Eight years ago I started down the path of becoming a website developer after getting fired from my job due to the birth of my son.
Though this was a devastating blow, I was determined to find something I loved and could do without being in a situation like that again.
I always had a love for code and development but never took the time to see where it would take me. Eventually, I started a web design agency creating and developing custom websites and themes for WordPress.
During that process, I saw a huge issue with beginners starting an e-commerce shop with Woo Commerce. The platform was difficult to use and didn't have a lot of the features that most platforms had.
In looking for a solution, I discovered Shopify.
My first Shopify site was a customized theme for a holistic beauty company that was moving over from another e-commerce platform called Big Cartel. The customer immediately saw a positive difference in running their business and order fulfillment.
With that first site build, I knew it was an option for my clients when building their e-commerce shops.
So I learned everything I could to help my clients move and excel on the platform.
Eventually, I began teaching and educating on the skills I learned to help entrepreneurs who couldn't afford to pay an expert to do it for them. After a year of building on the Shopify platform, I started the process of becoming a Shopify expert.
Four years down the road, here I am teaching and building shops on the Shopify platform.
What skills do you need to start a successful Shopify store?
In my opinion, you need to have a willingness to learn, fail, and try again. E-commerce is a long-form game, not an instant overnight success. It takes time to build a strategy, optimize your products, find your customers, and get sales.
I believe being willing to take these steps will yield success in your business. Also, don't be afraid to ask for help when you lack in an area of expertise.
What tools do you need to run a successful e-commerce business?
There are three tools that EVERY e-commerce store should have: An optimized platform to sell on, an email marketing platform, and a solid launch strategy.
Optimized E-Commerce Platform
Choose a platform that is built for your goals. Shopify is the beginner's choice for online storefronts.
It is built for eCommerce and has so many valuable tools included. It saves a lot of time which in turn saves you money (instead of trying to piece together a store on the wrong website platform.)
You have the freedom to run any type of online store on many different sales channels; all from one dashboard.
Email Marketing Platform
Email marketing should be included in every shop's digital strategy. It is an undervalued tool that does so much of the work needed to keep your shop in front of your customer's faces.
Most owners look to use social media for attracting new customers but they often dismiss the customers they have already won.
This creates a cycle that is endless (and expensive), fighting to win the new when they have a list of 5000 subscribers begging for attention.
Putting the right tools in place to run your email marketing is essential to preserving your time and energy.
ConvertKit is the #1email marketing tool for entrepreneurs. It has built-in tagging and automation features that segment your customers based on their actions with your store to send strategic and timely emails for them to convert.
Learn more about monetizing your email list.
Launch Strategy
Your strategy is the most foundational piece of running an online store. You need to know what your goals are and what to do to bring them to life.
If you never think of what you want to accomplish, the store will never be "successful" because you have nothing to measure it against.
Be sure to get a copy of
HerPaperRoute's Launch Vault
which contains a done-for-you launch system, and all the swipe files and templates your launch needs for success.
How do you find products to sell on a Shopify store?
There are a number of places to find products to sell. There are a couple of different ways to do it.
Most new store owners go with a drop shipping style.
With dropshipping, inventory is kept with the manufacturer and they ship for you. You simply connect with a supplier and once you receive an order they fulfill it.
One popular way to drop ship is with print-on-demand, where you take designs/text and add them to a product through a supplier. Once you receive an order they fulfill it.
Here are some dropshipping resources to check out:
Printful
Printify
Oberlo
Spocket
Each one of these suppliers has various products that you can choose from and easily add through direct integrations to your shop.
Learn more about drop shipping here.
How do you market a Shopify store to customers?
As a store owner, I sell mostly through social media and email marketing.
I nurture the customers that I have already won and create an insider look to new customers by showing testimonials and products in use.
I like to highlight the customers that shop with me, and show how they use the products in their businesses.
How much does it cost to start an e-commerce business?
Starting an eCommerce store should be low in start-up costs ideally.
To set up an email marketing tool and your actual store you should have at least $50 set aside for your platforms, domain, and any fees associated with it.
Then the rest of your cost comes depending on the type of products you will sell (inventory, fees, shipping).
What's your best advice for starting an e-commerce store?
The best advice I can give to someone considering starting an e-commerce shop is to first, throw your expectations out the window. Get rid of any materialized view you may have of the wealth in e-commerce. Trade it for realistic goals.
Think about what you want to accomplish, how you're going to accomplish it, and (your first milestone) when you want to accomplish it by.
Once you have that, do the research for the products you plan on selling, and the people who might buy it so you know how to sell to them and where to find them.
Just those two will help put you in a more open and willing space to excel in your intended niche.
With my background, I saw how it seemed like a mountain to make the move into e-commerce for beginners.
Did you enjoy this post on how to start a successful Shopify store?
Get a free Shopify trial here!
Keep Learning: