How to Launch a WooCommerce Store for Success
How to Launch a WooCommerce Store for Success: So you have something you would like to sell online?
Awesome! This is half the battle in getting started with eCommerce.
This guide will show you the steps in choosing the best place to host your storefront, using free eCommerce tools.
How to Launch a WooCommerce Store for Success
Then you may be thinking:
---
As an affiliate partner of various brands and sponsored content, HerPaperRoute may earn commission on qualifying purchases. Disclaimer | Advertise With Us
---
How can I set up an online store without investing a whole lot?
Is it difficult? Should I hire someone?
What should I know before starting? Like payment processing…
What if I already have a blog?
Well, hopefully, this article will answer those questions and more.
Once you have in mind what you want to sell, the next step is setting up your online store. Bonus points for you if you are familiar with WordPress.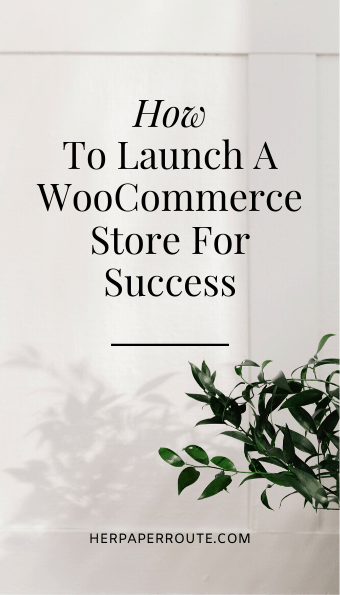 🫶 Want to Make More Money?🫶
Become a member of HerPaperRoute today and get a toolkit packed with resources to help you make that paper. All for FREE!
---
Decide on a Platform
The makers of WordPress, Automattic, are the same people behind WooCommerce. So if you are familiar with WordPress for blogging, then you can feel good about using WooCommerce for building an online store.
According to BuiltWith, WooCommerce makes up about 26% of all online stores. Which calculates to be around 3,876,748 websites that actively use WooCommerce.
And I do suggest choosing WooCommerce. There are other platforms like Shopify and BigCommerce that can work well, but with all things considered, WooCommerce is the reasonable choice for most people.
It doesn't matter how big your store is, WooCommerce can be used for new or established businesses.
Shopify is popular because of its "out of the box" model, which is great at first. The design tools are easy and fun to use, without having to worry about "under the hood" settings.
New stores can get online at $30/month for the most basic features. The drawback is that over time it can be limiting and pricier as your store grows and needs to do more things. After a while, you might notice that your store looks like a lot of other Shopify created stores.
With WooCommerce, you get a set-up wizard that walks you through setting up the basics and even the payment processing. Much like WordPress, it is free software, and you will need your own hosting service.
There are countless themes to really customize your store's design and extensions (like plugins) to add functions to your store. The set up is a bit more work up front, but the end result is truly something that is built how you envision it.
Name Your Store and Domain
If you have ever set up a WordPress blog, this will feel like riding a bike.
WooCommerce has a premium plan. But there is also a free version, which you add to your website or blog as a free plugin. Or the store can be set up as its own separate website with a unique domain.
Naming a store is a bit different than naming a blog. This name is the brand for your products, so the name should be memorable and fitting to your products.
It is also smart to plan ahead and find a name that is not crowded in the SEO space and social media.
Choose Managed Hosting over Shared Hosting
A store performs and functions much differently than a blog. A store needs speed to handle a checkout cart, payment processing, real-time inventory, shipping calculations… to name a few.
The number one reason for abandoned carts and low sales in an online store is due to slow performance. Normally, caching helps load pages faster like on a blog post.
But product pages receiving concurrent visitors need to load fast without caching in order for shoppers to see real-time information.
This is where managed hosting comes in handy. Read more about the differences between shared and managed hosting.
Liquid Web
Liquid Web is a respected hosting provider for websites that need performance, like eCommerce stores. They are also reasonably affordable with their WooCommerce plans starting at $19/month.
Pro Tip: Use my exclusive partner discount PAPER35 to get 35% off your first 3 months!
Liquid Web joined with Nexcess to build the best performing managed hosting for WooCommerce stores.
What makes their hosting plans even sweeter is that they come bundled with some awesome premium plugins, some that you would have to buy otherwise.
The Starter plan comes bundled with:
Stripe Payment Gateway
iThemes Security Pro
AffiliateWP + Direct Link Tracking
WP101 WooCommerce Tutorials
Image compression (via Jetpack Free)
Image lazy loading (via Jetpack Free)
PDF Invoices & Packing Slips WooCommerce extension
WP All Import Pro for WooCommerce
And if you decide on the higher tier plans, you also get:
ConvertPro for opt-in forms, lead collection and more
Custom Thank You Redirect for WooCommerce
Beaver Builder Page Builder
Feature-rich product listings via Iconic WP suite
60+ Additional Beaver Builder Modules (via Ultimate Addons for Beaver Builder Pro)
Dokan Pro
ShopMaster
Abandoned Cart By Jilt
And all plans come with free SSL certificates, automatic plugin updates, free website migrations, and their amazing customer support.
Let's not forget to mention their hosting is PCI compliant and offers a 30-day money-back guarantee.
Once your store starts getting traction, they have auto-scaling in place so that you are not penalized for getting more traffic.
The hosting is built to handle traffic spikes and you won't get charged overage fees! Other hosts would force you to upgrade immediately.
Set up WooCommerce
Once your domain and hosting are good to go, let's set up WooCommerce.
This is a simple enough process that doesn't require hiring an expert. The only downer is that it takes some time at first to set up.
Liquid Web's Nexcess plans come with WooCommerce installed already, or you can install the plugin, activate it, and click into the set-up wizard. Here are what the steps look like:
Enter your business address.
Connect your Stripe and PayPal accounts.
Enter how much you will charge for shipping.
And that is it!
Now click on 'Create a product' to begin adding products to your store.
Adding Products
Adding a product is very similar to creating a post in WordPress. It will have a permalink, featured image, categories, and content in the product description.
If your product comes in different colors or sizes, you can add these as attributes and set the automatic prices for each variation.
Select "Variable product" from the drop-down options.
Then enter the attributes of the different variations your product comes in. Make sure to check the box for "Used for variations' and enter the values just like this:
Now you have created variations that you can customize. For example, if a shopper selects the black color then your site will automatically update what they see to the corresponding image and pricing for that variation.
Or it can be a simple product with one set price.
Don't forget to make your store look pretty!
Remember if you chose Liquid Web's WooCommerce plans, you also get the Astra Pro theme bundled into your WordPress admin dashboard. It is a highly popular ecommerce theme because of how customizable it is.
But if you have another theme you want to use, you still can switch it out.
Now that you have set up the payment processing, added products, and designed the look… your store is open for business!
Market Your Store
Now comes the fun part!
It's time to get the word out and find ways to attract visitors to your store. I have created a few resources to help you on your journey.
Hopefully, before you know it, you will get your first sale keep going up from there!