What is a blog, anyway? Furthermore, what is the difference between a blog and a website? Does your business need a blog?
Every day more and more people are wanting to learn how to start a blog, either to blog as a hobby, to boost their business, or to start a blog to make money.
This site features ads and affiliate content Disclosure • Advertise with us
If you are a newbie blogger, you may be wondering what the difference between a blog and a website is.
I am going to explain what is a blog, why you should start a money-making blog, and free ways you can start blogging today!
How To Start A Blog In 10 Minutes
To learn how to set up a blog correctly so it can make money, enroll in my FREE blogging course today which covers everything step-by-step for beginners. 100% FREE training!
Plus, take advantage of this amazing deal on web hosting from Bluehost 60% off all plans!
1 Year Premium WordPress.org Hosting $2.95/month
Free .com domain
Free email account
Free SSL Security
1 Click WordPress install
24/7 support
Pin This:
What Is A Blog? And What Is The Difference Between A Blog And A Website?
If you are confused by what is a blog and what is a website, actually, there isn't much of a difference between a website and a blog. Both are websites, but a blog is updated more often.
To explain…
What Is A Blog?
So, down to basics. What is a blog?
A blog is a website that publishes new content frequently, with posts appearing in reverse chronological order, either on the main home page, or on a separate blog page.
For example, my website is a website as well as a blog.
We have a main homepage which lists our services and various ways to connect, and then we have a blog page listing all of our blog posts.
A website doesn't need to have a blog section, it can just be a website with information, and that's it.
If it is just a regular website, it typically is updated less frequently, having static web pages of information that don't change much.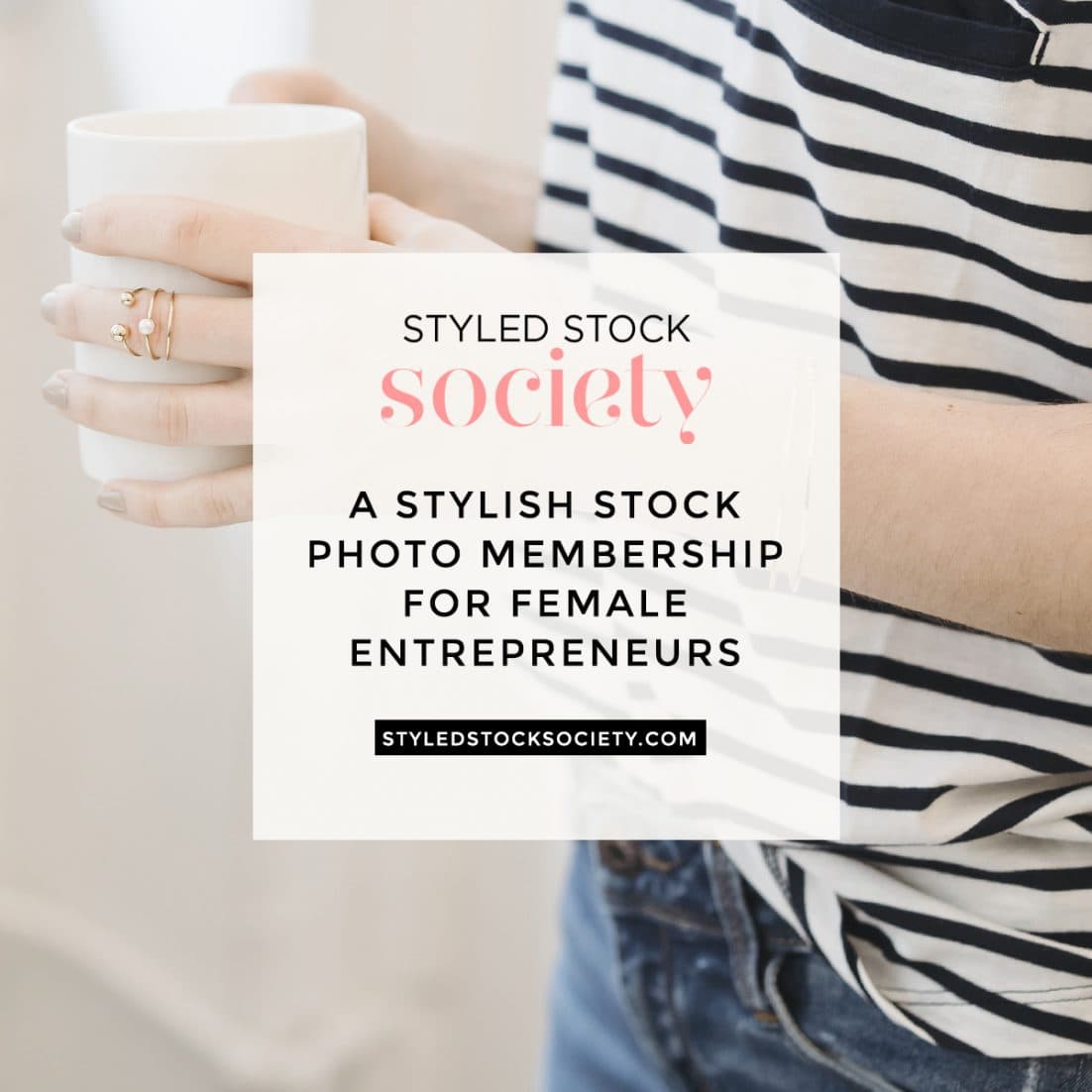 What Is Blogging?
Mainly, 'blogging' is what you are doing when you publish content to your blog.
'Blogging' also refers to everything a blogger does in addition to publishing blog posts.
This includes the promotion/marketing aspects of promoting your blog on social media, writing emails to your mailing list, creating opt-on forms and sales pages, affiliate marketing and so much more.
Blogging is a big job, but it can be very rewarding and lucrative, too!
Website Versus Blog – Or Do I Need Both?
Whether you are an individual, a small business owner, or a corporation, adding a blog to your website is a wise decidion.
That is, if you have the time to maintain it.
What Is A Blog Good For?
Business model and purpose
Quite often, a business will have a static website for their company, and then add a blog section for SEO and social sharing purposes.
Blogging about your company and services is an excellent way to get more exposure and customers for your business.
Both websites and blogs, when built with WordPress, can support just about any type of business model.
There are WordPress plug-ins that can turn any WordPress blog into an e-commerce site, a membership site and more.
If your business model relies on the publishing of timely information, then having a blog on your website is a good thing.
Related: Best Free WordPress Plugins For Your Blog
A blog and a website work well together. A blog drives traffic and brands the business. A blog can speak to a niche within your niche.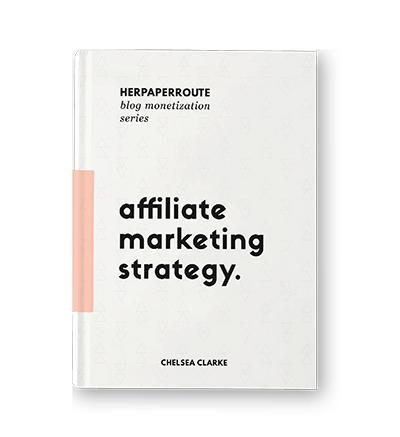 Do you have your copy of my Affiliate Marketing Strategy ebook yet?
Maintenance and time
How much time do you have to devote to the upkeep and maintenance of your business?
A blog relies on consistently publishing content, at least weekly, more often is better. People who subscribe to blogs do expect regular installments of new content.
So blogging does require a bit more maintenance on your end.
A website, on the other hand, can be left alone for a month or two without any maintenance needed.
Goals
Before you make a decision about whether a blog or a website is right for you, consider these points.
What's the purpose of your site?
What will offer the best customer experience?
What will be easiest for you to use and maintain?
Finally, what will best help you achieve your goals?
What is a blog going to do to add to your overall business? If you have the desire and time to run a blog, its going to add a LOT of value to your business, in my opinion.
What Is A Blog – Examples Of Blogs We Love
Here are a few fantastic blogs, all run by students and mentees of my blog school and/or my mentorship program!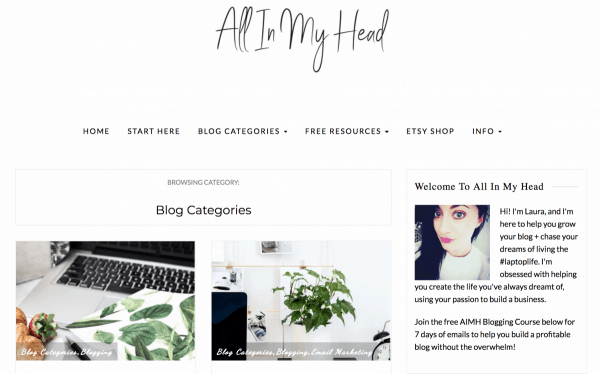 All In My Head
Laura from All In My Head specializes in helping bloggers with email marketing and social media marketing, and her gorgeous website is packed with helpful tips and tricks! Laura recommends my Influencer Marketing course saying:
"Chelsea of HerPaperRoute.com has the most amazing blog and her courses are literally sooo helpful. I find them so easy to follow, and the results have been amazing since getting involved with her courses. Her course gives you so much. It's amazing how much info is crammed into it!
If you're looking for the most complete guide on how to make money as an influencer, how to grow your brand and reach new heights in your biz, then you need to check it out."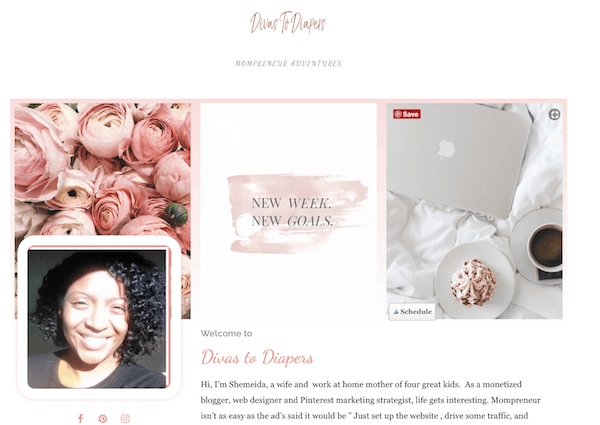 Shemeida runs this smart and witty blog offering advice and resources for fellow mompreneurs. "I'm a wife, and mom of four providing comedic relief for the adventures we take on our way to becoming mompreneurs, because we all have to laugh when monetized blogging starts to drive us insane."
Check out her post How To Crush It As A Social Media Influencer, where Shemeida provides fantastic advice on how to make it as an influencer, including recommending my Influencer Marketing course to anyone looking to break into the industry:
"You will be coached on Influencer Business tactics to take actionable steps towards your goals. Truly a gem of a kind, Chelsea is a Marketer and Social Media Micro Influencer with knowledge and 10 years of experience to guide you along your path to brand sponsorships.
You'll learn Affiliate Marketing, Social Media Marketing and Strategy Development to drive traffic to your blog of high converting content. Chelsea will show you how to combine it all to get listed as an in-demand Influencer by major brands."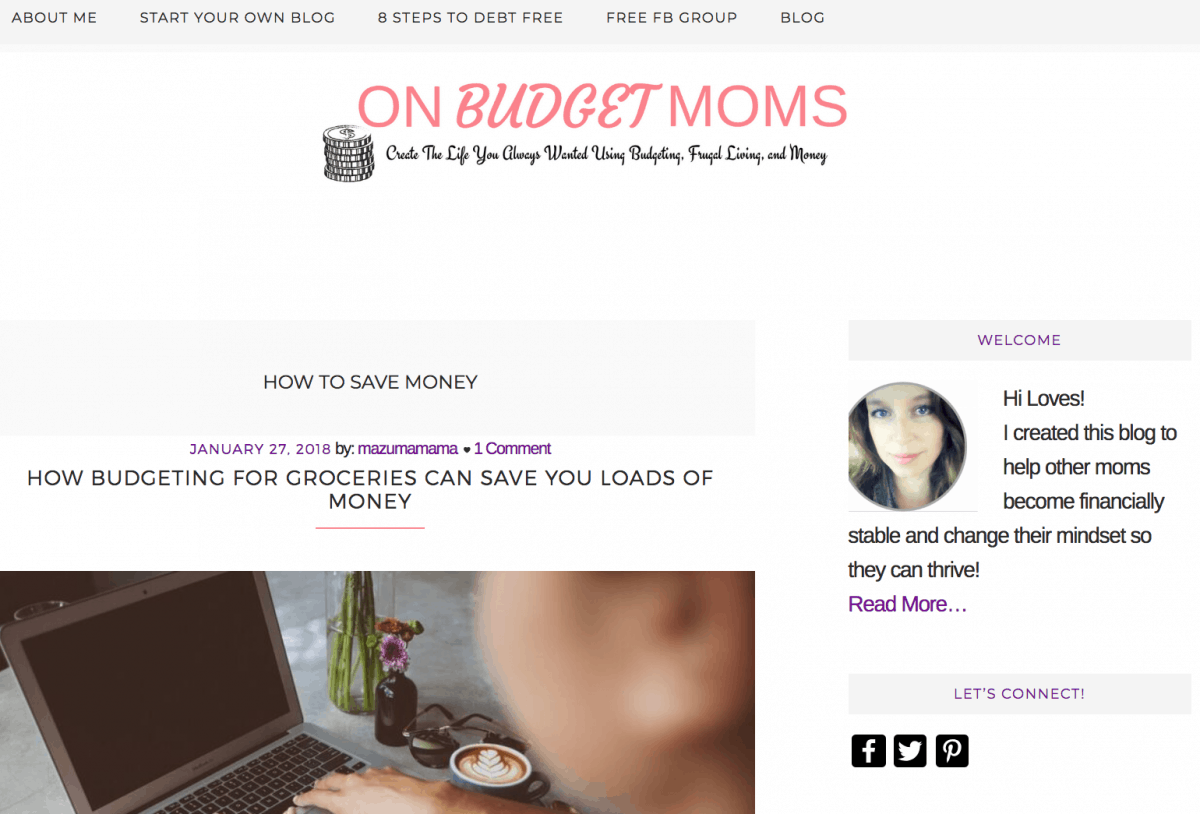 Jessica is a personal finance blogger helping moms earn, manage and save money, while improving your overall money mindset with positive money affirmations and advice. Jessica attributes my course Be Your Own Blog Boss as The Blog Course That Changed Her Blog Into A Career:
"I was blown away by how much value Chelsea adds to just one course, this was exactly what I was searching for, a one stop shop where I could invest once and have all the tools I needed to be successful.
I was dreading the thought of having to purchase a course for each thing (I needed to learn) and then try to navigate and figure it out on my own. Luckily Chelsea's course has it all, and it is laid out in a way that is easy to follow. This course has changed my blogging life."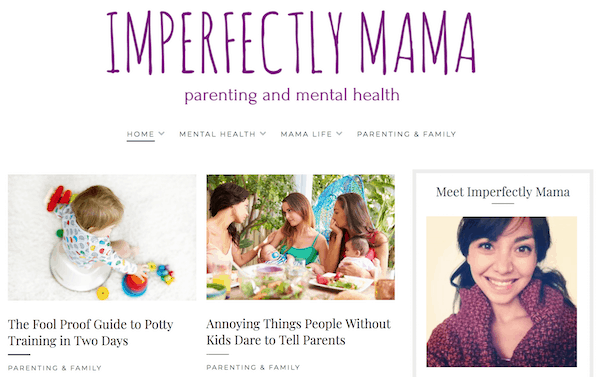 Victoria runs this incredibly helpful resource for moms, where she blogs about parenting – specifically parenting with a mental illness. In her post Before You Start A Blog, Take This Course she recommends my course Be Your Own Blog Boss for anyone looking to learn how to start a blog and monetize it into a business:
"There are so many courses to choose from, and I know it can be way overwhelming. I bought a handful of courses and there was one in particular that I owe a lot of my success to: HerPaperRoute's Blog Boss Course.
I have bills and a brand new baby to take care of. My money is precious, and I know yours is too. If you're going to invest in any course, I cannot recommend Chelsea's course ENOUGH!"
What Is A Blog Niche?
Your blog niche is the topic that you blog about primarily. It is wise to choose one topic for your blog, so you can build your authority on the subject. It also will help you build your email list with people who are interested in that topic.
It is much easier to sell to your audience when you know what they like. If you don't specify your blog niche, and you have too many topics going on, it will be harder to define your customers and make sales.
As mentioned, defining your blog niche will help build your authority. This will help you establish yourself as a thought leader on a subject.
Becoming a thought leader in your niche may take some time and effort, but the financial and professional rewards can be well worth it long-term.
What Is A Blog 'Niche Research'?
Doing niche research for your blog literally means discovering where people interested in your niche spend their time, and where they spend their money, so you can put yourself there to serve them.
What social networks do they visit?
What do they talk about? What are their pain points and problems in relation to the niche?
What solutions are they willing to pay for and how much will they pay?
Who are your main competitors and how good are their products?
What are niche customers saying about those products?
Can you come up with even better ones?
Make the most of social network groups. Are there Facebook groups you can join in order to connect with your target audience and other like-minded people? How many Pinterest Group Boards do you contribute to each day?
Create Great Blog Content
Use your niche research to create content that your readers and followers want. People learn visually most of the time, but offering a range of content gives them a choice. The more content you create, especially free content, the more traffic you will get from search engines and social sites.
Seeing your name and (good) content appearing repeatedly will make potential customers check you and your item out more closely.
Rather than focusing on quantity of posts, tweets, and pins to convert your connections into email subscribers, focus on quality.
Create Quality Blog Content That Appeals To Your Ideal Customer
Use the information you gained from your research and insights to provide a special offer that is specific to your followers. Can you offer them something specific, that will appeal to your ideal customers?
For example, ComparedTravel is a travel booking website offers the lowest prices on flights, hotels and vacations by scanning every travel website to deliver the best prices. Their target market is travelers looking to save money.
I created their mailing list opt-in freebie, by writing an ebook about ways to make money from your laptop, so you can earn money while you travel.
You get this ebook for free when you join their mailing list. This helps grow their potential customer base, while providing quality content that directly appeals to their ideal customer.
Using your blog and social media to establish yourself as a thought leader in your niche can take time. However, the more quickly you get started, the more quickly you will arrive at your desired destination.
Put these ideas into action to begin your journey to success.
How To Start Your Own Blog From Scratch
Now that you know what is a blog, are you ready to start a blog of your own blog?
Using WordPress you can very easily create a website yourself, or a website and a blog at the same time.
To learn how to start a blog, enroll in this free course for a step-by-step guide on how to set up your own website in minutes, and add a blog as well.
Starting a blog is not difficult to do, and anyone can start a blog.
To start a blog, the first thing you need is to decide on a domain name and purchase it, along with your hosting.
Normally, it costs about $14.99 per year to register a domain name, and about $7.99 per month for hosting.
As mentioned, today you can get a huge discount to start your blog!
Click here to take advantage of this amazing deal on web hosting from Bluehost 60% off all plans!
1 Year Premium WordPress.org Hosting $2.95/month
Free .com domain
Free email account
Free SSL Security
1 Click WordPress install
24/7 support
Once you have registered your domain and hosting, follow our start a blog guide, which will help you set your new website up.
And then follow our guides on how to monetize your website and make money blogging.
Free Blogging Resources
Once you have registered your domain, enroll in my FREE start a blog course, which will help you every step of the way. From there you can follow all of my money-making guides! And be sure to get your FREE HerPaperRoute Profitable Blog Toolkit, by signing up below: