12 Ways to Supplement Your Blogging Income
Today I'm sharing some ways to supplement your blogging income. Because blogging is a full-time hustle!
And It can take a while for you to develop your blog income into a full-fledged full-time salary.
So, between now and then, how do you actually make enough to live off of?
Don't worry, there are ways to supplement your blogging income.
---
As an affiliate partner of various brands and sponsored content, HerPaperRoute may earn commission on qualifying purchases. Disclaimer | Advertise With Us
---
I mean, you gotta eat, don't you?
When I first started blogging, I was so happy to start making $1,000+ per month regularly beginning in month 3 or 4 of my blogging journey.
That's awesome but can I pay ALL my bills on around $1,000/month? Definitely not!
🫶 Want to Make More Money?🫶
Become a member of HerPaperRoute today and get a toolkit packed with resources to help you make that paper. All for FREE!
---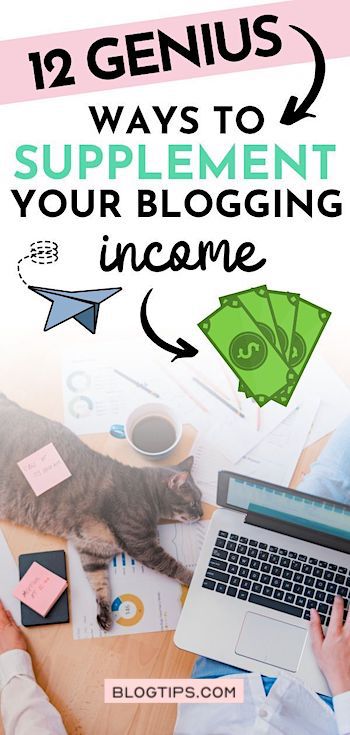 Nowadays I am earning over $160k/year with my blog and it's my full-time job.
But back in the beginning months, while I was growing my blog, I needed to do other things as well.
So here are 12 ways to supplement your blogging income, that you can get behind!
Creative Ideas to Help You Supplement Your Blogging Income
Blogging can be a rat race.
Not exactly the same way your 9 to 5 would be, but income-wise you have huge swings in income from month to month.
It can make you feel crazy.
Until your income stabilizes and you're earning enough to live off of comfortably, check out these ideas to round out your income.
1. Freelancing
Freelancing is a job I see a lot of bloggers take on. This can be things like:
Logo creation
Graphic design
Blogging for other bloggers
Copywriting
Creating email campaigns
Video editing
Social media management
Virtual assisting
Bookkeeping/accounting
Web design/development
Coaching
The list goes on and on.
It's not that tough to land a client and once you do, you can use that confidence to go out and get more clients.
I read a story recently where a newbie social media manager scaled to $30,000 per month and got so many clients that she created a digital agency.
All in just 2 months!
Stories like this happen in real life. They can happen to you!
So look at freelancing to help supplement your blogging income. If you've got skills, you can freelance.
Where to Find Clients?
Upwork
Fiverr
Craigslist
Indeed
Facebook groups
How Much Can You Make?
This varies on many factors but most importantly:
The kind of freelance work you do
The kind of price points you offer your services for
And how many clients you have at a time
Virtual assistants can make $100k+ a year with enough clients, and web designers and coaches can make $4,000-$20,000+ per project/client.
It really just depends on what work you're doing.
In the beginning, expect to earn a little less. But as you build up your skills, establish a portfolio and start getting referrals, your income will rise.
2. Digital Products
Start creating your own digital product empire. Look at your blog audience and solve their problems.
What keeps them up at night? What issue are they having that you can help solve?
Still not sure? Then, poll your audience. Ask them flat out about their problems and what help you can provide to them.
How to Get Started?
Digital products come in many forms:
Courses
Ebooks
Printables
Pick your product format and then start your outline. Make a curriculum or outline of your product.
What will be included? Are there gonna be bonuses? How long do you want it to be? Pricing? Deliverability?
Consider all these things.
What tools to use for digital products?
For product creation, turn to tools like….
For product delivery, look at these ones…
How Much Can You Make?
Ready to make your jaw drop? You can make A LOT! Like, five figures in an afternoon, a lot. How?
Do a product launch.
This is where you create a lot of buzz surrounding your product launch and get a lot of sales in a short period of time.
You can literally sell to a $400 course to just 25 people and make $10,000!
How to launch a course?
There are courses that teach you how to have a successful course launch. Is it really that serious?
Short answer, yes.
Do you want to spend all this time and effort crafting your digital product and have a poor turnout? Heck no.
Check out these awesome courses which teach you how to launch your product like a pro:
Create, Launch, and Sell Your Premium Online Course – learn more
Digital Product Creation & Launch Masterclass – learn more
Or just sign up for Thrivecart and get started. It's super easy.
What's great is that digital products can be completely passive income.
So, after your product launch comes and goes, you can still continue to enjoy passive income every month without doing anything.
This is what bloggers talk about when they say, "make money in your sleep."
3. Open An Ecommerce Shop (psstt…use Shopify)
An ecommerce or online shop is a great source of income. And Shopify is the best, easiest-to-use tool to run your store.
This is NOT passive income but it is a way to make a lot of money fast and a good source of regular monthly income.
You can create a store related to your blog or one not related to your blog.
Sarah Titus is known for her $300K+ monthly digital product sales from her online Shopify store. You could do the same!
How does Shopify work?
Step 1.) Pick a store niche
Step 2.) Open your Shopify store.
Step 3.) Market your store and make sales
This is the 3-step process I have personally used to make over $30K per month from my former online Shopify store. This formula works!
Let's dive in a bit more about it, shall we?
Pick Your Niche
Your store niche is your store category. What kind of stuff are you gonna sell?
Niche or general?
Physical goods or digital goods?
Ask yourself these questions and then start sourcing your goods.
If you're going the physical goods route, you gotta source your stuff. This means, figure out where you will buy from.
For example, if you will open a women's accessories store online selling things like scarves, cell phone accessories, socks, and related goods, you will need to find wholesale suppliers.
These suppliers sell those products to you so you can sell a scarf that costs you $3 for $30 (making a $27 profit, just an example).
Make sense?
Some wholesale resources to check out:
Open Your Shop
Next, open shop.
Before opening, you should have done things like this….
Picked your niche
Added products to store
Added your pages like About, Contact, Sizing, FAQ, Resources, etc.
Added pricing to all products
Set up your shipping settings and payment details (so you charge for shipping/delivery correctly and you get paid)
Opening is pretty easy and can be done with a click of a button. Then, you're open!
Market the heck out of it!
Lastly, but not least..marketing!
You gotta spread the word about your shop so people know about it and buy from you.
How to do this?
Social media
Paid ads
Word of mouth
Tell family, friends, etc.
Get bumper stickers and car decals made and apply to your auto then drive around town
SEO
Hire an agency
Sell on marketplaces
Hopefully, this gives you some ideas for marketing and promotion.
Launch an amazingly profitable store. Go ahead, do it!
4. Become a Virtual Assistant
A VA (virtual assistant) is a personal assistant online. You will help your clients in a personal and business kind of way.
Yes, VA's are for personal needs too.
People are busy and they need help..with things like:
Scheduling meetings and appointments
Taking phone calls
Monitoring/managing emails
Posting to social media on their behalf
Answering customer questions
Filing and organizing their business
Party planning and event management
Travel arrangements
And, more!
If you're helpful, a go-getter, well-organized and detail-oriented, become a VA!
You'll work with all kinds of cool and interesting people. Make yourself stand out by doing these things:
Make it a business. Form your business structure and make it official (as with other businesses shown in our lineup here)
Create a website for your VA business
Get social and add value online, answer questions and be super helpful
Create freebies to grow your email list
Related: How to make $100k as a virtual assistant
5. Take on a Side Hustle
You can do literally almost anything on the side to help supplement your blogging biz.
Here are some offline side hustle examples:
Dog walking
Pet grooming
Baby sitting
Pet sitting
Driving for Lyft or Uber
Delivering groceries for Instacart
Running errands working for Postmates
But I do not recommend doing these offline side hustles!
Why? Because offline side hustles take you away from time you could be spending on your online side hustles – the ones that pay more and offer passive income.
Some online side hustles:
Freelancing
Video editing
Copywriting
Pinning affiliate links to Pinterest
6. Build Websites
You created your blog, didn't you? So, why not build websites for others?
This is a very lucrative field which means you won't need to book a lot of clients to make a nice income to supplement your blogging pay.
Website builders charge $300 to $10,000+ per project or more!
First, build a portfolio. This will be a book of your work. If you don't have experience creating many sites, create some!
Consider building a few sites for others for free, in exchange for positive testimonials.
You can also go to job banks like Upwork and offer dirt-cheap prices for website creation so you can get your foot in the door with a client and use that project for your portfolio.
Then, build your own website.
Create a site for this business and include things like your website builder packages, information about your business, timeline, reviews and testimonials, etc.
Lastly, book clients. You can get clients through word of mouth, free and paid marketing, social media, and other places.
Or you can build them and flip them yourself, for major profit! This brings me to our next way to supplement your blogging income…
7. Get into Website Flipping
This is a little different than #6. You see, #6, website building, involves building websites for others. You get a client, build their site and hand it off to them.
Website flipping involves you building sites for yourself for the purpose of flipping.
It's like flipping a house. You build a house, improve it, then flip it for a profit.
I have earned over $1M flipping websites!
Perks of Flipping Websites:
Lucrative
Fun
Creative
Unlimited income potential
If you're serious about this, know that you can make a lot of money quickly.
I will show you how to make a $2,500/month business flipping sites on the side. Check out The Blog Flipping Course to learn more.
8. Dropshipping
Dropshipping is an ecommerce model for online stores.
This extends off of #3, opening an ecommerce store.
With dropshipping, it's so attractive, especially for new stores because:
It has a low barrier to entry
Little to no startup capital required
Easy to start
Easy to scale
With a traditional inventory model, you order your products, store in a warehouse and ship out one at a time as customer orders come in.
What's wrong with this?
Nothing, except that it requires a lot of capital. Think about if you sold apparel, for example.
One green dress comes in a lot of 12: 4 small, 4 medium, 4 large. That's 12 pieces for just one product. And, each piece costs $10 so one product is an expense of $120.
Think about how much all the cost would add up if you stocked a few dozen products.
It's expensive. That's one of the reasons why folks are turning to dropshipping.
The way dropshipping works is like this:
You work with a dropship supplier to fulfill your orders so, you list your products in store and as they sell, you place orders one at a time with the dropshipper.
You only incur expense at the time of your sale. And, no shipping, no fulfillment, and no warehousing needed by you.
People are going nuts over dropshipping. Kids (like preteens and teenagers) are starting their own stores making $1,000+ per day.
Enroll in my FREE dropshipping email course to learn how you can join in on the fun of making tons of money every month and running a successful dropshipping store!
9. Dropservicing
This is dropshipping for services and I used to do this a while back on Fiverr.
You outsource services and make money doing it!
With dropshipping, you are having a dropship supplier ship goods to customers, like:
Home decor goods
Lighting products
Apparel
Shoes
Bags
Accessories
All physical goods here.
With dropservicing, it's the same, but with services. Here are some examples:
SEO work
Copywriting
Social media marketing and management
Digital marketing
Graphic design
My Fiverr gig went like this:
I ran a gig for SEO with no SEO skills. This was several years ago and SEO was so hot.
I got my first half-a-dozen sales in the first week. I outsourced to SEOClerk. I could have also outsourced to Fiverr or other places online.
Sound interesting? Give it a try.
10. Selling Your Crafts
Monetize your hobby by selling your crafts. If you are a creative that enjoys crafting, why not sell them?
Here are some examples of crafts you might be making that you could sell in person or online:
Baked goods
Knits like scarves or blankets
Jewelry
Head to Etsy online or your local thrift shop or flea market in person and start selling your stuff.
11. Marketplace Selling
Marketplaces are so huge. You get exposure from tons of people congregating in these marketplaces every month.
Millions of visitors are checking out sites like Amazon, Ebay, and more.
So, sell on these sites.
You can wholesale products and sell, you can dropship, sell your crafts, you can even sell digital goods and services.
Here are some marketplaces to look at:
Ebay
Amazon
Etsy
Mercari
Jet
Storenvy
12. Flipping Goods
We talked about website flipping earlier above.
You can also flip general goods. Anything around your house, stuff you don't use in your car, gifts you received that you want to regift and more.
With flipping goods you buy low and sell high.
If you don't flip things you already own, you can source products on sale online or in person from regular retailers you may know like Walgreens or Walmart.
Check out the Flea Market Flipper for more on their success with flipping. They can show you the ins and outs of it all.
Final Thoughts
There you go, my friend, 12 ways to supplement your blogging income.
So, you can have a steady stream of income on the side to complement your blog earnings.
Did we miss anything?
Comment below to share ways that you supplement your blogging income!