11 Ways to Grow Your Email List Before a Launch
Are you wanting to grow your email list before a launch? Of course! More subscribers on your list = more revenue during your launch. It's just math!
But how exactly should you grow your list before you launch your next course?
And more than that, how do you make sure the people joining your list are the perfect candidates for your course?
That's what we'll cover in this post, where I'm sharing 11 ways to grow your email list before a launch.
---
As an affiliate partner of various brands and sponsored content, HerPaperRoute may earn commission on qualifying purchases. Disclaimer | Advertise With Us
---
11 Ways to Grow Your Email List Before a Launch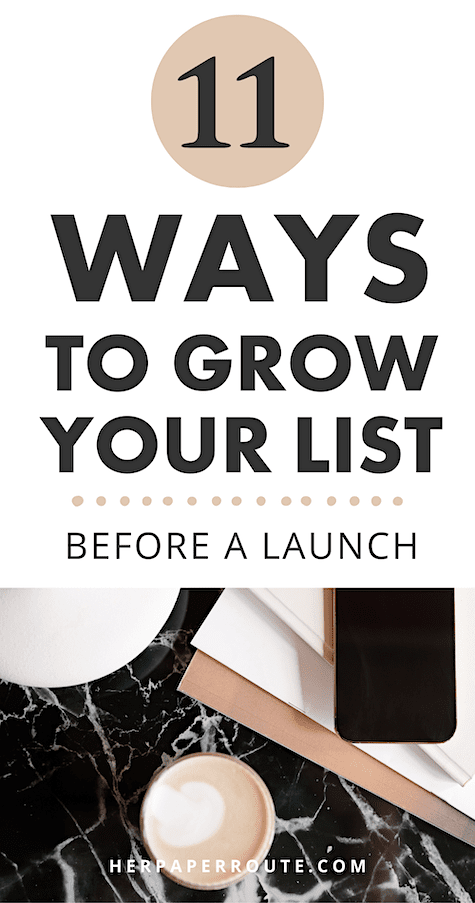 Even if you aren't planning to create and launch a course soon, it's never too early to start growing your email list.
You can quote me on that. 😉
1. Host a viral giveaway.
Gather up a bunch of resources your target audience would love (making sure they're all related to the topic of your upcoming course, obvi).
🫶 Want to Make More Money?🫶
Become a member of HerPaperRoute today and get a toolkit packed with resources to help you make that paper. All for FREE!
---
For example, if your course is about Facebook Ads, you could give away the "Ultimate Facebook Ads Toolkit".
This doesn't have to be expensive.
You can repurpose your own digital products as part of the giveaway, or ask your friends and peers to contribute one of their products to the prize (this is free exposure for them).
Use a viral giveaway tool like KingSumo, and be sure to include your course as one of the prizes.
This ensures that everyone who enters the giveaway is the type of person who'll be interested in your course when it launches.
2. Create an epic signature freebie.
Next, you'll want to make a super valuable freebie centered around the topic of your course.
This could be an ebook, video training, a roadmap, or even a quiz.
Ideally, the freebie will give your new subscribers a "micro taste test" of the content inside your course.
For example, my Course Creation Roadmap freebie touches on the 5 main steps I teach in detail inside my Course Creation Program.
Don't skimp on this freebie! You can never give away too much value, I promise. The juicier, the better.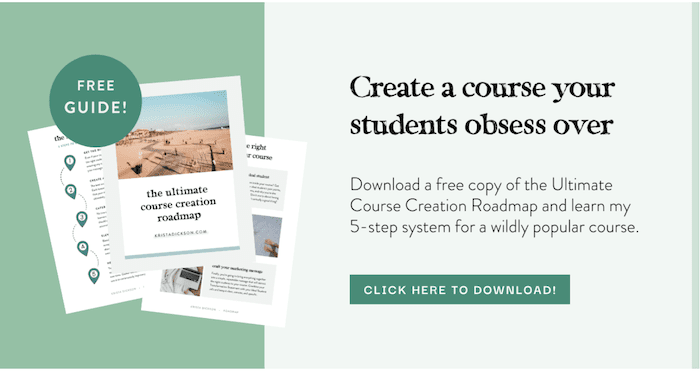 3. Use Pinterest to drive traffic to the freebie.
Pinterest is hands-down the best FREE way to drive a ton of traffic to your signature freebie.
Here's what to do:
If you need help designing your pins, check out these gorgeous templates that'll have you whipping up beautiful pins in mere minutes.
4. Swap freebies with your peers.
This one's pretty simple: You share your friend's freebie with your audience, and they do the same for you.
This can be done on IG Stories, in a newsletter to your email list, on a live video, in a blog post—anywhere!
If you can, provide your friend with a couple of nice graphics and a mockup of your freebie to make it more enticing.
5. Jazz up your thank-you page.
I'm willing to bet that 90% of you are overlooking your freebie's thank-you page.
But this page can be a literal gold mine.
All you have to do is add social share buttons on the thank-you page and a call-to-action to share.
(Pssst. You can add these buttons to your thank-you page super easily if you use this tool!)
For bonus points, add the same CTA and social share buttons in the "P.S." section of an email in your welcome series.
6. Create an IG highlight for the freebie.
Post a series of Instagram Stories talking about your freebie, including:
The problem it solves for your audience

What's included in the freebie

How to download it for free

Why

now

is the time to grab it
Once you've shared the Stories, save them all to a new highlight on your IG profile.
Lots of people will watch your highlights when they first stumble on your profile, so this is a great way to get more downloads of your freebie.
7. Run a joint-venture webinar.
Have a biz buddy whose audience is a perfect fit for your course? Partner up and host a webinar together!
At the webinar, share your best stuff. Don't hold back.
And of course, make sure the topic of the training is related to your course.
Whoever registers for the webinar will automatically get added to your email list, where you can continue to warm 'em up before your launch kicks off.
8. Host a free 5-day challenge.
Similar to a webinar, a 5-day challenge is a great way to quickly grow your list before a launch.
You can host the challenge the week before your course launch kicks off, or you can host it further in advance and then send a series of warm-up emails to your new subscribers before the launch.
My biggest tip for free challenges is to make sure the content is actionable.
Not just tips and information, but actual strategies that people can implement and start seeing results with straight away.
When people get results during your challenge, they'll be way more excited to join your paid course!
9. Promote your freebie in all of your pre-launch content.
In the lead-up to your launch, which we call the "pre-launch period", you should be publishing regular content related to the topic of your course.
This can be either: blog posts, videos, or podcast episodes.
In each piece of pre-launch content, make sure to promote your freebie multiple times and include the link to download it.
It might feel like overkill, but I promise, you really can't go overboard.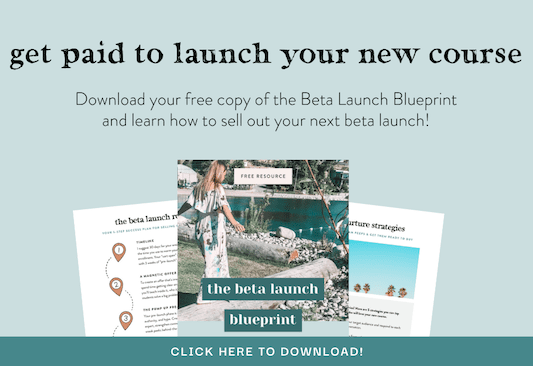 10. Participate in a bundle.
A couple of times a year, this month, I contribute one of my offers into a course bundle with other creators. one of my courses (The Hot List) was part of an online course bundle called The Business Bundle.
Not only are bundles a great source of affiliate income for me, but they add a few 1,000 new subscribers to my list each year.
Obviously, participating in a bundle isn't always a feasible option for growing your list, but if you get the opportunity, I say go for it!
You really have nothing to lose.
Become an Ultimate Bundles affiliate here and then apply to contribute.
11. Create a tripwire or low-cost product.
Finally, here's a super simple way to grow your list before a launch while also making a bit of extra cash.
All you have to do is create some kind of low-cost product, like an ebook, a toolkit, or a digital product.
You can also set this up as a tripwire product to generate easy sales after people opt-in for your freebie.
Like everything else, your low-cost product should be related to the topic of your course and signature freebie.
Ideally, it will serve as an in-between step, guiding people from your freebie to your paid course.
Learn more about setting up a tripwire.
11 Ways to Grow Your Email List Before a Launch – Conclusion
Use the strategies from earlier in this post to spread the word about your low-cost product: Pinterest, have your peers share it, create an IG Stories highlight, share it in your pre-launch content.
Which of these strategies do you currently use? Which will you try out for your next launch?