How to Become a Digital Nomad As A Boujee Traveler
Are you dreaming about how to become a digital nomad?
You might have looked at people on Instagram posing for pictures in beautiful resorts and wondered how on earth they earn money?
Or do you have a friend of a friend who seems to travel constantly and take their work with them? Or you may have read about these travel bloggers who make $100,000+ with their blogs!
I used to be this person, who scrolled my social media, wondering how people managed to work from remote, tropical islands.
---
As an affiliate partner of various brands and sponsored content, HerPaperRoute may earn commission on qualifying purchases. Disclaimer | Advertise With Us
---
And then I took a leap of faith a few years back, and decided to go live the digital nomad life.
I didn't feel ready, financially at the time. But I thought if I wait around till the exact right time – I could be waiting forever!
So I took the risk and traveled before I was earning a full-time income online.
🫶 Want to Make More Money?🫶
Become a member of HerPaperRoute today and get a toolkit packed with resources to help you make that paper. All for FREE!
---
Because I knew this would give me the motivation to work on building my own online business. And it certainly did!
And I don't regret it. Over the last few years, I've been traveling all over, while building new passive income streams and earning from my blog.
Now I'm here to pass on what I've learned and help you to become a digital nomad.
But here's the thing – you won't catch me backpacking or slumming it at a hostel. I appreciate the finer things in life, and prefer to stay at 5-star hotels, thank you very much.
So my digital nomad money-making tips are to help you make A LOT OF MONEY so you can live it up, all while earning passively, remotely.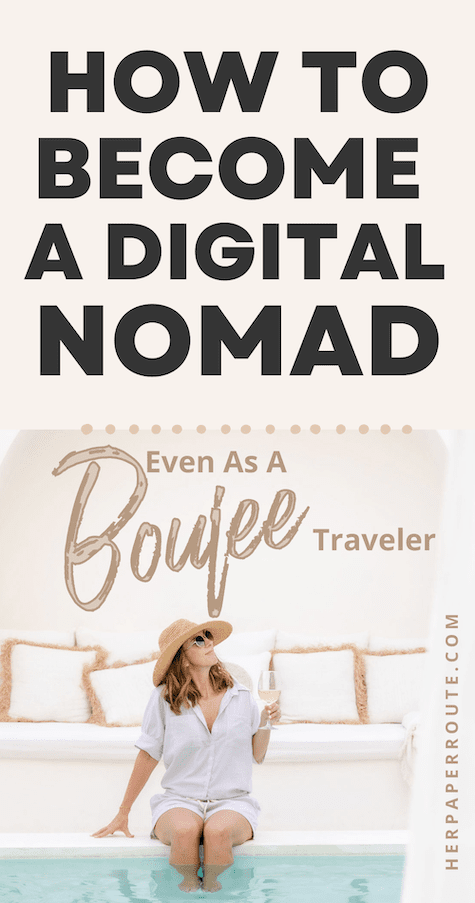 Why Become a Digital Nomad?
Living the digital nomad life means building a life on your own terms.
You can choose a remote job or online business that aligns with your passions and skills.
Going to work can mean working on your balcony with sea views, setting yourself up in a coffee shop or even finding a co-working space in a new city.
Your work hours are your choice – work from 8am-12pm, 5pm-10pm, take Wednesdays off or have three days off a week, it's up to you!
Having location independence is incredible. You can stay in a new destination for as long or as little as you like.
If you love an area, stay and get to know it. Or if you've had enough, move on to the next place.
You can work certain hours of your day as a freelancer or remote employee or set up passive income streams that pay you while you sleep.
The freedom to design your life exactly how you want it to be is one of the big draws of the digital nomad life.
Free Book For Digital Nomads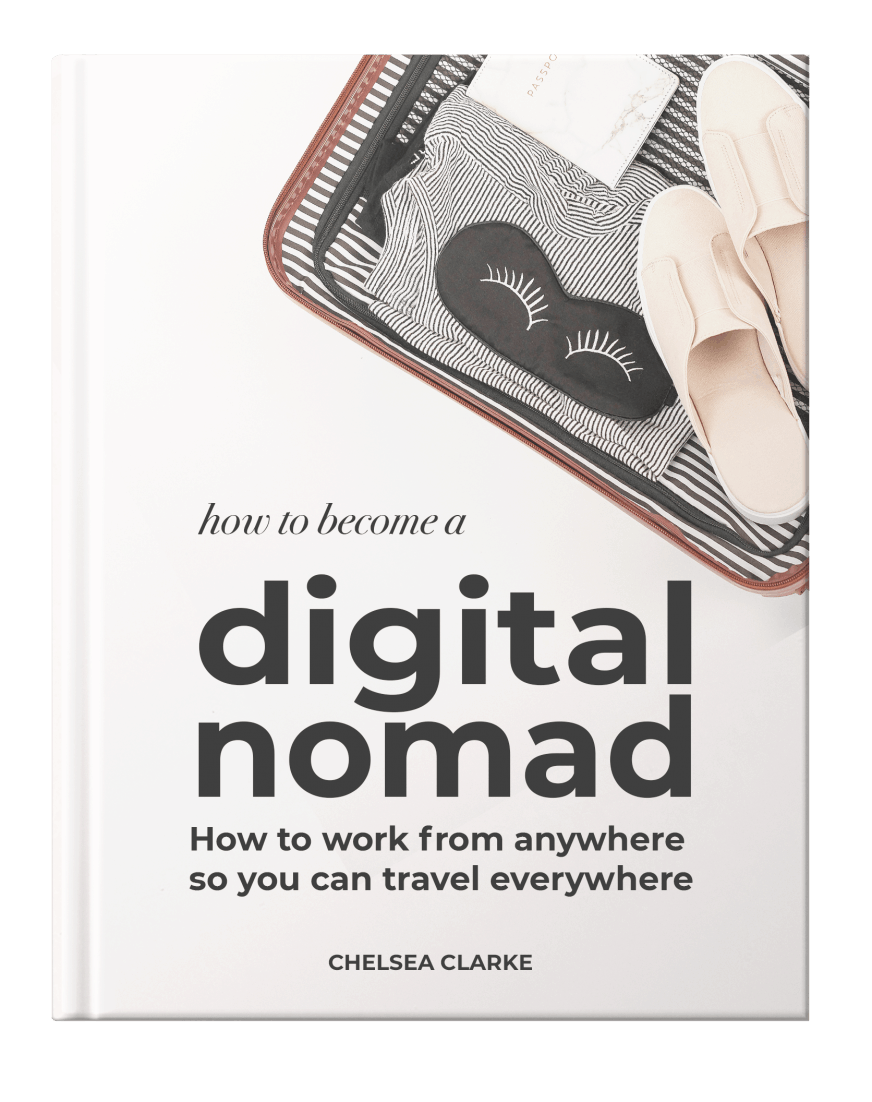 How Do Digital Nomads Make Money?
There are many different ways to make money as a digital nomad. It really is up to you, think about where your skills and passions lie.
But if you haven't got the right skills that translate to online work – don't panic as you can easily find cheap and free training online.
I detail at the bottom of this article, the best places to find free training that will give you the right skills for remote work.
Best Digital Nomad Jobs
When learning how to become a digital nomad, you first have to choose a path that excites you. Do you want to be a freelancer, helping other businesses with various tech and creative jobs.
Will you stay working for your company remotely or apply to work for another company that allows remote employees?
Or, will you start your own online business?
Start an online business, such as being a blogger owning your own niche sites

Freelancer

Work remotely for a company
Take a look below, where I break down the three options on how to become a digital nomad.
Start a Freelance Career
Many freelance careers can be started as a side hustle while you still have a full-time job.
But what starts as part-time, can be transitioned into a full-time income while you travel as a digital nomad. Some great freelance jobs to get are;
Copywriter

Editor

Logo or graphic designer

Video/photo editing

Web design/development

Transcriber

Illustrator

Social media management

Translator

English teacher

SEO specialist
Many businesses use freelancers to help out with the day-to-day running of operations.
If you are experienced in any of the fields mentioned above, you can set yourself up as an expert and outreach to get freelance work.
If you don't have the relevant skills, but are passionate for one freelance position, take some free or cheap training. There are many free courses online you can take advantage of.
Work Remotely for a Company
If you currently work for a company and the bulk of your work is done on a computer, have you thought about asking them to work remotely?
While this may be a scary proposition to confront your boss, you might be surprised at how open they would be to let you go remote.
If you think about it, working remotely is actually advantageous to your company as well.
They will not have to pay for your office space, stationery, meals and any other extra costs like travel.
Maybe start by asking to work from home one or two days a week. And then as time goes on, you can work up to entirely working remotely.
And even travelling and working from another country as a digital nomad!
If you're not sure how to start the conversation with your boss, check out this free guide.
Start an Online Business
This option will probably take the longest to start making a good income from. But, if you have the motivation to run your own business, this is by far the best long-term option that can create proper financial freedom.
Here are some great online businesses to start.
A niche blog: Starting a blog is a top idea for a profitable online business. You won't make money immediately as you need to take time building up traffic.
But once you have built up readers and worked on building your website domain authority, a blog can make you a HUGE amount of money. Some ways to monetize a blog are;
Affiliate marketing

Advertising

Sponsored posts

Selling courses

Sell EBooks or printable packs

Coaching

Creating a membership area
The best way to start a niche blog? …Is to buy a niche blog that is already profitable. Check out the current listings at Niche Investor.com
Affiliate marketing: Affiliate marketing is a lucrative way to make money with a blog or without a blog. It is a partnership between you and a product owner, where you promote their product and receive a commission when someone buys through your personal link.
If you have a blog, you can choose products to promote that align with your content.
So if you write a blog post about ''9 top destinations in France'', you could partner with travel companies like Agoda, Booking.com, SkyScanner or AirBnB for example.
If you don't have a blog, you can use your free social media accounts to build a niche audience and promote products to them.
When you are looking at affiliate platforms, make sure you check their terms and conditions. Some may require you to have a blog and some may not.
Other factors to consider are; cookie duration, affiliate terms, commission rate and is there any affiliate support or training.
Affiliate marketing can take some time to start earning commissions. But once you have systems in place, you will make passive income even while you sleep.
E-Commerce Store: Learning how to become a digital nomad can take a little trial and error.
While there are many online businesses you can start pretty easily, it takes time to build your brand and turn leads into sales.
An E-Commerce store is exactly the same – it's easy to set up on Shopify or WooCommerce but you need to learn how to choose the right products and market it.
With over 1.92 billion buying products online and these numbers will continue to soar, there's never been a better time to start a store online.
Some profitable E-Commerce business ideas to try are; beauty and health products, smart watches, EBooks, online educational courses, kids toys and games, clothing and smart home products.
Print on Demand Apparel: Do you have a knack for funny slogans or eye-catching graphic design prints? If you do, starting a print-on-demand (POD) business could be a good option.
Another good thing about this business is that you don't have to order bulk stock and risk having leftovers if it doesn't sell.
Print-on-demand means your design will only get printed onto a product when an order is placed. Many POD platforms have sprung up over the years like;
Teespring

RedBubble

Zazzle

Printify

Printful
The majority of these platforms let you start for free and are extremely newbie-friendly. Upload your own designs or create one on the platform, choose which products you want to put your designs on and then display your goods in your store.
Some of the POD platforms will help your market your products. But it's always advised to market your products on social media or a blog for extra exposure.
Keep track of which of your designs sell and if they don't, delete and add another design to your products. A top, low-risk way to start an online business as a digital nomad.
Etsy Shop: Etsy customers are mainly female with the majority being between the age of 25-40.
The best products to sell on Etsy are; Jewelry, party décor, digital printables and artwork, socks, bags, accessories, handmade kids clothing, t-shirts, vintage items, home décor and planner items.
Starting an Etsy store is free, but you will have to pay a listing fee, a transaction fee and a payment processing fee.
Check out 7 steps to a successful start on Etsy.
Online Coaching: Do you have a particular niche skill you could help others with? Online coaching is a hugely profitable business you can set up remotely. If you have a niche blog, you can write about your expert subject and market your coaching services to help others achieve a goal or solve a problem.
For example, many bloggers will add coaching services to their income streams after they have got their blog to a certain stage.
If you've worked in fitness or health before, you could coach people online through MyPTHub, Tarinerize, PTDistinction or True Coach.
Check out how to launch an online coaching business.
Lead Generation: Leads are the foundation of every business online or offline. Without them, they won't survive very long.
According to statistics, 60% of UK businesses fail in the first 3 years! While there will be many factors as to why a business fails, one of the big reasons will be not knowing how to generate a consistent flow of leads.
You can start a lead generation business to help with this. One option is to start a 'rank and rent' business.
This is where you build out a website for a particular niche, rank it on Google and contact local businesses to see if they would like to rent it from you monthly for a fee.
You win as you get a recurring monthly income from the website. And they win, as they get continual leads from their website ranking on the first page of Google. This is a lucrative digital nomad business you can start online from anywhere in the world.
Freelance Agency: If you've been freelancing successfully for a few years, it could be time to move onto the next level. Starting your own agency is the next logical step where you can take on some staff and build up your client base.
It will take a lot more work finding good employees, managing staff, finding and keeping enough clients and dealing with all the paperwork, but if you're ready for the next challenge this is a good way to go.
Other Best Digital Nomad Jobs to Make Money While Travelling
When you start your life as a digital nomad, certain careers might take time to build up to a full-time income. But the good thing is, you can take on a few remote side gigs to bump up your earnings.
Many online task sites require you to have little or no experience. This is great when you need to start making extra cash straight away. Just as long as you have good WIFI and a laptop, you can apply to different online platforms for extra work.
Here are some top ideas to make extra side hustle income;
English teacher

Chegg tutoring

Usertesting website tester

The Social Element social media manager

Belay virtual assistant

TranscribeMe transcriptionist

Amazon Mechanical Turk worker

Digital tasks on Clickworker

Review calls with Humantic

Contribute at Picky Domains

Take surveys on Survey Junkie
Conclusion – How to Become a Digital Nomad
As you can see, there are many ways to become a digital nomad.
Take some time to try out a few ways of making money online, while you still have a full-time job. This allows you to test things out and if it fails you have your main income to fall back on.
If you have a career that is done mainly on your computer, have that conversation with your boss about going remote.
Or, have a look around online for companies similar to your current one, that actually let staff work remotely.
If you need to get extra skills so you can get a remote job, take free online courses. Here are some top online free course providers;
LinkedIn Learning

Coursera

Hubspot Academy

Udacity

edX

Alison

Code Academy
If you want to start a money-making blog, you can check out my FREE in-depth guide here.
To build a passive income stream, check out this free guide packed with tons of passive income ideas.
Do you appreciate the finer things, too? But you don't exactly want to pay full price on hotels, car rentals, airport lounges and luggage? Well, then you should be a FoundersCard member!
---
Did you enjoy this guide? Share it…
---