7 Ways to Make $1500 A Month Extra From Home
Looking for ways to make $1500 a month extra from home?
Remote work-at-home opportunities are becoming more and more popular. And, with this growing trend, there are multiple ways to make money online from your sofa or as you travel.
Many online roles will require some skill and dedication to get to grips with, but in this article, we will discuss 7 easy ways to make $1500 a month extra income from home.
🫶 Want to Make More Money?🫶
Become a member of HerPaperRoute today and get a toolkit packed with resources to help you make that paper. All for FREE!
---
As an affiliate partner of various brands and sponsored content, HerPaperRoute may earn commission on qualifying purchases. Disclaimer | Advertise With Us
Whether you're at home looking after the kids, are an independent entrepreneur wanting an extra income stream or an intrepid adventurer looking to earn dollars as you travel the world, listen up! This article will show you ways to boost your bank balance with an extra $1500 a month.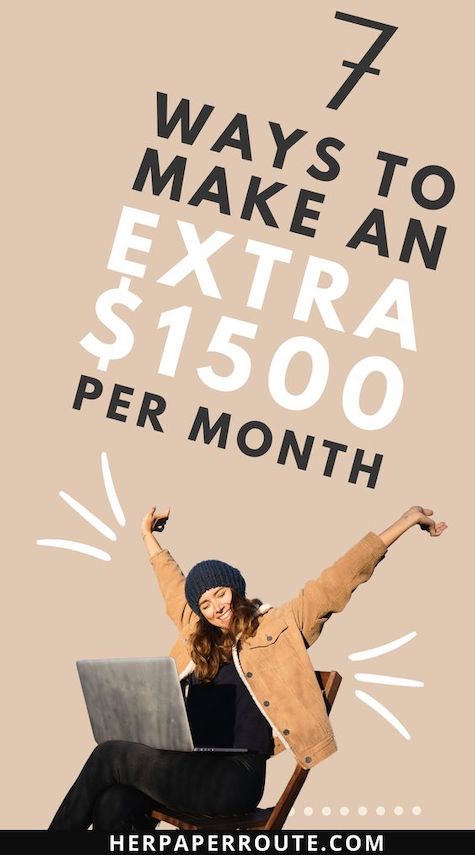 What Are Easy Ways To Make $1500 A Month Extra, From Home?
New making money online methods are popping up all the time all over the internet.
If you want to make a full-time career working from home, it's a good idea to start with a few passive income streams to bump up your monthly earnings.
I quit my job a few years ago to pursue my blog, and have since earned 7 figures blogging. Specifically, my favorite way to earn money blogging is by website investing.
But blogging takes effort – and not everyone is cut out for the highs and lows of being a full-time blogger.
So in this article, I'm sharing easy ways to make $1500 extra a month, by doing that almost anyone can do.
Some of the methods mentioned can incur a little learning curve to get to the higher income stage.
Take a look below for 7 easy ways to make $1500 a month extra from home.
1. Matched Betting – Earn $500-$2,000 A Month!
Don't panic. You might think I'm kidding with you if you've never heard about it, but it's actually a genuine way to make money from the free bets that bookies offer.
Matched betting is completely legal and the money you earn from it is tax-free!
To profit from matched betting, you will basically place a bet on both outcomes of a game.
One bet will be with your cash and one with the free bet. This means you can't lose and you will be left with the free bet cash in your account.
Profit Accumulator offers some in-depth tutorials on matched betting.
How much you profit monthly, really depends on how much time you put in. If you put the effort in, you can make $1500 a month from home.
2. Web Search Evaluator – Earn $500+ A Month
A day in the life of a search engine evaluator can see you studying and evaluating online content, ads and images.
You will be required to give your feedback helping companies to keep search results accurate, fast and spam free.
Other names for this position are; ads quality rater, internet assessor, search evaluator or internet judge.
Competition can sometimes be fierce for these positions as it can become a lucrative career.
Some of the best companies to work for as a web search evaluator are; Google, Appen, Lionbridge, Leapforce, and ZeroChaos.
Expect to make $12-$15 an hour with this work-from-home position.
3. Ask Wonder Researcher – Earn $200+ A Month
Ask Wonder is a research and answer platform, that provides data and insights, statistics, and trend information for companies.
You might be thinking – but why can't someone just search for an answer on Google themselves?
They can, but many busy companies don't have time to do this type of work and getting in-depth analytical data can take some time.
This is where Ask Wonder steps in with their team of researchers. Pay can vary depending on your experience and the complexity of a question.
Expect to earn $15-$30 an hour and top Wonder researchers report earning as much as $2,000 a month!
4. Transcriptionist – Earn Up To $1,500 A Month
A new transcriptionist should expect to earn around $15 an hour depending on the company. If you're more experienced you can enjoy a wage of $30+ per hour.
At this rate, if you worked just 2.5 hours a day for 24 days a month, you can be paid $1500 a month from home.
If you're serious about a transcriptionist career, it's a good idea to obtain a certificate or degree which will allow you to apply for higher-paying medical and court transcriptionist jobs.
If you're a beginner, you can apply to these sites which will require you to take a short test; Rev, SpeechPad, TranscribeMe, GoTranscript and Tigerfish.
Although, with ai transcription tools like Otter, the need for a human transcriptionist is declining.
5. Sell Unique Printables On Etsy — $200+ A Month
If you're artsy, selling printables on Etsy could be for you.
Even if you're not creative, it's entirely possible to set up a store on Etsy and you can even outsource the work cheaply on Fiverr!
Digital printables are popular on Etsy. These are things like; planners, diaries, coloring pages, resume templates, flashcards for teachers, business bundle templates, knitting patterns, party games and even wedding programs – the list is endless.
Do a little research to see what ones are selling well on Etsy and remember to make yours unique – what target market will you make them for/what will make yours stand out?
A free tool to make your printables is Canva. But for greater complexity use Adobe Photoshop.
6. Remind People To Take Meds — $200+ A Month
Earn $14-$21 an hour reminding people to take their daily meds. This type of work provides you with training and allows you to set your own schedule.
Pleio is the main company that runs this program, allowing elderly and sick people to sign up for assistance.
This work requires you to have a landline phone, a PC and access to the internet.
Currently only open to applicants in certain parts of the US, work will require you to call patients to remind them to take meds, listen to patients and report back any relevant information they may have shared.
7. Recommend Products To A Niche Audience — $500+ A Month
More commonly known as affiliate marketing, recommending products you know about and love to a niche audience is a great way to make passive income.
It can take work to set up, find your niche audience and find what platform to sell on, but once you do, affiliate marketing can be a lucrative career path.
One way to get started is by creating a niche blog for affiliate marketing. Get started by building a WordPress website.
Once your website is built, focus on creating keyword-rich content and driving traffic to your blog from social media by increasing your domain authority through guest blogging.
If you stick at it, you can earn $1500 a month from home and even more with affiliate marketing.
Another way is to create a niche YouTube channel reviewing products or selling a specific product like a course.
For example; if you sell a course teaching people how to make money online as a digital marketing expert, you could create videos around this plus broad topic videos like ''the 7 best ways to make money online'' or ''how to create a passive income business''.
Broad-topic videos will get more searches as people may not know what an awesome way to make money online is.
Bring people in with awesome videos on your broad topic subjects and then educate them on the niche course you have.
The monetization of a YouTube channel can take time, but don't give up hope!
Stick to a regular weekly posting schedule and over time you should see results.
The great thing with YouTube videos is – they don't disappear like on other social media channels.
They live on forever on your channel and could possibly make you money years down the line!
How to Make An Extra $1500 A Month From Home – Conclusion
Now you know 7 easy ways to make $1500 a month from home, which ones are you going to try out?
Have a think about where your skills and passions lie as you'll likely spend quite a bit of time using these methods and you want to enjoy it!
Work out what value you can provide people and what unique angle you can take.
For example, if you decide to sell printables, will you target business people or mums with babies? The styling will be very different!
Further reading to help you get started making money online: Check out my guide on how to start affiliate marketing this year, and how to start a WordPress website.