Otter.ai Review – The Best AI Transcription Tool For Creators
Otter.ai Review – If you are a podcast host, content creator, coach or course creator listen up! This review shares everything you need to know about transcribing audio using my favorite ai transcription tool.
Otter.ai is an artificial intelligence transcription software, that I have used for years.
It's a tool that helps you live transcribe audio, make notes, create transcripts, and helps you be more productive in general. Hey, you could even use it to sell transcription services!
Otter.ai does all the hard work for you, and you can rest knowing that you have collected all the information you possibly can.
---
As an affiliate partner of various brands and sponsored content, HerPaperRoute may earn commission on qualifying purchases. Disclaimer | Advertise With Us
---
This Otter.ai review explains the pros and cons, features and benefits of using the tool.
Otter is perfect for podcast hosts, YouTubers, Summit hosts, coaches and course creators, and anyone who finds themselves in a lot of meetings!
Otter.ai Review – The Best AI Transcription Tool For Creators
I tested Otter.ai thoroughly for this Otter.ai review, and tested its features and usability.
🫶 Want to Make More Money?🫶
Become a member of HerPaperRoute today and get a toolkit packed with resources to help you make that paper. All for FREE!
---
Otter helps you by automatically transcribing your notes, with added audio files, in case you've missed anything.
I found Otter to be one of the most accurate transcription services around.
I've tested some of Otter's most popular features to see how well they worked, and how accurate they were.
I've used Otter to transcribe the videos from my virtual summit, as well as to create shownotes from my podcast episodes.
You can also use it to transcribe your Youtube videos and course content for easy repurposing as blog posts!
Most people use Otter to live-transcribe meetings.
As, it can be frustrating when you are in a meeting, lecture, or interview, and you cannot write the verbal information quickly enough.
It can feel like people are talking too fast, and it can feel impossible to write everything down as well as take in the information.
Well, this is where Otter.ai comes to the rescue.
We will be reviewing Otter.ai, and giving you our best tips and advice for using it.
What is Otter.ai?
Otter.ai is an automatic transcription software that will listen to your surroundings and make notes for you.
It is a high-powered, efficient AI-powered assistant, and it will help you organize your notes and thoughts.
With Otter.ai, there is no more unorganized mess, and your notes will longer be fragmented and rushed.
Otter.ai is there to organize your work or school life, and help you manage your note-taking.
As it takes your notes down automatically, you can focus on other matters to further your knowledge.
As a relatively new startup company, Otter.ai makes it possible to access and use information from important voice conversations anytime and anywhere.
This is how Otter describes itself.
The company is passionate about finding new and innovative ways to improve individual needs and performance in teams, businesses, education, and life.
The company was founded in Silicon Valley, by Sam Liang and Yun Fu.
How Does Otter.ai Work?
Otter.ai turns your voice conversations, videos, and meetings into organized notes that you can easily find, search, and share.
When using Otter, you can search for any content in your notes, so you can always be well informed.
You can use Otter to make notes at meetings, lectures, interviews, transcribe videos and podcasts, or any other situation you deem fit.
Otter works by listening to conversations and events, and organizing your audio transcript into speakers, sections, and complete notes.
The whole point of Otter.ai is to make your life easier by readily auto-transcribing audio and then organizing the transcription.
Otter.ai Features
Otter.ai has many features, and some are less obvious than others.
I've loved using Otter for years, so I can share my personal experience and my honest thoughts in this Otter.ai review.
Otter is relatively hands-off, but the software has a lot of customizable features, and there is a lot more to review than meets the eye!
Below are some of Otter's features.
Automated Transcription
Otter's automated transcription service is the star of the show.
With the click of a button, Otter.ai will listen to your meeting or conversation and automatically transcribe in real-time.
You can also upload an MP3 file, or a full video file, and the tool will transcribe it for you.
Because it's a smart ai, it will even recognize the different voices, and separate the different speakers.
Otter is quick to recognize what is being said, and transcribe it into visual text that will then be saved for your note-viewing pleasure.
The transcription produces summary keywords from your audio, making it easy for you to remember what your transcription was in the first place!
Using the Automated Transcription Feature In Real-Time
When you first use Otter, you are invited to a tutorial on how to use the software. This begins with a test recording.
In my first recording, I did not know how to use the software at that moment, so I was not quite sure how it all worked.
However, I did find that Otter was very accurately picking up audio, and transcribing it in real time.
I got the hang of it quickly, and now I use it often.
You will find there will be times when some words aren't correct, and you may have to go back and edit them.
As you are transcribing in real time, there is an option to highlight, add a picture, and comment on the transcribed text.
Once you decide to stop recording, Otter processes your recording, and this can take several minutes.
After Otter finishes processing, you are greeted with your transcript, but in a completely different format. You are presented with a transcript of your recording, with options to choose who is speaking.
So seamless!
Real-Time Transcription / Live Transcription for Zoom
Otter gives you the option to transcribe real-time Zoom, Google Meet, or Skype calls with their transcription service.
This means that you no longer have to record meetings with your phone or the screen record option, as Otter.ai will capture just as much with its transcription feature.
Voice Recognition
As noted above, after your transcription has been completed, Otter can differentiate different speakers in your conversations.
This means it is easier for you to search through your notes for particular topics.
When you are presented with a transcript of your recording, Otter amazingly categorizes the conversation in order, and into different voices.
Each voice can be renamed, so you can recount who is really speaking.
Otter uses artificial intelligence to determine who is speaking. And although it may not look like it is differentiating voices when it is live-transcribing, Otter takes a couple of minutes afterward to assign spoken content to different speakers.
I feel this feature is super helpful, and it is actually surprisingly accurate.
I was surprised that it still worked when there were long pauses; it never tried to assume a new speaker – it just knew who was speaking!
After you have organized your notes into your folder, Otter will also assign the recorded transcription to each speaker.
Custom Vocabulary
Otter.ai has a custom vocabulary option when you are on their premium plan, and this allows you to customize your vocabulary to increase your accuracy and unique spellings in your transcription.
This feature is especially helpful when you are transcribing hard-to-spell words, and a custom vocabulary will help your transcription be more accurate; which means no more editing!
Agenda and Calendar
Interestingly enough, Otter has a feature that allows you to view all of your calendar events and meeting notes in one place.
This means that you can see when your next meeting is, and view the notes in the same place afterward.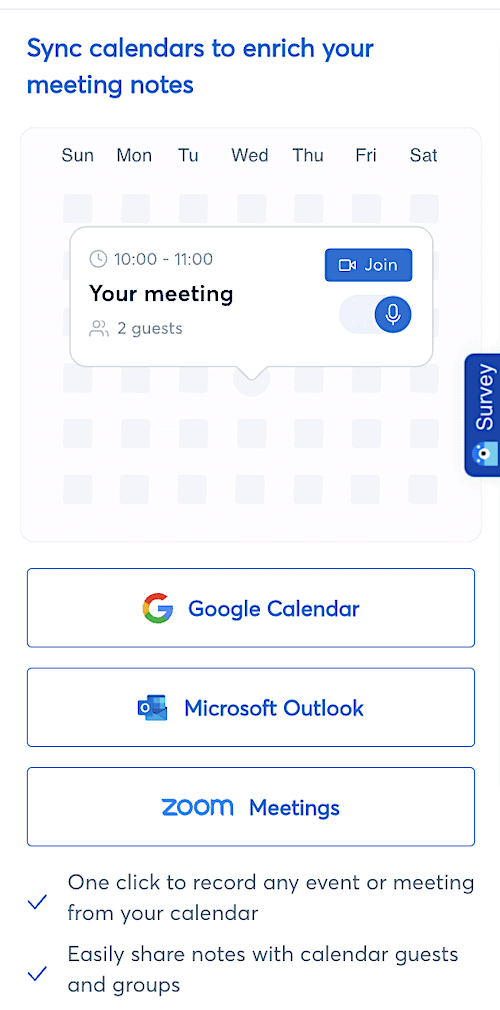 Otter connects to your Google or Outlook calendar and can create new events in the app.
This means that you can schedule Otter to automatically transcribe before the event has even started.
I find this feature was really helpful, and it helps me to keep on top of my calendar without looking at it!
Seeing all of your events will help you align your transcribed notes to these events, and it will also show you what is coming up, and what you want to record.
Interface
Otter works on several interfaces, as a web program on the computer, on iOS, and Android.
There are ways to download Otter to use on your desktop, but Otter does not currently have any specific software for download.
User Management
Otter allows you to set up a business account, and you can invite team members in to enjoy Otter's features.
You can manage your team on Otter, and invite anyone with the invitation via email.
Reporting, Analytics, and Security
It's important to consider security, and this Otter.ai review took the security features into consideration for this article.
With possible sensitive information being stored on its database, Otter makes sure your information will be secure.
Otter has a strenuous approach to reports and analytics, making sure the whole software is working to the best ability it can.
Otter also implements two-factor authentication, as well as a single sign-on feature on your chosen device.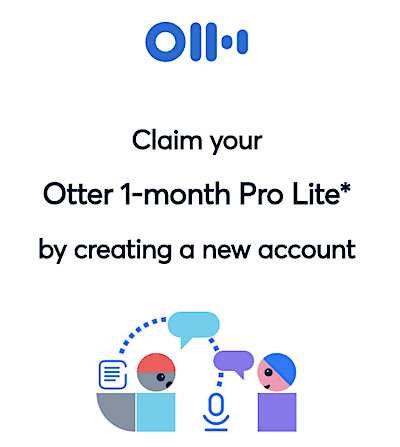 Usability
I found Otter very easy to get to grips with at first. Even though it is not completely clear how it works and what features it comes with.
All you need to do is start a recording and the software will take care of everything.
There is the home section, where you will find a timeline-style feed of your activity, along with any account features and updates to your transcripts (e.g. if they have finished processing and are ready to view).
Otter stores your conversations/recordings into a folder called 'my conversations' where you will find all of your audio files, along with the written transcription.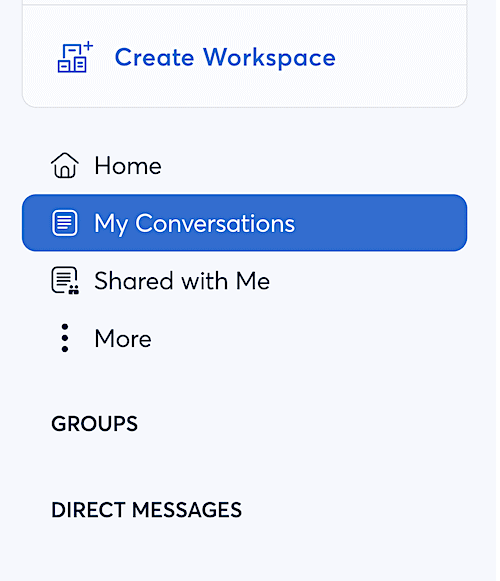 Otter also has the 'my conversations' section, where we know you can find your audio conversations and corresponding transcripts.
This section will order all of your conversations and transcriptions into times, and you can see the properties of each recording.
There is also the apps section, where you can sync other programs and software to Otter, to get the full use out of Otter.
This includes Zoom, Dropbox, Google, and Microsoft, along with the option to sync your cloud recordings and share live transcripts and highlights in Zoom meetings.
Finally, there is the group section where you can essentially create a private group, as well as a direct message section where you can directly message those on your team if you are using Otter within a team.
Frequently Asked Questions About Otter.ai
Is Otter.ai Accurate? 
Otter.ai is accurate, and it can provide some great automatic transcriptions for meetings, interviews, and lectures. It is relatively new software, but it has had meticulous research put into its development, and it is highly rated. Otter is simple. You open up the software, have your meeting or conversation, and you are left with an audio file and an accurate transcript.
It is difficult for anything AI to be 100% accurate because the most accuracy is gained by humans.
Saying this, Otter is known for being one of, if not the most, accurate AI transcription services.
Can Otter.ai Identify Different Speakers? 
Otter cannot distinguish speakers when a conversation is very mixed, and it will not be able to tell who is speaking if there is interrupting and speaking over one another. However, Otter can distinguish between different speakers, and you can add a name to each speaker. Otter will recognize who is talking, and will attach their transcript and audio to their name.
Can Otter.ai Record Phone Calls? 
Yes, Otter.ai can record phone calls. Otter can pretty much record anything auditory, which is awesome.
Otter.ai Review – Conclusion
Overall, I love using Otter. I found that Otter was accurate, but there are sometimes phrases and words that it was not comprehending.
I also think that the whole system is easy to figure out.
I love Otter.ai, and I truly recommend it for anyone who wants a simple transcription tool. It will help you become super organized.
It is amazing for organizing my notes into relevant folders, and syncing to specific events.
Get a free month and try it for yourself!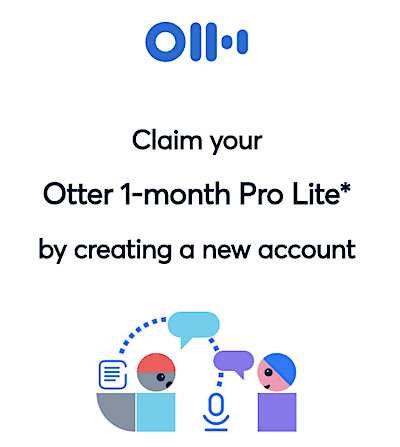 Love tech? Love making money online and learning about the creator economy? Follow me on Pinterest and Instagram for more!
Read This Next: