Can Blue Light Glasses Prevent Macular Degeneration?
You should be wearing blue light glasses right now. We stare at screens so much, and our eyes are suffering because of it. My eye doctor discovered that I have serious eye damage, possibly caused by blue light – and I'm only 33.
As a fulltime blogger, I stare at my computer screen for hours on end every day. Previously, I didn't know just how harmful the blue light from computer screens was.
I didn't know that I should have been wearing blue light screen protection glasses all this time.
Here's how to protect your eyes from blue light exposure.
---
As an affiliate partner of various brands and sponsored content, HerPaperRoute may earn commission on qualifying purchases. Disclaimer | Advertise With Us
---
Macular Degeneration, Screen Protection Glasses, And Blue Light
At a recent routine eye exam my eye doctor discovered several white dots in the inside of my eyeballs.
After referring me to further tests at a specialist it was diagnosed as Macular Degeneration.
A serious eye damage condition, one cause is from exposure to blue light. It is the leading cause of blindness in the United States.
🫶 Want to Make More Money?🫶
Become a member of HerPaperRoute today and get a toolkit packed with resources to help you make that paper. All for FREE!
---
People in their 60s are commonly diagnosed with it, but because of our digital age of prolonged screentime, it is becoming more and more common in young people.
Macular Degeneration is the leading cause of severe, irreversible vision loss in people over age 60. It occurs when the small central portion of the retina, known as the macula, deteriorates. Due to the harmful blue light from digital devices, this condition is affecting more young people than ever before.
What Is Macular Degeneration?
Macular Degeneration is an eye condition that is caused by the harmful blue light from computers, cell phones, and the sun.
It can also be genetic and passed down through family genes.
We stare at our screens every day, and the blue light emitted is causing serious problems for our eyeballs. It is killing cells inside our eyes and causing irreversible damage.
We are being exposed to blue light continuously, and the eye's cornea and lens cannot block or reflect it. It's no secret that blue light harms our vision by damaging the eye's retina.
– Dr. Ajith Karunarathne, assistant professor in the Department of Chemistry and Biochemistry at The University of Toledo
What Is Blue Light?
Blue light waves are the shortest highest energy wavelengths, that penetrate right into our retinas (the inner lining of the back of the eye).
Our eyes can't process this light very well, and prolonged exposure to it (staring at your phone and computer every day) can cause serious damage, and vision loss.
In addition to blue light damaging light cells within our eyes, it also causes digital eye strain.
Digital eye strain:
Dry eyes
Headaches
Eye fatigue
Blurred vision
Physical and mental fatigue
If you work on your computer for long hours on end like I do, you probably are familiar with at least a few of these issues.
Fancy Some More Blogging + Business Tips?
Become a HerPaperRoute member for free, and I will send you instant access to my Toolkit of tools, resources and training on all things money-making!
What You Can Do To Prevent Damage From Blue Light Exposure
1. Get Your Eyes Checked Regularly By An Optometrist
If your eye doctor notices something, she can refer you to a specialist right away.
2. Wear Blue Light Screen Protection Glasses (Glasses With Blue Light Blocking Lenses)
Research has shown that wearing blue light glasses with lenses that block blue light protect eyes and prevent eye damage significantly.
Most major online optical retailers offer glasses with blue light blocking lenses, including Warby Parker, Zenni and Coastal.
If you wear prescription glasses, get blue light blocking lenses in them.
If you don't need prescription glasses, get a pair of blue light screen protection glasses that have non-prescription blue light blocking lenses in them.
Wear them anytime you use your phone or computer.
Warby Parker Review
I have tested out Warby Parker's products for a few years now, and love their styles.
Furthermore, in addition to Warby Parker's blue light blocking glasses, they also offer a free home try-on program where they will send you 5 pairs of glasses to try on for no charge.
They ship free both ways too.
When this review was originally published in 2018, I got the Caspar glasses from Warby Parker. They are the perfect blend of ivy league preppy and book nerd. and I love them so much!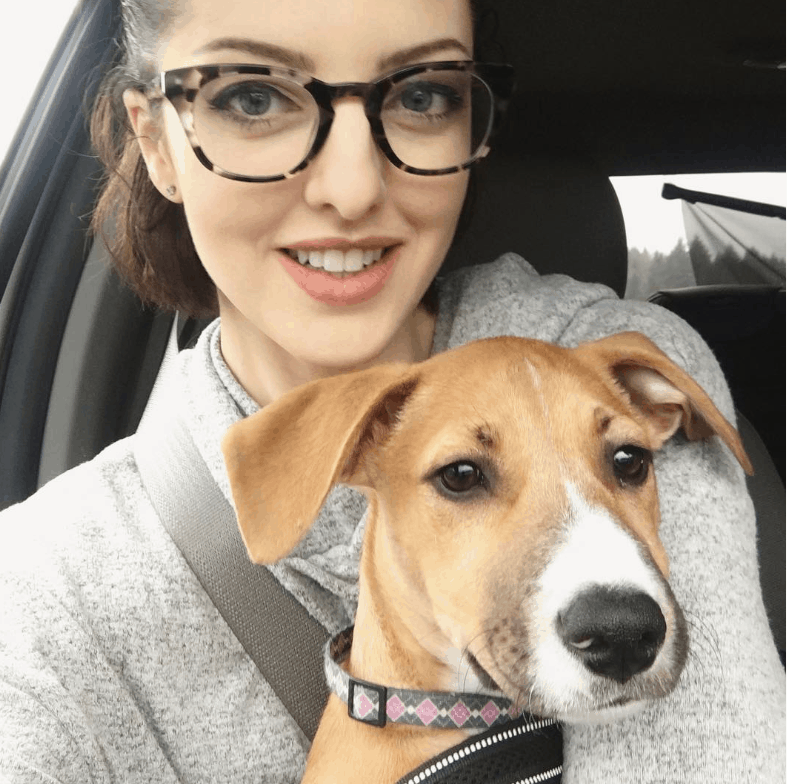 Follow me on Instagram @HerPaperRoute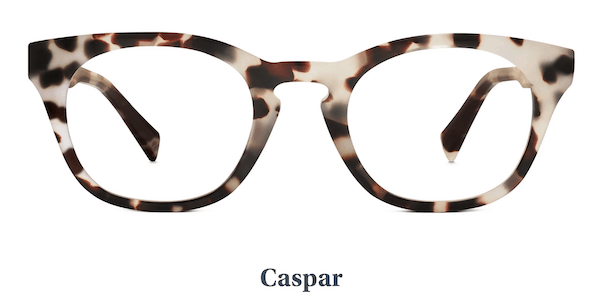 Try 5 pairs of Warby Parker glasses for free here.
2022 update: My beloved Caspar glasses have held up pretty well over the years. Mind a few small hairlines scratches duw to my own clutzy-ness.
But in 2022 it was time to get a new prescription and new frames.
Warby Parker now offers blue-light lenses on all of their glasses, so I had to test out the service with blue-light blocking lenses.
At first I was just going to re-purchase the Caspar ones, but sadly they were out of stock.
But I figured, it's better to review a different pair this time around for this post update anyway. So this time, I purchased the Percey lenses.
…And I think I love them even more!
The blue light filtering lenses are CLEAR when you buy from Warby Parker, which is fantastic. (Cheaper brands often sell yellow-tinted lenses to block blue light, which isn't as nice.)
I was also pleasantly surprised with Warby Parker's fast and helpful customer service.
I highly recommend Warby Parker if you are in the market to buy new glasses.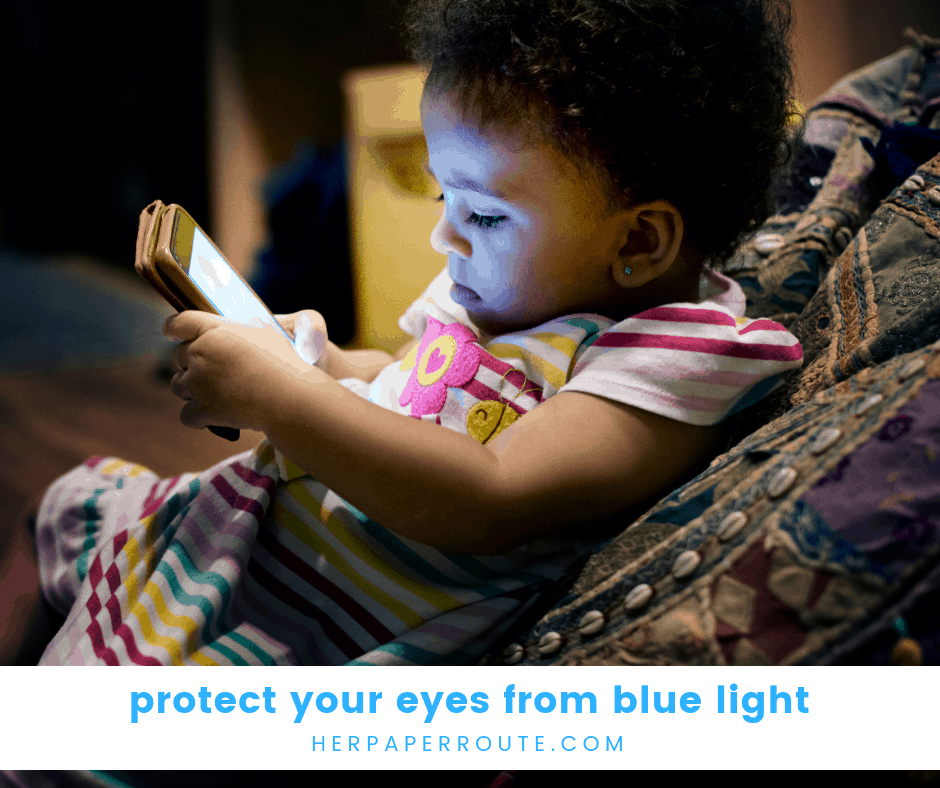 Should Kids Wear Blue Light Glasses?
When I had my checkup, my eye doctor recommended that I should also protect my toddler's eyes with blue light glasses.
My son loves using my laptop to watch cartoons, so I bought a pair of non-prescription blue light glasses for him from Zenni kids.
These are the blue light glasses I got for my toddler, they were very affordable.
They have little bands that help them stay on, which is great!
In addition to wearing blue light glasses indoors, always wear sunglasses outside, all year round.
3. Dim Your Screens & Increase The Text Size
Turn the brightness on your screens down, especially when you are in a dark room.
You can put a blue light blocking screen on all of your devices, too.
When you are reading text on your screen, increase the text size or zoom in as large as you can go.
4. Take A Vitamin For Ocular Health
My eye doctor recommended that I start taking these Vitalux vitamins two times a day. They are shown to delay the progression of Age-Related Macular Degeneration.
There are also these Eye Health Tablets from MindBodyGreen that support healthy vision.
"Our plant-powered formula provides targeted daily retinal and macular support to improve visual sharpness, increase antioxidant density in the eyes, and support ocular blood flow and dry eye lubrication. It acts like your "internal sunglasses" reducing light sensitivity, promoting blue light filtering and photoprotection, and supporting eye strain reset and recovery from screen fatigue." – MindBodyGreen
Always consult your doctor before taking any vitamins or medication.
5. Limit Your Screen Time And Take Breaks
This one is an obvious one.
Yet it needs to be mentioned because I know how this one gets forgotten. I can easily work on my laptop for 12 hours straight without taking a break.
I know that when you are in the zone, it's hard to stop.
But we need to take breaks. We need to take care of our eyes. They are the only ones we've got!
Protecting Your Eyes From Blue Light Damage
Remember to take breaks from your screens often, and get your eyes checked regularly.
And most importantly, wear protective blue light screen protection glasses every day.
Did You Find This Post Helpful?
Please share and pin this post!
You may help someone prevent or delay screen-related eye damage by doing so.
Do you wear blue light glasses?
Tag me on Instagram @HerpaperRoute or follow me on Pinterest @HerpaperRoute to show me your looks!
Keep Reading