How To Sell Your Blog For $50,000
How To Sell Your Blog For $50,000. In 2018 I sold my 1-year-old beauty blog, had multiple bidders competing for it, and it sold for $39,000 USD, which is $50,000 in my currency – hooray!
That is the short, tip-of-the-iceberg version of the story because of course there were many many many things that went into growing that blog and making it worthy of selling at a 5 figure ticket price.
I have since sold over $3,000,000 worth of websites, both for myself and as a broker selling websites for other bloggers. Nowadays I'm a full-time Business Intermediary. I host the Blog Flipping Society (group coaching program), and founded the Niche Investor marketplace.
Do you want to sell your blog for profit too? Read this post below (as well as the Ultimate Guide to Website Flipping) to learn how!
---
As an affiliate partner of various brands and sponsored content, HerPaperRoute may earn commission on qualifying purchases. Disclaimer | Advertise With Us
---
How To Sell Your Blog For $50,000
I am going to explain what I did to grow, monetize and then sell my beauty blog today in this post.
As well, I'll provide insight on what you can do to make your own website as valuable as possible, so you can sell your blog for profit too.
As well, read and bookmark the Ultimate Guide To Blog Flipping, which goes into more detail.
🫶 Want to Make More Money?🫶
Become a member of HerPaperRoute today and get a toolkit packed with resources to help you make that paper. All for FREE!
---
Do you have your FREE access to the HerPaperRoute Profitable Blog Toolkit?
This is my resource library of tools & training to help you monetize your blog and online business.
I also share exclusive freebies to members here, like free enrollment to my premium courses and events. If you are a blogger and/or online entrepreneur, this a community you definitely want to be a part of!
Why Did I Sell My Beauty Blog?
You may be asking yourself, why would I want to sell a website that was generating affiliate income, thousands of daily page views and growing each month, a healthy DA and auto-pilot ad revenue?
Plain and simple: I started that beauty blog with the intention to develop it into a popular website that I would later sell, once I grew it to a point that it was valuable. I started it with the exit plan in mind.
My intention when starting that beauty blog was never to run it for longer than a year or so. Reviewing beauty products and subscription boxes isn't my passion, but that niche is crazy popular.
Although being sent thousands of dollars in free subscription boxes was a fun bonus!
Because of my marketing expertise, I knew I could develop it into a thriving, beautiful, done-for-you, monetized website that someone with a love of subscription boxes would be excited to have.
Will I Ever Sell This Website, HerPaperRoute.com?
No, never. HerPaperRoute is my main business, and you will always have me here 🙂
How To Sell Your Blog For $50,000
Let's get right down to the good stuff.
The first thing you need to do to ensure that your blog is valuable, or even will be looked at as consideration for sale, is it needs to be self-hosted on WordPress.
You can not take a 'Wix' website and try to put it up for sale. You will be laughed out of the game before you even enter the running.
A self-hosted WordPress(.org) website allows you access to every plugin, tool, and theme you could ever need, plus it completely allows you to monetize in any way you see fit.
WordPress is NOT complicated at all – I promise! And I have a free blogging course to walk you through it.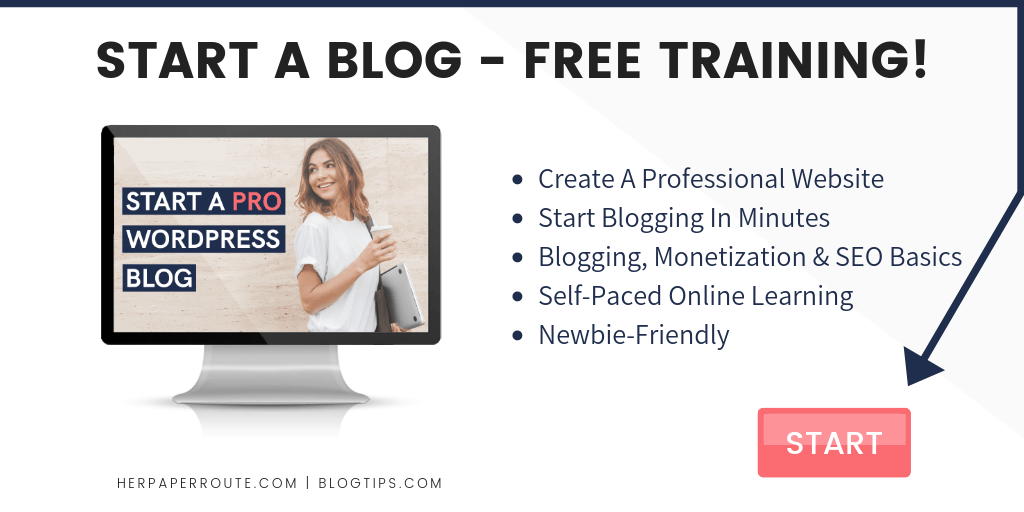 Not using WordPress is basically saying to yourself you do not want $50,000.
Self-hosting is simple and super affordable with Bluehost. In fact, their WordPress hosting is only $2.95 per month!
One more reason to go with Bluehost is that you also get a free domain, whereas most other hosts charge you an additional fee for it.
Bluehost is fine if you just need something simple and cheap. However, for a more robust host, I recommend BigScoots.
To start your self-hosted blog, or switch to self-hosted today, enroll in my free course to help you every step of the way.
Once You Have Your Self-Hosted Blog Set Up
Make sure that you connect your blog to Google Analytics from day 1.
When it comes time to sell your blog in a few months, you will need to show a record of all your website traffic, this is VERY IMPORTANT, so don't skip this step.
Over the course of a few months, spend time working on your blog each day to consistently send traffic to it. Develop a social media game-plan for your blog and actively promote it every day.
How To Grow A Blog, So It's Attractive To Buyers
When you decide to make it a goal to sell your blog, there are a few things you should make a priority to do. Doing this will give you the best chance of selling your blog for the price you want.
Here are the main 4 things buyers are looking for, and what you should focus on when you want to sell your website.
#1 Focus To Sell Your Blog: Income
A website that makes revenue of any kind, is of course, very important. There are various ways to monetize a website, discover the top 6 ways to monetize a blog here.
Having a combination of a few or all types of income sources on your blog makes your website more valuable. You don't want to rely on just one type of revenue stream.
Here are the top types of revenue sources that buyers look for:
The most favorable type of revenue that buyers are looking for is
recurring

income

Buyers want to buy your customers, and ideally, your customers are the type that returns to buy from your website over and over.

Customers come with websites that sell some sort of product, whether it be digital or physical, like ecommerce, dropshipping, Amazon FBA, or on a recurring basis like a subscription-based module, where customers pay a fee each month to be a member of your site.

Websites that have these types of income, and sell with a customer base are desirable because more often their income can be projected and 'counted on' long term, are more stable, and as such, sell in the $300,000 – million+ range.
The second most desired revenue source is ad revenue
Ad revenue is money made from either selling ad space on your website, or having PPC (pay-per-click) income from PPC Ad Networks such as Google Adsense or Monumetric.
The third most desired revenue source is affiliate income
Affiliate marketing is my favorite way to monetize a blog!
Monetizing your website with affiliate marketing takes a lot of dedication and work on your part to set up. From building up affiliate relationships, setting up various affiliate accounts and links, and then actually creating all of that affiliate blog content.
Buyers will pay a tens of thousands of dollars for the convenience of having all of this work done for them, and for the benefit of being able to take on your affiliate partnerships.
The 'magic formula' that makes an affiliate website the most valuable is the traffic it gets, as buyers want a 'done-for-you' affiliate site that they can just market to make sales.
Affiliate income is a variable revenue source, as affiliate sales are typically one-off and aren't something that can be guaranteed consistently.
Related: High Paying Affiliate Programs Accepting Bloggers
You may be making $1000 per month in affiliate commissions with your blog now, but of course, there is no guarantee that the new owner will be able to make the exact same affiliate sales as you.
Affiliate websites that have high page views are highly sought-after.
If you have an affiliate website that has a healthy amount of monthly traffic (especially if that traffic is growing month after month), your website is likely quite valuable.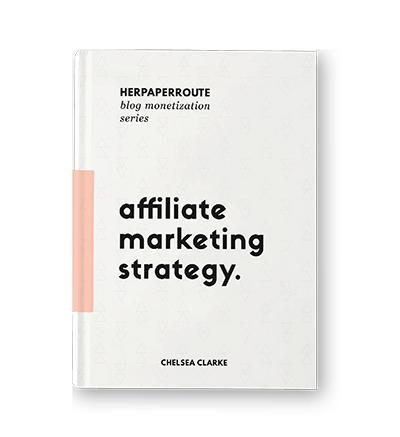 To learn affiliate marketing, get a copy of my ebook Affiliate Marketing Strategy, here.
Another desirable source of revenue that buyers like is when a website makes sponsorship revenue
Sponsorship is when advertisers and brands pay to have their products mentioned and reviewed on your website.
How The Blog I Sold Was Monetized
My beauty blog was monetized with a combination of advertising revenue, sponsorships, and affiliate marketing.
I also monetized with affiliate marketing, having affiliate links in every blog post and page, for every beauty product and subscription box mentioned.
I am a marketing strategist with over a decade experience, so affiliate marketing was my big focus for monetization for this blog.
#2 Focus To Sell Your Blog: Traffic
Traffic is the next most important thing that potential buyers are looking for. They want to see that your blog has a steady stream of people coming to it.
The more page views a blog has, the more valuable it is, and the more a buyer will spend to get it.
This is because when you have a website with good traffic, the new buyer can do anything they want with that asset, and they can monetize the site in any way that they see fit.
The 3 types of traffic:
Paid Traffic
If your website generates much of its traffic from paid sources (such as Google Ads), you may be getting a nice stream of site visitors, potentially many converting visitors too.
But from a potential buyer's perspective, they may be wary of taking on a website where most of its traffic is paid, as continuing that can be quite expensive for them to keep up.
Organic Traffic
Organic traffic is traffic that comes from search engines. So having excellent SEO in place, and ranking high on Google will determine your level of organic traffic.
This is the most sought-after source of traffic that buyers are looking for.
Related: How To Do Keyword Research
Social Traffic
This is your traffic from social networks like Facebook, Facebook groups, Twitter, ect.
From an analytics standpoint, Pinterest falls under 'social traffic' even though Pinterest is not a social network at all, but a huge search engine that you 100% need to be ranking on.
Google typically shows Pinterest links in the top image and text results for many searches, so doing well on Pinterest helps you all over.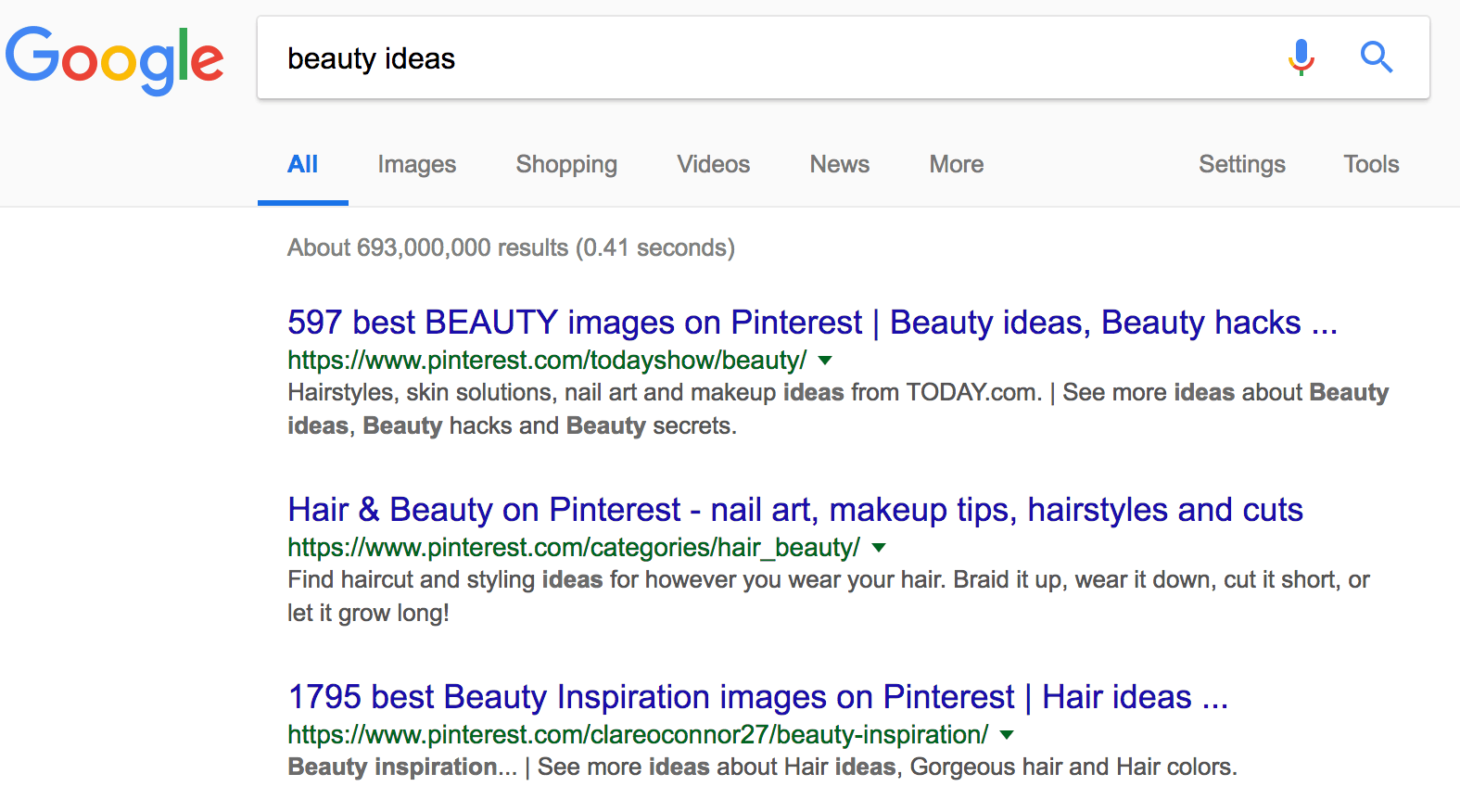 How The Blog I Sold Gets Traffic
I made organic traffic and Pinterest traffic my priority for the beauty blog from the start.
Creating SEO-rich blog posts, and going in deep on my Pinterest marketing was a big focus of mine for growing my blog's traffic.
I put a lot of work into the backend SEO there, and am happy to say that at time of selling it had over 70,000 monthly page views, and ranked on the first page of Google for many popular keywords. You can copy my Pinterest SEO strategy here!
#3 Focus To Sell Your Blog: Profit & Loss Records
To sell your blog, whether you are going to sell your blog on the Niche Investor marketplace, or elsewhere, you will need to show them a Website P&L (profit and loss) statement of every month's income and expenses.
So make sure you keep track of that now, so it isn't a big job later.
For some examples of what you may want to track, I share my monthly blogging profit and expenses via my Blog Income Reports.
The actual document you will track your info in is a spreadsheet.
Obviously, a website with higher profits than expenses is more desirable to buyers.
In your listing, it's also great to include a video of yourself talking about how your blog makes money, and then showing examples in real-time. You could show a video-walk through of your payouts history from your ShareaSale and AWIN dashboards, for example.
AWIN is my favorite affiliate network, and is home to the affiliate programs for Etsy, Nasty Gal, ASOS and thousands more top-rated stores. Join AWIN today!
#4 Focus To Sell Your Blog: Design & Visual Aesthetics
This one is really important but often overlooked. You will easily find thousands of websites for sale random marketplaces that are hideous looking, have no sense of style or design sense, and as such, only sell in the $100 range.
You do not want to be in that pool.
Think like a buyer: If a website looks like crap, meaning the new buyer will have a big mess to clean up / spend money hiring a graphic designer for months before you can even think about marketing it, it is not worth a high price tag.
Sure, there are buyers who are specifically looking for a lame-looking website that they can spruce up and improve.
…But those people are usually flippers looking for deals, they aren't necessarily looking to spend the kind of money that your blog is worth.
They may not be your customer.
Your customer wants to pay a premium to have a professional website that is pro from top to bottom so that they don't have to do a thing to it but market it and make new sales.
Don't sell yourself short! Invest in excellent design elements!
To make your website look as professional as possible, ensure that you have these three things in order:
A Premium Theme
In addition to looking great, more reasons to use a premium theme are:
You get more customization options with a premium theme
Premium themes come with support from the developer (So you can contact them for help at any time)
Premium themes come with lifetime updates, whereas free themes typically don't
Premium themes look more professional because they are more professional
You are guaranteed that a premium theme is bug-free, and up to date with your version of WordPress, which you can't be guaranteed with a free theme
Where To Get Premium WordPress Themes
The premium theme that I used for the site I sold was the Isabelle theme by Bluchic.
Branded Graphics
When I sold the beauty blog, it went with hundreds of custom branded graphics that I had designed for it, including Pinterest pins, Twitter and Facebook cards, and logo.
Selling a website that has a visual brand around it sets you apart from all the generic websites out there and adds thousands of dollars in value to the sale.
You don't have to be a graphic designer to make beautiful unique design elements.
With Canva or PicMonkey it is really easy to create amazing graphics online.
Stock Photos
I used professional premium stock photography sitewide for the beauty blog. Haute Stock and Styled Stock are the best stock photo memberships around.
To save money in more ways than just stock photos, get yourself an Envato Elements subscription. You will have access to unlimited downloads of over 700,000 photos, videos, WordPress themes, fonts, graphics and more.
How to sell your blog for 50k, step by step how I sold my blog #blogflipping #websiteflipping #makemoneyblogging #makemoney #flipping #blogincome
Time To Sell Your Blog!
Still with me?
Once you have all of those important factors in order, and you are ready to let your blog go, it's time to put it up for sale!
You will need to decide where you will list it.
The 3 most well know website-selling platforms are Flippa, Niche Investor, and Empire Flippers. Read this post to understand the difference and costs.
Are You Thinking Of Selling Your Blog?
If you are wondering how to sell your blog, I would recommend that you focus on developing your blog into a valuable asset first.
Focus on growing your traffic and revenue by developing your blog into the best it can be.
As mentioned, the more traffic and revenue your blog has, the more it will sell for at auction.
Use premium graphics and a premium theme to give your blog an overall professional look that will set it apart from the rest, too.
As well, apply for a spot in my Blog Flipping Society program, where we go into detail on the selling process, how to develop your blog into a valuable asset, fast and on a budget! We cover traffic, SEO, social media marketing, affiliate marketing, due diligence, sales funnels, Pinterest marketing and more.
Contact me about having me sell your blog for you.
KEEP READING