How To Monetize And Sell A Website In 6 Months
If you are curious about how to monetize and sell a website in 6 months, I have a great blueprint for you.
Today I officially sold another one of my websites, this time for $38,000 USD!
I started working on the site in April of this year. I put it up for sale on Niche Investor in October and successfully closed Escrow today.
Let's explore the process of selling now.
---
As an affiliate partner of various brands and sponsored content, HerPaperRoute may earn commission on qualifying purchases. Disclaimer | Advertise With Us
---
Strategies to monetize and sell a niche site in 6 months
Hey there, future moguls! Are you ready to turn your website into a goldmine in just half a year?
You've landed in the perfect spot! Welcome to our guide on 'How to Monetize and Sell a Website in 6 Months.'
Picture this: your website, which started as a simple idea while you were avoiding work or maybe during a particularly long shower, could be the next big digital success story.
🫶 Want to Make More Money?🫶
Become a member of HerPaperRoute today and get a toolkit packed with resources to help you make that paper. All for FREE!
---
We're here to show you the ropes, from sprucing up your digital real estate to finding the right buyer who doesn't think 'HTML' is the latest text slang.
So, buckle up and get your notepads ready – it's time to transform your web wonder into a profitable powerhouse, faster than you can say 'Show me the money!'"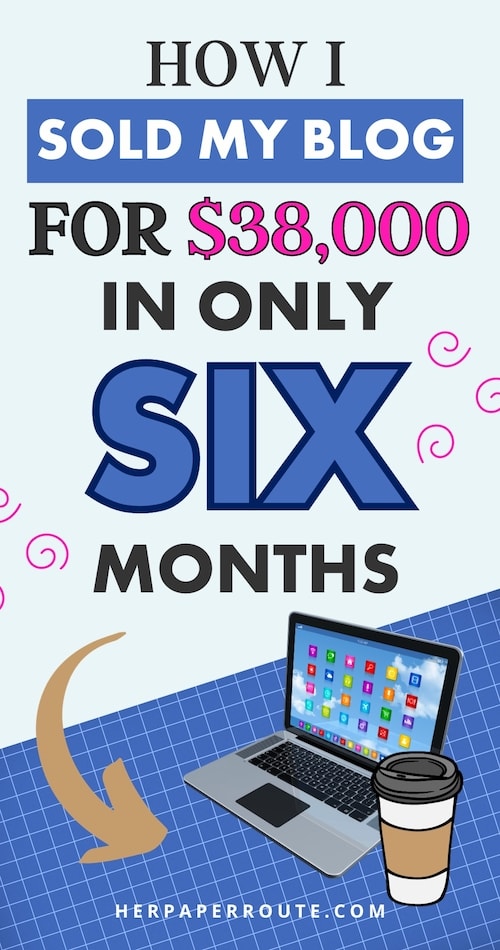 Six-Month Plan to Monetize and Sell a Niche Site
So what are the strategies to monetize and sell your niche site in 6 months?
In my experience, I like to follow this 6-month blueprint for growing and selling a site.
Month 1-2:
Content production
Monetization (create a digital product, add affiliate links to content)
Set up email funnel and sales funnel (I call this your 'profit funnel' in my website flipping training)
Month 2-3:
Traffic building & SEO optimization
Pinning content to Pinterest
Month 3-5:
Social media promotion
Get your site on an ad network
Month 5-6:
Send newsletters to sell affiliate/digital products to email subscribers
Consider paid ads
Put it up for sale
Step 1: Research Your Niche Market ( Choose Your Niche Carefully)
You may be wondering, "What the heck is a niche site?" Well, let me break it down for you.
A niche site is a website that focuses on a specific topic, aka a niche.
If you let me, I can go on and on about niche sites and why they are the next best money makers, but I'll spare you the details.
So, a niche site would be a website that focuses only on parenting, for example, and nothing else.
But why should you even bother with a niche site?
Well, for starters, having a niche site helps you attract targeted traffic, buyers and email subscribers.
For example, the parenting niche site will cater to parents looking for parenting information rather than someone looking for business tips.
The key to a good site is the niche. People say you should start a site on a topic you have passion for, and I say you should start a site with an audience and potential for monetization.
So sorry to burst your bubble, but if you build a niche site on a topic with zero searches, you are wasting your time.
it is important to focus on a niche people are actively searching for and willing to spend money on.
For example, let's say you're a dog lover and want to start a niche site about dog grooming. Great!
But before you start building your site, you want to ensure that people are searching for dog grooming products and services.
Keyword research is your best friend.
You can use keyword research tools like Keysearch, Semrush, Ahrefs, Google Keyword Planner, or Ubersuggest to see how many people are searching for the topic you have in mind.
You can also check out forums and social media groups to see if there's a lot of interest in the niche.
If the niche topic has an audience and potential for monetization, you are on the right track to monetizing and selling in 6 months.
Step 2: Create Content for Your Niche Site
Once you've researched your niche topic and gotten the site up and running, either by buying an existing website on a platform like a Niche Investor (More about this in this article) or building the website yourself, the next step is to create content for your website because like I always say.
Content is king.
Therefore, you must create content for your niche site because content = traffic and traffic = money.
However you do not want to spend hours writing tons of content that no one wants to read, so it is important to use keyword research tools to ensure that you create relevant content.
I spent time publishing quality articles to my site and had published nearly 300 articles by the time I was ready to sell it.
Tips for creating content
Perform competitor research to see what keywords your competitors are ranking for; there is no need to try to reinvent the wheel. if something is already working out, why not stick to it?
Focus on long-tail keywords: These are keywords with low competition that are easier to rank for.
Optimize your blog post titles to be high-converting: if people don't click on your blog post titles, they won't be visiting your niche site.
Focus on writing high-quality, engaging, and helpful content to keep your readers returning.
Optimize your content for SEO: Remember to use keywords in your meta description and alt tags.
Step 3: Optimize Your Niche Site for SEO
To get your website sold, it has to be attractive to the potential buyer,
A website is attractive to potential buyers when it gets consistent organic traffic, and the best way to get consistent organic traffic is through SEO.
Using SEO techniques helps you boost your website's search engine rankings and attract potential buyers.
What do I mean by organic traffic?
Organic traffic is the kind of traffic your site gets from people who find it on Google, or other search engines by searching for specific keywords.
You must optimize your website for SEO (search engine optimization) to get organic traffic. That way, when people search for a keyword related to your niche topic, your site will be among the top results.
Here are some tips to optimize your Website for SEO:
Produce high-quality content regularly
Include keywords in your titles, headings, and throughout the body of your content
Link back to other articles on your blog or websites (I recommend using LinkWhisper)
Optimize images with alt tags and descriptive filenames
Build backlinks to your site from other websites: backlinks are links from other sites, the more backlinks you have, the more authoritative it appears to search engines. Google Loves loves backlinks, so make sure you build backlinks. You can do this by guest posting on other websites.
Optimize page loading speeds – this is important because Google ranks websites higher when they load faster. By implementing these SEO techniques, you will surely get consistent organic traffic, making your niche site more attractive to potential buyers.
Step 4: Drive Traffic to Your Niche Site
You've worked hard to start a website, find your target audience, and create content that engages and delights. Now comes the fun part: driving traffic to your site!
This is a crucial step if you want your niche site to make money so you can sell it for profit.
Here are five strategies to drive traffic to your website.
Search engine optimization (SEO):
SEO, my favorite term of the day is the best way to drive organic traffic to your website.
To optimize your website for search, you'll need to focus on both on-page and off-page SEO.
On-page SEO focuses on optimizing elements within your website, such as meta descriptions, titles, and keywords, while off-page SEO involves building backlinks from other sites to yours.
The more relevant backlinks point back to your website, the higher it will rank in search engine results pages (SERPs).
Pinterest SEO:
Pinterest is my favorite free organic traffic tool. Read this guide on Pinterest SEO for details.
Paid advertising:
If you are looking for an immediate traffic boost and have the budget for it, paid advertising can be a great option.
You can create targeted ads on platforms like Google and Facebook that are tailored toward potential customers interested in what you offer.
This strategy requires an investment upfront, but it is a great way to see quick results if you do it correctly.
Social media marketing:
Social media platforms like Facebook, Instagram, Twitter, and TikTok can be powerful tools for driving organic traffic to your website.
You can utilize these platforms by creating engaging posts that encourage your followers to visit your website.
Post regularly on the social media platforms that make sense for your industry. This will help increase engagement with potential customers and build brand awareness over time.
Additionally, you can leverage influencers in your space to reach a wider audience authentically.
Email marketing:
Email lists are often overlooked, but they're one of the most effective ways of connecting directly with potential customers individually with relevant content tailored just for them.
This helps boost engagement rates significantly compared with other channels like social media or paid advertising which tend to reach audiences at large scale but lack personalization capabilities as much as email does.
Besides building an email list will be a great asset that adds value to your niche website when it's time to be sold.
Step 6: Monetize and Sell Your Website
Finally, the reason why you are here.
Now that you have created a successful niche website with great content, optimized for SEO, and driven traffic to it, it's time to sell it for profit.
When I sold my site it was earning $1,000 per month from ad revenue and affiliate marketing.
Here are a few ways to monetize your website.
Affiliate marketing:
Affiliate marketing is the first on this list because it is one of the easiest ways to make money from your niche site.
Affiliate marketing means promoting products or services related to your niche and earning a commission for each sale.
With affiliate marketing, you are selling products without needing inventory.
How do you get started with affiliate marketing?
You can join an affiliate network, like Amazon Associates, ShareSale or CJ Affiliate, and search for products related to your niche.
Once you find the product that fits best with your site, create content that promotes it using your affiliate link.
Ad networks:
The second option is to monetize your website by displaying ads from ad networks. You can earn money from clicks or impressions by placing ads on your site.
Most ad networks require you to have a certain amount of traffic before you can be accepted.
Researching different ad networks and determining which one best suits your niche site is important.
A few of my fave are Monumetric, Mediavine, and AdThrive.
Sponsored content:
Brands will pay you to feature their products or services on your site through sponsored content.
This can be in the form of a sponsored post, video, or even a product review.
This can be a great way to make money from your niche site, but you must ensure that the sponsored content is relevant and adds value to your audience.
Create and sell your products or services:
You can monetize your site by creating and selling your products or services, like e-books, courses, or consulting services.
This can be a great way to make money from your niche site, but it takes more effort than the previous steps.
However, it can be very rewarding and profitable in the end.
Now It's Time To Sell your website
Once your website is earning consistent revenue, you can consider selling it.
I wrote this guide on what to do when you are ready to put your site up for sale.
It may take six months to get your website to the point where it's ready for this process, and when it is, you can list it for sale on Niche Investor.
Get your free valuation here first, to see how much your site could potentially sell for.
How To Monetize And Sell A Website In 6 Months – Conclusion
Phew! What a journey we've had together! Over the past six months, we've navigated the thrilling (and sometimes confusing) world of website monetization and sales.
You're no longer a newbie who thinks SEO is a senior executive officer.
Now, you're practically a web wizard, ready to cast your spell on the digital market. Remember, the journey of a thousand miles (or dollars) begins with a single click.
Monetizing and exiting a website can be a short-term project that can be an incredibly rewarding experience.
Keep refining, keep learning, and most importantly, keep dreaming big!
Your website isn't just a bunch of code and content; it's a digital dream waiting to be realized and scaled up.
Now go out there and create a successful niche site!