Associates 101: How Does Amazon Affiliate Work?
Are you curious about how to make money in the Amazon Associates affiliate progam? I have years of experience with it and am happy to share some tips.
The affiliate program at Amazon, Amazon Associates, is an affiliate marketing program that allows you to make money on your blog or website or even your socials without that much effort.
However, getting to grips with how to become a successful affiliate marketer with Amazon Associates can be challenging.
This guide will help you gain that knowledge and get you equipped to monetize your website.
---
As an affiliate partner of various brands and sponsored content, HerPaperRoute may earn commission on qualifying purchases. Disclaimer | Advertise With Us
---
Affiliate Marketing With Amazon, Demystified
Last month I was at the bank cashing Amazon Associates checks, and the teller asked me what the cheques were from. "Do you sell FBA or something?" he asked.
"No. It's from affiliate marketing. I link to products on my blog and earn commissions when people buy things."
He was in disbelief "Really? I've heard people online talking about affiliate marketing but I just assumed it was a scam."
🫶 Want to Make More Money?🫶
Become a member of HerPaperRoute today and get a toolkit packed with resources to help you make that paper. All for FREE!
---
I said to him "Assuming everything is a scam is how broke people stay broke."
We laughed, and I think a lightbulb went off in his head that day. I wouldn't be surprised if he started an affiliate marketing side hustle after that.
Affiliating marketing is a very simple business model. You promote a product, and the brand pays you a cut from the sale, when you refer sales.
Easy! Well, there is some strategy that goes into it, but I'll explain that in a moment.
Now, Amazon is not my favorite affiliate program. In fact, the commissions are very small compared to working with other affiliate programs, or brands directly.
But everyone shops at Amazon, and they ship fast. So I use Amazon links on my blogs because it's easy. And I have the AAWP plugin and LASSO which makes it simple to convert sales.

Amazon, on its own, is responsible for most of the online sales worldwide.
It is incredible to think that what started out as an online bookstore back in the early 90's is now the second-largest retailer in the world, coming in with a retail revenue of $158.44 billion US, second only to Walmart.
The great thing is, anyone can have a piece of this pie-all you need to do as a business, blogger or someone of interest like an influencer, is to have a website or social media presence to sign up for their affiliate program.
When you have joined the affiliate program, all you have to do is place links to Amazon products on your site and when a reader of your site clicks the link and converts to a sale you get a commission.
In other words, they made a purchase through Amazon via your link, and you as the user of the affiliate program will receive a commission.
Affiliate Marketing
As briefly described above, affiliate marketing programs are arrangements whereby an online merchant or company, such as Amazon, pays associates with websites a commission to send the merchant traffic and/or sales.
Depending on the agreement between the merchant and yourself, the payment terms differ.
With Amazon Associates, you will get paid as an affiliate site based on the number of people the site sends to Amazon who has also made a purchase on Amazon within 24 hours of visiting the affiliate site.
Therefore, only when there is a transaction coming from the affiliate link, will you as the website owner make any money. This is a pay-per-sale affiliate marketing program.
Additionally, you also get pay-per-click schemes and pay-per-lead schemes where it doesn't matter if the visitors purchase anything via the affiliate link but just that the merchant received the visitors, and they signed up to the merchant's services or newsletter, respectively.
There are many benefits to using this marketing tactic or strategy. As the merchant, their reach is expanded and sales are increased.
For affiliates, the benefits include being involved in an e-commerce business without having to manage a store and, of course, to make money via your site or blog.
It is a great marketing strategy to use if you have a blog or website and your content can accommodate product mentions.
Read: The Ultimate Guide To Affiliate Marketing.
How Does Amazon Associates Work?
In a nutshell, after signing up to the Amazon Associates Program, you as an associate will be given a unique Associate ID and once your application is approved, you will get access to tools needed to create the affiliate links for products in the Amazon Portal.
The links are then posted in blog posts, such as reviews or advertorial pieces (thereby driving traffic to Amazon).
Then, when someone clicks on the link and buys any product on Amazon, the associate receives commission.
It sounds simple enough, but here are some step-by-step instructions you can follow:
Step 1 – Create A Website Or Blog
The first step in becoming an associate is to create a website or a blog. You can also have an active social media page such as on TikTok, Instagram or YouTube where you can promote content with affiliate links.
Follow this guide: How To Start A Blog, which covers everything you need.
Your website should have useful content on it, and you should know your niche, which should be one single niche that you focus on.
This will show both Amazon and your visitors that you are active and authentic.
Your niche should also be something that really interests you or that you are passionate about so that you are able to create hours of endless content on it.
This will also allow for ample opportunity to add in affiliate links to your content.
Using one niche will also make you look like an expert in the field, boosting your social proof, which is good news for Amazon referrals.
Read: How to pick a profitable affiliate marketing niche.
Step 2 – Sign Up Process
The sign-up process for the Amazon Associates program is quite lengthy, even though it is relatively simple to go through.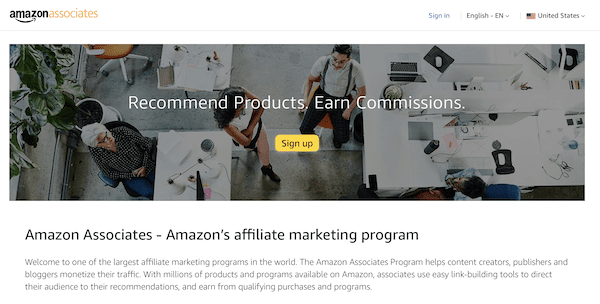 The first thing you need to do is to go to the Amazon Associates page and click on the sign-up button.
Once you have done that, you will be redirected to the login page, where you need to log in to an existing Amazon account or create a new one for your business.

The next step is to enter account information such as the name and address as well as the phone number of the payee-you will likely use your own personal details or if you have a place of business for your business, use those details.
Next, you will need to enter your website address or URL, any app information, like social media apps, etc. After you have done this, you will need to create your store ID, which will likely be your website, business or blog's name.
Additionally, you will need to explain what purpose your site serves and what you hope it will accomplish by selecting topics the affiliate links are most likely to target.
The next step in the signup process delves into the detail of how you currently bring traffic to your blog and how you use your site to generate a source of revenue.
Other information needed in this section will include information on how many visitors you have per calendar month and how you usually build links on your website.
This step can be skipped and done later if you are wanting to get on with it and get to your personal dashboard where you can finally begin to create your affiliate links.
Step 3 – Creation Of The Affiliate Links
Once you are approved for the Amazon Associates program, you will be able to easily create affiliate links using the 'SiteStripe' bar.

The SiteStripe function will generate unique affiliate links. You should be able to find the SiteStripe bar on product pages when you are logged into your Amazon Associate account.
All that needs to be done is to click the "Text" button in the "Get Link" selector-this will copy the link to your clipboard as above for you to use.
When you reach your personal Amazon Associate dashboard, you will see a summary of how your affiliate links are doing.
Included in this is an overview of your earnings, your monthly summary and total clicks vs. converted clicks.
On the dashboard, you are also able to search for the products you want to link to in your content.
By logging in to your Amazon Associate account, the link text is created in a manner as to make sure that the link will associate the product you are promoting with your account.
Another way to make links is to click on the "Product Linking" button in the top banner and select "Product Links" which will take you to a page where you can create your links.

Once you are there, you can add in the Amazon Standard Identification Number or ASIN, which is an alphanumeric code of 10 characters in length assigned to each product available on Amazon.
If you aren't sure where to find this code, you can check the Product Information section of the product, or you can just search for the product in a separate window.
The ASIN number looks like this on any product page: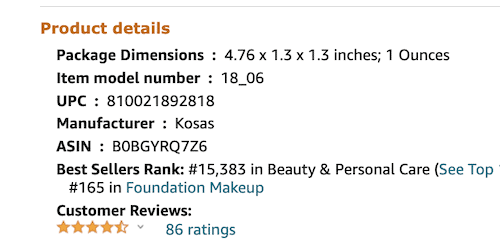 After adding in the Amazon Standard Identification Number, click the "Go" button to generate a resultant link at the bottom of the page.
It is recommended that you always check that this link is associated with the intended product that you wanted to promote.
Next, click the "Get Link" button on the right-hand side of the screen and this will copy your Amazon Affiliate link to your clipboard which you can use in your product posts and promotions.
However, the EASIEST way to add Amazon affiliate links to your blog is to use a plugin. I recommend LASSO and AAWP as the best ones.
Step 4 – Post Links
Once you have all your affiliate links, it is time to add them into your content.
The types of content that work well for affiliate linking are product reviews and comparison posts of at least two different products-thus giving you the opportunity to link the products that you are reviewing.
Because these posts have high-intent or are especially niche, the visitor to your site who is reading product reviews is very likely to or close to buying the product type that you are writing about.
This means that there is a higher chance that the clicking of affiliate links will lead to a conversion of sales.
Product comparisons are great as they offer the visitor several alternatives to choose from and are more likely to convert into a sale on Amazon.
When posting on your blog, it is important to post consistently, especially because there are so many opportunities to mention and add links to products in your posts.
A gold standard is posting once a week, but it is best to do quality over quantity in this case. Additionally, you should implement a content strategy to create relevant content which is SEO optimized.
Step 5 – Earn Returns
Once you have applied to the program, your account is approved for a period of 6 months in which you will have to generate at least one sale or else, your account with Amazon Associates will be closed.
As an associate, you will typically be earning commissions when the order has shipped so if a customer cancels the order before shipping, you will not be eligible to receive commission as the sale did not convert.
Additionally, if the product is returned, the commission received on the product will be deducted from your earnings on the platform.
Depending on your niche and the number of products that are converted into sales (or what is known as referrals to Amazon), you can earn anything between $100-$20,000 from the program.
Top earners in the Amazon Associate Program can earn over $8,000 per month. You earn via commission, which means you earn an agreed upon percentage of the sale.
The commission rates differ depending on the type of products that you are selling-hence why it is important to decide on a niche.
It is also advised to check out where your product niche would fall in terms of commission rates in the product categories listed on the site, so you can have a rough idea of what your earnings could be like.
Once the sale has been converted, you will get paid by direct deposit on a monthly basis, but you get paid 30 days after the month you are getting paid for. So you will get paid at the end of March for sales that you converted in January.
Amazon Associates Rules To Follow
When using the Amazon Associates program, there are a few rules and regulations that you need to follow in order to be allowed to use the program on your sites.
The rules predominantly focus on practices around ethical promotion and the prevention of associates' rigging or system or bending the rules.
Some of these rules include the disclosure either on your site or in your communication with customers that you may be able to earn money from your recommendations.
Additionally, no false or misleading claims can be made in your recommendations, and mentioning price should be avoided.
The links should also be the full links that Amazon gives you, and should not be shortened in any way.
That means no Pretty Links! But you can use Pretty Links for every other affiliate program.
Furthermore, Amazon Associate links may only be used in public online spaces and not in private spaces (Facebook groups, private membership communities) or offline promotions in e-books or emails.
However, you CAN use Amazon Influencer links in all those private spaces, including emails. The Amazon Influencer program is a different program with a different set of rules.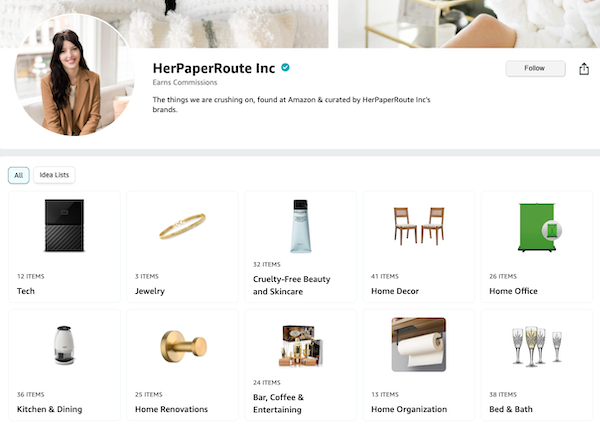 Check out my Amazon Influencer store here.
Other Tips For Amazon Associates
Create A Storefront
Instead of using only traditional blog posts to drive referrals to Amazon, you can implement a storefront on your front end that is just like a regular online store, except that the links go to Amazon instead of a regular cart or checkout page.
They are a great way to get traffic to Amazon, as once they have gone through the funnel on your website, it is really easy to browse products that aren't buried in the content of blog posts, reviews and the like.
The storefront option is also relatively easy to keep up with and doesn't require much time investment.
The only thing you really need to do is to verify that the store actually drives referrals to Amazon and to periodically check that the links to the products are correct and still work.
Advertise Website
Your site needs traffic to create opportunities for referrals and eventual sale conversions for you to earn your commission.
That is why you should, over and above writing quality content, optimizing SEO and having a content strategy, invest in paid social media ads as well as pay-per-click ads on Google Adsense.
This also is quite affordable to do, and you only incur an expense if an advert is clicked by a visitor, that way you can forecast how much spending must occur for advertising.
Associates 101: How Does Amazon Affiliate Work? Conclusion
Earning income from joining the Amazon Associate program is super simple. Signing up is easy and after a few minutes, you can start creating and posting affiliate links.
There are also so many products on Amazon to advertise; giving you ample opportunities for potential referrals and conversions.
A bonus to joining the program is that you will earn a commission from products, regardless if they were the products linked in the affiliate link because the link on your website sent traffic to Amazon and that specific customer made a purchase within 24 hours, you will get a commission.
Additionally, customers that frequently use Amazon are much more likely to add multiple products to their basket, meaning you will receive commissions on all those sales.
Having said that, there are some drawbacks to the program, especially regarding the commission rates on some product categories.
Overall, though, joining the Amazon Associates program is a sound way to develop a passion project into an extra revenue stream.
Remember to decide on a niche that works for you and write quality product-focused content including the affiliate links, and you are good to go!
To learn more about making money with affiliate marketing, enroll in The Blog Monetization course.
Frequently Asked Questions About Amazon Associates And Amazon Affiliate Program
Do You Need A Lot Of Visitors Or Subscribers To Use The Amazon Associate Program?
To be approved for the Amazon Associate program, it is recommended that you have at least 30 high-quality blog posts, and some traffic to improve your chances, but it is not an explicit requirement.
How Long Do You Have For The Converted Sale To Count Towards Your Commission?
The customer needs to buy a product within 24 hours from clicking on your affiliate link in order for the sale to count toward your commission.