AAWP Review: Best Amazon Affiliate Plugin For WordPress
Do you want to display beautiful product boxes for your Amazon affiliate products on your blog, that catch reader attention, with no coding skills required? Yes? Then this AAWP review is for you.
AAWP is the best Amazon affiliate plugin for WordPress, and in this review, I'll show you how you can use it to increase Amazon affiliate conversions.
You don't need any special tech skills either!
You will be making more money with the Amazon associates program in no time.
---
As an affiliate partner of various brands and sponsored content, HerPaperRoute may earn commission on qualifying purchases. Disclaimer | Advertise With Us
---
AAWP Review: Best Amazon Affiliate Plugin For WordPress
The Amazon Associate, or affiliate, Program is one of the most well-known affiliate programs.
We've talked about it before, but let's go through a brief review of what it is before we dive into the Amazon Affiliate WordPress Plugin.
But Amazon's built-in product widgets are…not very pretty. Case in point:
🫶 Want to Make More Money?🫶
Become a member of HerPaperRoute today and get a toolkit packed with resources to help you make that paper. All for FREE!
---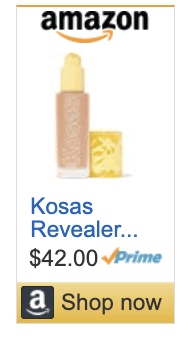 This is where the AAWP plugin comes in.
AAWP is a plugin that helps bloggers earn more Amazon affiliate conversions. It allows you to add pretty affiliate product boxes to your website to maximize clicks and affiliate sales.
Your affiliate links stay automatically up to date for products, prices, and discounts so that's something that you don't need to stay on top of.
You also don't need to enter or enhance the shortcodes on your own due to their flexible configuration that allows you to adjust the plugin settings for functionality and output.
Additionally, you can customize the design, and create new styles and new templates to fit the layout and aesthetic of your website.
AAWP can also be used to fix Amazon's broken image Site Stripe issue.
Here is a detailed AAWP review showing exactly what you can do with the plugin.
1. Product Boxes
The Product Box feature on AAWP allows you to display specific Amazon products on a single post or throughout your website.
You can use one shortcode to easily display one product or use a shortcode to make the display look more appealing on your specific website layout.
However, you get more customization options when you use the AAWP blocks.
Simply add the AAWP block where you want the product box to appear, and select 'Product Boxes':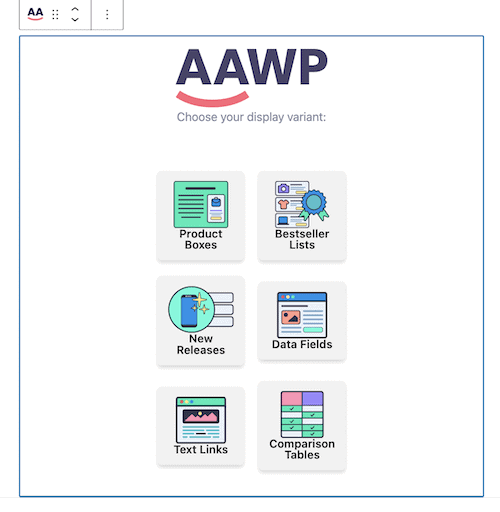 And then enter the ASIN number of the product you want to feature:
In case you are wondering, "what is an ASIN number?" its a unique code that Amazon gives each product on its website.
You get the ASIN number from the Amazon product page: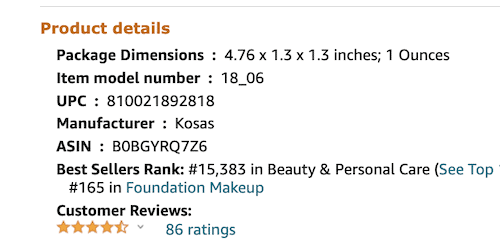 Once you have filled out the AAWP product box settings, it will appear on yoru website like this: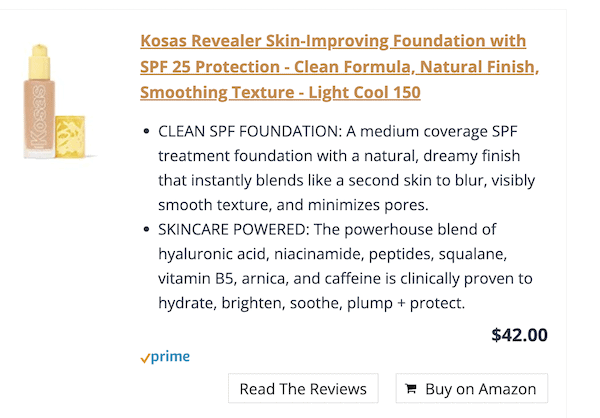 You can use their codes to display the product in light mode, dark mode or create your own CSS to customize the code to display the box in any format you desire.
The box automatically displays features such as: title, description, current availability and pricing, discounts and call-to-action buttons.
Product boxes are also optimized for conversions and perform at a much higher conversion rate than text links.
So, AAWP is the perfect way to optimize conversion rates for greater revenue.
Another great feature of Product Boxes are their product comparison capabilities.
This is a very effective way to show users how the product that you are reviewing compares to others in the market.
These are great features for things like product promotion blog posts or product comparisons!
The best part is that this can all be done in WordPress and you don't need any other program to add these to your blog posts.
2. Text Links
Text links are codes that lead your website users to a specific product name inside your content. There is no image, just a text link.
AAWP creates those affiliate links for you with the added option to manually overwrite the product name to your liking.
This feature also has a built-in API to track the performance of your affiliate links and update accordingly.
This also means that you can choose to automatically input your affiliate ID into every product link and image so you don't have to.
3. Bestseller & New Releases Lists
The Bestseller List is a great way to provide more reasoning to your users on why the product you're reviewing is the best!
This feature allows you to display the best-selling products by providing the plugin with a specific group of products or a keyword.
You can also specify the number of products that you would like to display (Top 3, Top 10, etc.).
It also has the ability to display New Releases in the provided category that you input into the shortcode.
The New Releases list also lets you set the number of products displayed like the Bestseller List and provides you with the same customizations.
For example, if you review books on your blog, you could use this feature to tell your audience about a new fiction novel that you've just read on the Bestseller List.
In the Bestseller List display you can show the other fiction books that are on the Bestsellers List along with the newest books released in that category!
4. Widgets
The widgets in AAWP are what allow you to place products anywhere on your website, including adding images into your sidebar.
The feature allows you to choose which kind of display you like best for the specific page, like widget-small or widget-vertical. It also allows you to choose which information you display (title, price, rating, etc.).
You can also categorize widgets to appear static as your user scrolls down the page and show different products or categories using the same widget plugin!
Additionally, you can use the AAWP widgets to display "Sale" banners when the product that you are displaying goes on sale.
Extra Features
Geotargeting – display products in the currency that the user uses based on their geolocation
Click Tracking – implemented support when using Google Analytics, Google Tag Manager or Piwki
Amazon Prime & Extra Commissions – flag Amazon Prime articles and gain extra commission when your affiliate link leads to a new Prime membership
Well Structured Admin Area – you define your most important settings and adjust opt out for products
Developer Friendly – supplies special functions, PHP templating and WordPress hooks
Custom Templates – customize existing templates and create completely new ones
Sorting & Filtering – sort and filter generated lists by titles, pricing, rating and more
Translations – AAWP can translate your product displays into English, German, Spanish, Italian and French
It is also important to note that the Amazon Affiliates program requires their affiliates to be completely transparent with their users by including an FTC disclosure on any page where a product is being promoted.
AAWP Review Pricing: How Much Does AAWP Cost?
All AAWP pricing plans are billed yearly until canceled and include all core features discussed previously.
They each additionally include one year of updates, one year of support and a 30-day money-back guarantee.
Personal: This selection is roughly $58/year and can be used on 1 website only.
Plus: This selection is roughly $153/year, can be used on up to 3 websites and is their most popular pricing plan.
Pro This selection is roughly $295/year and can be used on 10 websites.
Ultimate: This selection is roughly $473/year and can be used on 25 websites. The Ultimate plan is a great option if you are a web developer and manage multiple websites at once.
AAWP's closest competitor would be Lasso, and Lasso's pricing is over $300/year for use on only one site.
So there is a lot of value in what AAWP offers.
AAWP Review – Conclusion
To sum up our AAWP review, we find that the Amazon Affiliate WordPress Plugin is a great way to increase your revenue through affiliate links and product images with minimal effort.
It's a great, simple way to get started earning more Amazon commissions with your blog.
It is definitely worth your time to check it out and try it for the 30-day money-back guarantee to see if it's right for you!
Don't forget to become a member of our blogging community and follow us on all of our socials @HerPaperRoute to stay up to date with the best new resources for content creators and affiliate marketers.
FAQ: Frequently Asked Questions About The AAWP Plugin
How do I use the AAWP Amazon Affiliate plugin For WordPress?
Add any Amazon product to any existing post or page by means of a shortcode, or via the WordPress block efditor. Pick items that are right for your site from Amazon, simply by copying the ASIN number.
How do I import Amazon products into WordPress?
Simply you can browse through any Amazon listing page, handpick the products you wish to import into your blog post, and use the ASIN number inside the AAWP block.
What is AAWP Amazon Affiliate plugin?
AAWP allows you to display Amazon Affiliate links and product boxes with minimal effort.
How do I become an Amazon Affiliate?
Go to Amazon Associates affiliate website and click Join Now for Free.
Next, create an account or if you already have an account, login using your existing credentials. After signing in, you'll have to add your website or mobile app. Amazon allows up to 50 websites or mobile apps per affiliate account.