SiteGround Black Friday Sale – Unbelievable 75% Off Web Hosting
This year the SiteGround Black Friday sale is larger than ever! Every new client who signs up for a 1, 2 or 3 year plan will save 75% off web hosting.
From Nov 29-Dec 3, self-host and monetize your blog with up to 75% Off SiteGround Hosting via this special sale page.
This is the best time to start your blog, because during the SiteGround Black Friday sale you can save a ton of money on your web hosting.
Self-Host And Monetize Your Blog With 75% Off Hosting During The SiteGround Black Friday Sale
Siteground is a top hosting provider, famous for its legendary customer support and premium service quality. Whether you need to accommodate a blog, portfolio or e-commerce website, they have a hosting plan for you.
---
As an affiliate partner of various brands and sponsored content, HerPaperRoute may earn commission on qualifying purchases. Disclaimer | Advertise With Us
---
Just some of the features that come with your Siteground plan:
Free website migration – no hassle or costs, SiteGround does it all
Better website performance with advanced speed-boosting technologies
More secure website with unique in-house solutions
You will be up within minutes, and ready to monetize your website right away
75% Off Premium Quality Hosting from SiteGround
This 75% off SiteGround Black Friday deal includes a ton of webspace, daily backups, secure SSL certificate, and even comes with a free website migration.
That means you can switch your current hosting to SiteGround, and a rep will migrate all of your files from your old host to the new one for you, completely free of charge.
🫶 Want to Make More Money?🫶
Become a member of HerPaperRoute today and get a toolkit packed with resources to help you make that paper. All for FREE!
---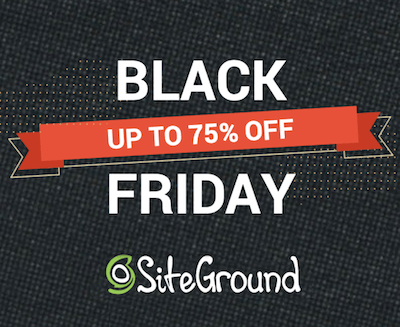 How To Start A Blog With SiteGround
Starting a blog with SiteGround is pretty simple! Remember, you can not monetize a 'free website' (a non-hosted website such as Tumblr, Wix, Blogger ect), you need to self-host. This is how to do just that.
READ: how to start a blog with Siteground.
SiteGround Black Friday Sale – 75% Off Web Hosting
The SiteGround Black Friday sale runs from November 29 – Dec 3. 
More Blogging Tips