What Is Micro-Influencer Marketing?
Micro-Influencer marketing is taking over, and brands are becoming more and more invested in their Micro-Influencer campaigns this year than ever before.
Why are micr0influencers so sought after by brands? Is it just a fad? And, what is a micro-influencer, anyway?
In this article, I will share some tips for how you can start working with brands and learn the business, from my micro-influencer handbook course Paid To Post.
What Is A Micro-Influencer?
A Micro-Influencer is someone who has a small, niche, targeted social following. She earns a living by working with brands, getting paid post on her blog and Instagram via sponsored brand partnerships.
---
As an affiliate partner of various brands and sponsored content, HerPaperRoute may earn commission on qualifying purchases. Disclaimer | Advertise With Us
---
If you have been anywhere near Instagram or Twitter as of late you have probably been hearing the word
'Micro-Influencer' a lot.
And for good reason! It seems to be the big buzzword rolling around in the marketing world this year, as advertisers, brands and marketers are all vying to include Micro-Influencers in their promotions.
What Is Social Media Influencer Marketing?
First, let me explain what a traditional Influencer is. A traditional Influencer is someone who has a large social following, of hundreds of thousands to millions of followers on Instagram. These are big-time bloggers, social media mavens and celebrities.
🫶 Want to Make More Money?🫶
Become a member of HerPaperRoute today and get a toolkit packed with resources to help you make that paper. All for FREE!
---
Traditionally, from a marketing perspective, these have been the ones brands go to for paid product placements, sponsorships and advertising.
Think of all the times you have seen a Kardashian pushing a tea on Instagram that is supposed to give you a big butt (or whatever), that is a traditional Influencer sponsorship at work.
In the last few years, we have seen a push for a more personal type of social media advertising, as consumers are becoming more and more skeptical of big celebrity endorsements and paid product placements in advertising.
Enter the rise of the Micro-Influencer
A Micro-Influencer is a blogger and/or Instagrammer with a smaller social following than the traditional Influencer, of anywhere from 1000 to 20,000 followers. She earns money by partnering with brands and blogging and posting on social media from paid sponsorships.
Brands pay her to post about their products, either as a flat rate or as affiliate commissions, along with giving her free products.
A Micro-Influencer's account and her brand can be categorized in one targeted niche, as opposed to a general 'I do it all' celebrity.
A targeted niche means that her account and her brand have a specific theme, and she consistently blogs and posts about that one thing, without straying into a different niche.
This ensures that her followers all have the same one interest, and therefore, she knows the one thing to sell to them. For bands that are in that same niche, her targeted audience is a goldmine.
For example, an 'eco-beauty blogger' who posts consistently about clean beauty will gain a following of clean beauty enthusiasts. She will partner with eco-friendly beauty brands who will pay her to post, and her followers will buy.
The more niched-down a Micro-Influencer is, the better.
A Micro-Influencer:
Has 1000 – 20,000 followers on social media
Has a stylish/styled social presence that is attractive to consumers and brands
Earns a living from blogging and social media by partnering with brands to blog about and recommend products, services and other valuable goods
Knows how to use affiliate marketing to her advantage
Related: List of high-paying affiliate programs that are accepting bloggers
Why Do Brands Love Working With Micro-Influencers?
Brands Love Working With Micro-Influencers Because:
Micro-Influencers have a more engaged, targeted, and personal audience
Consumers are 80% more likely to buy something that a friend, family member and Blogger / Micro-Influencer recommends and/or is seen using on social media
Brands are upping their marketing budgets like mad to include Micro-Influencers because Micro-Influencers have a more engaged, targeted and personal audience that converts into customers well. Plain and simple!
People are tired of being "sold to" by big celebrities, and advertisers are taking note.
Of course, Kardashians will always be able to sell products.
But consumers are 80% more likely to buy something that a friend, family member and Blogger / Micro-Influencer recommends or is seen using on social media.
A Micro-Influencer is more like your cool friend or neighbor when you see her wearing something or recommending a product on Instagram, you are more likely to want to try it.
How Can You Earn A Living As A Micro-Influencer?
Everyone has the power to influence and the ability to create a business while doing something positive on social media.
Truely anyone can develop their online persona into a business, but it does take some work and social marketing savvy.
As mentioned, the more niche your brand is, the better.
Having a visually appealing Instagram and a well-written blog that is set up correctly for monetization is the first step. I offer a free course on how to start a blog and monetize it here!
Next, understanding influencer and affiliate marketing as a business is crucial.
Learning how to position yourself as the authority in your niche will set you above the rest.
Protecting Yourself Legally As An Influencer
Whenever you start a partnership with a brand, make sure that you use a sponsored contract, to protect yourself and your business. Here is a sponsored post template that was created by a lawyer for just this purpose.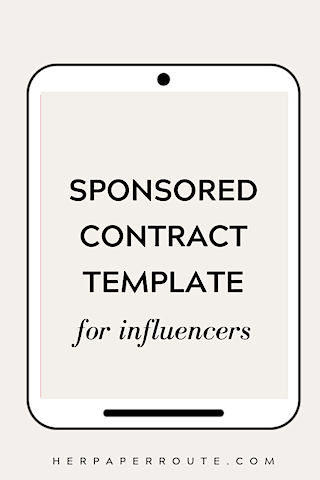 The Micro-Influencer Handbook – Paid To Post Course
I teach influencer marketing, social media marketing and blog-to-biz development in the Paid To Post course.
I am sharing all of my influencer-marketing strategies in this full influencer marketing online course, so that you can be empowered to develop your work-from-home-or-anywhere career as a Micro-Influencer, too.
From influencer and affiliate marketing to website and blog development, Instagram strategies and how to find, pitch to and work with brands, this course covers everything.
Learn how to position your blog and yourself as the authority as a Micro-Influencer in your niche in this intensive online course.
Gain insight into the business of blogging and influencer marketing, learn the tools you need to work with brands, create high-converting content, advertising, and successfully monetize your online persona.
What You Will Learn As A Student of Paid To Post
INFLUENCER BUSINESS DEVELOPMENT
How To Create A Business Plan With Actionable & Attainable Goals You Will Be Excited To Reach
How To Create A Media Kit That Stands Out From The Rest
How To Confidently Approach, Pitch To & Work With Brands For Paid Sponsorships
Access To My List Of Brands Accepting Micro-Influencers For Paid Projects
How To Get Your Name On Brand PR Lists As An In-Demand Influencer So You Can Be Included In Product Launches, Sponsored Projects & Given Free Products To Review
INFLUENCER MARKETING
Social Media Marketing, Social Media Strategy Development
How To Make Your Social Profiles Professional, Beautiful & Attractive To Brands
Training On The Best Social Media Tools & Tech
Email Marketing, Why Growing Your List Is So Important As An Influencer, And How To Do It Like A Pro
How To Get Complimentary Products, Clothes, Hotel Stays, And Other Valuable Goods
EARNING A LIVING AS AN INFLUENCER
How To Create A Powerful Blog That Generates Income And Influence, One That Brands Will Notice And Want Their Products Featured On
Understanding And Implementing Affiliate Marketing
How To Write High-Converting Content That Earns Commissions, Ad Revenue & More Sponsorships
How To Get Approved For Sponsorship & Affiliate Programs Every Time
How To Sell On Your Blog & Social Accounts
Micro-Influencers Are Here To Stay
Micro-Influencer marketing isn't going anywhere but up.
Whether you are a blogger or a brand, this type of marketing and its potential for revenue is going to become bigger than ever this year, and we will see more and more of it in business and across social media than ever before.
Brands are looking for bloggers with small, targeted niche audiences for paid reviews, sponsorships, and partnerships. Enroll in the course now!

Paid To Post – Influencer Marketing, Sponsorship And Working With Brands