Have you used Instagram ads as part of your business promotion strategy? You probably have your free social media game plan worked out, are fine-tuning your website SEO for organic growth, and hustling away promoting in Facebook groups.
Although all of those marketing strategies cost you nothing financially, they sure do cost a lot of your time, don't they?
This site features ads and affiliate content Disclosure • Advertise with us
Instagram Ads: 5 Keys For Successful Instagram Advertising
As your business grows, so does your budget, so what better way to re-invest in your business than by boosting your brand awareness with Instagram ads?
The thing is, many people try out Instagram ads without any guidance beforehand, and then end up losing money for not knowing how to run an effective campaign on the platform.
Today we have Ron Dod, the Chief Marketing Officer and Co-Founder of Visiture here to share his tips on running successful Instagram ads campaigns!
~ Pin This ~
Instagram Ads: 5 Keys For Successful Instagram Advertising
Written by guest writer Ron Dod
Every social media platform needs to have a different game plan.
Advertising on Instagram is going to be different from advertising on Twitter and vice versa.
Each platform has a different audience, ways of interacting and varying user expectations.
For instance, Instagram is very picture driven while Twitter is more about speed and updates.
Therefore, understanding how Instagram works is as important as knowing the ins and out of creating ads. Comprehending these two pieces of information is the key to advertising successfully.
Get the Instagram grid organizer and scheduling app Planoly FREE!
Instagram Ads: Understanding Instagram
Audience Demographics
Instagram has 700 million monthly users and counting. This is about three times the amount of Twitter users, but it's still less than the king, Facebook.
With an increasing amount of adults joining and interacting on Facebook, Instagram has been attracting more young adults.
Most of its users are between the ages of 18-29 years old.
Related: Avoid The Instagram Shadowban With This Trick
Communication Style
Emojis and hashtags are essential for Instagram communication. Strategically using hashtags can help your content get discovered and generate new followers.
Find out which of them are popular in your industry and use them repeatedly on your posts.
Related: Haute Hashtags eBook – 1000 Instagram Hashtags, Organized By Niche!
Note: Include hashtags that your target customers are using, in addition to hashtags that describe your business.
For instance, if you're selling eyelashes, you would use a hashtag like #lashgamestrong, instead of using a hashtag like #eyelashstore.
In this way, you'll be able to reach and be discovered by people who are actually using similar products and hashtags.
See how the House of Lashes uses hashtags:
Photo credit: HouseOfLashes
User Expectations
Instagram users are all about pretty content. Whether it's a plate of food, an outfit, or a cup of coffee, make sure all your posts are visually appealing and consistent.
Use the same filter or editing techniques on all your posts to ensure you get that unified look and feel. This will create a more visually appealing account and will help define your brand's personality.
Are you happy and colorful? Or sultry and sexy? Use filters and photos to your advantage to tell your story.
For instance, see how Kate Spade (on the left) and Giorgio Armani (on the right) use different colors to tell their story.
Images credit: KateSpadeNY / GiorgioArmani
Kate Spade embraces their "live colorfully" slogan with colorful pictures, while Armani is a bit more dark and mysterious.
Now that you have a better understanding of how Instagram works, we can jump into creating and running Instagram ads.
Instagram Ads vs Organic Posts
Note that running ads should not be a substitute for organic posts. Users discovering your ads will look into your Instagram account for brand validation and social proof.
If your account is empty or has little engagement, it can make potential customers have doubts about your brand.
How To Actually Make Money Blogging – A Must-Read!
Instagram Ads – Getting Started
1. Link your accounts
Instagram ads are created from the Facebook business platform. Thus, you'll have to link your account to your Facebook page.
To link an already existing Instagram account, simply follow these steps:
Click on Settings at the top right of your page
Then click on Instagram ads
And then click on Add Account
Enter your Instagram's username and password.
2. Choose a marketing objective
Like Facebook ads, there are two different ways to create Instagram ads: with the Ads Manager or Power Editor.
The latter is best when managing many campaigns or looking to get more control over ads.
For now, stick with the Ads Manager; it offers virtually the same options as the Power Editor, and it's ideal for starting out.
To create an Instagram ad, you will follow pretty much the same steps as you would follow when creating a Facebook ad.
Start by choosing a social media marketing objective: awareness, consideration, or conversion.
3. Define your target audience and select a placement
In this section, you'll be able to choose from the same categories available for Facebook ads, such as demographics and behaviors.
Alternatively, you can select a custom or saved audience.
The only difference is that you will select the Instagram Placement.
See below how the platform offers two options for Instagram placement: Feed and Stories.
4. Create your Instagram ads
After you've selected your budget and ad schedule, you'll be able to create your Instagram ad.

If you selected the Instagram feed placement, you'll get all the usual ad formats: If you select the Instagram Story placement, you'll get only two options: image and video.
Keep in mind that Instagram users prefer to see posts with faces, and video usually gets more engagement than regular photos.
Test using a video in Instagram stories or feeds and compare it to your other types of ads.
5. Keep testing and optimizing – creating campaigns is just the first step
Now, you have to test different ad format variations, messaging, images, and videos to find the best-performing ones and avoid boring potential customers with the same ads.
It's also important to test different target audiences to find out which one generates the most results.
Only by testing will you be able to find one that works.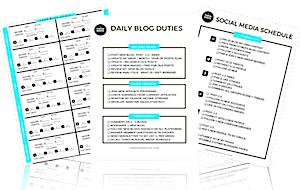 Download the HerPaperRoute Social Media Strategy Planner – for FREE!
Tips To Get The Most Out of Your Instagram Ads Campaigns
Social media ads reach people when they are not actively looking for a product or service.
In other words, these types of ads may reach your target customers when they are not ready to make a purchase.
Thus, you'll need constant exposure to make a conversion. By combining the power of Instagram with other social media platforms like Facebook, you'll be in front of your potential customers wherever they are.
There are different ways to approach this omnipresence social media strategy. One of them is leveraging the power of remarketing.
For instance, you can create an ad on Facebook to retarget users that interacted with your ad on Instagram and vice versa.

You can also create different ad formats on Instagram and Facebook surrounding the same message. For example, if you're advertising dresses, you can show a carousel ad on Facebook and a story video on Instagram about the same set of dresses.
In that way, your potential customers won't get bored from seeing the same ad, and you'll be able to test different formats, ad copies, and ad designs to find out which ones work best.
---
Ron Dod – CMO & Co-Founder of Visiture
Ron Dod is supported by a team of creative geniuses that strive to help clients achieve new levels of success. His passion is helping eCommerce business owners and marketing professionals navigate the search marketing landscape and use data to make more effective decisions to drive new traffic and conversions.
Keep Reading: