How To Start An Affiliate Program For Your Business Using Thrivecart
How to start an affiliate program for your business using Thrivecart or alternatives! If you are a business owner offering any kind of product – physical, digital or online service-based, you really should have an affiliate program.
Hosting an affiliate program is an excellent way to scale your business.
You don't have to be a big business to start a successful affiliate program. Rather, small businesses and individuals can (and should) have one, for the reasons I discuss below.
Read on to discover how to start an affiliate program for your business within minutes.
---
As an affiliate partner of various brands and sponsored content, HerPaperRoute may earn commission on qualifying purchases. Disclaimer | Advertise With Us
---
How To Start An Affiliate Program: What Is An Affiliate Program?
An affiliate program is a performance-based agreement where you have affiliates promoting your products and company.
Affiliates are bloggers, influencers, marketers and salespeople.
Affiliates create blog posts, videos, emails, social media promotions and other content in promotion of a company's products and services.
🫶 Want to Make More Money?🫶
Become a member of HerPaperRoute today and get a toolkit packed with resources to help you make that paper. All for FREE!
---
They earn a commission when they make sales for your company. For an in-depth guide all about affiliate marketing, read this.
Where To Host My Affiliate Program? SendOwl vs Thrivecart vs ShareSale
You can run your own affiliate program using either SendOwl, or Thrivecart.
Both tools make selling and delivering digital products very easy, and both offer a seamless dashboard to host your own affiliate program.
You can also embed a checkout on your own site, offer coupons, and connect to your email service provider.
My pick hands-down is Thrivecart. Not only is Thrivecart a one-time payment that gives you lifetime access, but it also works out cheaper than Sendowl in less than 2 years. As SendOwl is a monthly subscription.
Thrivecart for the win!
I'll show you how to set up your affiliate program using Thrivecart step-by-step in a moment.
But what if you don't want to host your own affiliate program?
What if you'd prefer to use a third-party affiliate network?
That is possible! To go this route, you can join an affiliate network like CJ, ShareASale, or Rakuten. With a network, you can potentially reach a big pool of affiliate marketers.
(Apply to become a ShareaSale as a merchant here.)
Typically the third-party network handles paying your affiliate team. Shareasale handles paying your affiliates, manages the taxes and provides a help desk that assists your affiliates for general issues that comes up.
ShareASale is a HUGE network for affiliates. They have thousands of professional bloggers, influencers and marketers in their network. Furthermore, these affiliates have been vetted and approved by ShareASale.
So, this makes the process of acquiring people to join your team easy-peasy. This is because you have access to all of these people in one place.
Likewise, you want your business to pop up in the ShareASale merchant marketplace when these affiliates are looking for new programs to join.
But a warning: hosting your affiliate program on ShareASale will be more expensive than using Thrivecart!
As third-party networks will take a cut of your sales in addition to the commission you give your affiliate for making the sale.
How Much Does It Cost To Host Your Affiliate Program On ShareASale?
Hosting your affiliate program on ShareASale will cost you quite a few fees.
ONE-TIME FEES
There is a one-time Network Access Fee of $550 that occurs only after all the setup steps have been completed. And prior to activation on the network.
Also, a $100 deposit is taken.

RECURRING FEES
Then there are the recurring fees. There are two types of recurring fees you could incur with ShareASale – Transaction Fees and Monthly Minimum Fees.
A transaction fee occurs if an affiliate sale/lead is made. These fees are based on your chosen payout rate.
Finally, a monthly minimum fee occurs if, in a given month, your account does not generate a minimum of $25 in fees to ShareASale.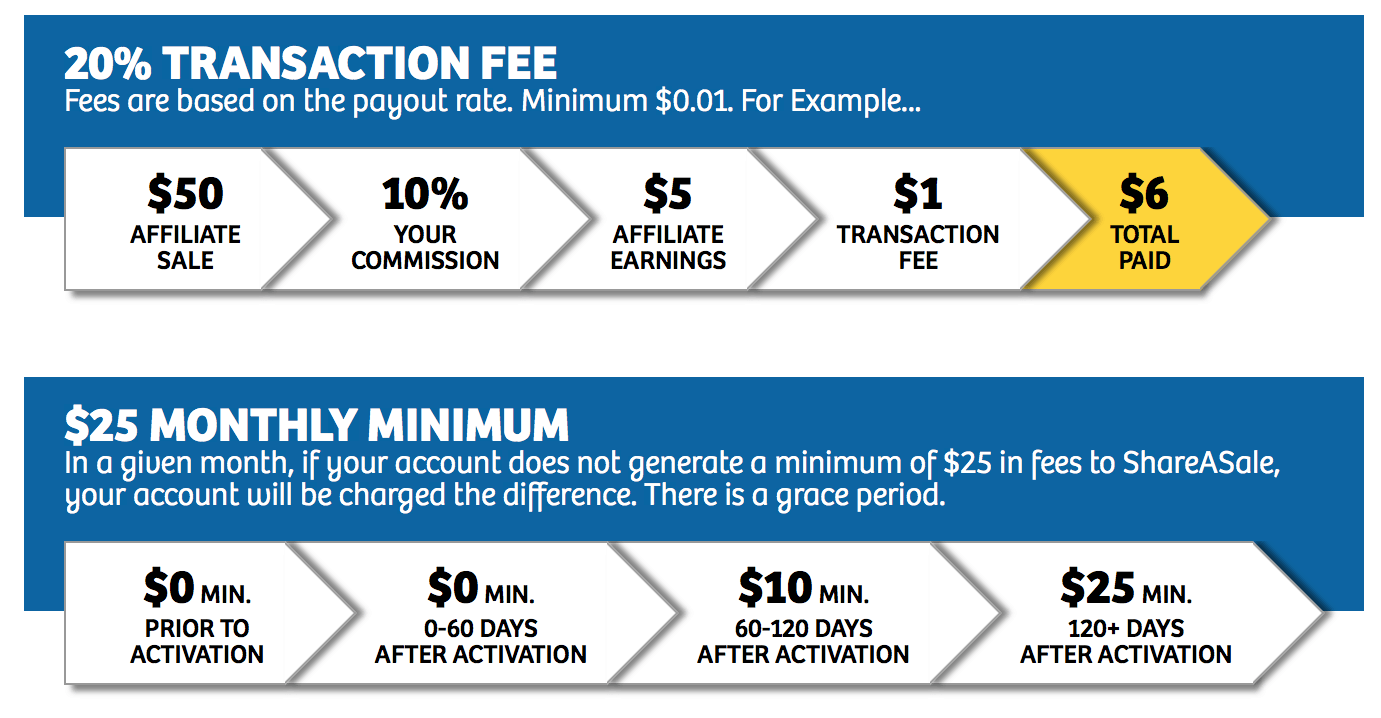 Thrivecart is again more affordable
So this is another reason why I recommend Thrivecart.
With Thrivecart you will not only save money by not having to pay a monthly subscription, but you also won't have to pay a cut of sales to a third-party network.
You control and keep everything.
Either way, before you choose where to host your affiliate program…
You need to cover your legal basis. Before you can choose where to host your affiliate program, you need to first set up your affiliate program terms and conditions.
You need to use a proper legal document called an Affiliate Program Contract to protect your business and yourself.
You need this important legal document that all your bloggers, influencers and affiliate marketers must agree to, before they start promoting your products and services.
You should download the #1 Affiliate Agreement Contract, it was drafted by a lawyer and trusted by thousands.
This legal template comes with all the important legal provisions you must-have for your affiliate program.
It includes 13 pages with more than 25 legal clauses to protect you and your business.
Just fill in your business information and you will be protected, and ready to start your affiliate program. 
Why Is Having An Affiliate Program Good For My Business?
Having an affiliate program for your business is one of the best ways to grow your company.
Starting an affiliate program allows you to gain more sales and reach all new audiences that you may not have otherwise. There is no better way to grow your brand awareness than by having affiliates promoting you all over the internet.
When you have affiliates enrolled in your affiliate program, you literally have an army of salespeople promoting your products at all times.
Would You Like A $1200 Toolkit Of Business Resources For $0?
Become a HerPaperRoute member for free, and I will send you instant access to my Toolkit of tools, resources and training on all things money-making! Let's grow your business like wildfire! Join here:
Above all, hosting an affiliate program is a low-cost and low-risk investment due to the fact that they are performance-based.
For the reason that you only pay your affiliates when they make a sale. You only pay when you get results.
Unlike traditional advertising where you have to pay out a large sum of money up front and hope for a return on investment.
When you start an affiliate program for your business you only pay when you earn.
How to start an affiliate program is as easy as signing up with Thrivecart.
What Do I Need To Start An Affiliate Program?
Planning how to start an affiliate program: You should have a selection of creatives ready.
Creatives are images that are used as banners and promotional materials.
ShareASale recommends these as the best sizes for banners and banner ads.
Although not mentioned in the image above, it also important to include a Pinterest-sized graphic 1000×1500 as well.
Pinterest is becoming one of the biggest resources for marketing and making sales.
Pinterest is a massive viral sharing network and search engine which your business needs to be visible on.
Therefore, you want to make sure that you provide Pinterest-sized ads to your team.
You can create all of your creatives for free with Canva.
How To Start An Affiliate Program For Your Business Today – Step By Step
1. Head on over to Thrivecart and claim your lifetime deal.
2. Once you are signed up, start adding your products.
3. While editing a product, click on the Affiliates tab.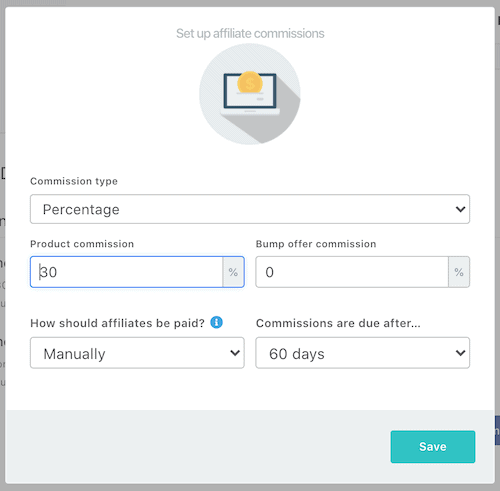 4. Set the commission and payout details per product.

5. Click the 'handshake' icon at any time to get more settings, as well as monitor your affiliate team's progress, and manage their affiliate team's payments.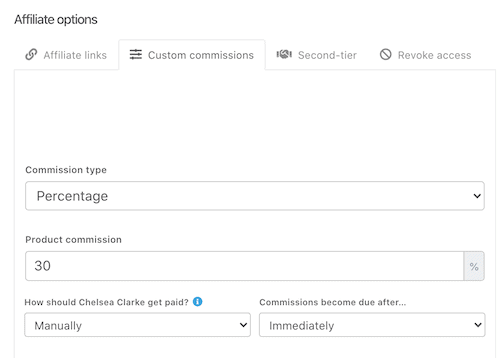 5. You can also set different commissions and payout rules for an individual affiliate in your team.
That's all you need to know for how to start an affiliate program for your business!
Now, just share the affiliate program sign-up link, and watch your sales flood in.