How To Create Your Affiliate Marketing Blue Ocean
Want to make more money? You need to create your affiliate marketing blue ocean, so that you can dominate your chip of the market.
The term 'blue ocean strategy' was famously coined by W. Chan Kim and Renee Mauborgne in this book, which taught marketing strategies for business owners.
They gave famous examples of businesses and how they set themselves apart from the rest to build up their billion-dollar companies.
🫶 Want to Make More Money?🫶
Become a member of HerPaperRoute today and get a toolkit packed with resources to help you make that paper. All for FREE!
---
As an affiliate partner of various brands and sponsored content, HerPaperRoute may earn commission on qualifying purchases. Disclaimer | Advertise With Us
Where a 'red ocean' refers to a highly competitive space where you and all the other sharks are fighting for the same customers, a blue ocean is when you are the only shark.
No competition for customers.
Here's how to do it, in your own business.
How To Create Your Affiliate Marketing Blue Ocean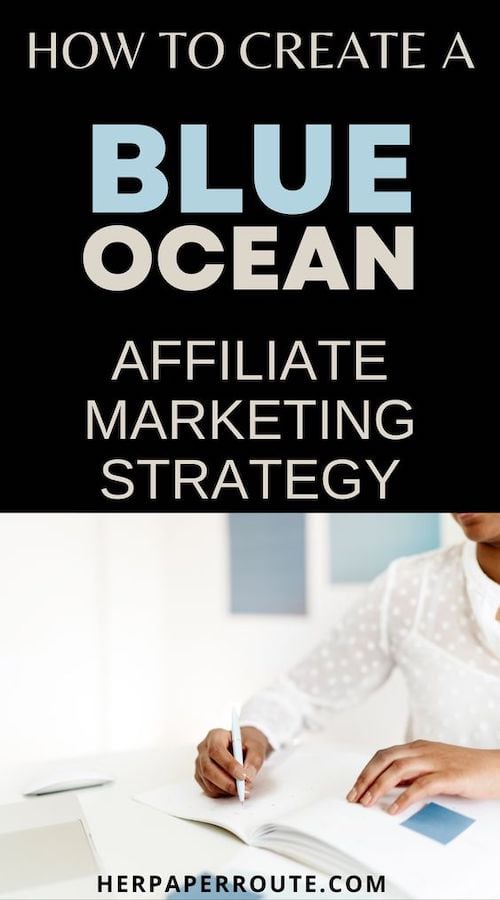 Creating a 'blue ocean' for your affiliate marketing business is so important.
Especially when you start out promoting the same product as someone else.
You have to give people a reason to buy from you, over the person with a massive social media following who is selling the same thing.
What are you going to offer someone that they're not?
You might be thinking that you don't have anything you can offer someone. Maybe you have no experience, no special skills?
The good thing is this doesn't matter!
Today I'm going to show you how you can boost your affiliate marketing strategy by creating your affiliate marketing blue ocean.
Creating Your Offer Stack or 'Stack Slide'
Affiliate marketing is like a game of chess.
There are many pieces in the game and you need to work out an affiliate marketing strategy that'll out-smart the rest.
Part of this affiliate marketing strategy is finding your voice and getting your voice heard in a noisy marketplace.
You've probably heard about the three most lucrative niches to promote products in; health, wealth and relationships.
But have you thought about creating your affiliate marketing blue ocean, so you can own a niche that is totally YOU?
You might be thinking – ''but I don't have 10 videos on building funnels or a course on how to make money using the affiliate product…''.
This is absolutely fine and most people won't.
The good thing is there are plenty of ways you can build your own stack slide, using free options from the internet or just creating them yourself.
But What If I'm Just A Beginner, Myself?
You may THINK you have no value to give, but in reality, you're probably still many more chapters ahead in the book than some people.
You can give value to those on the same journey as you, who are just a few chapters behind you.
Instead of just promoting an affiliate product, put an actual offer together, by adding additional offers of your own, when people purchase from your links.
Can you add a mini-training video on how to use the product? An ebook, stratgey call, or something else extra special?
As you think about what you will put into your offer stack, to create your affiliate marketing blue ocean, know that this cn be applied to anything you want to sell.
It doesn't have to stop at affiliate products!
Creating a blue ocean by putting together smart offers is discussed in detail in the Expert Secrets book.
It's a must-read for anyone who wants to sell things online. Get a free copy:

Affiliate Marketing Blue Ocean – Offer Stack Ideas
Check out this list of ideas for things you can 'offer stack' to make your offer irresistible.
The list is literally endless of what you could add to your offer and we haven't even touched on physical products you could give away.
Do a little brainstorming of your product and think, what would really complement the product you have and get your audience to see your offer as the best?
How To Create Your Affiliate Marketing Blue Ocean – Conclusion
Ask yourself – do you have an offer already or just a product to promote?
When you start to think of your promotions as offers and not just products, you will be able to create a blue ocean for yourself.
It helps to pair this strategy with your personal brand. A long-term blue ocean strategy has the offer's creator at the forefront.
So, you must focus on building the like, know trust factor your audience has with you.
Let me know in the comments below what you think.
Also, come and join me in my Facebook group for online entrepreneurs.
See you there!