How To Make Money Blogging About Travel In 2023
If you want to learn how to make money blogging about travel, let this be your roadmap.
Earning money from travel blogging is more than just a pipe dream; it can be a reliable form of income.
It's never too late for you to master how to become a leading travel blogger and start your own travel blog from scratch.
But travel blogging isn't a walk in the park.
---
As an affiliate partner of various brands and sponsored content, HerPaperRoute may earn commission on qualifying purchases. Disclaimer | Advertise With Us
---
It requires hard work, weeks of planning, and an enormous degree of motivation to get to the point of having sufficient passive income to travel so often.
It takes a lot of research, a lot of time behind a laptop screen, and an unbelievable amount of self-discipline.
Just because someone can fly around the world and write does not guarantee that they will be able to write effectively or become a successful travel writer.
🫶 Want to Make More Money?🫶
Become a member of HerPaperRoute today and get a toolkit packed with resources to help you make that paper. All for FREE!
---
In this article, we'll take a look at what it takes to become a successful travel blogger and start making a passive income.
How To Make Money Blogging About Travel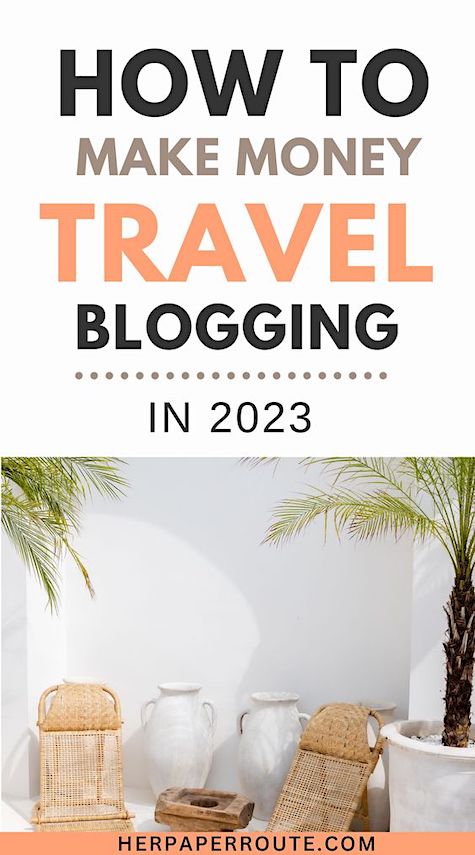 1. Do Your Research
Many people make the mistake of jumping straight in at the deep end without first conducting proper research.
Few people read books about marketing, planning, industry, or self-development.
Operating a blog is similar to operating a company; if you never go to "school" and keep learning, you'll lag behind.
Most successful bloggers are also voracious readers. They are continually striving to better their abilities and expertise.
Read what professionals have to say, read the HerPaperRoute blog, figure out what works, then apply what you've learned to your site.
Read marketing books, business books, writing books, history books, and autobiographies.
Even if you only gain one insight from the book, it was well worth your time.
See our favorite Personal Finance books that every creator should read.
2. Decide If You Will Build From Scratch, Or Buy Then Build
When entering the travel blogging market, most inexperienced bloggers will think that they need to start a website from scratch and slowly grow it over many years.
If that is what you want to do, there is nothing inherently wrong with that. It will just take a long time.
We have put together a straightforward video training to show you how to start a blog from the ground up, which you can watch for free by enrolling here.
However, there is an easier way. And that is to buy a travel blog that is already established.
Many of the websites which you can buy at Niche Investor are from sellers who have grown massive followings, including email lists and social accounts alongside their blogs. These sellers want to exit and focus on a new project.
And you can acquire their business, and enter the industry with instant authority.
3. Choose The Right Blog Name
Before we get into how to make money from your travel blog, the logical next step is to choose the right name for your site.
Of course, if you are buying a travel blog then you don't need to worry about picking a name as it will already have one.
But if you are starting your website from zero, you will need to decide on a name so you can purchase the domain name.
You don't want your blog name to be almost identical to other blogs out there, do you?
Instead, you want it to stick out from the crowd so that people can remember it and associate it with your content only.
Don't look up travel blog name suggestions on Google.
Be inventive and brainstorm your own ideas.
What makes you and your blog unique?
Begin by brainstorming words that will characterize your intentions for your blog and work your way up from there.
If nothing seems to be working, browse a thesaurus for some inspiration.
Just because a name is appropriate for you currently doesn't imply it will be appropriate for your image in the future, therefore you must be strategic.
Choose a name that will grow with you.
Resist using your age or particular locations or countries in your identity unless you're absolutely certain you'll exclusively write about that area for the rest of your life.
Make it easy for yourself to grow and expand later.
Avoid making your travel blog name difficult to recall by using odd spellings.
Remove any hyphens and digits as well; people will forget if there is a hyphen between two or more words.
To make things as simple as possible, check social media to see whether the blog name you've picked is obtainable on other popular platforms.
You'll want your name to be consistent to form your brand.
This is another reason why I prefer to buy established websites, rather than build sites from scratch nowadays.
An established site will have established domain authority, which makes it easier to land brand deals, as well as rank articles on search engines faster.
4. Include Ads
When your blog has some traffic, you should consider adding display advertisments to your site.
These are typically banners, pieces of text, and other items that are displayed to your visitors while they navigate your website.
The benefit of adding display advertising on your website is that they generate passive cash for you.
That is, after you've put up the advertising on your site, they will provide you a consistent income month after month, based on your readership.
This ensures you don't have to do anything else to produce money, giving you lots of time to focus on other projects.
Many bloggers dislike putting display advertisements on their sites because they despise the user experience it produces and will openly admit it.
However, many sites appear to incorporate advertisements without offending their readers.
And besides, they're a terrific method to monetize pieces that would otherwise be difficult to monetize, giving you a lot more personal freedom to develop material that your audience will want to see and that you'll like writing!
There are numerous ad provider programs available out there for you to choose from.
5. Add Affiliate Links
It is never too soon to begin affiliate marketing.
Many individuals mix up affiliate links with display ads. Yet, they are two completely distinct strategies to monetize your site.
While display advertisements pay you every 1000 sessions/page visits on your website, affiliate programs pay you a percentage of the actual purchase price of something your reader buys from them, after clicking your link.
Even if you're just getting started, promoting things you enjoy develops trust and earning potential.
This is a long-term game, and you might not see the benefits of your labor for a year or more, but it can become extremely rewarding.
For example,
Nowadays, you can be an associate for nearly anything, so think creatively. The trick is to only advocate things that you genuinely like and use.
To successfully promote products to your target audience, you must constantly put their trust first.
Take a look at this list of the best travel affiliate programs.
6. Sell Your Own Products
Businesses sell things, and you should do the same. Think, digital products, baby!
Providing things for sale helps you to be free of sponsors and business deals, as well as avoid competing with other fellow travelers for press trip spaces.
It enables you to grow your blog and money.
Many goods provide value to your visitors by going into greater depth and detail than a blog entry typically permits.
There are very few travel bloggers who market their own products. Which is a shame for them.
Most travel bloggers make money only by writing sponsored posts.
That's OK if that's what you want to accomplish, but it takes time and needs to be continually worked on. It's not passive.
If you are always writing sponsored posts, you never have time to unwind or nurture yourself.
You don't want to be chained to a hamster wheel. It's not a viable option for everyone.
Goods allow you to create anything once and generate income while resting, sightseeing, or tanning on a beach!
They provide you control over your money and an opportunity for your followers to buy anything from you while also giving back!
Read this guide to creating your own digital products.
7. Sell Your Images
If you have a keen eye for photography, brands, organizations, and even other blogs will frequently contact you and seek to secure the right to use your photographs.
When selling photographs, make sure to consider the application of the photo (since this will affect how much you should charge) and also the length of time the photo will be kept.
For instance, how many individuals will receive your image(s)?
Are they there for a quick blog article, or will they serve as the front page of a promotional campaign?
There are numerous resources accessible online to help you figure out how much to charge.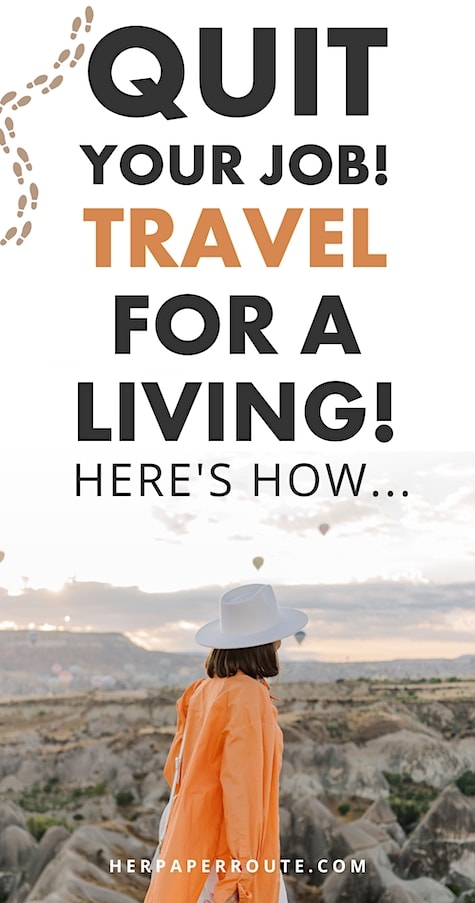 8. Look Into Paid Trips
Bloggers can go on various different kinds of press trips.
These are trips where you are expected to go/stay somewhere, and create content for your social channels and blog, promoting a brand.
Some press trips are supported by travel agencies in order to promote a specific place or festival.
Other times, press excursions are arranged by businesses that want to raise brand awareness, such as:
a fashion label that wants to promote its new product in a distant location
a camera manufacturer that wishes to produce a marketing strategy encompassing their new variety of technologies
a bar or hotel opening that wants influencers to post content of themselves enjoying their time at the opening event
a business such as a cruise line or tour agency
or many others!
Brands want to work with creators who have a decent social media following, so spend effort growing your blog as well as your Instagram and TikTok.
Be cautious of press trips that are unpaid. In addition to your flights and hotel you should also always receive monetary compensation for your work.
9. Write Sponsored Blog Content
A sponsored blog post is when a brand pays you to mention them/their product on your website.
When done effectively, sponsored pieces should be a win-win situation for everyone involved.
Know that when you publish a sponsored article, all the brand's links must be marked as "no-follow" to follow proper SEO standards.
You don't want to risk getting hit with a Google search engine consequence, so make sure all paid links are marked as no-follow.
10. Make Sponsored Social Media Content
If you have a following on social media, you may find yourself with influencer marketing opportunities.
Making promotional posts on social sites often entails maintaining editorial freedom while providing the material that features a picture or text-based visual to promote the business or entity in question.
For travel bloggers, this might range from promoting the suitcase they pack on vacation to the hotel they stay in.
Another way to generate money on social media is to execute brand takeovers, notably on Instagram.
When you conduct a brand takeover, you are essentially making the same type of material that you would generate for your own network (stories, photographs, videos, etc.), but for the company's channel.
Ever since the emergence of microblogging sites like Instagram, many creators no longer have a website. And instead earn the entirety of their money by marketing items and businesses on platforms like TikTok, Facebook, Snapchat, IG, and Twitter.
But – that is very risky to rely on a platform you don't own. As social accounts can be closed down at any time, and if that happens you would lose your entire audience.
You should always have your own website and email list, no matter how big you are on social media.
Learn more about working with brands as an influencer.
11. Freelance Writing For Others
This method of making money blogging about travel isn't directly related to having a travel blog of your own.
However, it can be a terrific way to generate income through travel blogging and expand your portfolio while establishing your own brand.
When first starting out, many bloggers begin by producing articles for other travel bloggers.
This not only gives them essential blogging experience and boosts their online visibility, but it also provides them with more examples of earlier work to show potential clients in the future.
How To Make Money Blogging About Travel – Conslusion
There you have it! There are a variety of methods to earn profit from travel blogging and get compensated for traveling!
Some approaches are basic, while others require more creativity and effort.
Nevertheless, it is totally possible to transform a travel blog into your career with some time, perseverance, a massive amount of work, as well as a whole lot of dedication.
Take a free copy of our digital nomad book to learn how to make money blogging about travel for the long haul:
Free Book For Digital Nomads