5 Ways To Monetize A Blog Without Ads
Did you know that you can monetize a blog without ads and make good money without ad revenue income, at all?
It's true! Most people think you need to have display ads on your website to make money, but they are wrong. Ads are actually not a requirement for income success.
In fact, I have sites that have never had display ads, and they earn thousands per month!
In this article, I'm going to discuss multiple means of monetizing websites, so you can rest assured your blog can be profitable, ad network or not.
---
As an affiliate partner of various brands and sponsored content, HerPaperRoute may earn commission on qualifying purchases. Disclaimer | Advertise With Us
---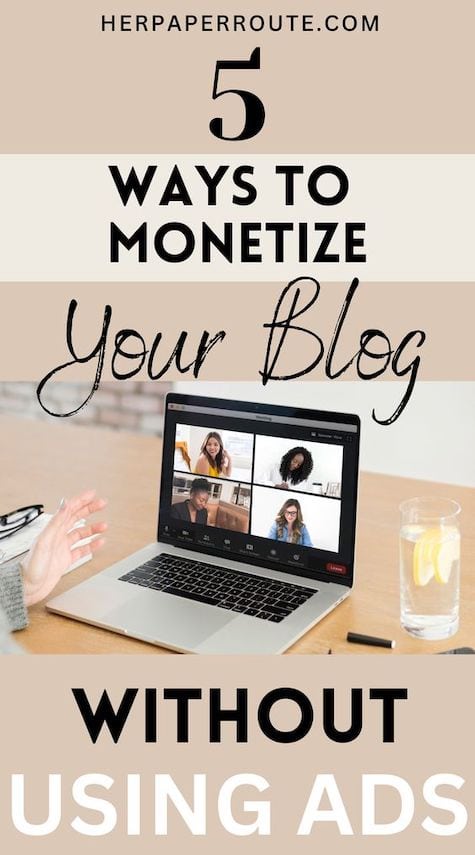 How To Monetize A Blog Without Ads
If, like most of us these days, you're a seasoned internet user, you'll have come across so many sites that are monetized by ads.
They're at the top of the page, at the bottom of the page, to the right of the content, to the left of the content, and even randomly placed within the site's content.
They pop up seemingly out of nowhere, and you struggle to get rid of them. And a lot of the time they are moving rather than still.
🫶 Want to Make More Money?🫶
Become a member of HerPaperRoute today and get a toolkit packed with resources to help you make that paper. All for FREE!
---
Sure, they catch the reader's eye and sometimes the reader will click on them.
But to be perfectly honest, a lot of the time, they're just an unwarranted and unnecessary distraction.
They clutter up what might otherwise have been a lovely website for the reader to sit back and enjoy.
Sometimes these ads are completely irrelevant to the blog's niche, and when this happens it's not only a waste of space, but a nuisance for the reader.
And what little income trickles in from these ads is not worth the detriment to the reader's experience.
But, I'm pleased to tell you that there are some great ways to monetize a blog without having to sign up for a single annoying ad network.
Besides, if you're planning on flipping a website for profit that has already been monetized by ads, then you need to add a little something extra to make it more appealing to a prospective buyer.
And without further ado, let's get straight to it!
1. Securing Sponsors And Reviewing Their Products
Manufacturers of products are predominantly that, manufacturers. They can often make some really great products, and that is their strength.
However, these manufacturers (brands) often don't have the time or the resources to promote their products in the way that the products deserve.
That's where you come in. You can offer potential sponsors valuable air time on the net.
Not only can you attract even more customers for these sponsors, but you can better engage with their target market, and help to develop the relationship between the brands and their customer base, encouraging repeat spending from the customer base, and sending your sponsorship money ever higher.
And the good news is that you don't have to wait around hoping someone somewhere will head-hunt you for their product range.
As the website owner, you are in the driving seat here. Focus on building your brand (on social media and an email list) while publishing high-quality content to your website.
You can do a little research to see which brands you would most like to promote and work with.
Choose brands that offer products you think would be a good fit for your audience.
This is another reason why it pays to have a niche.
Once you've made a shortlist of which brands you'd most like to work with, the next stage is to approach them.
And yes, I totally get that this may feel scary for some of you.
But, it's not actually as bad as you might imagine. When you get talking to sales staff at these companies, they're usually super friendly and down to earth.
Remember, you are making their job easier by reaching out to them.
The tricky part comes when you set a price for what you have to offer.
You'll need to have already established a decent following because otherwise, you have little to bring to the negotiating table.
It is beyond the scope of this article to go into negotiation tactics and strategies, but read this guide to pitching brands, if you do decide to go down this route.
The key thing to remember when approaching a prospective sponsor, is that this is a win-win, and you could both do a lot to help each other.
If your top preferred brand turns you down, try not to be too disheartened.
They are not the only brand around, and just because it turns out that you are not their cup of tea, doesn't mean to say that you're not for the next brand on your shortlist.
2. Affiliate Marketing
Now, being an affiliate marketer is another thing entirely.
The great thing about affiliate marketing is that it doesn't have to be too salesy, and you don't have to do any negotiating.
You simply create content, and get a commission when people buy the things you write/talk about.
The easiest tool for affiliate marketing is to join LTK (formerly known as Reward Style). Post content, tag brands, get paid a commission for sales referred!
For example, take a look at what my LTK account looks like.
It's absolutely worth it to post content on LTK!
You'll need a bit of a social following and an invite to get into LTK (use my invite form, and you'll get a bonus $25 cash if you are accepted!)
In addition to utilizing LTK, you should also have your own website and social media too, so that you can earn from long-form content as well.
For this, all you have to do is write articles or blog posts about the sorts of products and services offered by the brand/business that you're partnered with. And then link out to those very products and services.
These articles and blog posts could be single product reviews, multiple product reviews, product comparisons, and so on.
You could even write:
entire buying guides
complete with a run down of the benefits of that type of product
guidance about what to look for in these products
tips for using the product
and even a section where you answer the reader's most frequently asked questions on the subject
When your reader clicks on the link/s provided to a product or service they are interested in on the other business's website, you can earn a commission (a percentage) on any sales that the reader makes.
A lesser-known fact is that when the reader clicks through to the seller's website, you can still earn a commission on the sale of a product on that site, even if it's a different product to the one you were pointing the reader to.
For example, if you were reviewing a laptop in your article and were linking out to, say Amazon, as an Amazon affiliate, if the site tells the reader that there's a newer version available and the reader decides to buy that one, you could still earn a commission on the sale of the newer laptop.
It's important to note however that this monetization method is very time critical.
When the reader is directed to the seller's website through yours, this leaves what is known as a cookie.
In order to receive any commission from the brand, the reader has to buy the product or service within a set period of time (e.g. 24 hours) from the time of the cookie, in accordance with the seller's affiliate marketing policy.
Because this monetization method is so time critical, we strongly advise anyone intending to go down this route to provide as much positive and crucial information as possible on each product.
This way, the reader is extremely interested in buying the product before they even get to the seller's website.
We mentioned Amazon as an example of a business with an affiliate program, but there are a great many more.
Check out this huge list of affiliate programs that are accepting bloggers.
Amazon is an easy site to start off with as an affiliate marketer, but it doesn't always offer the best commission rates.
So before you begin in affiliate marketing, be sure to shop around to pick out the right business to work with.
To learn more, read: The Ultimate Beginners Guide To Making Affiliate Marketing Money
3. Selling eBooks
If, over time, you have acquired a bank of knowledge, or guidance, or ideas on your blog's niche, very often you can turn said knowledge into digital products that you can sell directly on your blog.
One of the more common examples of such a digital product is an ebook.
The great thing about e-books is that they do not have to be really long in order for them to have enough value to sell.
It is the nature of the content that is key here, rather than the total number of pages.
Of course, in order to make a profit from an ebook it has to offer unique content that either cannot be found elsewhere on your blog.
Or it compiles the content in a more readable way that is easier to navigate than randomly clicking through the site.
For the latter example, the ebook could start with your earlier blog posts, gradually progressing to the current day, whereas most blogs feature more recent content at the top.
E-books can be produced for a very wide range of niches, including everything from biographies, recipe collections, or instructional how-to books.
Moreover, you do not have to send your book to a publisher. You could just upload your ebook as a PDF file and sell it on your own website.
(Of course, you could always try the traditional publishing route if that appeals to you and can be achieved.)
But your options for this do not have to stop at e-books. You could create an audiobook, or a podcast, or online courses!
4. Selling Courses
Granted, launching courses is not quite as easy to achieve as creating an ebook. But you can price them much higher!
Creating other sorts of digital products may require investing in the relevant equipment and software.
However, this can often be done on quite a limited budget. I recommend this course hosting tool.
You can record video lessons on your iPhone. Or, if you want to launch an audio-only course, you could create an audio file to sell and download simply by using the built-in integrated microphone on your laptop.
Although, audio quality is super important so I suggest you invest in a microphone. My favorite one is under $160!
And you can often get free software online, so you can create amazing digital products for a profit on your blog at little to no expense on your part.
Once you have created your digital product, it will be time to drum up some attention and demand for it. Read these guides to learn how to market and launch things.
Of course, you can, and you must do this through the blog itself. But your blog is not the only avenue for this…
You should also promote the release of your digital product through the big social media channels, including the likes of Facebook, which has a huge global following.
As well as any other social media apps that your target audience is likely to use and discover you on.
5. Sell Services
Another way to monetize a blog without ads is to sell a service on your website.
You could offer anything! Think about what your audience needs, and create a service to help them.
5 Ways To Monetize A Blog Without Ads – Conclusion
So, today we have covered three different ways to monetize your blog/s without resorting to pesky ads.
Hopefully, I've given you some good ideas and food for thought that will prepare you for the next steps in your blog's journey, or even set you on your way to flipping your blog for profit.
We don't particularly value one monetizing method above another, they're all great in their own way when done right.
But certain niches often lend themselves better to certain monetizing methods over others.
And, it's important to note at this point that these ideas for ways to monetize a blog without ads only scratch the surface. There are many more ideas out there, which you will discover on my blog.
It's worth taking the time to browse around the HerPaperRoute website, to get more inspiration, guidance and tips.
Read this Next: