10 Expert Ways To Monetize Blog Niches
10 different ways to monetize blog niches: Wondering how to monetize your blog? Is your blog niche profitable? How do you find a profitable niche to blog about?
As someone who runs multiple profitable blogs for a living, I can tell you what makes some blogs profitable and others not. This may surprise you…
Why Are Some Blogs Profitable And Others Not?
Truthfully, you can choose any niche. It'snot the niche that matters, it's what you do with it that matters.
🫶 Want to Make More Money?🫶
Become a member of HerPaperRoute today and get a toolkit packed with resources to help you make that paper. All for FREE!
---
As an affiliate partner of various brands and sponsored content, HerPaperRoute may earn commission on qualifying purchases. Disclaimer | Advertise With Us
I run multiple blogs in different niches.
From tech, travel, beauty, fashion, affiliate marketing, money, and even coupons.
All of these different websites make money. But it is NOT their niche that makes them profitable.
These blogs are profitable because I know how to monetize blog niches.
More specifically, I know how to market blogs to the right shoppers who want to buy what my blogs are advertising.
These are important factors to mention because as you are starting your blogging journey, you will often hear how you need to "choose a profitable niche."
In all honesty, any niche can be profitable and any niche can be monetized.
The only thing that makes it profitable is YOU.
Monetize Any Blog Niche: What That Means
Let's say that you choose the personal finance niche because you've heard that it's profitable.
But, you have no experience or expertise in the field and no interest in the niche at all.
Because of this, it most likely will not be profitable for you.
Whereas if you choose a niche that you have an interest in – one you will be excited to blog and promote consistently about – well, then you have a good chance at making it profitable for yourself.
In all honesty, any niche can be profitable and any niche can be monetized. The only thing that makes it profitable is YOU.
Important Tips For Monetizing Any Niche
Here is a basic guide to monetizing a blog, regardless of niche:
Pick a niche that you personally have an interest in, know something about, and won't get bored writing about over and over
Put your all into creating great content around your niche (If you need to learn how to slay at affiliate marketing, read this!
Monetize your blog with products that make sense for your niche
Then, go hard marketing it to the right audience
That is how you monetize blog niches (any!) and make a niche profitable.
10 Ways To Monetize Different Niche Blogs
So, as you are thinking up what niche you may be interested in pursuing, here is some inspiration to help you.
Here is how I would monetize 10 different blog niches, if I were starting a new niche blog today.
Including the exact affiliate programs I would participate in and what specific blogging tools I would use to monetize my blog and grow it like a pro.
Monetize Food Blog, Recipes Niche
Monetize blog niches #1 – Food
If I were starting a blog in the food and recipes niche, specifically if I were looking to monetize a food blog, I would first set my blog up with a professional theme made specifically for a food blogger.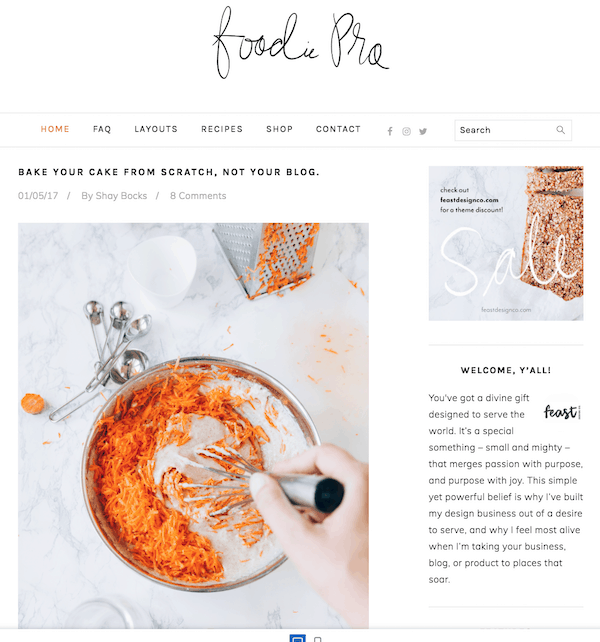 For an excellent food blog theme, I recommend Foodie Pro by StudioPress.
This theme is powerful, responsive and easily integrates an e-commerce shop so you can add another revenue stream, by selling your cookbook right from your website.
Then, I would join some food affiliate programs.
Food Affiliate Programs For Both Humans & Pets:
AWIN has a huge directory of food affiliate programs. There is a one-time application fee of $5 to join this network, but you get it credited back to your account as soon as you are accepted.
Join AWIN here to get access to all of their affiliate programs.
Next, I would install the WPTasty Recipies Plugin which converts recipes from other sites.
Since it gets overwhelming keeping track of so many recipes and affiliate programs with a food blog, I recommend using the WPTasty Links Plugin as well.
This life-saving plugin automatically populates affiliate links for specific keywords across your blog with just a few clicks.
Using the two plugins together gives your foodie blog a double-whammy of food-blog-monetization-super-powers.
All in all making it super easy to increase your food blog affiliate commissions!
Monetize Bedroom Design & Styling Niche
Monetize blog niches #2 – Bedroom styling
Creating a bedroom design niche blog gives you plenty of opportunities to blog about bedroom furniture, but the highest commission bedroom objects are always mattresses!
You will earn $150 per sale when you join the DreamCloud Luxury Mattress affiliate program. If you sell 10 mattresses in 30 days you will earn an additional $1,000 bonus!
SleepOvation is another mattress company with an affiliate program that pays up to $250 commission per sale.
Earn commissions promoting bedding and bedroom decor via the BeddingInn affiliate program.
You can promote those cool salt rock bedside lamps as a Himalayan Salt Shop affiliate.
Wayfair is another great option for monetizing a bedroom niche blog, as they have a huge catalog of bedroom furniture and accessories.
If I were to monetize a bedroom styling blog I would plan my marketing campaigns around two major times of the year when people are thinking about purchasing bedroom items the most.
The Christmas holidays, as people typically have family staying with them and need more beds.
And Septemeber when students go off to college and need items for their dorm rooms or first apartments.
Closets and organization affiliate programs are also a smart way to monetize a bedroom styling blog.
Join the EasyClosets affiliate program where the average sale is $500-$1500, which you will earn up to 7% of!
Monetize Travel Blog & Travel Niche
Monetize blog niches #3 – Travel
There are many ways you could monetize a travel blog.
I would start by using a travel WordPress theme, specifically made for travel bloggers and travel booking agencies.
Professional Travel Blog Themes To Monetize Your Travel Website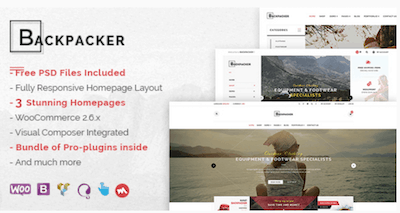 Backpacker – WooCommerce WordPress Theme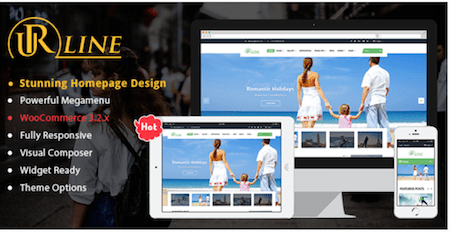 Urline
– Travel News And Magazine Theme
Once you have a professional travel theme installed, join some tourism affiliate programs and blog about the services they offer.
Also, join the Travel Payouts affiliate program so that you can use it to add a flights and hotels search bar to your blog.
You will earn a commission whenever someone books their travel through your website.
You can even white label their widgets so that the hotel and flights search results appear to come from your domain.
Monetize Photography Niche
Monetize blog niches #4 – Photography
CreativeLive offers free and premium online classes (many are live) on just about every creative skill you could ever want to learn.
They have a huge selection of photography classes, and frequently offer special discounts and sales which make it a breeze to sell.
Join the CreativeLive affiliate program HERE and earn 30% RECURRING commission
Furthermore, blogging about photography gear and then using Amazon affiliate links for your recommendations would be a smart way to monetize a photography niche blog.
You could also turn your blog into a membership site where you provide styled stock photography that people pay a monthly fee to access.
An example of a successful photography site that monetized by selling memberships are Styled Stock Society.
Turning your website into a membership site is as easy as installing this plugin.
Monetize Car Reviews Niche
Monetize blog niches #5 – Cars / Auto
First, I would install a premium theme specifically built for managing a car reviews website.
Some recommendations for car review WordPress themes: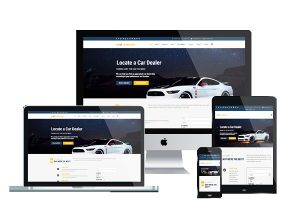 LT Carmarket: Car Dealer WordPress Theme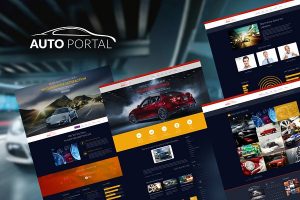 AutoPortal: Car Reviews WordPress Magazine Theme
Next, I would monetize my car reviews blog by blogging about some automotive related affiliate products, after joining these car affiliate programs:
Then, I'd further monetize my new car reviews blog by making it a membership site.
To do this I would install the UserPro membership plugin which creates a powerful membership portal.
Then I could charge a monthly subscription for people to access premium features of the site.
Monetize Personal Finance Niche
Monetize blog niches #6 – Finance / Money
You could teach your own courses about budgeting and finance, and sell it to your readers at a premium.
Big list of affiliate programs for personal finance bloggers -> here!
Monetize Social Media Blog & Social Media Marketing Niche
To create and sell online courses, either use Teachable, or Podia, or my #1 pick Thrivecart.
Monetize blog niches #7 – Social Media / Pinterest VA
If I had a blog in the social media marketing niche, I would monetize it with some social media affiliate programs as well as with my own services.
Think of some social media tasks you could do and then offer them for sale form your website.
You could offer Instagram account engagement services, Facebook profile management, create social media campaigns for brands and so on.
Pinterest VAs (virtual assistants) get paid royally to grow the Pinterest accounts of others.
Learn Pinterest marketing first, and then hire yourself out as a Pinterest VA for top dollar.
Some social media affiliate programs you can join right away:
OptinMonster affiliate program – OptinMonster helps with lead generation.
SocialClimber is an app that helps you to schedule social media posts. You can even use this app yourself to create your own virtual assistant or social media agency and make money running social campaigns for other people. Join the SocialClimber affiliate program on ShareaSale.
No matter what type of social media blog you have, or what type of services you offer, it is critical that your own website be optimized professionally for stellar SEO and Pinterest SEO.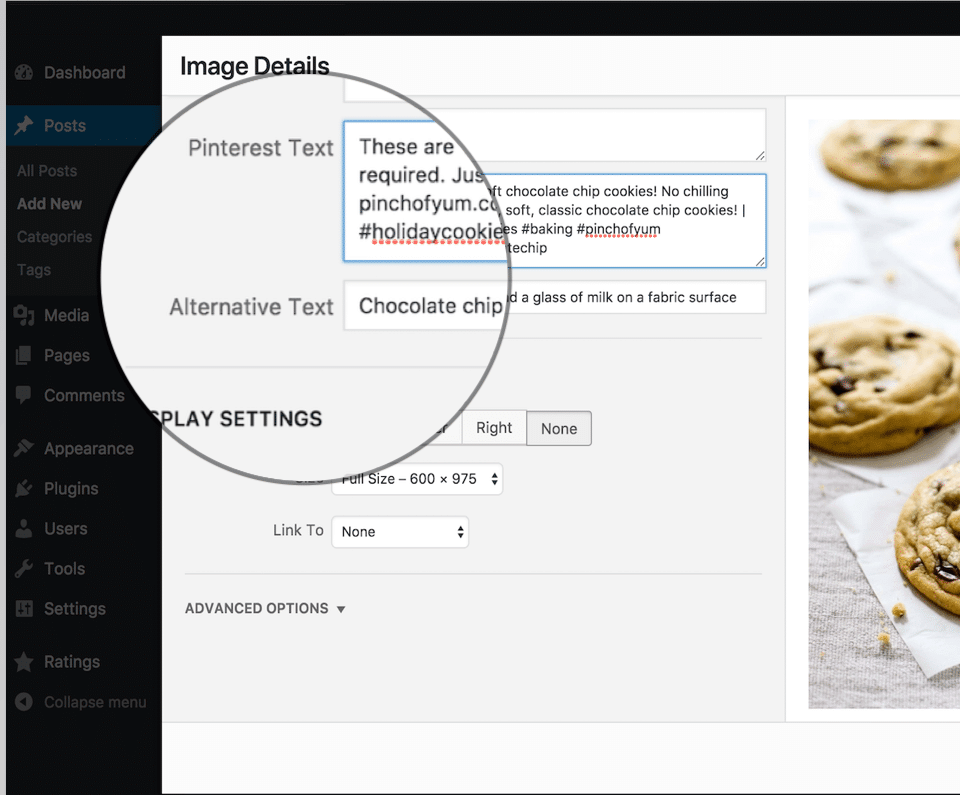 For this I use the WPTastyPins plugin. This plugin allows you to optimize your blog's images for Pinterest, SEO, and screen readers.
Here's what WPTastyPins does:
SET PINTEREST DESCRIPTIONS Set descriptions for your images that will perform well in Pinterest search. Include hash tags, keywords, and whatever else your heart desires.
UTILIZE ALT TEXT FOR SEO AND ACCESSIBILITY

Your image's alt text should be used to describe what the image is, not to add a description for Pinterest. Tasty Pins allows you to do both!

HIDE PINTEREST-SPECIFIC IMAGES FROM YOUR PAGE

Add a hidden Pinterest-specific image on your website front-end with the click of a button.

DISABLE PINNING ON CERTAIN IMAGES

Not every image is perfect for Pinterest. Give your readers fewer, better options for saving to Pinterest by disabling Pinning on certain images.

ADD A HOVER BUTTON ON ALL IMAGES

Hover buttons are a great way to remind your readers to save your images to Pinterest. Tasty Pins automatically adds the default Pinterest hover button to your images so your readers can come back to your content when they are ready.

FORCE PINNING OF HIDDEN IMAGES

Force users to Pin your Pinterest-perfect hidden images with the click of a button.

LIGHTWEIGHT & LIGHTNING FAST

Tasty Pins is built with speed in mind. Optimize your images and improve Pinterest sharing all without sacrificing page load speed.
While sharing your own social media tips and services, you can also monetize your social media marketing niche by promoting social media classes.
Take a look at the social media category at Creative Live to see what you can promote, and then Join the CreativeLive affiliate program here to earn 20-30% of every class you sell.

Monetize Subscription Box Niche
Monetize blog niches #8 – Subscription Boxes
I built a subscription box review blog last year and monetized it so it was making more than $2,000 per month. I then sold the blog for $50,000 profit.
In addition to the income, I was also getting over $5,000 in subscription boxes and products for free each month.
This is how I recommend you can monetize a subscription box niche blog.
Since there are so many different types of subscription boxes, you will need a theme that can easily be set up and categorized for all the different types.
If you are blogging about something where there are many variations of, you should look for a 'directory' style WordPress theme.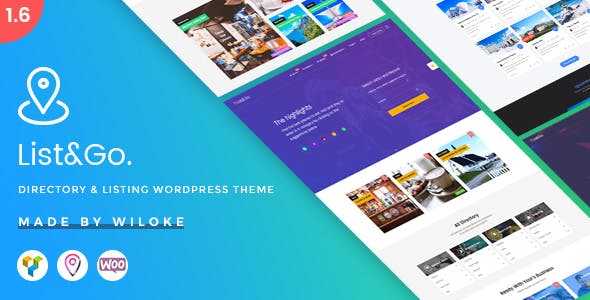 I recommend List & Go, it is one of the most popular directory WordPress themes. It has built-in directory features that allow for a powerful coupon system.
Having a coupon system for a subscription box review blog (or any review blog) is great because it will help you make more affiliate sales.
This theme also has an 'events and bookings' feature too which can come in really handy.
You can use the free Loco Translate plugin to change anywhere the word 'Events' appears to read 'Boxes On Sale' for example and create sales resource to further promote subscription box coupons.
There are thousands of subscription box affiliate programs out there.
In addition to ShareASale, I recommend that you join AWIN to gain access to the subscription box brands who host their programs there.
Monetizing A Subscription Box Blog Tips
When you run a subscription box review blog, you will need to stay on top of the seasonal boxes and do some marketing/planning ahead each season.
For example, Curateur comes out once each season, and you will need to make sure that you have prepared to promote it before it starts shipping for the season.
You can reach out to your affiliate managers to arrange for the free subscription boxes to review.
However, they don't give free boxes to just any affiliate who asks, so it's important that your blog is professional-looking and gets good pageviews.
For tips to increase your page views, enroll in our free SEO course, and be sure to enroll in The Blog Monetization Course to learn the ins and outs of running a professional blog as a business.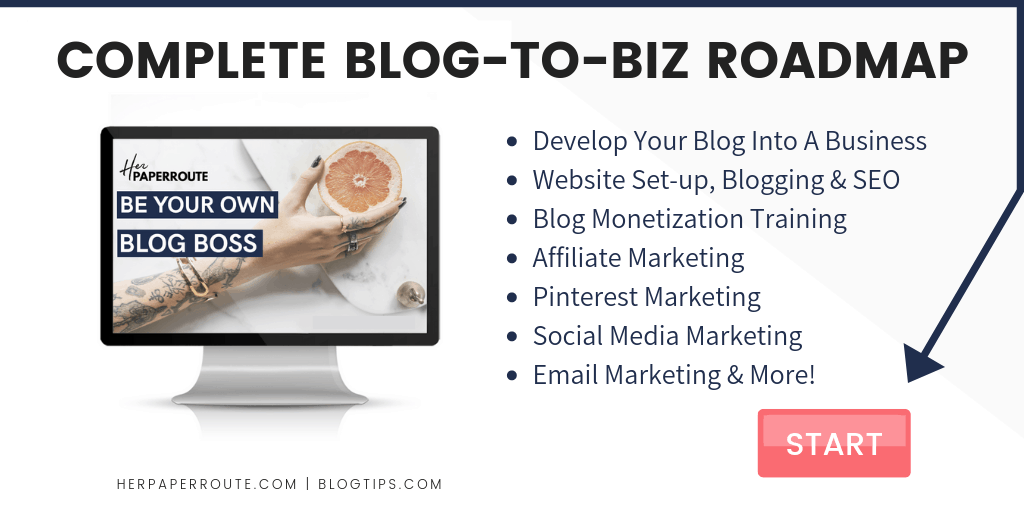 Having a healthy-sized mailing list ups your chances of getting free subscription boxes to review, too. I use ConvertKit to manage my list.
To learn more about email marketing, check out our email marketing course.
For box spoilers, I would recommend writing your blog posts in advance, so you are ready to publish them as soon as your affiliate manager has announced that it's OK to post about the spoilers.
Monetize Craft Blog Niche
Monetize blog niches #9 – Crafts / DIY
Some top affiliate programs in the craft blog niche are:
Join the Mixbook affiliate program and earn:
Highest Commission in the photobooks industry starting at 15%
Average order size of $120
120 day cookie for conversion tracking
Affiliate promotions
Vanity codes and custom landing pages
Join the Bluprint affiliate program and earn:
15 – 75% of of DVD purchases

4 – 15% of physical product purchases

$15 monthly membership signup

$25 annual membership signup
Join the Etsy affiliate program via AWIN and earn:
5% for existing buyers
8% for new buyers
30 day cookie period
You could also further monetize your craft blog by selling your own items on Etsy as well.
For more craft blog affiliate programs, have a look at the HerPaperRoute Affiliate Programs Directory, Craft Affiliate Section.
Monetize Fashion Blog Niche
Monetize blog niches #10 – Fashion
Most online clothing retailers have an affiliate program, so if you are a fashion blogger you will have no shortage of brands to work with.
Once you join AWIN, you will be able to participate in hundreds of affiliate programs. Some categories for example:
Clothing
Clothing Accessories
Department Stores
Health & Beauty
Jewelry
Menswear
Shoes
Sports Equipment
Sportswear
Some notable fashion affiliate programs you can join on AWIN are Nasty Gal and ASOS.
The Osap fashion affiliate program pays up to 30% per sale.
As well as the Warby Parker affiliate program which offers 20% commission on every sale, plus .50 per lead for every free home try-on you refer.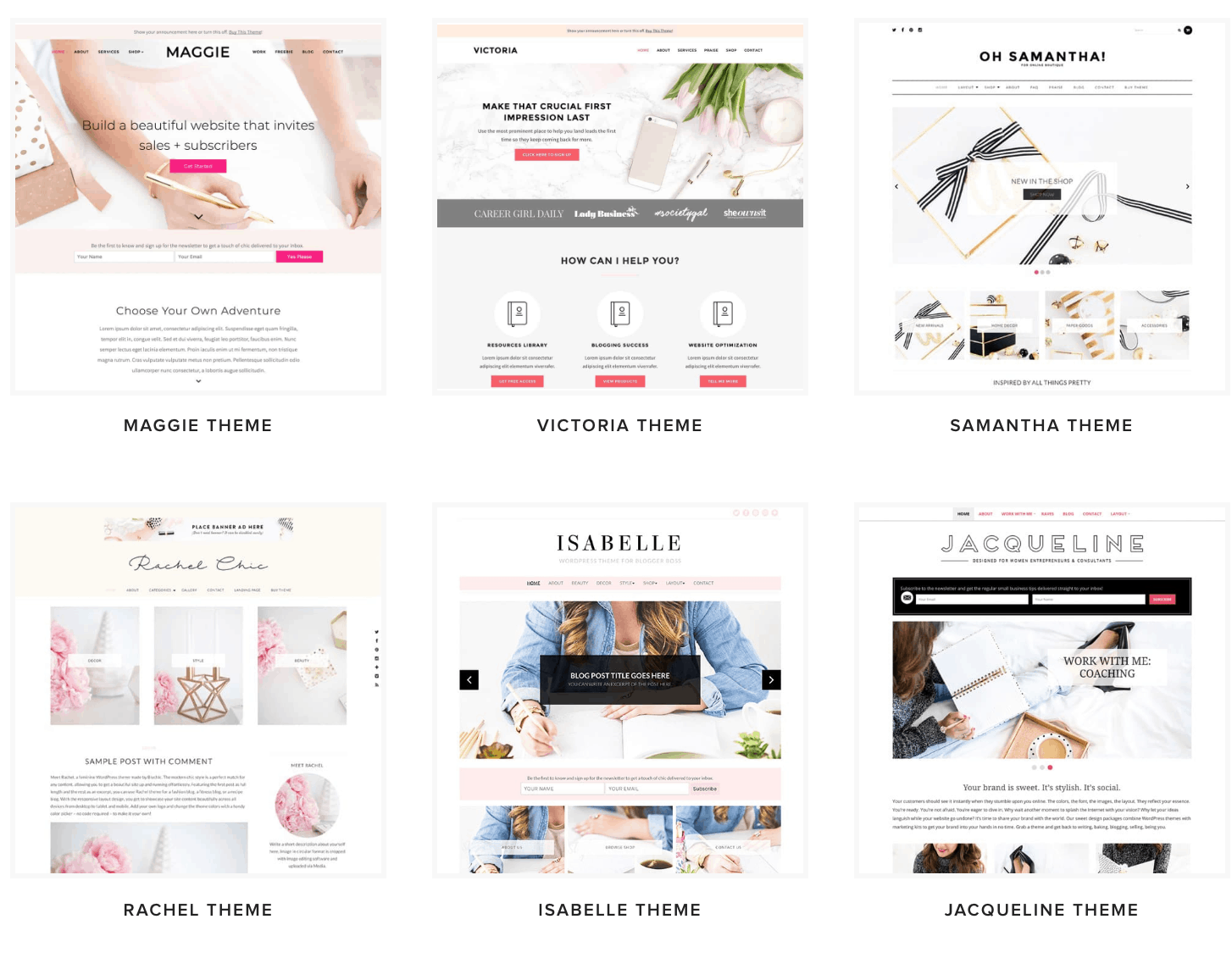 When building a successful fashion blog, it's important that your website has a visually attractive aesthetic.
Have a look at the gorgeous WordPress themes at Bluchic for this.
Every fashion blogger knows the power of Pinterest when it comes to growing your fashion blog.
You can use WPTastyPins to make your images perfect for Pinterest SEO, as well as Tailwind and Tailwind Tribes to grow and automate your Pinterest marketing.
Dropshipping is another fantastic way to monetize a fashion blog. You could set up your own clothing store, right from your blog.
What Is Drop Shipping?
Dropshipping is when you list products for sale on your website that you don't actually have.
Then when someone buys it from you, you buy it for cheap from your supplier in China and the supplier ships the product directly to your customer.
Dropshipping can be incredibly lucrative since there is so little expense. No inventory, no shipping fees.
You can run a complete dropshipping store on your own website using the AliDropship plugin, which is a one-time payment for the license.
The AliDropship plugin makes it possible to import wholesale products from AliExpress right into your website, manages the supplier's inventory, pricing, sales and more.
Or, if you didn't want to run a store on your website, you could run your store on Shopify instead.
Shopify costs $29 per month, after your free trial.
You can't use the AliDropship plugin on Shopify, but they have their own similar tool called Oberlo.
Monetize Real Estate Blog Niche
Whether you are advertising properties for sale, or short-term rentals like an AirBnb module – with a real estate niche advertising is everything.
Marketing is very important.
Create a unique hashtag for your properties. Then encourage your guests and everyone who comes for viewings to take photos and share them on social media using the hashtags.
Use your blog to illustrate how wonderful the home, neighborhood and city is. Blog about local restaurants, things to do and see, and quite literally paint a picture of what life would be like for your buyers/renters.
Use affiliate links for everything you blog about. To learn about affiliate marketing, read this.
Have local businesses pay to appear on your blog via ads or full sponsored posts.
Here are my top picks for the best real estate themes:
WP Pro Real Estate 7 is a beautifully designed professional WordPress theme for real estate agents, brokerages, apartment managers, residential & commercial developers, vacation rentals and so much more.
This is not only a theme but a complete solution for your real estate business, with frontend and backend features focused on usability you'll engage more users, capture more leads, gain more potential clients and earn more commissions.
You can build anything from a paid real estate listing portal to a vacations rental site like AirBNB, to a single real estate listing landing page site, or a site for apartment rentals!
Try the demo and learn more about the Wp Pro Real Estate 7 Theme.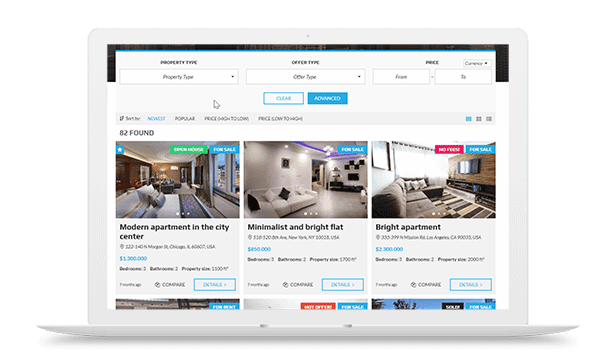 MyHome is a premium Real Estate WordPress theme that you can use to create amazing and intuitive Real Estate websites your customers will love to use. Flexible and innovative, MyHome requires no prior coding knowledge, making it easy for you to build sleek, user-friendly websites.
Single Click Import – With access to six tailored demos, 14 homepages and a wide range of ready-to-use pre-set pages, building your website is easy. MyHome includes a varied library of images and video that are available for your use at no extra cost.
Intuitive Page Builder – Build pages with our handy drag and drop system. MyHome has 18 more drag and drop modules than WPBakery Page Builder, one of the leading WordPress plugins on the market. Each module is specially designed to work with MyHome and is not available anywhere else.
Custom Fields – Every Real Estate business is different, and MyHome ensures that you're never stuck with default settings. Create an unlimited number of custom search fields to make sure that your search engine meets your clients' needs.
Map Searches – Add Google Maps to your website with additional filtering capabilities. It is fully dynamic and integrated with Google Street View.
Flexible Property Page – Use galleries or full-width sliders to make your property page look amazing. Change the order of the single property sections, customize your sidebar and contact forms. Disable modules you're not using with a single click. Our powerful pricing module allows you to assign multiple price points to one property at the same time, such as price ranges, or rental vs sale. Add Property videos, virtual tours, plan attachments and more.
Compare Properties – Users can compare an unlimited number of properties simultaneously. Differences between property fields, location and price will be visible at a glance, relieving users of the frustration of hopping between browser windows to compare potential purchases.
Monetize Your Website – Memberships and packages enable you to turn your website into a source of revenue.
Lifetime Free Updates – Exactly what it says on the tin; even if your support service has expired, you will still receive updates to your MyHome theme free of charge.
Monetize Beauty Blog – Green Beauty Niche
How to monetize a beauty blog, specifically a green beauty blog comes down to just two main things.
Join green / cruelty-free beauty affiliate programs
Be active on social media – especially Instagram and Youtube!
Did you know you can add clickable affiliate links to your Youtube video description and as annotations on top of the video itself?
You can also add clickable affiliate links right on top of your Instagram images too with a few steps.
You don't need a minimum amount of followers to enable this feature.
You can add links to products and services you own, as well as add affiliate links.
Actually, you can add links to anything!
See a live example of what a shoppable Instagram feed looks like right here!
More cruelty-free affiliate programs on ShareaASale: Detox Market, 100% Pure, Credo Beauty, WinkyLux.
Keep Reading
21 Pro Bloggers Share Their Advice For New Bloggers