You may have been inspired to start your own affiliate marketing website after seeing the income reports of these bloggers who earn $10,000, $50,000 even $100,00+ per month.
Consider this post an 'affiliate marketing for beginners' crash course! Let's explore how to monetize your blog with affiliate marketing.
This site features ads and affiliate content Disclosure • Advertise with us
How To Create Your Own Affiliate Marketing Websites & Make Money While You Sleep
Once you have set up your website and set up automation funnels to auto-promote it, it then becomes a source of revenue.
A source of revenue where sales happen at any time day or night.
When you run profitable affiliate marketing websites, you are literally making money while you sleep.
How Do You Create Profitable Affiliate Marketing Websites?
The first step in creating profitable affiliate marketing websites of your own is to understand what an affiliate marketing website is.
Affiliate marketing websites (or blogs) are websites used for the purpose of making money via affiliate commissions.
If you aren't familiar with what is affiliate marketing, then let's back this up a minute and run through the basics of affiliate marketing right now.
What Is Affiliate Marketing And How Does It Work?
Before we can discuss how to build your own affiliate marketing websites, we need to understand what affiliate marketing is and how affiliate marketing works.
So, what is affiliate marketing and how does it work?
~ Pin This ~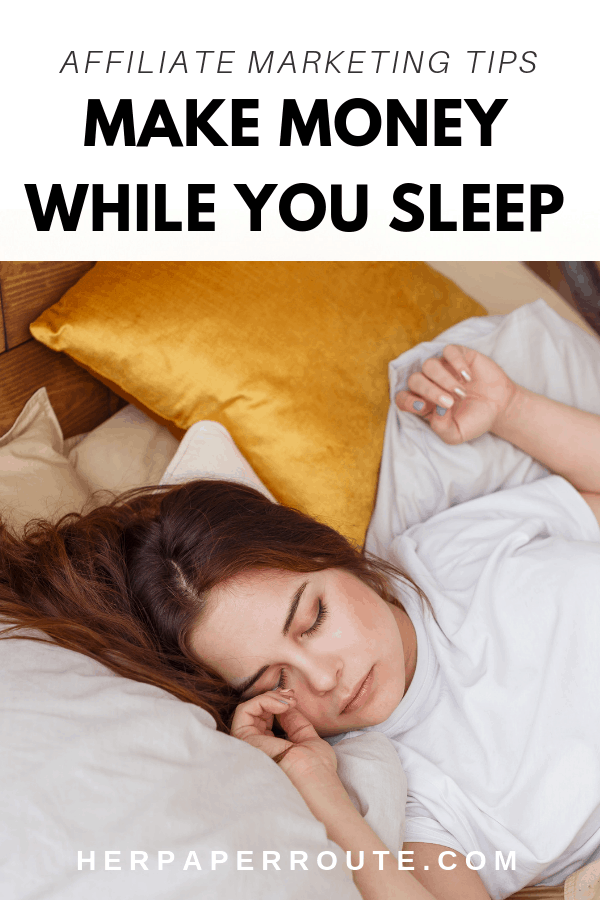 What Is Affiliate Marketing? Affiliate Marketing Definition:
Affiliate marketing is the job one does to promote a brand's products or services, whereby you earn a commission for referring sales.
Affiliate marketing is when you earn money by promoting other people's products/services.
Typically, you will build your own affiliate marketing websites using WordPress and do most of your promotions by writing blog content about your affiliate products.
You earn money whenever someone makes a purchase after clicking your affiliate link.
How Do Affiliate Marketing Websites Work? How Does Affiliate Marketing Work?
In a nutshell, this is how affiliate marketing websites work:
You build an affiliate marketing website (I'll show you how in a moment)
You find a product you like
You join the affiliate program of the brand (aka the company) who sells the product
The brand gives you a unique tracking code called an affiliate link
You create content (blog posts, ebooks, social media posts ect) in promotion of the product, using your affiliate link
When someone makes a purchase after clicking your affiliate link, you earn a portion of the sale, called a commission
The customer doesn't pay any extra. Your commission is paid to you by the brand.
What Is An Affiliate Marketer?
An affiliate marketer is a person who connects a customer to a brand. Also referred to as the 'publisher' or simply the 'affiliate.'
The affiliate marketer is the 'webmaster' of their own affiliate marketing websites, and they publish content in promotion of the brands that they are affiliated with.
An affiliate marketer is often a blogger who creates blog content about products and shares their opinions of the products.
An affiliate marketer earns a commission when someone buys the product which they recommend, after clicking through their affiliate link.
Who Is The 'Affiliate'?
The 'affiliate' is the affiliate marketer.
I often hear bloggers say "I have applied to several affiliates" or "I have lots of affiliates on my blog." This is the wrong wording, friends!
What they really mean is "I have applied to several affiliate programs." Or, "I am an affiliate for many brands and participate in many affiliate programs via my blog."
Because they, the blogger, aka the affiliate marketer is the affiliate.
The brand is not the affiliate. The brand is the brand and advertiser.
The affiliate program is not the affiliate. The affiliate program is the affiliate program.
It is the blogger aka the affiliate marketer aka the publisher who is the 'affiliate.'
…Confused yet? Stay with me.
This may seem like 'tom-eyy-to, tom-ahh-to' but really, it's wise to get the right terminology down, if you really want to look professional.
You don't want to refer to the brand you are promoting as "your affiliate" because actually, it is YOU that is THEIR affiliate!
What Is Affiliate Marketing's Purpose?
I don't need to beat around the bush here, and I have no problem with telling you like it is.
The purpose of affiliate marketing is to make money.
Money for the brand by achieving more sales of their products. Affiliates help increase sales for a brand, by having their products seen by a wider audience.
And money for you, the blogger by way of commissions on the referrals you send to the brand.
However, it goes deeper than that.
Because being successful at affiliate marketing takes a lot more than just being a good saleswoman.
You actually need to be a great content creator, one that provides honest and helpful resources to your readers.
Building relationships with your readers and gaining their trust by being honest and real is how you make it as an affiliate marketer.
No one wants to make purchases from someone who is seen as slimy, pushy or salesy.
To have success with affiliate marketing you really do need to be a helpful and honest resource to your audience first and foremost.
That being said…
A Big Reason Why I Support Bloggers / Affiliate Marketing Websites
Whenever I need to buy something online, I always go to my favorite bloggers' websites and purchase the thing I needed via their link.
Sure, I could go directly to the brand's website or Amazon to make the purchase, but I'd rather support a blogger.
It takes two seconds to click through a blogger's affiliate link and land on the brand's website before making my purchase – and those two seconds are well worth it.
It doesn't cost me any extra money, and often it is actually cheaper to buy something via a blogger's link as they will often have a partner discount.
But the big reason why I do it is that it feels great to support a fellow blogger who you know appreciates the sale.
Knowing that she is probably at home doing a little happy dance seeing a commission come in is why.
Honestly, a little happy dance is what I do whenever I earn a commission!
I don't think any 'big brand' does any happy dance or really cares when you buy directly from them, after all!
How Much Does Affiliate Marketing Cost?
Affiliate marketing costs nothing. There are no direct costs associated with affiliate marketing.
You don't have to buy anything in order to promote a brand/product and earn money as an affiliate.
There is no fee to participate in an affiliate program.
But of course, the only costs that you would pay are related to your website costs such as your yearly hosting and domain fee.
You can get web hosting for just $2.95 and a free domain here.
How Much Can You Make From Affiliate Marketing?
There is no limit to how much money you can make from affiliate marketing.
Some affiliates make a few hundred dollars a month, some make a few thousand dollars per month, others even make over $100,000 per month.
How much you can make with affiliate marketing only depends on how well you promote the right products to the right customers.
Here is a screenshot of my affiliate commissions from just one advertiser on the AWIN network.
If you aren't yet part of AWIN, you really need to get on that!
*note their $5 sign up fee is credited back to your account as soon as you are accepted to the network.
How To Create Affiliate Marketing Websites
The first thing you need in order to start making money with affiliate marketing websites is you need web hosting.
Once you have ordered your web hosting, follow this step-by-step beginners guide covering everything you need to do to set up your website correctly. (It is super easy, I promise!)
Products from Amazon.com
‹
›
Types Of Affiliate Marketing Websites
Once you have your website installed, you should decide what type of format your affiliate marketing website will have.
Here are the 5 main types of affiliate marketing websites:
Personal Blog
Creating an affiliate marketing website that operates as a personal blog will often mean that you are the 'face' of the business.
You write about your personal opinions and experiences related to the affiliate products you promote.
You also share personal stories about yourself or your family alongside your affiliate promotions.
You blog about a variety of topics and may or may not have one defined niche.
You engage in the comments and on social media as your self (not as a company) and give an overall 'personal' touch to your affiliate marketing websites.
Authority Niche Blog
An authority niche blog is a professional blog that may or may not have a person that is the 'face' of the website.
An authority niche blog has a defined, specific niche and your content rarely sways from that one topic.
Your content is authoritative, teaches some sort of skill or education around the affiliate products you promote.
You don't typically share personal stories about yourself, your family or your personal life on an authoritative niche blog.
But that isn't to say these types of affiliate marketing websites can't still be personal.
It's just that your personality on an authority niche blog is shared in a more 'professional' manner.
This site, HerPaperRoute.com is an authority niche blog.
Reviews And Comparison Website
Writing reviews of various products and comparing products is a way to give shoppers more information, usually appearing unbiased, and nonpersonal.
These websites will often cover products in a wide range of niches.
TheWireCutter.com is an example of a reviews and comparison website.
Price Comparison Site
Travel/vacation booking websites that scan various travel and flight websites to present the cheapest flights are price comparison websites.
Comparing prices on insurance, banks, and other large ticket items are common in this type of affiliate marketing module.
NerdWallet.com and ComparedTravel.com are examples of this.
Authority Website
Authority websites are affiliate marketing websites that do not tend to have a 'person' behind them (as with blogs).
But rather, authority websites provide authoritative information about affiliate products, usually in just one defined niche.
TheSpruce.com and LifeWire.com are examples of this.
Of these 5 types of affiliate marketing websites, which make the most money?
You would probably assume that the big authority websites would make the most money.
But when it comes to making your own affiliate marketing website, the format you follow isn't the thing that determines if you will make money or not.
In all honesty, the one thing that determines if your website will be profitable or not is THIS!
How To Find And Join Affiliate Programs To Monetize Your Affiliate Marketing Websites
Once you have decided on your format, start writing content.
Fill your website with at least 6 pages of content before you start applying to affiliate programs.
How to find affiliate programs to join is as simple as visiting my High-Paying Affiliate Programs Directory and joining affiliate networks such as AWIN and ShareASale.
Visiting the website of the company you want to promote, and looking in their footer for any mention of their affiliate program is another way to find affiliate programs to join.
Some of my favorite high-paying affiliate programs:
NomNomNow – $75 per sale
Garden Tower Project 16% per sale plus $20 affiliate bonus
Craftsy: 15 – 75% of of DVD purchases
Mixbook 15% plus $30 affiliate bonus
Warby Parker 20% per sale, $10 affiliate bonus
Vitafive $25 per sale
CreativeLive 30% recurring
Madison Reed $20 per transaction, $10 affiliate bonus + free products
Once you have joined a few affiliate programs, start researching the products.
Then create some epic content on your affiliate marketing websites in promotion of it.
How To Make Money With Affiliate Marketing Websites
These four steps could be considered affiliate marketing website strategies, or simply just good affiliate marketing best practices in general.
What's worked for me to be successful in affiliate marketing has always been:
1. Provide honest, accurate recommendations about products that I use personally.
Easy-peasy.
2. Create interesting content that gives people more information about a product.
Go in depth explaining why I like a product, exactly what it does and how it has helped me.
3. Create free content to encourage more affiliate sales
Create content like a downloadable cheat sheet or a course or training around how to use the affiliate product.
Then give away this content for free.
For example, I teach a course on how to run a drop shipping store on Shopify, which people can enroll in for free. I also give an extended free trial of Shopify so my students can use the platform for free while they learn how to create their shop.
Then when they upgrade to a paid plan I earn a commission for the referral.
By providing useful content and giving it away for free, you can help more people, while earning more commissions yourself.
4. Create A Bonus
Offer your readers a bonus incentive for purchasing an affiliate product via your link.
Considering giving a free copy of your premium ebook when someone purchases your affiliate product.
For example, when someone purchases their web hosting with my Bluehost partner discount, I build them a website for free. Really!
All you need to do is order your hosting via this link and then send me an email with your recipt. You'll get a free domain and a premium WordPress theme for free too.
Create Affiliate Marketing Websites: Success Tips
Build relationships with your audience
Provide helpful useful and content
Support your fellow bloggers
Create free training or bonus content for your audience, as an incentive to increase affiliate sales
Above all be honest!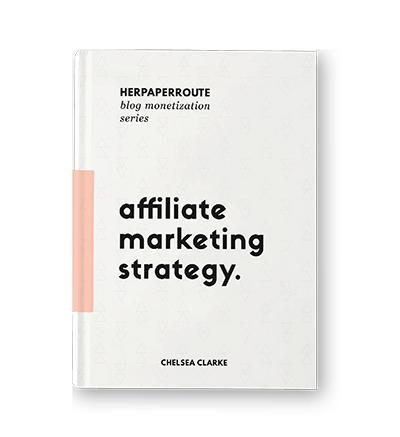 To Learn More About Affiliate Marketing Websites
To learn more about affiliate marketing and how to run a profitable affiliate blog, get yourself a copy of the Affiliate Marketing Strategy ebook.
You will learn all of my strategies and tips on how I use affiliate marketing to earn over $12,000 each month.
Affiliate Marketing Must Reads:
3 Affiliate Marketing Myths That Are Keeping You Broke
5 High Paying Affiliate Programs You Need to Be In
How To Write High-Converting Affiliate Reviews
High-Paying Affiliate Programs Directory
I'll Write You A Weekly Love Letter With Helpful Money-Making Tips
To get an affiliate marketing / blogging tip each week via love letter from me, sign up to become a HerPaperRoute member below.
You will get instant access to my Entrepreneur Toolkit, a resource library of blogging tools too. You'll be in good company: we have 20,000 members!
There is no cost to be a member, and you can unsubscribe at any time.
~ Pin This ~