How to join the ASOS affiliate program and make money as a fashion influencer. For today's 'make money blogging' tip we are highlighting the ASOS affiliate program and diving into how you can join it, and earn commissions as an ASOS affiliate!
If you are new to affiliate marketing or new to making money from a blog in general, read our Affiliate Marketing For Beginners Guide.
This site features ads and affiliate content Disclosure • Advertise with us
Pin This: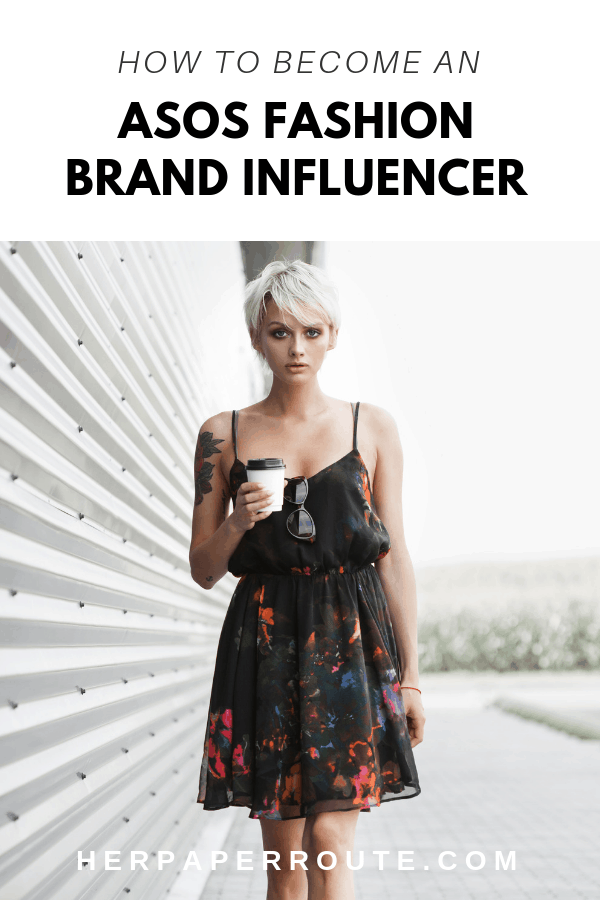 How To Join The ASOS Affiliate Program
Asos Affiliate Program Review
ASOS is the one of the largest independent online fashion and beauty retailers, and offers over 60,000 branded and own label products across womenswear and menswear. The company is growing fast, having increased it's revenue last year by 17%, and continuing to rise.
ASOS started in the UK and has expanded to North America, Australia and Asia, and has an affiliate program for each market. Read on for all the details on each of the ASOS affiliate programs, and join them today!
About ASOS
With 1,000 new lines added each week, ASOS.com is rapidly becoming the global market leader in the online fashion world. Aimed primarily at fashion forward twenty-something shoppers, ASOS's websites attract 23.2 million unique visitors a month and as at 31 May 2013 had 12.1 million registered users and 6.5 million active customers from 241 countries and territories.
The ASOS Affiliate Program Offers
5% commission on every sale
30 day cookie period
Updated creative in industry standard sizes
ASOS is known for giving it's customers a ton of great conveniences and offers, all of which make your job promoting the brand and selling as an affiliate easier!
Some of these offers are:
Free Delivery Worldwide on orders over £15 / $30
Premier Delivery for only £9.95 / $19 a year
Unique content added daily
10% Student Discount
Up to 70% off in the ASOS Outlet
How To Join The ASOS Affiliate Program, And Become An ASOS Affiliate
There are a few different ways to join the ASOS affiliate program, depending on what market you want to sell to, geographically.
The ASOS UK affiliate program is hosted on the affiliate network AWIN. First, you must join AWIN here. There is a $5 fee to join the network, but that money is credited back to you as soon as your account is approved.
Once your account is approved, and you are signed in to AWIN, you can join the ASOS affiliate program within.
There are many top affiliate programs hosted on this network as well, so once you are a member you can also apply the Top Shop affiliate program, Nasty Galaffiliate program and many more.
The ASOS USA affiliate program, as well as the ASOS Asia, New Zealand and Australia programs can all be joined on FlexOffers. You can apply to FlexOffers here.
Fashion Affiliate Programs UK + Worldwide
Whether you are American, Canadian or from anywhere, I would recommend joining the UK program as well as the US program, so you can sell to people visiting your site from both major locations.
Tips For Getting Approved As An Affiliate
You have a blog that is set up correctly for monetization (Here's a guide for how to do that)
Your blog is live and has a few pages of content. No 'coming soon' or 'under construction' websites
Mention in your application why your blog is a great fit for the brand
Mention in your application your best stats (social media followers, page views ect)
Mention in your application how you intend to promote the brand (on your blog, your social media, ect)
Related: All The Details On The Nasty Gal Affiliate Program & Influencer Initiative!
More High-Paying Affiliate Programs
Check out my directory of high-paying affiliate programs you can join today:
>> Fashion, Clothing, Accessories & Style Niches
>> Business, Financial, Entrepreneur & Education Niches
>> Tech, Apps, Gadgets, Web Hosting Niches
>> Home, Garden And Interior Design Niche
>> Craft/DIY, Publishing, Weddings, Creative Business Niches
>> Parenting, Kids, Family, Mombloggers Niches
The HerPaperRoute Profitable Blog Toolkit – Free!
My members-only resource library of tools to help you start a blog develop it into a thriving, income earning business!
Profitable Blog Cheatsheet!

Styled Stock Photos!

Social Media Marketing Planner! & More!
Already A Member?