How to Monetize Your Content with LTK: Influencers
This is the ultimate guide on how to monetize your content with LTK! If you are a content creator, blogger, or influencer you need to be utilizing the LTK platform.
With LTK's revenue-generating creator tools, it has never been easier to make money by recommending products you love. And with the tips I'm sharing in this guide, you will be well on your way to earning from your content in no time.
This guide covers what LTK is, how to navigate the app, and how to publish LTK content that generates sales.
Plus, everyone who uses my LTK referral and gets accepted to LTK will get a sweet $25 bonus!
---
As an affiliate partner of various brands and sponsored content, HerPaperRoute may earn commission on qualifying purchases. Disclaimer | Advertise With Us
---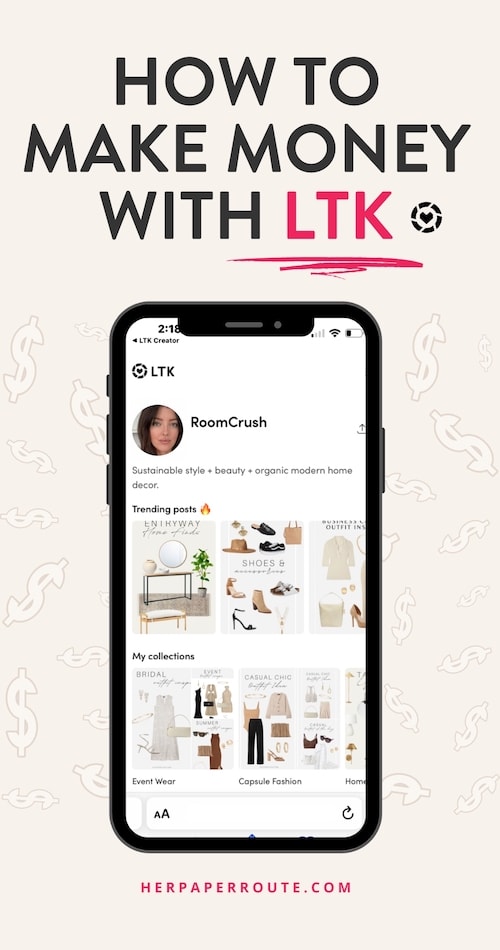 What is LTK?

Formerly known as Reward Style, LTK (stands for Like To Know It) is a shopping platform that allows users (shoppers) to discover products endorsed by their favorite influencers (creators).
For creators, LTK is a place to make money by recommending the products they love.
You'll find products from thousands of brands, including fashion, beauty, home, lifestyle, tech and more.
🫶 Want to Make More Money?🫶
Become a member of HerPaperRoute today and get a toolkit packed with resources to help you make that paper. All for FREE!
---
Imagine your followers being able to buy everything they see on your feed. And then you get paid for it? That's the power of LTK!
LTK is a fully shoppable app, that pays its creators.
How Do Creators Make Money Using LTK?
Creators post images and videos to the platform, showcasing their favorite products, and users on the app can buy them.
Basically, you tag the products (as affiliate links) and then you earn commissions whenever anyone clicks and buys something.
How Do LTK Affiliate Links Work?
An affiliate link is a product link with your unique tracking code.
When someone clicks your link and purchases the product, you earn a commission at no extra cost to them.
What is a commission? This is a portion of a sale that a brand pays you for generating that sale.
Commission rate: This refers to the percentage you earn from the sales you generate. For instance, a 10% commission rate means you make a $10 commission from a $100 product sale.
I'll explain exactly how to make more money using LTK in a moment. But that is the basic concept.
How is LTK Different From Most affiliate networks?
When it comes to most affiliate partnerships, normally you would work directly with the brand as their partner.
But LTK is a bit different.
LTK acts as an affiliate middleman so to speak, as it is LTK who is partnered with all the brands, not you directly.
LTK facilitates partnerships between retailers and influencers. Retailers agree on a commission percentage with LTK. You create content, LTK gets the sale commission and then shares some of the commission with you.
The Benefits of Using LTK for Affiliate Income
You might be wondering, why would I use LTK, when I could just partner with brands directly, and get the full commission for myself?
Well, you still can partner with brands directly.
But it pays to use LTK too, for many reasons.
LTK is an attractive option for managing affiliate sales because it consolidates all your links in one place.
LTK partners with a large number of retailers, making it easy to link to a variety of products.
It's a complete shopping ecosystem and community of shoppers you can tap into.
You can publish product collages that link to a brand's site, allowing people to purchase right away.
You can participate in exclusive sales, not otherwise available off LTK
Another benefit of using LTK is, lets say your site isn't established enough to partner with a brand directly yet. You can still earn from promoting their products via LTK.
What's The Difference Between LTK and LTK Creator?
LTK is actually composed of two different apps:
the LTK app (for shoppers/followers to buy things)
and the LTK Creator app (for content creators/influencers to earn commissions).
The LTK App: Designed for Followers

The LTK app is where people, including your followers, can "shop your content."
The LTK app is what shoppers use to discover influencers and buy products. When you post content on the LTK Creator App, it will show up on the LTK app for users to see.
The LTK Creator App: Created for Influencers

The LTK Creator app is where influencers post content and manage their affiliate sales and commissions. As well as track post analytics, and generate affiliate links.
The LTK Creator app is where you'll upload images, and manage your LTK Shop.
As an LTK creator, your profile or "feed" on LTK is known as your LTK Shop. It's the place where all of your LTK posts live.
From your LTK shop, people can follow you, favorite your posts and buy the products you've tagged within your posts.
Every post you make becomes shoppable for users, and you'll earn commissions on every product you tag.
How Do You Join LTK As A Creator / Influencer?
To join LTK as a creator or influencer, and start making money on the platform you will first need to be referred (nominated) by another creator.
When you use my referral below, you'll get a $25 cash bonus if you get accepted! 🎉
Why Creators Should Use LTK

Before I share how to make money using LTK, I need to tell you why it's worth your time.
As a creator, your audience is likely to ask you about your product recommendations, and where you got the thing you are pictured wearing/using.
Think about it, how many times have you received DMs or comments from your followers asking where you got the dress you're wearing in a post?
As an LTK creator, you can simply direct your audience to your LTK shop where they can conveniently shop your content.
Not only does this serve your followers, but it also allows you to earn a commission from the sales you influence.
With LTK, you can monetize your influence through posts on Instagram, TikTok, Youtube, your blog, and more.
And many big brands and retailers are partnered with LTK so it's usually fairly easy to find the exact product to tag.
And to give you an idea of why you should bother, know that there are more than 10 million shoppers on the LTK app as of 2023!
This alone provides a massive pool of potential buyers for you.
How To Monetize Your Content With LTK in 5 Steps
In this section, I'll explain exactly how to monetize your content with LTK.
LTK or RewardStyle can seem confusing at first, especially if you are a new blogger.
So allow me to help you understand everything you need to get your LTK account approved, optimized, and generating income!
To capitalize on LTK's earning potential, follow these steps:
Step one: Apply
You must be invited to join the platform by another creator. Although it is possible to apply without being referred, it's certainly not recommended.
After all, LTK wants its community to be a space for high-quality creators only, and so they rely on the endorsements for good creators by other creators already trusted on the platform.
If you are a creator with high-quality content and an engaged audience on social media, I will be happy to put in the endorsement for you. Simply fill out the form here to apply. ✨And if you get accepted, you'll get a bonus $25 for using me as your referral partner! ✨
Eligibility Requirements For Applying To LTK As A Creator
There are a few requirements to be eligible to join LTK as a creator.
LTK eligibility requirements:
Your branding: Clean editorial design
At least 4 months of consistent, quality, and original content
An engaged and growing audience
PRO Tips for getting accepted to LTK RewardStyle
Tip number one for getting approved on LTK: Ensure that your social media is updated with content that would be attractive to the LTK representatives when they review you.
Ie: it probably wouldn't hurt to post a product collage or two on your Instagram, to show them what you can create!
For example, something like this:
Tip number two for getting approved on LTK: Your presence on social media is more important than your blog's success (when it comes to LTK).
I was so happy when I finally got accepted to LTK. Because, I had previously applied before and been denied!
Why did I get rejected? Well, I applied the first time using one of my websites, rather than my social media account.
Back then I thought my blog would be more impressive because it got 50k monthly pageviews, aka it had more potential to generate sales than my small Instagram account.
But it turned out that LTK is not all that interested in blog traffic. What matters most to them is how strong your social media accounts are.
So the next time I applied, I used my Instagram, which I thought was too small, and yet I was approved shortly after.
All in all, your social media is super important! When you apply to LTK be sure to list your best social accounts.
Tip number three for getting approved on LTK: Ensure that your branding is aesthetically pleasing, professional and clean.
Make your brand look cool! Show your style and personality, in a way that would suit the pages of a magazine.
How many followers do you need to be accepted by LTK?
Although there are no publicly posted minimum follower number requirements, it is recommended that you have a growing and engaged audience on social media.
Does LTK approve creators in any niche?
I can't say for sure, but it seems that LTK prefers lifestyle niches. Think fashion, beauty, food, decor, travel, etc.
This is because we have to be able to sell the types of products listed on LTK to our audiences. And the brands/products are primarily lifestyle items.
In my experience, I was accepted to LTK when I applied with one of my Instagram accounts that is lifestyle/fashion focused.
Ask yourself: "Do I have an audience who would buy the kinds of products listed on LTK? Is my niche a good niche for selling products? And most importantly, is this marketability clear, from the content I post on social media?"
How long does it take to get approved On LTK?
It could take up to 2 weeks to hear back from LTK. If your account is accepted, you will be able to get started right away.

Step Two: Download Both LTK Apps and Set Up Your Creator Profile
Once you are approved, you'll receive this lovely email:
Congratulations! This is cause for celebration!
Now you will be able to get download both LTK apps, activate your Creator account, and start setting up your LTK Shop.
When setting up your LTK Creator profile, simply write a bio and upload your photo. You will do this within the LTK Creator app. Just click where it says your name at the top, and then "Edit Shop."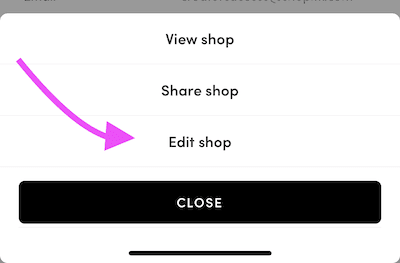 If you will be posting videos of yourself wearing the clothes you are promoting, it helps to put your measurements in your bio.
For example: Size: 4-6 S/M, 5'7" 125lbs
Now it's time to get cracking on that #LTKMoney!

Step Three: Follow Other LTK Creators
Now its time to get yourself immersed in the creator community by following other creators on the main LTK app.
You'll get tons of inspiration, and a better understanding of how to post successfully, just by following other influencers.
You can follow me right here! @RoomCrush.
Step Four: Start Publishing Content
You can create a variety of posts on LTK. Here are the four most commen types of posts:
Product collages
Images of yourself, of products or your living space
Images of a product by itself
Video content showing/reviewing products
When you're ready to post on LTK, here's what to do.
1. Start by creating a few folders inside your LTK Creator account.
This is done from the DESKTOP version of LTK Creator, not the app.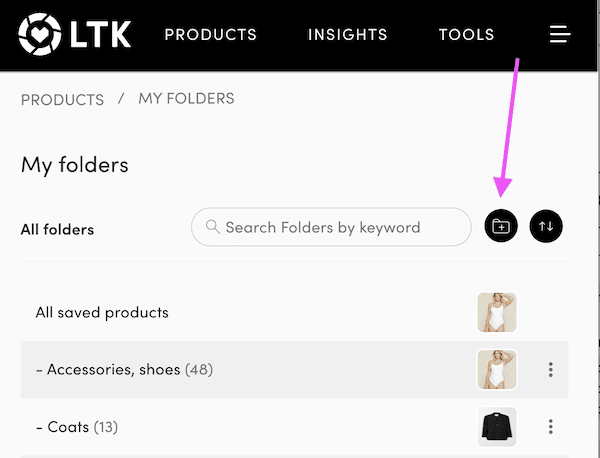 You will save products to these folders, for tagging in your LTK posts later.
Folders help you stay organized, so that you can quickly find and tag products when you need to.
To create a new folder, just tap the + button in the top right corner of the LTK Creator app. This can also be done from the desktop site too!
2. Next, start adding products to your folders.
You will be able to search products by name or brand via LTK's database search function.
When you see a product you like, hover over it and then click 'add to favories.'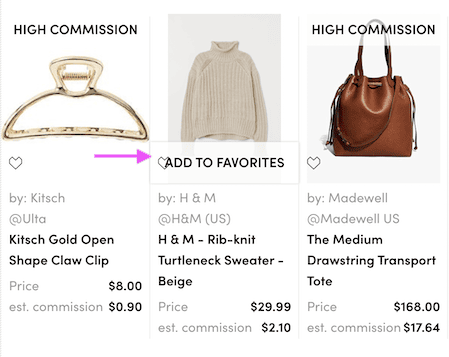 Then select the folder you want it to be added to.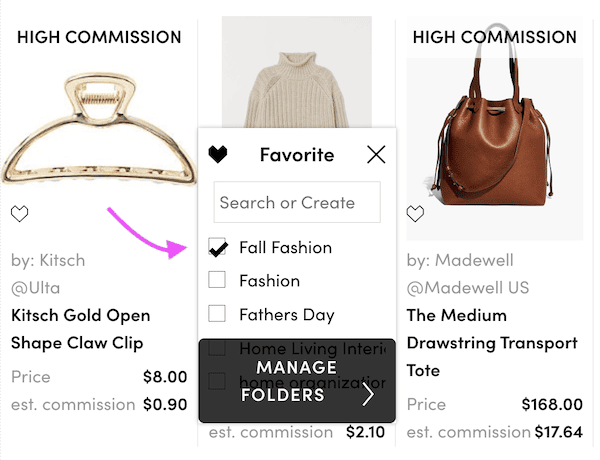 Or, use their browser extension to make affiliate links from of a brand's website.
3. Upload your Content.
Head over to your LTK Creator app and click the + button to upload your first image (or video).
From here, you'll be able to tag your products, and some hashtags and hit publish!
Pro Tips To Publish LTK Posts
Fill in the caption with keywords to boost your visibility. Use brand names, keywords, and phrases that describe the items in your post.
Incorporate some hashtags. You will be able to pick 3 relevant hashtags.
Select the products you'd like to tag to your post. These will become affiliate links, tracked to you whenever someone clicks them.
Click "All My Saved Products" to view your recently saved products or click "My Folders" to pick from your folders.
Now your post will appear in your LTK shop, with all products activated to earn you commission!
When you are done, you can choose to publish it now or schedule it for later.
Here's an example of what it will look like from the shopper's perspective once its live: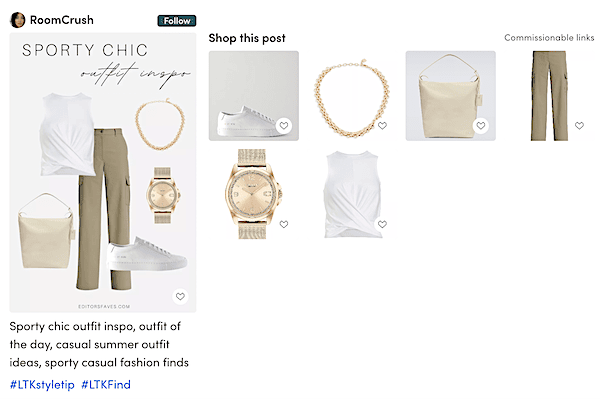 Step Five: Promote Your LTK Shop
Once you have published a 10 posts or so, it will be time to introduce your audience to your LTK Shop.
These promotion steps are going to be very important in how much money you will make with LTK.
You really do need to spend some time driving traffic to your LTK Shop yourself, before LTK starts showing your shop to their users.
Here are some ways To promote your LTK Shop
Add your LTK Shop link to your social media bios (all of them)
Place a "Shop My LTK Finds" or "Shop my IG Feed" link in your website navigation bar and footer
Publish a blog post about your LTK account
Mention it in your newsletter
Use Pinterest to drive traffic to your LTK shop
Use the Link feature in your Instagram Stories
Repurpose your LTK content by publishing it on other platforms, and directing traffic back to your LTK shop
How To Grow Your LTK Following
Now let's talk about how to grow your LTK following.
Like every social platform, consistency is key. Consistently post, use relevant keywords, and promote your shop. If you can aim to post at least three times a day, do it!
Doing so will ensure the long term financial success you have on the platform.
Remember, affiliate sales take time to grow, but with persistent effort, they can become a significant part of your social media income.
Also, building your network on LTK is important. Be social! Engage with other creator's content.
Following others can give you fresh ideas, but it also creates a community that may follow you back. This increases your follower count and broadens your reach.
Make the most of LTK by continuing to promote your shop, and connecting with other influencers.
You never know, you might even make some friends!
And always use relevant keywords for SEO purposes so more shoppers can find you.
How To Track Your Earnings On LTK
As soon as you have your first sale, it will show up in the 'Earnings' tab in your LTK Creator app.
This tab shows the total number of clicks, the number of items you've sold, and the commission you've earned.
Once your earnings reach $100, you will receive a payout.
How to Monetize Your Content with LTK: Conclusion
Now you know how to monetize your content with LTK!
Are you ready to leverage the platform to its full potential to maximize your earnings as a content creator?
Apply to LTK now using my nomination now, and I will nominate you. If you are accepted to the platform, you'll get a bonus $25!
Ultimately, using LTK's affiliate shopping platform can be an effective way to monetize your influence as a creator.
With some effort and strategy, you can turn your followers' trust into a steady stream of affiliate sales income.
Read this next: