How To Become Your Own Bank, To Fund Your Future Tax-Free
Want to become your own bank, so that you can fund your future, tax-free?
I met insurance advisor LaShundra Harmon aka The Financial Mommy at a finance creator conference, and am excited to have her on the HerPaperRoute podcast today.
In this episode, LaShundra shares tips for building wealth by using life insurance to become your own bank. We also dig into what it's like to publish a book, as she recently contributed to the Girl, Boss Up and Lead book.
Chelsea: Welcome LaShundra! It was great meeting you At The Conference. Did you have a good time there?
LaShundra: Oh, my goodness, I just had the best time. That was my very first one. And I swear since I left, I have been in straight go-mode.
---
As an affiliate partner of various brands and sponsored content, HerPaperRoute may earn commission on qualifying purchases. Disclaimer | Advertise With Us
---
Girl, watching the people who are in our arena, how they're making all this money.
And you know, I'm a I'm a business owner. I have an actual brick-and-mortar. So now it's like this past year, I call myself breaking into the online part of it.
And it has been so awesome just meeting all of these people with their YouTube channels, with their podcast channels, with their books and everything that they're doing to educate people about money and their finances.
🫶 Want to Make More Money?🫶
Become a member of HerPaperRoute today and get a toolkit packed with resources to help you make that paper. All for FREE!
---
It was like being in heaven.
Chelsea: Speaking of people who had written a book, you yourself, you just published your book!
LaShundra: Yes, late last year, what I did was I joined a mastermind, which I encourage anyone who's in business or whatever you're trying to do, try to get around a group of people who think like you that you can bounce ideas off of, and that there stay share freely.
And it's, you know, just no judgment, just everybody just, you know, brainstorming and masterminding and holding one another accountable.
So I joined a mastermind late last year, Chelsea, and since I joined his mastermind, I swear, it's like I got a big boost. And in there, one of the gentlemen, he, I don't know, he followed the same lady as I follow.
And I've been following her for years. And she's been helping with book collaborations. He shared that he did it. And sitting with him and chatting with him. I've just said, "You know what? I'm pulling the trigger."
So I joined a book collaboration with other ladies like me, women who own businesses, and moms. The book is called Girl, Boss Up and Lead.
The title spoke to me, you know, and I said, Okay, I can join in. And in this book, the other ladies and I talk about such challenges, and how you overcome these things. It includes tips for how to start your business, how to stay keeps you focused and all of that,
And it was just an amazing experience to share. You know, what's dear to me with helping others and other women feel better about being in business.
It gets tough, you know, especially being a mom, you know, you're trying to balance it all. But you forget to throw out the scale. There's no balance at all, you know?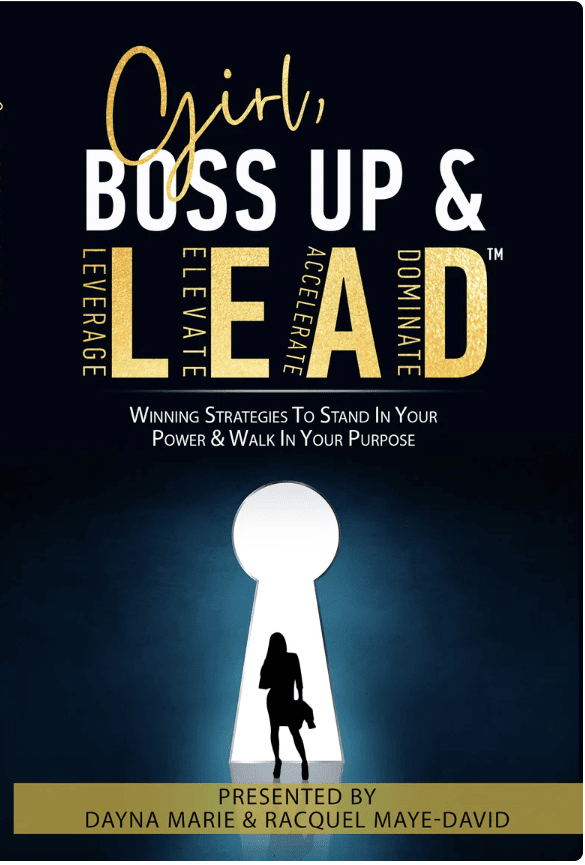 So it was just an amazing experience.
And the thing is, when it comes to book sales, I learned so much. There are so many ways to make money with your book sales.
Free selling, is a freaking goldmine.
Chelsea: Please dig into it! tell us all about your pre-selling strategy.
LaShundra: Okay, pre-selling to me, and also pre-selling shows who supports you, you know?
In our business as being online, we have followers, and we have supporters. So that is how you really fully distinguish who really, really supports your business and cares about what you do.
So just out the gate, I got over 50 pre-sales to analyze. And I got close to 60.
Pre-selling is just all about you online, your online presence, and reaching out to your audience and letting them know. I said "look, I'm a part of this book collaboration. We're sharing this, how about being a part of my book collaboration, too?"
So all those people that bought that bought during the pre-sale, I got to mention them as acknowledgments in the book. Isn't that amazing?
Chelsea: What a great way to give back to the people that are supporting you.
Chelsea: You know, that's so interesting that you mentioned that, because I think a lot of time when people think about pre-selling, they're only thinking about, "Okay, how do I show up on Instagram? What reel? Do I have to post a pre-sale? Or what email do I have to send to my list?"
But it sounds like you specifically reached out to individual people in your community that you had some rapport with. And you that was sort of a very personalized touch to it. I really love that.
LaShundra: Yes. And you're not what the thing is, by me being a serial entrepreneur, I'll call it because, you know, I begin in the beauty industry, I own two salons on the south side of Chicago.
I went from the beauty industry into financial services after I had my son. It's about having that relationship for one.
So a lot of my clients, I've done their hair, their nails. Now I do their insurance! I help them with their finances, I insure their properties, their automobiles, you know, just the whole relationship.
Setting Boundaries, To Dedicate Time For Your Business
Chelsea: You mentioned a moment ago, that you have your brick and mortar. What's a day in your life right now, now that you're managing not only your new book launch, but also your brick-and-mortar business as well?
LaShundra: Well, the name of my firm is Harmon Wealth Solutions, and we're a boutique insurance firm.
What we do is we offer all insurances, but by me being the Financial Mommy, I really focused on the financial part as far as life insurance and how to become your own bank with a life insurance policy, protecting your assets, as well as estate planning and stuff like that.
So a day-to-day for me is making sure my babies are okay, then getting to the office and following up with quotes.
But, my phone is on Do Not Disturb until 1pm. Until then, no calls, or I'm calling you, you're not calling me.
That's how you prioritize time for yourself.
Chelsea: Setting those boundaries for yourself, and your business is so important. I think that everybody who will be listening to this is going to resonate with that.
LaSundra: Yes, if you don't just block out certain times on your calendar, when people can't book meetings, or can't call you, they will take every ounce of your time.
Before I did insurance when I left the industry, I became a mortgage broker.
Girl, people having anxiety about closing on their home, calling you at one and two in the morning!
So being able to set those boundaries is a must.
How To Become Your Own Bank, And Fund Your Future
Chelsea: When we met, you mentioned the importance of being your own bank. How does someone figure that out? What are the first steps for someone if they want to become their own bank?
LaSundra: Okay. Well, if you're a business owner, you want to create what you call your own pension.
A pension is income for the rest of your life. If you work a job, they offer you a pension. Now, most jobs, they've cut out that part.
They just give you the 401k. But you know, that's the big tax and stuff. But as far as becoming your own banker, it's a process that we call, in the life insurance industry, the "Infinite Banking concept or IBC."
What you do is you meet up with your insurance advisor, and you say "you know what? I only want to work till I'm 65, and I want to have at least half a million/" or "I want to have a million dollars for me to get income from."
Okay, we'll sit back It will crunch numbers, and then we'll come up with an amount of money that you need to allocate each month or yearly to go into either an IUL policy or a whole life policy.
You can set up a banking policy with a term because there's no cash accumulation there.
So you have to use either an indexed universal life or a whole life policy that has to participate that line with the market.
It's amazing because people just don't know about these different things. I mean, think about it, you're letting go of all the tax issues.
Because most often when you're funding a policy you're using after-tax dollars, whereas when you're funding your 401k's and stuff like that, here in the United States, it's pre-tax.
So would you rather have taxes now or later?
Most people are like, "Oh, I don't want to pay taxes now."
But think about it. That's crazy. Taxes only do what? Go up.
Whereas with a whole life or IUL, there is no taxation with that, because you're using after-tax dollars.
The money in these policies, you're loaning it to yourself to use right now. So there are no taxes on loans! Use it as income.
Or, you know, it's just a lot of great benefits to doing it that way.
Chelsea: Oh, that's so good. Thank you for sharing that.
A life insurance policy loan isn't taxable as income, as long as it doesn't exceed the amount paid in premiums for the policy and the policy remains in effect.

Investopedia
You could essentially use the money taken tax-free from your insurance policy to purchase revenue-generating assets such as profitable websites and continue to grow your return.
Chelsea: What tips would you have for someone who wants to publish a book of their own?
LaShundra: Start small, you know, there's so many things you can do, you can go to Amazon, and self-publish.
I will say it took me literally, maybe 45 minutes a chapter. And, it's about really just going by an outline.
I'm already working on my second book, which is kind of like my own memoir about myself, my life.
And, I've already done some ebooks, there are so many great easy techniques.
Now. You know, you can sit up and talk to your computer and let it write for you.
There are so many easy ways to do it. You can just talk to it (voice-to-text), proofread it, bam, send it to the editor. 45 minutes per chapter.
Chelsea: I love that you're taking the stress off of people in a way. You're just being like, just get out there and start talking. Put it out there.
LaShundra: And you can always go back and format it. I am grounded in my faith in the Almighty.
So it's like, I trust God with everything that I do, Chelsea, every decision.
Because I always believe in Win-Win situations with everything that I do, especially in business.
So I want to make sure I'm an asset to you, as well as you're an asset to me. I believe in that there are no losers.
Everybody winning some type of way. So take your time and do things.
It's no rush. It's your time. Remember that it's your time. Just love yourself.
Chelsea: That's beautiful!
How To Become Your Own Bank – Conclusion
Follow LaShundra @FinancialMommy and Chelsea @HerPaperRoute.
Finally, get your copy of Girl, Boss Up And Lead here!