What The New MediaVine Requirements Mean For Content Creators
News has rocked the content creator industry. MediaVine announced shocking new Mediavine requirements for publishers that make it harder to get in.
In this article, I will share what the new MediaVine requirements are, as well as provide some encouragement and recommendations for what you can do now (hint: you can join a BETTER network to earn ad revenue).
As well as offer up some MediaVine alternatives, and revenue alternatives!
🫶 Want to Make More Money?🫶
Become a member of HerPaperRoute today and get a toolkit packed with resources to help you make that paper. All for FREE!
---
As an affiliate partner of various brands and sponsored content, HerPaperRoute may earn commission on qualifying purchases. Disclaimer | Advertise With Us
Plus, discover what a Mediavine representative told me today, that all content creators need to know. Read on!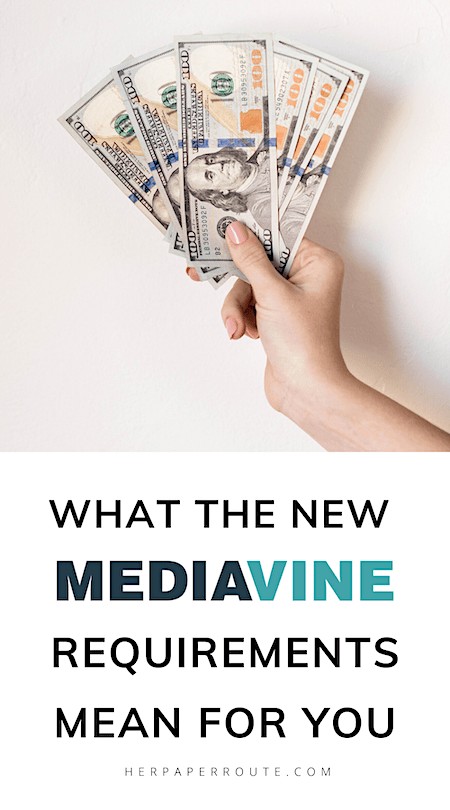 What Are The New MediaVine Requirements?
The old Mediavine requirement was that you had to have 25,000 monthly sessions to be eligible to apply with your first site.
Then when you wanted to add a second, third or fourth site, it only needed to have 10,000 monthly sessions.
Well, say bye to those good old days, friend!
This is what the new Mediavine requirements are, effective June 15th, 2020:
The minimum traffic requirement for NEW publishers is now 50,000 sessions per month. (If your application has already been submitted prior to this announcement, it will be reviewed using the previous 25,000-session requirement.)
Mediavine has ended their unofficial policy of accepting second sites, including from current publishers, if those sites are below the minimum traffic requirements.
Websites changing ownership must re-apply. This also applies to current publishers.
Oh no! If you are a new blogger who has been trying to get your first site to 25k, I know what you are thinking. This is devastating news.
These new traffic requirements and other MediavVine changes definitely make it much harder to get in. And it's totally legitimate if you feel disheartened by this change.
If you are a current MediaVine publisher who was banking on adding multiple sites with the lax 10k requirements, this is also an unfortunate change.
But it's not the end of the world. I will offer up some suggestions on what to do now to tweak your next moves in a moment.
But first, let's understand these new Mediavine requirements mean.
Minimum Traffic Requirements For Adding Second Sites
There was some confusion with the wording around adding a second site if you are a current MediaVine publisher.
MediaVine had said in their press release:
The minimum traffic requirement for NEW publishers is now 50,000 sessions per month. (If your application has already been submitted prior to this announcement, it will be reviewed using the previous 25,000-session requirement.) We are ending our unofficial policy of accepting second sites, including from current publishers, if those sites are below the minimum traffic requirements.
My question around this is: Does this mean that if you are a current publisher, you can still add a second site, but it must meet 25,000 sessions? Or does the second site have to meet 50,000 sessions?
I reached out to MediaVine for clarification. Here's what they told me:
This part of the announcement means that if you already had an application submitted prior to the announcement (we always have a ton working through the review process) then it will be evaluated based on the 25,000 sessions per month criteria. Otherwise, it will be evaluated based on the 50,000 sessions per month criteria, even for second and other subsequent sites. – Heather Tullos, Director of Publisher Support
What The New MediaVine Requirements Mean For Content Creators
Until now, getting your blog into MediaVine was a milestone for many new bloggers. MediaVine was the 'holy grail' of ad networks.
This development no doubt makes it harder for new bloggers to get in, and for some this may seem like an already too-tall mountain to climb that just grew taller.
The new MediaVine requirements mean that you need to work a little harder to grow your traffic. Ok, a lot harder.
But it is not the end of the world. Here are some things you can do to reach 50,000 monthly sessions…
What Content Creators Should Do Now
Now that your 25,000 sessions goal just doubled to 50,000 its time to get to work. You need to get more traffic, that's a fact.
Some ways to boost your traffic:
Improve the SEO of your articles. Read Debbie Gartner's SEO books and take my free SEO course.
Host a viral giveaway.
Run promoted pin campaigns to your website.
Run Facebook and Instagram PPC ads to your website.
Run Google PPC ads to your website.
Or just simply use a different ad network, like my favorite one, Ezoic.
But, know that MediaVine isn't actually the holy grail when it comes to earning a living with your blog.
Ad revenue is not the best way to make money blogging. At all!
Growing your traffic is a worthy goal you should absolutely make a priority, but know that there are more ways to make a buck.
I would actually recommend that you focus on affiliate marketing and digital products as the rewards can be much bigger and faster. And they don't rely on traffic.
I earned $50,000 last month with my blog – and I don't rely on ad revenue at all.
This site HerPaperRoute.com is on MediaVine, but it really only makes a couple of hundred dollars a month.
Yes, a couple of hundred dollars is nice, I am not taking that for granted.
But it's not where my focus is, because other things pay off much better.
For example, last month I earned:
$24,220.00 promoting just one digital product as an affiliate
$3,000 promoting another affiliate product
$14,571 from selling digital products
$5,000 in course sales
$4000+ in miscellaneous affiliate income
And here's the kicker – this is done without getting much traffic. My actual monthly traffic isn't huge by any means.
It's under 30,000 page views a month!
Yet, I'm able to hit these big sales every month because I have focused my efforts on four simple things:
Growing my list and having solid sales funnels for my subscribers.
Providing valuable free content that leads to valuable paid content
Promoting affiliate and my own products
Investing in paid advertising.
That's it. Easy-peasy.
I have focused on growing and nurturing my list, and it is through my newsletters that I make 90% of my sales.
Let's dig into this more…
How To Earn More Money With Your Website, Without Ad Revenue
If you focus on these three things that I do, I believe that there is no need to rely on ad revenue.
Email Marketing & List Building
As mentioned, the most important thing to focus on if you want to make more money with your website is to grow your email list.
The fact that I have a list of happy, engaged email subscribers is the direct reason for how I am able to earn consistent $50,000 (an even $70,000) months.
If you haven't made your email list a priority – start NOW!
I have a free guide to help you as well as a full-on email marketing course.
Value
The next thing you should be focusing on in your business is providing major value to your audience at every angle.
Be there offering helpful advice, answering questions, and offering detailed blog content that solves your reader's pain points.
Create free training to help your readers get to the next step in their journey. give them quick wins left and right.
Be the most helpful and genuine resource you can be to your audience.
When they are ready to take things to the next level, provide them with valuable paid courses and services.
For more tips on this, read: How to provide value that equals profit in your business.
Affiliate Marketing & My Own Digital Products
I can't stress the importance of this enough. You should learn affiliate marketing as spend time promoting high-paying affiliate products.
Here is a big list of high-paying affiliate programs you can join.
And, always offer your own digital products and have a proper sales funnel set up, to sell them auto-pilot.
I teach a course about the many ways you can monetize a blog and earn a living.
Paid Advertising
And lastly, paid advertising is the fastest way to drive traffic to your website.
Pinterest marketing is great, but if you want to get to the top of search results in a flash, you need to pay to play.
I am not recommending that you run paid ads just for the purpose of generating ad revenue from the traffic.
As that will never payout in your favor.
But I am recommending that you run ads to generate traffic to your sales pages, and any blog post that has a stellar opt-in freebie to your list.
The goal is to convert the paid traffic to become your subscribers and customers.
What The New MediaVine Requirements Mean For Website Investors And Sellers
In addition to helping content creators start and grow websites here at HerPaperRoute.com, I also am a business broker who helps people buy and sell websites.
Over at my business-for-sale marketplace Niche Investor, we often deal in selling MediaVine websites.
Where a MediaVine-approved website is sold to a new owner, MediaVine used to assist in the transfer of ownership.
In the past, MediaVine made it very easy to transfer the website to the new owner – no re-applications needed.
Well, now with the announcement of these new MediaVine requirements, this will no longer be the case.
MediaVine no longer allows for easy transfer between owners.
When a site is sold now, the new owner will need to re-apply the website to MediaVine for approval.
And the site needs to be getting 50,000 monthly sessions to get back in.
Obviously, this puts a stick in the mud of MediaVine website investing.
I reached out to a representative to get more explanation on how the transfer of ownership will work moving forward.
Here's what I was told:
We do understand that being accepted into Mediavine is a nice selling point for many sites. But if we are being completely frank, site sales are not without a LOT of problems on our end. We have buyers that will never resign contracts, and don't actually go live, new owners that terminate with no notice, and sites that have changed hands multiple times without any of the new owners ever investing properly in content creation or continuing to build an engaged readership, organically.

Mediavine is always at its best when we are able to work with each customer to optimize their sites, grow their traffic, and their business, and having new site owners reapply lets us build relationships with each new customer independently without juggling all the details of a "hand-off."

Our mission here is to help our customers build sustainable businesses, and in order to do that effectively, the relationship needs to work for the publisher, the advertisers, the readers, and Mediavine. – Heather Tullos, Director of Publisher Support, Heather Tullos, Director of Publisher Support
The best thing you can do right now, if you are a seller of a MediaVine website is to maintain your traffic.
Do your very best to get it up to or above 50,000 sessions, so that when your buyer takes it over, they have an easier time getting the site back into Mediavine.
If you can't get the traffic up yourself, offer your buyer resources for how they themselves can do it.
Such as taking a traffic building course (consider buying a course for them as part of the deal).
If you are a website investor who is used to buying MediaVine sites, continue doing your due diligence as you did before, by verifying the Google Analytics.
Make sure that whatever site you are buying is either above or close to the new threshold
Or, if the site is below, make sure you have the time and resources to grow the traffic up to 50k sessions yourself
Or, once you get the site, know that there are many MediaVine alternatives (see below) that you can get the site into
Recommend a better MediaVine alternative.
Best MediaVine Alternatives
There are other ad networks with far less traffic requirements than MediaVine!
One of the best MediaVine alternatives I believe is Ezoic. I have started moving MediaVine sites that I buy, over to Ezoic and within a week they are earning the same – some even more, on Ezoic.
Ezoic's eligibility requirements are as. follows:
Average of 10,000 sessions per month
Adhere to Google's Ad Policy
Content should be original
Track record of identifiable traffic
If you possess an existing Google AdSense or Ad Manager account, it must be in good standing with Google
There is also Monumetric. Monumetric's traffic requirements are as follows:
Propel Program: 10k – 80k pageviews/month
Ascend Program: 80k – 500k pageviews/month
Stratos Program: 500k – 10mm pageviews/month
Apollo Program: 10mm+ pageviews/month
If your site gets under 80,000 pageviews a month, you would apply to the Propel program, which requires a $99 deposit.
Consider this a small entry fee, which you will earn back once you are in the program.
Other MediaVine alternatives:
AdThrive
Ezoic *recommended
Google Adsense
Media.net
AdRoll
New MediaVine Requirements – Conclusion
These new Mediavine requirements may have put a downer on your money-making plan.
But don't give up on your ad revenue dreams – just be ready to make some pivots to your plan.
Overall, don't put all your eggs in one monetization basket.
Invest your time and effort into learning affiliate marketing as well as creating digital products like courses, printables, and ebooks.
If you haven't already, enroll in my Blog Monetization course. This covers gives you everything you need, including my exact strategy that has helped me earn 6 figures a year with a site with little traffic.
And no, my strategy is not "sell my courses about making money to people who want to learn how to make money." Because that is lame and not very helpful to you.
My strategy in the course is along the lines of "Show you exactly how to discover what your audience actually wants to buy, and then figure out a solid plan to create incredible, unique content that your audience actually will buy."
You got this!