9 Things To Do Every Sunday For A Productive Week
A productive and relaxing Sunday is the best way to ensure a good week ahead.
I've fallen in love with my Sunday Reset rituals, and attribute them to my productivity and mental calmness throughout busy weekdays.
But please, don't feel pressured to do everything mentioned in this article or you have to do everything perfectly, because the truth is, I don't do all of this every single Sunday.
The point of this post is for you to get an idea of some habits you can work towards including in your Sunday routine.
---
As an affiliate partner of various brands and sponsored content, HerPaperRoute may earn commission on qualifying purchases. Disclaimer | Advertise With Us
---
Here are 9 things to do every Sunday for a productive week: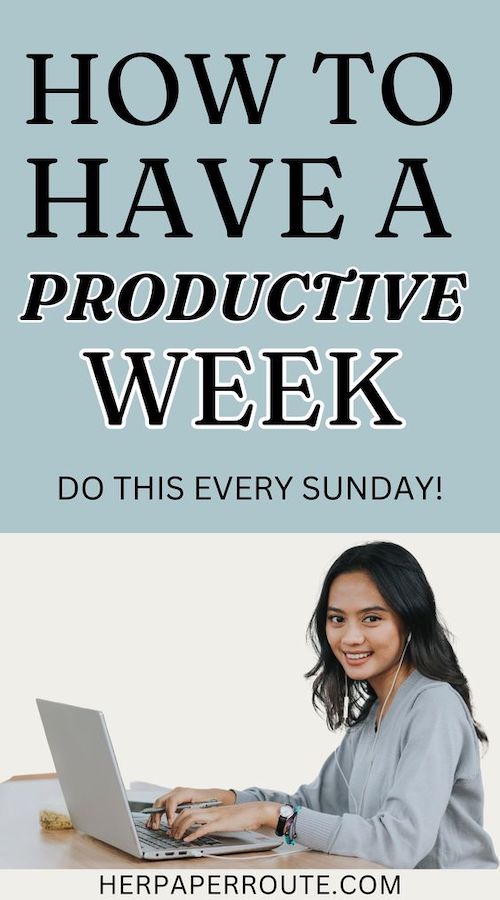 1. Review your progress from the past week.
Look back at your week and your To-Do list and review what you accomplish and what you didn't.
Reflecting and evaluating enables you to analyze and think about the situations unfolding before you.
I can review my life plans and goals, evaluate my life and make valid adjustments, ask and answer some self-reflective questions, get in charge of my mental health, handle setbacks and challenges effectively, and cultivate a positive perspective toward life.
🫶 Want to Make More Money?🫶
Become a member of HerPaperRoute today and get a toolkit packed with resources to help you make that paper. All for FREE!
---
Some self-reflective questions to ask yourself are:
How productive I was this week?
Why did some things got done, and others did not?
Have I accomplished at least one goal from my plan?
What was one thing that happened this week that I'm grateful for?
You can take inspiration to make a list of self-reflective questions by reading this.
"Do not waste a single Sunday. If you don't waste Sundays, you will be less likely to waste Mondays, Tuesdays, and Wednesdays."

– Matthew Kelly
One of the most, if not the most, crucial part of having a productive week is preparation and planning ahead of time.
If you know what you need to do ahead of time, you'll know where to dive in as soon as you get started.
"Failing to plan is planning to fail."

– Benjamin Franklin
Here are some ideas to write in your planner:
appointments and dates
children activities
meetings/phone calls
deadlines
birthdays
habit tracker
school/work schedule
basically anything you have to take care of.
When I have it all on paper in my weekly planner, I feel way more productive and motivated to crush my week with much more ease and way less stress because I know what I need to be doing.
3. Prioritize Your Most Important Tasks.
"The key is not to prioritize what's on your schedule, but to schedule your priorities."

– Stephen Covey
Now that you've planned out your week, you need to prioritize your goals and tasks in terms of importance and urgency/deadline.
Prioritizing your tasks helps you to combat the stressful feeling of not knowing what to do first or what to do next.
A great method of prioritization is the Eisenhower Matrix. The basic principles are:
Important and urgent? Do it right away.
Important but not urgent? Plan for later.
Urgent but not important? Outsource it if possible.
Not urgent and not important? Remove it from your To-Do list or set it aside to do it in your free time.
4. Declutter And Organize Your Space.
A cluttered space equals a cluttered mind; the environment and the space you are in have a huge influence on your productivity and overall mood.
Every Sunday, I make sure to dedicate some time to deep cleaning my home and organizing my space.
Especially if you're working from home right now, this tip is a lifesaver.
I don't know about you, but I just can't function properly when the space I'm in is all cluttered up!
So, every Sunday, change your bedsheets, rearrange your room/workspace, do the laundry, vacuum, and mop.
You'll thank yourself later this week!
5. Practice Self-Care.
Don't forget to take time and just chill out. After all, it's Sunday, and you don't want to be rushing around all the way to bedtime.
You need to take a bit of relax time to wind down and maybe watch a TV show or have a cup of tea and read a book.
Being productive and on top of things is great, but we also can't forget to recharge our batteries.
Sundays are perfect for that. You can finish up your week with a little me-time, which will help you get ready for the week ahead.
6. Meal Prep
Another great thing to do on a Sunday is meal prep or just planning out what your meals are going to be. This will save you time and money throughout the week.
Win-win.
You are what you eat, and that's why what you consume is extremely important in how you feel and function throughout the day.
I'm currently working my way to consuming less junk and eating more "healthy" foods, but I must say I'm not putting up a great fight.
Meal prep helps me stay somewhat on track, though; choosing meals with high protein and low calories keeps me energized throughout the day.
If you struggle with time management or with making healthy food choices, give meal prepping a try. You have nothing to lose.
7. Write Down Your Goals For The Week.
At least for me, having a blueprint for the coming week helps me tremendously in terms of productivity.
The most important goal for me every week is to write 10 quality blog posts, so this goal is on top of my weekly priorities.
You can start by outlining your long-term goals and then break down those goals into monthly, weekly, and daily goals.
For example, if my long-term goal is to have written 150 blog posts by the end of 2021, and now I'm sitting at 53 (54 with this), then my monthly goal is to write 11 (10,66 to be exact) blog posts, so my weekly goal is to write 3 blog posts (2,75 to be exact).
You see, if I were focused only on the long-term goal, I'd get 100% overwhelmed and stressed by it. But, by simply breaking it down to 10 blog posts per week, it's far more manageable.
Outlining my goals helps me stay on track and on top of my game, so I don't get distracted or forget to achieve them.
"Unless commitment is made, there are only promises and hopes; but no plans."
A goal without a plan is just a wish or a dream, so plan your work and work your plan.
8. Spend Quality Time With Your Loved Ones.
Most of the time, we get caught up in our own thoughts as we try to be or stay productive at all times that we forget or neglect our loved ones.
What could be more important in life than spending quality time with your loved ones?
Whether it's your significant other, your kids, your friends, grandparents, or other family members, it's important that you always make time for these individuals.
So, take some time off your schedule and spend quality time with your loved ones. Go out for a cup of coffee, walk at the beach, a car ride, or somewhere to eat.
These are the memories you'll remember and look back for.
9. Go to bed early.
If you've done even a couple of the things on this list, you should be proud of yourself. Secondly, going to bed early and falling asleep fast should be easy after such a productive Sunday.
So, do yourself a favor and go to bed early for a good night's sleep. Your body and mind will thank you the following morning!