​​The Best Places To Buy A blog in 2024
Are you considering buying a website, but need help figuring out where the best places to buy a blog are and get started?
In this blog post, we'll dive deep into the best places to buy a blog site that is perfect for YOUR unique needs.
We'll reveal the best platforms for buying blogs that are reliable and trustworthy. From popular marketplaces to niche platforms, we've got you covered.
Whether you're a blogger looking to expand your online presence or a budding entrepreneur wanting to invest in an online business, we've got your back.
---
As an affiliate partner of various brands and sponsored content, HerPaperRoute may earn commission on qualifying purchases. Disclaimer | Advertise With Us
---
So sit tight, grab a snack, and get ready to learn where you can buy a blog site that'll have you saying, "OMG, this is the one!"
​​The Best Places To Buy A blog – Why buy a blog?
Blogging is one of my all-time favorite things to do! I've been using content sites as a marketing tool to grow a number of businesses over the years.
You can earn from blogs through various sources – or you can flip them for profit. I have bought and sold 7 figures worth of sites.
🫶 Want to Make More Money?🫶
Become a member of HerPaperRoute today and get a toolkit packed with resources to help you make that paper. All for FREE!
---
But first of all, if you are thinking, "Why buy a blog when I can just start one myself?"
…Let me give you a few reasons to consider buying a blog!
I remember spending hours researching and setting up everything when I first started my blog.
I had to find a hosting service, set up my website, design it and build it.
But, with a little persistence and a lot of coffee, I finally got everything up and running.
However, it took a LONG time. If I had known then what I know now, I would have saved myself a ton of time and energy by buying a pre-existing and established website instead.
Buying a blog can save you a lot of time and energy.
Think about your busy life, the last thing you want to do is spend all your free time working on your website.
Buying a blog website can save you a ton of time and give you an incredible head start on your success.
You can buy a blog with a following, an established brand, and even one that has revenue coming in!
It's like buying a house already built, furnished, and decorated, and you just move in and make it your own!
Another reason why you should consider buying a blog, is that it can give you a competitive advantage.
Starting a blog from scratch is hard work. Well, starting a blog is easy. It's actually growingit and making it profitable that's hard. Building an audience, establishing your brand, and making money take time.
But, when you buy a blog, you can skip all of that and jump right into owning an established, active brand.
You get to start producing content and making money immediately, and you're essentially buying yourself a shortcut to success!
Buying a blog can also give you access to valuable resources. When you buy a blog, you're not just getting a website.
You're also getting access to all the resources and tools that the previous owner used to run the website.
This can include things like email lists, social media accounts, SEO tools, and more.
Best places to find blogs for sale
So where do you buy a website? Here are some of the best places to find blogs for sale.
1. Niche Investor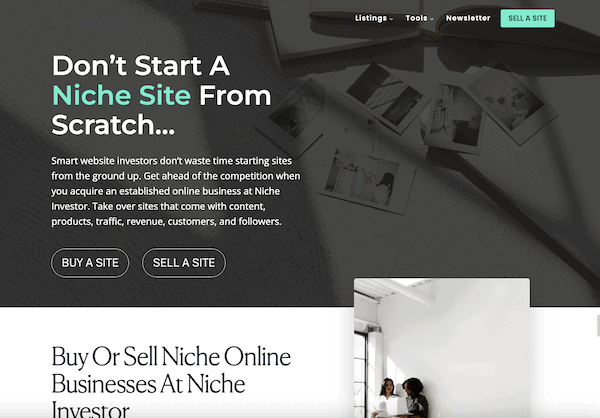 First on the list of the best places to buy a blog is NicheInvestor.com.
Niche Investor is a boutique marketplace where other content creators list their blogs and businesses for sale.
At Niche Investor you will find profitable established content sites that earn upwards of $30,000 per month, as well as pre-or-low-revenue starter sites, and everything in between!
This is the company I founded for the purpose of serving the HerPaperRoute audience, to ensure that Niche Investor is the best place to safely buy and sell websites.
"OMG! Niche Investor is the ultimate marketplace for buying and selling websites, and it's seriously amazing. I'm kind of obsessed with it, to be honest. As someone who has bought several websites from Niche Investor (and sold several, too!), I can personally vouch for the seamless, transparent and safe the buying and selling process.

It's so reassuring to know that they have a system in place that protects both buyers and sellers and ensures that everything goes smoothly. It's also super easy to communicate with the seller and ask any questions you may have before making a purchase. At Niche Investor, payment is made via escrow service to ensure you receive the website and its assets as described."

– Noa, Niche Investor client
The Niche Investor marketplace is super user-friendly, and you can easily find the perfect blog to buy.
You will find starter websites and established online businesses, including content websites, blogs, eCommerce businesses, and niche digital assets.
Niche Investor has a fantastic selection of niche sites to choose from; with most of them already monetized with affiliate links, display ads, and digital products. So that you can start earning revenue immediately.
When you look at any of the listings there, you will find valuable information about each blog on offer, including traffic, revenue, and social media following.
This information is super helpful because it helps you make an informed decision about which blog to buy.
Plus, The Niche Investor team of experienced brokers is amazing. They guide you through the process.
If you ever need any assistance, Niche Investor has an incredible team of experts to help you through the buying and selling process.
The Team At Niche Investor: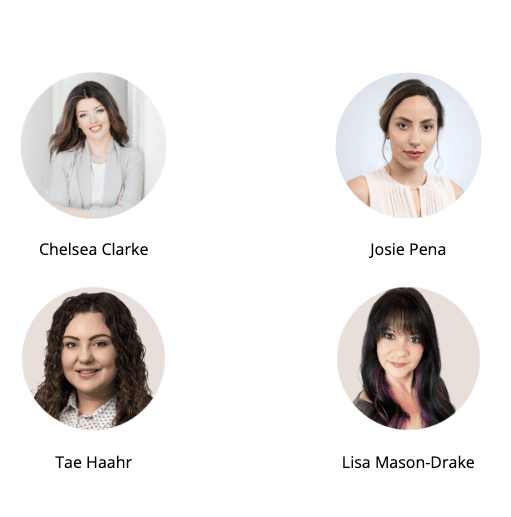 The team at Niche Investor connects buyers and sellers and provides important solutions for things like valuations, due diligence, negotiation, and post-sales support to all clients.
What's more, each of the Niche Investor listing agents are also content creators themselves!
This means that the agents can provide you with the very best support, as they know the ins and outs of every angle of the industry.
This personalized service makes the experience of buying a blog much more enjoyable and stress-free.
And yes, you can make offers on any of the established listings!
In addition, the platform is user-friendly and easy to navigate, making finding the perfect blog for your needs simple.
"Another one of the things I love about Niche Investor is their commitment to providing A+ service. Each week new listings are added to the marketplace, and the websites are priced competitively, and offers can be presented. So you know you are getting a great deal every time."

– Noa, Niche Investor client
How to buy a website on Niche Investor
Simply preview the available site for sale on the NicheInvestor.com website.
Take your time and explore the listings until you find the perfect website that meets your needs.
Before making any bids or offers, it's important to analyze the site's performance to ensure it's a good investment.
Don't worry, Niche Investor has got you covered. Each listing page has an analytics section that shows detailed information on the website's traffic and income generated over time.
Take the time to study these metrics to make an informed decision before making your purchase.
And now, the most exciting part – it's time to make an offer!
When you find a listing that interests you, fill out the contact form on the listing to connect with the agent. You can make an offer, or ask any questions.
The agent will connect you with the seller and walk you through every step in the process. From negotiations to providing sale agreements to managing escrow, and ensuring the website and all assets are transferred to you.
As a buyer, you do not pay any fee for her service to assist you!
This is great news for first-time buyers who might need extra guidance. They're always there to help you out, and that's something that I really appreciate.
And the best part? If you ever decide to sell your website through Niche Investor, they also offer seller support!
It's like a one-stop shop for everything website-related.
When it comes to making secure transactions online, you can never be too careful. Thankfully, Niche Investor uses Escrow, an independent third-party service, to process all payments.
This means that your money is protected and secure throughout the entire buying process.
As well, if you have a website that you want to sell at Niche Investor, it is super simple to submit it for sale via this page.
"I remember one time, I was looking to buy a blog in the gardening niche. I found a brilliant blog that was already getting a lot of traffic and had a loyal following. It was a little out of my budget, but I just had to have it! So, I decided to email the agent and see if we could negotiate.To my surprise, the seller was more than happy to bring down the price a little bit and even threw in a few extra features to sweeten the deal. I was over the moon with joy!"
Overall, if you are looking for an easy and reliable way to buy and sell blogs, then Flippa is definitely the place to go!
2. Flippa
Flippa is among the most popular marketplaces for buying and selling websites and blogs. It offers a wide range of blogs and websites for sale, from niche blogs to e-commerce sites.
From blogs to e-commerce sites and SAAS companies, there is something for everyone. And a wide range of prices, making it accessible for both small and large buyers.
The platform is very user-friendly, and you can easily search for blogs and websites based on your interests and budget.
Be careful though – websites that are listed on the Flippa marketplace are not all vetted by Flippa, meaning any website from any random seller can be listed there.
Also, most listings on Flippa are not represented by an agent, so they don't have that level of protection or advisory either.
You would be dealing with the seller directly. So you need to ensure you take measures to protect yourself.
How to buy a website on flippa
First things first, you need to sign up for an account on Flippa.
Just provide your name, email address, and password, and voila! You're officially a member of the Flippa community.
Remember to verify your email address by clicking the link in the confirmation email sent by Flippa so you can start exploring your options.
Now that you're all set, it's time to browse through the websites available for sale. You can use the search bar to narrow down your options or click "Show All Listings" to view all the websites currently up for grabs.
If there are other bids already placed on the website, feel free to join in the bidding war. But remember, don't get too carried away!
Alternatively, if there are no active bids, you can use Flippa's Buy Now feature to instantly purchase the website without waiting for an auction process.
I remember when I bought my first website on Flippa. I was a bit nervous and overwhelmed with the process, but I took my time and did my research.
I found a website with good traffic and an interesting niche, and after analyzing the site's performance, I made an offer using the Buy Now feature.
3. Empire Flippers
If you are looking to spend upwards of $700,000, Empire Flippers may be one to look at. Empire Flippers sells larger businesses, typically priced above $1 million.
Empire Flippers verifies every website before listing it on their site.
They conduct manual reviews of the site's financials, traffic stats, and more. You can rest easy knowing that the team at Empire Flippers has your back and is doing all the heavy lifting for you.
Now, if you're new to the buying websites game, you might feel a bit overwhelmed. But fear not, Empire Flippers offers top-notch customer support throughout the entire buying process.
4. FE International
FE International has been around since 2010, and they're all about helping people buy and sell internet businesses.
They tend to focus on large M&A deals but once in a while, they offer a blog for sale.
They've transactions worth over $500 million.
However, I always like to remind myself that it's important to do my research, perform my due diligence, and make an informed decision before making any investment.
Factors to consider when choosing where to buy a website
When it comes to buying a website, it can be a pretty exciting adventure!
But before diving in, it's important to consider a few factors to ensure you choose the right platform. Here are a few things to keep in mind
Budget: The first thing you need to think about is your budget. How much are you willing to spend on your website?
Remember, prices can vary widely depending on the platform and the type of website you're looking for.
Type of website: Next, you'll want to think about what kind of website you're interested in.
Are you looking for a blog? Or perhaps an e-commerce site to sell your products? Knowing what you want will help you narrow down your search.
Traffic and revenue potential: When buying a website, it's essential to consider its revenue and traffic potential.
Look for sites that have a solid history of traffic and revenue growth, and assess the potential for future growth as well.
Tips for buying blogs And Content websites
Research thoroughly
First things first, research, research, research!
It's crucial to take a deep dive into the website's traffic, revenue, and social media presence to see if it's worth investing in. consider its growth potential.
You may also want to check the website's SEO ranking and backlinks.
To help you with this, download our due diligence tool, for free.
Ask questions
Don't be afraid to ask the seller questions to ensure they are trustworthy. Ask about the website's history, revenue streams, and the reason for the sale.
Additionally, you can ask for access to Google Analytics and other website data to verify the website's traffic and revenue claims.
I was interested in buying a website once, but I had a bad feeling about the sale. I decided to ask many questions to ensure they were trustworthy.
I asked about the website's history, revenue streams, and the reason for the sale. My gut was right because they were being sketchy and didn't want to give me any real answers.
Negotiate the price and terms
If you do decide to move forward with a purchase, negotiate the price and terms.
There's often room for negotiation, so don't be afraid to ask for what you want!
I've been able to get many fantastic deals on websites, by negotiating.
In some cases, you may be able to utilize seller financing, a buy-now-pay-later structure.
Use a secure payment method
When it comes to payment, always use a secure method. ALWAYS USE ESCROW!
I've heard horror stories of people being scammed out of their money simply because they didn't use Escrow!
It's always best to use a third-party escrow service to protect you and the other party as well.
When you buy or sell any website at Niche Investor, you are always protected by Escrow.
The Best Places To Buy A blog – Conclusion
And that's a wrap! These are some of the best reliable and most trustworthy places to buy a website.
But let's talk about you; this website will be yours to own and make uniquely yours.
So it's crucial to find a platform that meets your preferences and aligns with your goals.
You want to ensure you're investing in the right place that feels like the perfect fit for you!
Do you want a website with high traffic and established revenue streams?
Or are you more interested in a newer website with plenty of growth potential?
Whatever your preference, research and choose a platform that works for you.
Remember, when buying a website, it's crucial to do your due diligence. Ask questions, use secure payment methods, and verify the website's claims before purchasing.
To help you, members of my email list get my due diligence tool for free.
Owning a website can be an exciting and rewarding investment.
So go out there and find the perfect one for you! You'll love being a website owner.
Read This Next: