What You Must Know Before You Buy A Blog
If you're considering investing in a website, there are a few crucial things you need to know before you buy a blog.
In this guide, we will cover everything you must consider before making a transaction.
From understanding the value of the blog to researching the market and finding the right site for your skillset.
🫶 Want to Make More Money?🫶
Become a member of HerPaperRoute today and get a toolkit packed with resources to help you make that paper. All for FREE!
---
As an affiliate partner of various brands and sponsored content, HerPaperRoute may earn commission on qualifying purchases. Disclaimer | Advertise With Us
So, this is a must-read guide if you want to make the most of your blog purchase!
What You Must Know Before You Buy A Blog
If you are looking for a new and exciting way to make money online, have you considered buying and selling blogs?
Blog Flipping is a fantastic business model that can help you generate passive income or even build a profitable business!
There are new blogs for sale listings added each week to the Niche Investor marketplace – make sure you check there often.
When I first decided to buy a blog, way back in 2017, I was so excited! I had always been passionate about travel and adventure, so I found a blog in the travel niche I loved.
The blog had great content, a loyal following, and a steady traffic flow. it was such a great find.
So, I took the plunge and bought the blog, and let me tell you, it was the best decision I ever made!
As it led me into the world of website investing, and I have now bought, sold, and brokered over $3 million worth of sites to date.
But as great as this is, you need to know that buying a blog can be tricky.
There are a few key things you need to consider before purchasing.
In this post, we'll explore the ins and outs of buying and selling websites.
We'll discuss
how to evaluate a blog's value,
how to negotiate a fair price, and
what factors to consider when deciding whether to buy or sell.
Buying and selling websites can be a great way to make money online and expand your reach and authority in any niche you desire
However, before you jump into the world of blog buying and selling, there are a few things you need to know.
As someone who has bought and sold blogs, here's what you must know before buying and selling blogs..
Firstly, let's talk about buying blogs. When you're looking to
Before you buy a blog, consider these key things.
1. Consider The Niche
It's important to buy a blog in a niche that you're interested in and passionate about.
The truth is when you're interested in the topic; it becomes so much easier to create content and engage with your audience.
You know what they say – do what you love, and you'll never work a day in your life!
I remember I once bought a blog in a niche that I didn't really have a personal interest in it.
And honestly, creating content was such a struggle! I felt like I was forcing myself to write and couldn't connect with my audience.
It was not fun!
That's why I always advise people to buy blogs in niches they love.
Not only will you enjoy creating content, but your passion will shine through in your writing and increase engagement with your content.
That said, you also need to ensure that the niche is profitable.
Are people searching for the topic?
Can you monetize the niche easily?
For example, if you are passionate about a niche in plant care and, after your research, you find out that the topic is on a downward trend, then it may not be the best investment for you.
Read this guide for help choosing a profitable niche.
2. Understand The Traffic Sources and engagement
One of the things to consider when buying a blog is traffic and engagement.
You want to make sure it's generating traffic and engagement; after all, you want a blog that people are actually interested in, right?
The thing is, when a blog has a steady traffic flow, monetizing the blog and reaching a wider audience is much easier.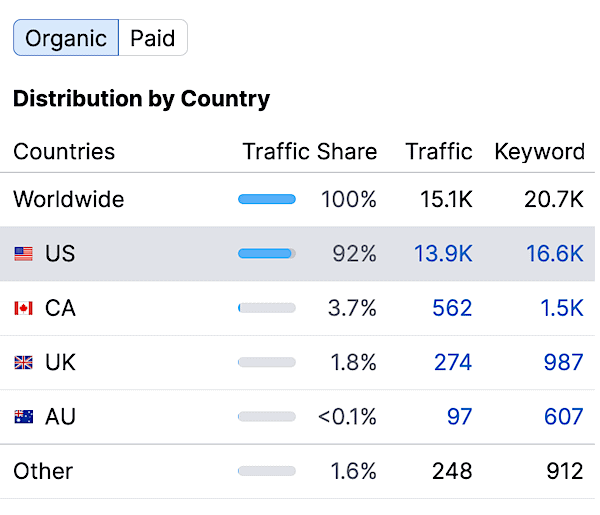 Researching the Blog's Traffic
The traffic a blog receives is one of the most crucial factors in evaluating its potential value. When researching a blog's traffic, consider the following:
Unique visitors: How many unique visitors does the blog receive per month? Unique visitors refer to the number of individual people who visit the blog.
Pageviews: How many pages do visitors view on the blog? Pageviews refer to the number of pages that visitors view on the blog.
Time on site: How long do visitors spend on the blog? Time on site refers to the amount of time visitors spend on the blog before leaving.
Traffic sources: Where is the blog's traffic coming from? Is it primarily from organic search, social media, or referrals?
You can determine the blog's potential revenue and value by analyzing these traffic metrics.
3. Content quality
When you buy a blog with great content, you're one step ahead of the game.
You don't have to worry about revamping everything; you can focus on growing the blog even more.
So before you buy a blog, take a look at the blog's content and make sure it's high-quality and engaging.
This will give you a great starting point to grow the blog.
4. Social media presence
Another factor you may consider is whether the blog has a strong social media presence.
A strong social media presence can help increase traffic and revenue and cannot be overlooked.
5. Backlinks
Does the blog have quality backlinks?
Backlinks can also help increase the blog's visibility and traffic.
6. Monetization potential
One of the biggest things you need to consider is the blog's monetization potential.
I mean, you're investing your hard-earned money into this thing, right? So, you want to ensure it will be profitable in the long run.
once I bought a blog that had great content and a decent following, but it was only making money through ads.
So I saw this as an opportunity to expand the blog's monetization potential by adding affiliate links to relevant products and doing sponsored posts with companies in the niche.
So what did I do?
I focused my efforts on affiliate marketing and working with brands on sponsored posts. Before I knew it, the blog was making more money than ever before!
And the best part is I could maintain the blog's authenticity while still making a profit.
So, I advise you to look for blogs with some sort of monetization strategy in place but also have room for expansion.
Consider your skills and what you can bring to the table to take the blog to the next level.
And don't be afraid to get creative!
There are so many different ways to monetize a blog these days.
In addition, before you buy a blog, always do your due diligence.
A few years ago, I was considering buying a blog in the personal finance niche. The site had a steady flow of traffic and engagement, and the content was high-quality.
I thought it was a great investment opportunity and was excited to start.
However, as I was doing my due diligence and researching the business, I realized that the owner had engaged in shady practices to inflate traffic numbers artificially.
As a result, the site would be too risky for me. So I passed and bought something else.
I learned a valuable lesson from this experience – doing your due diligence before buying a blog is essential.
Ensure you fully understand the website's metrics and traffic sources, and be wary of any site that seems too good to be true.
Here's a free copy of the due diligence cheatsheet that I use, before buying any website.
7. Content, Design, and Functionality
Another vital factor to consider before buying a blog is its content design and functionality.
Here are some tips on what to look for:
Content: Is the blog's content high-quality and engaging? Does it align with the blog's niche and target audience?
Design: Is the blog's design visually appealing and easy to navigate? A poorly designed blog can deter visitors from returning. BUt this can easily be fixed with a new theme.
Functionality: Is the blog easy to use and navigate? Are there any technical issues or bugs that need to be addressed?
By evaluating these factors, you can determine whether the blog has the potential to be profitable and worth purchasing.
Common Mistakes To Avoid When Buying A Blog
Now, let's talk about some common mistakes to avoid when buying a blog.
Mistake: Focusing too much on the numbers
While metrics like traffic, engagement and revenue are important, it's also important to consider the quality of the content and the blog's overall niche and branding.
Most things can be improved with your own skills and effort. So don't get caught up trying to find the "perfect" site to buy.
In fact, it's more fun to buy a website that needs some fixing up. Find one that you can work on, make it a project and improve.
This is also crucial if you want to resell it for more than you paid for it. There needs to be room for improvement, after all!
Mistake: Not doing your due diligence
I must stress that not doing your due diligence is a costly mistake you can make while buying a blog.
It is crucial to ensure that you thoroughly research a blog before buying it, and make sure you have a clear understanding of its metrics and traffic sources.
Download this free copy of my due diligence cheatsheet and use it every time, before you buy a blog.
What You Must Know Before You Buy A Blog – Conclusion
Before you buy a blog it's important to take your time to consider these factors, and do your research.
Niche site investing can be an excellent opportunity for bloggers to grow their audience, make money, and even change career paths.
Whether buying a blog to expand your existing business or selling it to move on to new opportunities, it can be an exciting and profitable venture.
Understanding the factors that affect the value of a blog can help you price your blog appropriately and ensure it's more appealing to potential buyers.
Finally, a clear contract will help protect you and the buyer during the process. You Niche Investor agent will provide this for you.
Learn more and get a free valuation to see how much your website could sell for here.
With proper preparation, buying, and selling blogs can be a rewarding business opportunity for all involved.
Read this next: How To Flip Websites For Major Profit
Don't invest in a website before reading this! Crucial things to know before you buy a blog. Tips to save money, invest wisely. https://t.co/ty8AYfkPGq#websiteinvesting #nichesites #blogflipping

— Chelsea Clarke HerPaperRoute.com (@HerPaperRoute) March 9, 2023