Blogging Habits To Double Your Income And Free Time
Do you have productive blogging habits? How about systems in place to ensure that you double your income while doubling your free time at the same time? Sound too good to be true? Listen to today's episode to learn more! Listen now: Blogging Habits To Double Your Income And Free Time
Listen to the podcast on Apple Podcasts | Google Podcasts | Spotify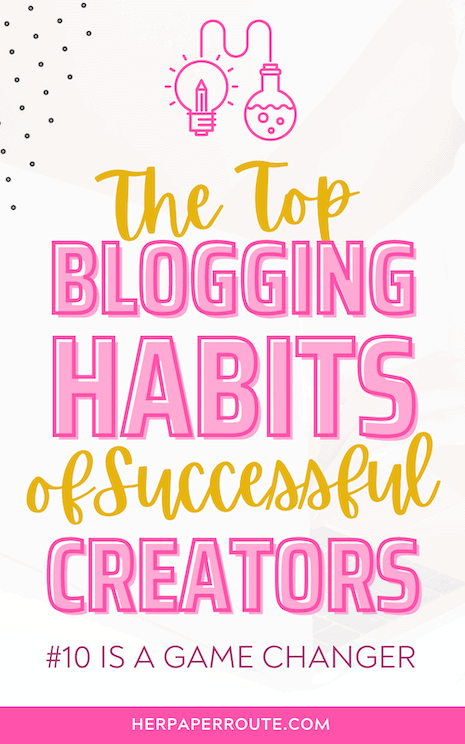 Blogging Habits To Double Your Income And Your Free Time
As a business owner, do you feel like you're just wearing too many hats and you're doing too many things, and you feel like you're busy all day?
🫶 Want to Make More Money?🫶
Become a member of HerPaperRoute today and get a toolkit packed with resources to help you make that paper. All for FREE!
---
As an affiliate partner of various brands and sponsored content, HerPaperRoute may earn commission on qualifying purchases. Disclaimer | Advertise With Us
But then at the end of the day, you're not really sure what you got done. That is a pretty common feeling. For many entrepreneurs.
My guest today is Sensi Charlery, she is a finance professional by day and entrepreneur by night.
She is on a mission to help other young women take control of their lives and become the best version of themselves.
Sensi has also sold two of her websites through me, as her broker. Sales which earned her over $35,800!
Sensi is here to share her tips for implementing blogging habits that have helped her double her income and her free time.
Q. Hi Sensi! Tell us all about your startup story!
Well, my startup story was actually a bit of an accident. I was just pursuing one of my hobbies. And then I realized that I can turn it into a business.
When I was a sophomore in college, I decided that I wanted to go on this whole personal growth journey.
I felt inspired to share it with other people, mainly young women my age. So I created a blog, and I started posting about personal growth.
I soon realized that I was the only one reading my blog! I figured out how to use Google Analytics, and I realized that I was the only one looking at it.
So I did some research on how I can get more views, to get more readers. I came across Pinterest. And on Pinterest, while I was doing research, I learned that you could turn a blog into a business and that there were people making six and seven figures with their blogs.
So I thought "I can do that!" And I started my blog, just before my senior year in college.
As I said, in the beginning, I was posting fairly random stuff. But I'd say 2019 was my first official year in business.
That's when I said "okay, you know what? I'm going to turn this thing into a business."
I liked doing it. I wanted to help people. I wanted to grow it and make money. You know, just blog about my personal growth journey.
I started pursuing that.
Q. When you decided to monetize it, how did you monetize?
Initially, I didn't want to invest in my blog. Simply because I was still in college, and I was responsible for paying for my tuition every semester.
That was a hurdle that I had to get over.
I learned about a lot of different people who were selling courses and they were helping people make money too.
But because I was still in college, and I had to pay my tuition, I was afraid to spend money on something that I wasn't 100% sure was going to work.
But then I received a scholarship, and I had some money from my part-time job and used some of it to invest in buying some blogging courses.
But of course, with blogging, when you start implementing different strategies it doesn't always take off immediately. Which made me hesitate again to invest.
So I remember, in the first six months of that business year, I made a whopping $4. I only made $4!
But still, behind the scenes, I continued implementing all of the strategies I was learning from the courses that I was taking.
And then in the following six months, I made $10,000.
Related: All the tools, apps, and training I use to run my blog and business
Q. What do you think made that change from $4, to $10, to $10,000? What happened in between that?
So for one, I realized that I really had to work on my mindset.
One of the things you always see in courses is mindset modules. There's always something in the beginning on mindset.
Back then, I almost always skipped over those mindset modules, because I just wanted to go straight to the strategies. Like, "just let me make some money!"
But it was after a couple of months when I really wasn't seeing results. So I started to work on myself.
I focused on treating my blog as a business versus a hobby. I trademarked my blog name from the beginning, even before I had any traffic or revenue to speak of. .
The very first thing I had to do was work on myself, I had to do some personal development. I had to change my perspective and treat it as a business.
And then, as a result, I realized that I had to create systems in my business.
I basically created a simple Google Doc. I wrote all of the major activities that I had to do for my business. And I titled it 'activities required to run my business.
With blogging, it was things like 'creating content,' 'graphic design', 'marketing', which was basically Pinterest, and email marketing.
I detailed out all of the steps that were needed for each of these tasks.
And then I highlighted what was training me what I could outsource. I started looking for ways to outsource. And then I discovered Fiverr. I started paying contractors.
At first, it was trial and error. But I landed some solid people at Fiverr that I worked with for the duration of my blog before I sold it.
I found someone to write my posts, I found someone to create my graphics and even help with keyword research!
One of the most important things that went along with these systems was I also started batching my work and scheduling time on different days to do different things.
So one day would be for reviewing content that I got from my copywriter and then editing it and putting it into WordPress to schedule.
Another day might be, focusing on my graphics, and then another day just for Pinterest scheduling.
Related: Time Blocking Examples For All Your Blogging Tasks
So after I changed my perspective, and I created those systems, I was able to free up a lot more of my time.
With this, I could better implement the strategies that I learned in those courses I had bought.
It was mainly:
Once I started creating those systems, and I started treating it like a business, I freed up a lot more of my time.
Then I was able to reach all of those revenue goals that I had, that I wasn't hitting in the beginning because I wasn't just focusing on money.
All of those revenue goals eventually just started taking care of themselves.
Q. Wow! What was one specific strategy that really worked for you on affiliate marketing?
Yes! For example, with the Amazon affiliate program.
I had a college blog. So let's say I made a post about dorm room items for freshmen.
Now, the average person's attention span is not that great. Sometimes people don't stay on blog posts very long.
So if you list the top three recommended dorm room products for college students at the top of your post, (before the fold). Because you can get a lot of conversions right there at the top of the page!
People will likely click on those affiliate links at the top, so they don't even have to skim the list at all.
My Amazon conversions doubled from one month to another when I implemented this, because more people were clicking on the top of page links.
I went through all of the popular posts that I had, that were affiliate posts, and updated each article with affiliate links at the top.
I highly recommend that you go update your posts, summarize the top three recommendations, or just give a brief synopsis with the top three.
Here's another great thing. You don't necessarily have to try to guess what would be the top three items for whatever it is you're posting about.
I simply looked on Amazon, I looked through my Google Analytics, and I looked at what people were clicking on the absolute most.
There, I can see the specific links, what products are getting the most clicks. Then I bump those ones up all the way to the front.
So you don't necessarily have to guess if you already have posts that are published.
You can just see what people are clicking on, and then move those to the top.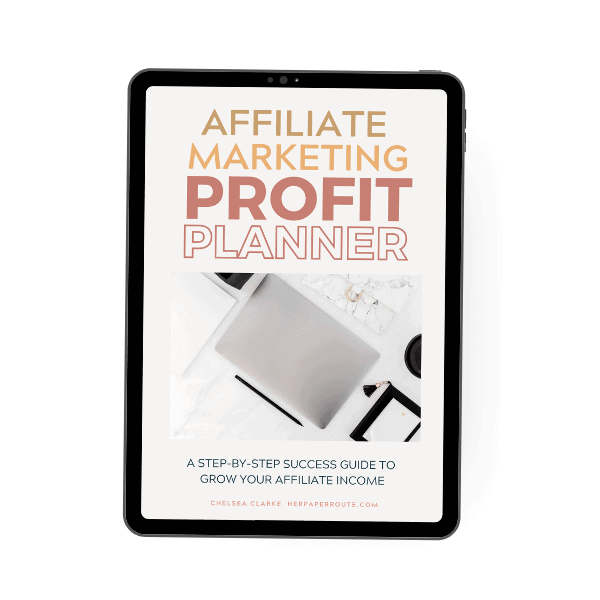 Get the Affiliate Marketing Profit Planner and you'll never wonder where your next commission is coming from again!
Q. Sensi, you have sold two of your websites with me. Can you walk us through what that process was like when you were putting your site up for sale?
Oh my gosh, Chelsea, that was one of the best things I did in my blogging business to be honest!
With my college blog, I eventually felt burned out. Sure, it made sense when I was in college. But after I graduated, I didn't want to keep writing about college content.
So my initial plan was to just set it and forget it.
Because it was earning passive income and I knew which seasons I would get the most money.
But then one day I was on Pinterest, and I saw this post from another blogger who sold her blog.
And I was like "you could sell a blog?!" I had no idea you could even do that.
I read the post and she talked about how she sold it through your website.
So I emailed her and asked what her experience was like. She said "Chelsea is great, highly recommend her. She makes everything so easy."
So I went and filled out your free blog selling valuation form. That's when we started talking about prices and everything. And I remember I had so many questions in the beginning.
But you were very patient with me, and you answered all of my questions. Basically, all I had to do was just sign a form, and then I literally just moved on with my life and you took care of everything in the background.
That honestly exceeded my expectations.
Because earlier when I had been thinking about selling, I did some research to find out about ways to sell it.
I found some websites where you could sell it on your own. But they talk about having to do your own contracts and stuff like that.
Plus, I had no idea how I could trust somebody to hand over everything before I get paid and stuff like that.
But you literally took care of everything, you had the contracts ready, you talked to all of the potential buyers.
This made it very easy for me, because I have a nine to five and I still work. So I literally just had you list it, and then we would talk when there will offers for me to negotiate.
The first blog we sold quickly. This gave me a glimpse of what the process was like, and I was just like, "oh, wow, this is, this is pretty simple!"
I felt confident. And then the second one sold, and that process was even easier!
I was so surprised. All I had to do was talk to you at first, and then you listed it. Then you came back with offers. When I accepted the offer you literally detailed all of the migration steps.
Because I was so nervous in the beginning! I was like "oh my God, I've had this blog since 2018. How do I transfer all of this?"
I had no idea how to transfer a domain, and the WordPress migration, and all of that. And as soon as I accepted the offer, and we signed the contract, you literally sent a detailed email with everything to do.
My thoughts were just "wow, this is amazing."
Q. Well, that really makes me happy to hear! Now, you have your seasonal content down to an art. What is your strategy for getting seasonal content to rank?
So the most important thing is to post way in advance. For example, Halloween is in October and I'm planning to have everything posted by the end of this month and it's April!
Because, if you plan on using Pinterest for traffic, typically it takes a couple of weeks for the pins to get traction and really rank.
You have to create optimized pins on Pinterest to link back to your blog. And it's going to take a couple of weeks for those pins to gain traction.
So you want to post in advance, I would say probably about two, three months in advance of the season, just to give yourself that extra time.
Ensure that you are using keywords. You can find related keywords when you type something into Google.
There will be related search terms that populate at the bottom. These are keywords. You want to make sure you use them in your pin descriptions and also in your blog posts.
So if you do this correctly, by the time the season comes around, your pins will be ranking if you do it correctly.
And you can gain a lot of traffic this way. Rather than waiting to post your Halloween content in September.
So the number one thing is to start way in advance so that it can sit.
Next, with Google, it takes some time for them to crawl your website. If you don't have a lot of backlinks on Google yet, you probably won't have a high domain authority.
So Google takes even longer than Pinterest to rank your content. So you want to post way in advance.
Q: Any Last Words of Advice For Bloggers?
Yes: focus on creating value, instead of making money.
In my first six months of business, I was very money-oriented.
I was very focused on making money, and I had these revenue goals that I wanted to earn.
But I didn't really focus on providing value.
If you think about it, the people you follow on social media, or the bloggers you subscribe to even podcasters; the reason you are hooked on their content is that it provides value to you. It's useful to you.
And as a result of providing that value, your platform, whatever you use, is going to grow organically.
As a result, as it grows, you will make more money.
So the main thing you need to do is focus on creating value versus money.
Honestly, when I started doing that, that's when everything started falling into place.
People started emailing me, asking me for tips on improving their GPA. I was suddenly building a whole community in my email list.
Which allowed me to write more content to cater to what people were asking me.
And then, as a result, those posts did very well. I got more money from AdSense and affiliate commissions.
So focus on value, not money.
And lastly, if you are struggling with imposter syndrome, know that you're not alone and just trust the process.
Because I'm only 24. Imposter syndrome was something I struggled with a lot. But if I can have blogging success as a college student, then you can do it too.
Connect with Sensi via her new podcast Secluded Thoughts and her Instagram.
Blogging Habits To Double Your Income And Free Time – Conclusion
Chelsea: here are the blogging habits I swear by!
1. Wake Up Early
2. Treat Your Blog Like A Job From Day 1
4. Be Social: Network With Other Creators Daily
5. Overcome Money Mindset Blocks, And Have A Growth Mindset
7. Post Seasonal Content Well In Advance Of Holidays
8. Follow The 80/20 Rule (20% Content Creation, 80% Promotion)
9. Utilize Pinterest SEO For Traffic
10. Get On Stages (Virtual Summits, Webinars, Clubhouse)
11. Your Email List Is #1 Priority
12. Publish New Content Consistently
13. Engage With Your Readers
14. Monetize With Affiliate Marketing And Digital Products
15. Survey Your Audience Often
16. Ignore The Drama In Blogging Communities
17. Above All, Provide The Best Value!
To learn how to start your own blog, enroll in HerPaperRoute's free blogging foundations course.
This training walks you through every step you need to know to set up and monetize your brand-new blog so that you can start earning income right away.
Or if you are looking to buy or sell an online business, read: Where to buy websites.
Pin This!