5 Essential Resources for Affiliate Marketers
Do you know about the best resources for affiliate marketers? You will today.
There is a lot to do and learn and while it can seem overwhelming, if you get the right resources it can help you out a lot.
I know because I've been through it and I'm here to pass on my knowledge to help you get to the golden valley of high ticket affiliate earnings.
Read on to find out the 5 essential resources for affiliate marketers that I recommend to anyone looking to succeed in affiliate marketing.
---
As an affiliate partner of various brands and sponsored content, HerPaperRoute may earn commission on qualifying purchases. Disclaimer | Advertise With Us
---
5 Essential Resources for Affiliate Marketers
Resource 1: A Mentor Who Has Achieved The Results You Want
Topping the list of my 5 essential resources for affiliates is investing in a mentor.
It can be tempting to just dive into starting everything on your own, not wanting to take the time to go through a training course.
But the thing is, by going it alone, it's kind of like just feeling around in the dark with sunglasses on – not very successful or practical.
🫶 Want to Make More Money?🫶
Become a member of HerPaperRoute today and get a toolkit packed with resources to help you make that paper. All for FREE!
---
A decade ago, I tried and failed to start a few online businesses without taking a course or hiring a coach, and learned my lesson the hard way.
Investing in a mentor that has reached the goals you want to achieve, will give you a step-by-step plan for success.
Having money in the game will make you do the work, even when you come home exhausted and not wanting to do anything.
I spent over $50,000 last year on my coaches, both on self-paced courses and 1:1 mentorship…and I do not regret it one bit.
Find a mentor who you resonate with, and who is achieving success in rooms where you want to be.
If you prefer a self-study course, and want my blueprint on how to reach success with affiliate marketing, check out this course. Or if you are curious about working with me as your mentor, watch this.
Resource 2: An Email Autoresponder
Second on the list of essential resources for affiliates is an email autoresponder.
The money is literally in the follow-up as 99% of people won't buy from you right away.
An email autoresponder like this one is perfect for sending valuable email campaigns that prime leads for your offers.
It's recommended to encourage people to join your email list from your website, your YouTube channel, and your other social media channels by offering a lead magnet.
This could be a free information PDF, a mini course or a video tutorial.
It doesn't have to be lengthy, just valuable and easily digestible.
After you have people on your email list, follow the jab-jab-hook method where you offer two value-emails and one pitch.
This will ensure you don't bore people with too many sales emails and will build up the know, like and trust factor.
Resource 3: A Link Customiser/Management Platform
If you start out your affiliate marketing journey just by spamming your link everywhere, especially without a link shortener, you will not last very long.
Not only that but will you probably get banned from online platforms!
You also will not have anyone trusting in you and wanting to buy from you.
There are many shady affiliate marketers out there – don't be one of them!
If you have a website, a good free plugin to use to customize and track your links is Pretty Links.
It is a tool that creates brandable links of your affiliate links, and overall will make it less spammy for social media platforms.
It will keep your links neat, and trackable.
Resource 4: Keyword Research Tool, And On-Page Optimization Tool
A keyword research tool is an essential resource for affiliates.
Keyword research will aid in getting your blog and video content visible organically, without having to fork out money for ads.
Using the right keywords and having them placed strategically in your content will set you up for audiences to find you.
I can recommend Keysearch as a great keyword tool and both Surfer SEO, and Rank IQ for on-page optimization.
Check out this keyword research tutorial.
Resource 5: Funnel Building Software
A marketing funnel is a journey you take someone on from being aware of you, right through to being a paid customer.
Funnels can be used to sell products, offer a lead magnet in return for an email, take people to your membership site, show people a webinar plus all sorts of cross-sells and upsells…..the list is endless!
Every serious business will benefit from a funnel, including affiliate marketers.
A website still has its place, but often gives people too much choice, causing them to just click around and ultimately bounce away.
Getting yourself a smart funnel-building software like this one which is what I use, is worth its weight in gold.
Alongside helping you to capture leads, it has one of the best affiliate programs on the market where you can earn some serious cash.
I can also recommend Thrivecart as an excellent funnel software.
Essential Resources For Affiliate marketers – Conclusion
This list is not exhaustive. There are many other tools and resources that are beneficial for affiliate marketers.
But, these are the first 5 which I believe every affiliate marketing business needs.
Without these resources, you may find it hard to get traction with your affiliate business and get to the earning stage.
While resources are essential, be aware that they are not the only factor for success and it takes a lot of effort, consistency, and a strong will to start making money in affiliate marketing.
If you are determined to build an affiliate marketing business that will give you a great lifestyle, check out my free workshop.
Now, to see all of the tools, tech, and apps I use to run my 7 figure blogging business, read this: The Best Creator Tools.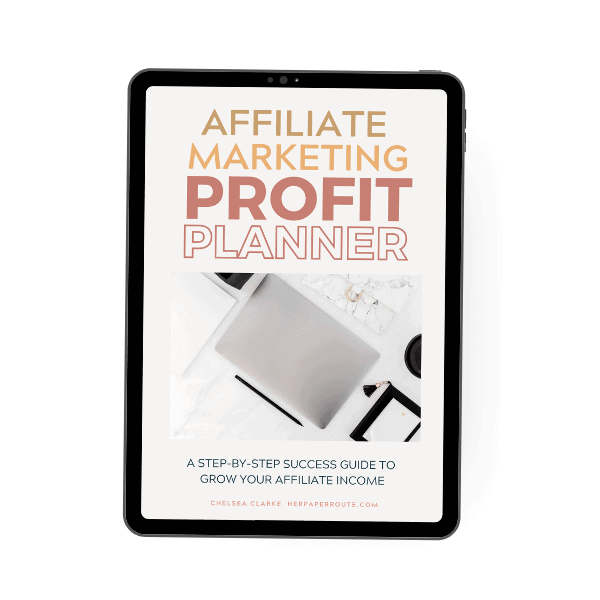 Before you go, get your Affiliate Marketing Income Planner!