7 Smart Ways To Earn More Clickfunnels Commissions: Clickfunnels Affiliate Program
Want to learn how to make more Clickfunnels commissions, and perform better as a Clickfunnels affiliate?
Clickfunnels is a sales page and funnel builder that has played a big part in making some super-affiliates millionaires and paying for many savvy marketers' dream car. Yes, they will actually pay the monthly rental on your dream wheels if you sign enough people up – crazy right!?
So, if you've landed on this page and want to know how to promote Clickfunnels as an affiliate, you've come to the right place.
I'm going to show you 7 ways to make more Clickfunnels commissions as an affiliate, by promoting well, in 7 different places!
---
As an affiliate partner of various brands and sponsored content, HerPaperRoute may earn commission on qualifying purchases. Disclaimer | Advertise With Us
---
What Is Clickfunnels and Who Is It Good for?
There are many high paying affiliate programs out there, and Clickfunnels is certainly one of the most well-known.
Clickfunnels is a software developed by Russel Brunson, allowing anyone to build their own high-converting sales funnels and landing pages.
It's a tool that simplifies the tech side of things for business owners and enables people to promote and sell their products online, without the need of a coder.
🫶 Want to Make More Money?🫶
Become a member of HerPaperRoute today and get a toolkit packed with resources to help you make that paper. All for FREE!
---
Clickfunnels is simple to use being drag and drop. It also contains a wealth of ready-made templates for you to personalize and use for your campaigns.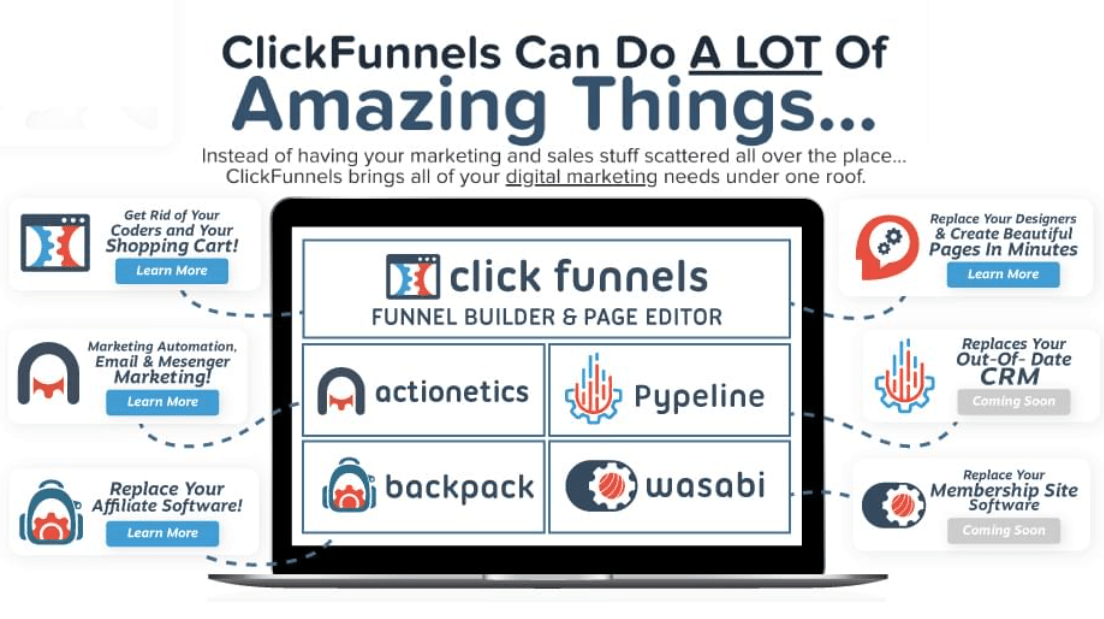 The Clickfunnels platform is one of the best sales funnel builders for small or large businesses.
Bloggers, coaches, freelancers, gyms, dentists, chiropractors, real estate experts, e-commerce store owners, large corporations and any type of business will benefit from using the tool.
How Much Commission Do Clickfunnels Affiliates Earn?
The Clickfunnels affiliate program pays 20% recurring monthly commission on the Clickfunnels tool subscription.
Meaning when you refer a customer, you will earn 20% every month for as long as they remain a customer.
(Clickfunnels customers pay $97 per month for the startup plan and $297 per month for the full suite. The main difference between the plans is how many funnels and landing pages you have access to each month.)
Your commission bumps up to 30% once you make $1000 in a month. If you refer 40 active customers, your commission bumps up to 40%.
In addition to this, all affiliates earn 40% commission on all of the Clickfunnels ebooks, and $100 per sale on their summits and challenges.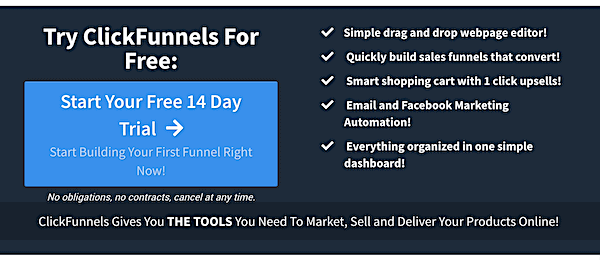 7 Smart Ways To Earn More Clickfunnels Commissions As A ClickFunnel Affiliate
If you currently use the Clickfunnels software and you love it, you can promote it to make money with their affiliate program.
Even if you don't use it, you can sign up to be an affiliate for their software.
The thing is, I believe in ethical affiliate marketing and my advice is; you should use Clickfunnels if you're going to promote it so you can talk about it with sincerity.
If you don't use it, why should others use it and buy it from you?
Earning affiliate commissions by promoting Clickfunnels is a great way to start affiliate marketing before you have your own products to promote.
All the Clickfunnels products are proven, and high quality and there is a range of low-ticket to high-ticket products you can promote.
The Clickfunnels affiliate program uses a thing called ''sticky cookies''. This basically means if you sell a low-ticket product to someone like one of their books, you will get a $1-dollar commission.
This doesn't sound a lot I know, but that person will now be ''cookied'' to you in the Clickfunnels sales process and on Russel Brunson's email list, where they will have multiple other high-ticket products promoted to them.
You don't have to do any more selling but if that person then buys another high-ticket product, you will still gain the 30/40% commission because they came into Russel's web through your link originally.
This means you have the potential to earn some huge commissions on the back end, even a few months down the line after you've sold someone a book.
Start out building your audience on social media and offering value.
Once you've established yourself, you can start to promote Clickfunnels products as solutions to help your customers.
Examples are;
read the Expert Secrets book to learn how to tell stories and get sales.
use Clickfunnels to build high-converting sales funnels and get leads onto your list.
But like with anything, promoting Clickfunnels as an affiliate is not a get-rich-quick scheme.
You do need to take the time to understand the software and find the right target market to have a chance of making sales.
Now we will go over how you can make more commissions as a Clickfunnels affiliate.
1. Promote Clickfunnels On Your Blog
Starting a niche blog is a proven way to make money with affiliate marketing. It's simple to create your own website for a few dollars a month.
Follow this guide; how to start a WordPress website on Siteground which walks you through every step in setting up your site today.
Don't want to build and develop a site from scratch? No problem. You can buy an established blog that is already profitable!
Once you have your website set up, you can start writing articles promoting Clickfunnels software and products.
Remember, it can take some time to build up your site authority to the point you get enough traffic and therefore sales.
Build great content around low-competition keywords you are likely to rank for, make your site SEO friendly, and work on getting backlinks from other high domain authority sites.
SOME Ideas for articles you can create promoting ClickfunnelS
A review of Clickfunnels and their other tools/books
Comparison posts: Clickfunnels Vs Get Response or Clickfunnels Vs Kartra
Video tutorial showing how you use Clickfunnels to set up your sales page
An in-depth guide to using Clickfunnels
Free course teaching people how to use it (here's how to create a course)
The more you write about Clickfunnels and become the go-to authority on this subject, the more traffic you'll get and eventually sales.
2. Promote Clickfunnels on YouTube
Having your own YouTube channel is another great way to promote Clickfunnels. Just like a blog, work on creating helpful video content that will increase the traffic to your channel.
Build your videos around keywords people search for on YouTube and add popular tags.
Practice making your videos engaging and you should slowly see your watch time and subscribers increase. Place your Clickfunnels affiliate links into the description of your videos.
Video marketing is huge and grows year on year.
Many new millionaires are being grown from their niche YouTube channels, where they make money from affiliate marketing, brand deals and ad revenue.
Many people go searching on Google and YouTube for reviews of a product. According to Tubular Insights, 64% of consumers make a purchase after watching a branded video.
In your review, talk about Clickfunnels in-depth, detailing how it works, who it will benefit and all the pros and cons.
Place Clickfunnels up against other funnel-building software like GetResponse, BuilderAll or Kartra. Break them all down and give as much information as you can.
People watch comparison videos because they're looking for help to decide which one to buy. Finish your video with your recommendation of the clear winner and reasons why.
3. Promote Clickfunnels Through a Share Funnel
Number three on the list of how to promote Clickfunnels as an affiliate, is to use a share funnel.
Every funnel you have in your Clickfunnels account has a unique URL. This URL can be copied and shared with others so they can leverage the funnel themselves.
If the person who clicks on the URL is already a Clickfunnels member, they will be able to download the funnel straight to their account.
If they are not, a screen will open asking them to sign up for the 14-day free Clickfunnels trial.
Once they experience the power of Clickfunnels through their free trial, they can sign up to a paid account. If they do this, or buy any other Clickfunnels product, you will get up to 40% recurring monthly commission.
4. Promote Clickfunnels in Your Courses
Personally, I love affiliate marketing because there are so many places you can make sales, when you get creative.
And showcasing affiliate links into courses that make sense for the product and audience is a really easy no brainer way to do it.
I also recommend creating free courses that teach how to use an affiliate product.
You could create a free course showing how you built your sales funnel using Clickfunnels, and get people excited to invest in the software.
5. Promote Clickfunnels in Your Facebook Group & Page
I don't need to tell you how big Facebook is! But if you want to know some stats; Facebook has 1.49 billion daily active users with 500,000 new users signing up every day, which is 6 new profiles every second!
Whatever niche you are targeting with your affiliate marketing business, you'll likely find them on Facebook.
Your Facebook profile is like your shop front – you need to make an impression. Here are some tips to get more Clickfunnels leads through your Facebook profile;
Have a clear headshot with you smiling. Make sure your cover photo is relevant, it stands out and tells people what you do.
Write a keyword-rich bio statement with a clear CTA (Call To Action)
Under your bio have a clear pinned image. Add a CTA on the image telling people what you want them to do eg; join my group, grab my free e-book, click here to join my XYZ
Post valuable content daily. A good idea is to follow the RVL formula – Results Value Lifestyle. This allows people to get to know you, they can see your product works and know that you're an expert in your field. DO NOT just spam your link everyday saying BUY THIS
Join relevant groups and engage with people. Focus on answering questions and being helpful and people will check your profile out
Talk to everyone who becomes a new contact
Next, promoting in Facebook Groups takes it to the next level.
Here are two ways you can promote Clickfunnels as an affiliate in Facebook groups. You can either create your own group or leverage other groups in your niche.
How to Promote Clickfunnels with Your Own Facebook Group
It's a great idea to start your own Facebook group and build up a mass of people who are interested in what you're selling.
This won't happen overnight, but you have to ensure your group is set up well with an optimized name to get the Facebook algorithm in your favor.
Choose a keyword-rich name. Tell Facebook and everyone else what your group offers eg; affiliate marketing tips for bloggers or Funnel Building training for entrepreneurs.
Add a great cover photo and detailed description.
Add a free training section in. This is an area where you can provide free value like an affiliate marketing mini-course, or short course on how Clickfunnels will benefit you etc. Any live videos you do can be added into this section also.
Create a resources section where new sign-ups can download your free lead magnet. Some ideas for free giveaways to get people onto your email list are; a cheatsheet, a free information-packed PDF, free software, books or a share funnel.
Add questions in to the sign-up section. This is a free and easy way to get information from your leads and you can even ask for their email address to get access to your group.
How to Promote Clickfunnels in SOMEONE ELSE's Facebook Group
Now, this needs to be utilized with caution. I don't mean to go in any group and start spamming your Clickfunnels link everywhere.
This will just bring your reputation down and probably lead to you getting banned from groups and even Facebook.
At the very least, you won't make any money as this is not a good way to promote affiliate offers.
Aim to go into other groups, get to know the owner, add value to the group by answering questions and talk to people like humans. Yes, humans, not cash machines!
This is 'attraction marketing' and will start to lift your like, know and trust factor. People will start to see you as a leader, someone who has the answers and someone to follow.
6. Promote Clickfunnels by Running Facebook Ads
If you've got some cash in the bank, Facebook ads can provide great gains if done well. It's a good idea to read up on Facebook's best practices for ads, as they do have a few rules.
It's also advised to get help from a Facebook ads expert, so you don't just walk around in the dark wasting money.
And believe me, it's likely you'll waste money if you don't know how to set up Facebook ads properly – I've been there!
7. Promote Clickfunnels Using Quora
Quora is an awesome platform, completely underutilized by most marketers.
Quora can drive huge amounts of organic traffic and it will help build your credibility while allowing you to drive leads to your blog and products.
If you don't know what it is – Quora is a question-and-answer site where people ask and answer questions.
This is why it's such a great platform to be on as a marketer. No matter what you're promoting, you can bet there are people asking questions in your niche.
Some ways you can use Quora to promote Clickfunnels are;
Answer questions in-depth and thoughtfully offering real value. Link to your blog or YouTube channel if this will further help the answer. To get more exposure, you can share your answer into relevant spaces which are like niche groups
Share your articles in Quora spaces which will help the audience. These have to be accepted by a moderator so make sure they are relevant. If you share quality content, you may get asked to be a contributor which will further give you more scope to market
Become a Quora contributor by being asked or asking to become one. Once you are a contributor, you have free reign to share your articles to your niche audience
Link to your blog, lead magnet, YouTube channel or share funnel in your Quora bio. Make sure you cloak your links with software like Bitly or Pretty Links
Quora, like most social media platforms, is meant for social interaction and adding value to each other.
While it is possible to promote products like Clickfunnels as an affiliate, be careful that you aren't too obvious about it and take the necessary precautions.
Always aim to lead with value first. If you get this right, people will naturally come to you in the end and want to know what you're promoting. If you are too salesy, you'll just put people off.
Check out my video below on how to get massive traffic from Quora, 1,000s of leads in months.
How to Fast-Track Your Success as a Clickfunnels Affiliate
Learning how to promote Clickfunnels as an affiliate and actually making decent money, can take some trial and error.
While it is possible to make it happen on your own, getting guidance from a mentor who has achieved what you want to achieve will cut the learning curve.
Is The Clickfunnels Affiliate Program Worth It?
In my opinion, yes the Clickfunnels affiliate program is well worth joining.
There are so many Clickfunnels products to promote from low ticket up to high ticket. Some products you can promote are; books (free plus shipping), the One Funnel Away Challenge, sign-up to Clickfunnels (14-day free trial), webinars and training programs.
If you get 200 active members in a month, they will pay you an extra $1,000 to put towards your dream, luxury car. And, for 100 you get an extra $500.
You can make 40% commission on sales and you can even benefit from their 'sticky cookies'. This means, once a customer has clicked your link to a Clickfunnels product, they will be tracked to you and you still earn the commission even if they make a purchase at a later date.
You even get recurring monthly commissions for everyone who signs up for a Clickfunnels account through you. Yes, passive income – no more work required!
Being a part of the Clickfunnels affiliate program, also means you'll have access to some great free training. The Affiliate Bootcamp is super valuable, giving you access to the knowledge of other super affiliates.
You can then use this training as a free giveaway to your subscribers, which can be another way to get sign-ups and commissions.
7 Smart Ways To Earn More Clickfunnels Commissions – Conclusion
After reading this guide on how to earn more Clickfunnels commissions, you should have all the information you need to start promoting Clickfunnels like a pro.
Remember, building an ethical, sustainable affiliate marketing business does take time and lots of effort though.
Of course, we all want to make money fast. But many affiliates who tell you it's easy, are just lying to you. We don't often see the years of hard work and failures that a super affiliate may have gone through. We just see the successful person now and think it happened overnight.
When joining the Clickfunnels affiliate program, or any other affiliate program, treat it like any brick-and-mortar business.
You are building a brand, not a quick fix.
Take action daily. Create valuable content on your chosen social media platform
Refine your marketing message. Really work out what your USP (Unique Selling Point) is
Build an email list with ConvertKit and keep in contact with warm and cold leads. People will generally not buy straight away
Talk to people in your niche daily and focus on how you can solve problems
Get an accountability partner and a mentor, who won't let you give up in those tough times
Assess your affiliate business monthly and tweak it where necessary
Stay focused and never give up!