How To Make Money Online with Clickfunnels in 2024
If you want to make money online with Clickfunnels, you are in the right place.
Clickfunnels in my opinion is one of the best funnel-building tools. But you may be surprised when I tell you that my admiration for the brand is not simply because of the software itself.
Here are the facts. There are many funnel-building tools out there, and many of them offer the same type of functions.
Think sales page + upsell + tripwire + conversion + delivery. Easy. Nothing new or all that exciting.
---
As an affiliate partner of various brands and sponsored content, HerPaperRoute may earn commission on qualifying purchases. Disclaimer | Advertise With Us
---
But Clickfunnels is special, in that it offers something else, that no other funnel software companies can compete with. And that is the multitude of sales training resources that Clickfunnels offers.
In this article, I will show you how to make money online with Clickfunnels in three exciting ways.
Clickfunnels Review: 5 Ways To Make Money Online with Clickfunnels
Sure, at its core, Clickfunnels is a SAAS (software as a service) that helps you build a funnel and sell your product.
🫶 Want to Make More Money?🫶
Become a member of HerPaperRoute today and get a toolkit packed with resources to help you make that paper. All for FREE!
---
But thanks to the many, many funnel-hacking training programs offered by its founder, Russel Brunson, it is so much more.
Clickfunnels (the tool but also the culture around the brand) has created multiple millionaires since its inception and changed millions of lives forever.
What Is Clickfunnels? Why Do You Need Clickfunnels In Your Affiliate Marketing Business?
If you've been around in the online marketing space for a while, you probably know what Clickfunnels is.
If so, you can skip ahead to the "how to make money online with Clickfunnels" part by clicking here.
But if you haven't, let's talk about it for a moment.
Clickfunnels is a powerful drag-and-drop software created by Russel Brunson which allows you to create sales funnels and landing pages.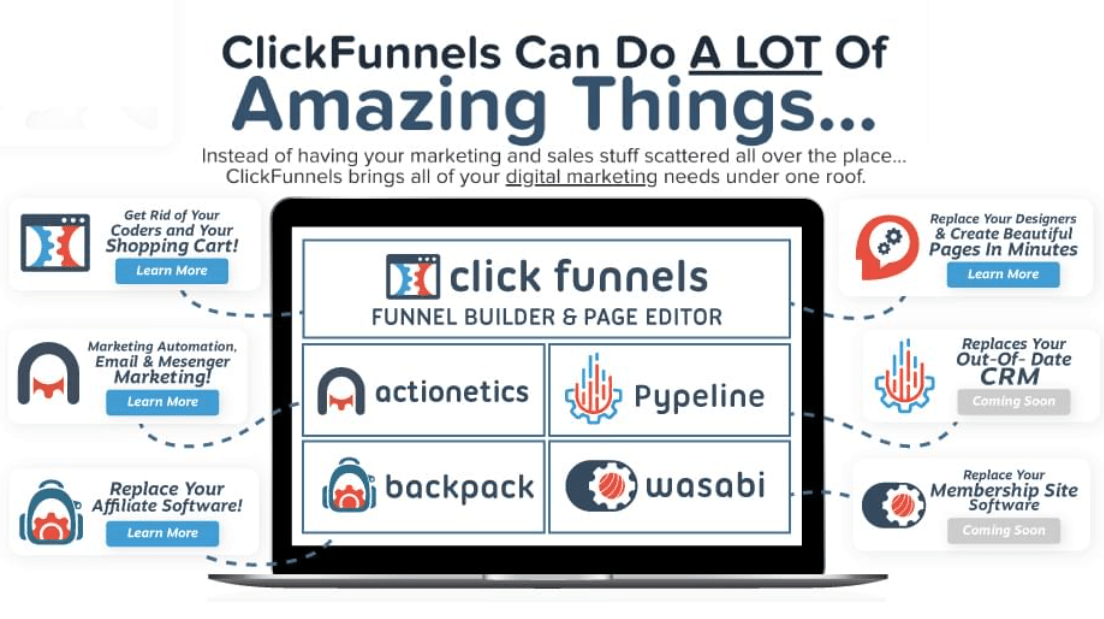 Years ago, creating these types of things would have required you to part with a lot of cash to pay a tech expert.
Now you have the power to create beautiful, professional and high-converting funnels yourself.
ClickFunnels Review
Clickfunnels is a funnel-building software created by Russel Brunson that gives you everything you need to market, deliver and sell your products or services without employing an expensive tech team.
It's recommended you learn about the powerful capabilities of Clickfunnels for your business and also how you can make money online promoting it.
No matter what affiliate marketing niche or business you are in, you need a sales funnel that generates money.
Clickfunnels gives you the chance to build your own sales funnels with simple drag-and-drop software or choose to use pre-made, proven funnels that are already uploaded in the program.
ClickFunnels Review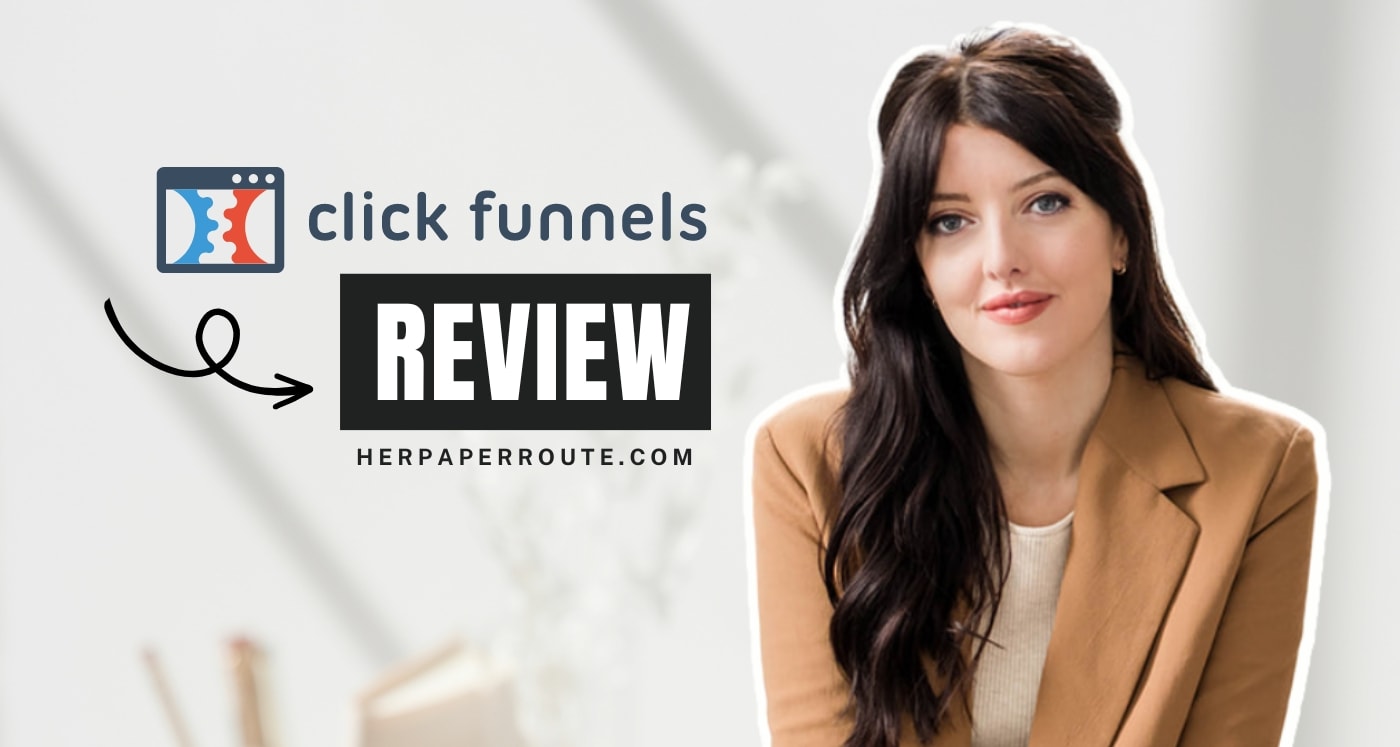 Important: If you want to make money online with Clickfunnels, read this Clickfunnels review before you buy.
Product Brand: ClickFunnels
Pros
Easy Drag&Drop Page Editor
Great Support
Goldmine Of Sales Resources
Once you sign up for your 14-day FREE trial, you'll be able to start building a funnel to take people to your offers.
I would also recommend that you take the 'First Funnel Challenge.'
You can choose from the hundreds of ready-made funnels in all different industries including;
professional services, ecommerce, retail, B2B, network marketing and many others. Alongside this, you can select a funnel that matches your EXACT end goal
eg; to generate leads, sell a product or promote an event.
You can track the success of your funnel and tweak it when necessary, integrate your autoresponders and even run webinars using Clickfunnels.
Here are the reasons EVERY business will benefit from using Clickfunnels.
Save Time and Money Building Funnels
It used to be that you had to employ expensive coders and tech experts to build out sales funnels for your business.
Now you can become your own funnel expert and build out your own high-converting sales funnels fast.
Anyone can learn to build a funnel within a few hours and start generating new leads and putting their offers in front of potential customers.
The good thing about an affiliate marketing sales funnel is that it's evergreen and will be working to generate leads and sales, even when you're asleep!
Increase Brand Awareness and Generate Leads
You can use a sales funnel to increase brand awareness.
By creating a free giveaway, you can put this in front of people in exchange for their email addresses and take them through a funnel onto your list.
This can be done for free when you start as an affiliate marketer, promoting your lead magnet funnel on your social media channels.
Once you have more of a budget, you can promote your Clickfunnels funnel through paid Facebook ads, Instagram ads/influencer marketing, YouTube ads and promotion on Google.
Once people opt-in to your funnel and claim their free giveaway, you can nurture the relationship by keeping in touch through email.
Automate the Selling Process
If you want to make money online with affiliate marketing or with any other online business, you're probably looking to automate some of the process so you can enjoy more freedom to travel or be with the family.
Thankfully in the digital age, we no longer have to walk door to door to sell what we have to offer.
We can sell to people all over the world and a sales funnel is like a mini salesman who will do a lot of the selling for you.
You might have to tweak your sales funnel a few times at the start, to get it working at optimal capacity, but once you get it right, it'll generate leads and sales on autopilot.
Track Prospects and Split Test Offers
Prospects will usually go through the stages of; awareness, interest, decision, purchase and retention.
If you try and sell your product or affiliate offer to everyone, you'll probably end up with very little results.
Building a funnel on Clickfunnels, will help you gather prospects up who are qualified and interested in what you have to offer.
Once you take prospects into your funnel, you can then nurture their journey and track their progress through funnel analytics.
The split test option in Clickfunnels funnel builder, allows you to duplicate a funnel you've made and make slight changes to it to see which performs best.
This can be something as simple as changing an image up, changing the header text, changing the colours of the funnel or wording your call to action in a different way.
Boost Order Value with Upsells
Upsells are extra products you can offer to your customer on the backend (as they reach checkout), to bump up the potential order value.
Upsells should be relevant with the main order, otherwise they'll simply be ignored or thought of as spam.
If they accept the first upsell, you can even present them with a second upsell.
Clickfunnels gives you all the features you need to easily add upsells to your affiliate marketing funnels.
Get A FREE 14-Day Trial Of Clickfunnels And Start Making Money Now.
How To Make Money Online With Clickfunnels
There are five main ways you can make money online with Clickfunnels.
We will discuss each way in detail, below.
Use Clickfunnels to sell your own product
Use Clickfunnels to promote and sell products that you are an affiliate for (such as incentives)
Offer a funnel-building service, where you build funnels for other people using Clickfunnels
Sell funnels that you create in Clickfunnels to other CF customers
Promote Clickfunnels as their affiliate and earn commissions for your referrals
If you are just starting out, it's a good idea to focus on one method at a time until you master it.
Then add other strategies to your money-making arsenal later.

Educate Yourself On Russel's Sales Strategy Teachings
First and foremost, if you want to make money online using Clickfunnels, you will need to take an interest in learning sales strategy.
And who better to learn it from than from the Clickfunnels founder himself?
I highly, highly recommend that you read these 3 books (you can get each of them for FREE:
read the Expert Secrets book to learn how to tell stories and get sales.
read the Traffic Secrets book to learn how to drive traffic (aka buyers!) into your funnel
read the Dotcom Secrets book to learn the inside scoop on selling online
Now, let's dive deeper into the five ways to make money online with Clickfunnels.
1. Sell Your Own Products With The Clickfunnels Platform
If you are further along in your online business strategy and you have your own products or courses to sell, you can make money online with Clickfunnels by promoting your own products and courses.
Within your Clickfunnels dashboard, you can make your own webinars, membership sites and high-ticket coaching funnels.
Membership sites. Building your own membership site is a great way to earn passive income. You can offer free content to entice people in and a paid membership where people can access your paid content.
Digital course. If you have your own online course, coaching program or information product, you can build your own high-ticket funnel with Clickfunnels to promote it.
A funnel is a more effective way to drive people to what you have to offer than a website, as it cuts out all the noise and overwhelming options that come with a website.
Sell physical products. If you have an e-commerce store or you sell products as an Amazon seller, a funnel is needed to drive people to your products and get them on your list.
You do this by giving away a lead magnet (aka a free offer), and use Clickfunnels to promote that offer.
Some great ideas for a lead magnet; a free e-book, a how-to PDF, a buy one get one free offer or a discount code for signing up to your newsletter.
A lead magnet funnel will do its job of enticing people to add their email address, allowing you to follow up with them in an email sequence where you sell your products.
Related: How to create a lead magnet that people actually want
2. Use Clickfunnels To Sell Affiliate Offers
If you are an affiliate marketer, you can use Clickfunnels to make more affiliate conversions.
Consider using the software to create sales funnels that educate your readers on the brand's product.
And, use the funnel to give a personal touch using bonus incentives, that encourage your readers to use your affiliate links to buy.
Learn more about the Clickfunnels affiliate program.
3. Build Funnels For Other Businesses In Clickfunnels
Many businesses don't know it yet, but a high-converting sales funnel is what they need to get more leads and sales.
Once you've used the Clickfunnels software for a while and have got competent at building funnels, this is a valuable skill you can offer other people.
Some funnel builders have built million-dollar businesses for themselves by creating a high-converting sales funnel in Clickfunnels that they sell to a business.
The good thing is, you only have to create one funnel for an industry niche, then you can use this funnel over and over for businesses in the same field.
For example, you can position yourself as an expert funnel builder for; chiropractors, dentists, gyms, coaches or bloggers…. the list goes on.
Many experienced funnel builders charge $5,000-$15,000 for a single funnel that could possibly bring in millions for a client.
If you're just starting out trying to get yourself established, consider offering a free period where you let the client experience what the funnel does and possibly a Facebook ad campaign you set up to drive leads to the funnel.
You could offer a two-week trial period and then offer a fee of $300-$500 per month to maintain the campaign.
Ask for testimonials when you get results and as you gain experience you can put your monthly fee up.
4. Sell Funnel Designs Built In ClickFunnels
Did you create an awesome funnel?
With the 'share funnel' feature you can actually export your designs and sell them in the ClickFunnels marketplace for cash!
5. Refer Others To ClickFunnels And Earn Commissions
Many CF affiliates have become millionaires by promoting Clickfunnels and referring new customers to the platform.
If you get really good at promoting Clickfunnels, you may even get into the club of super affiliates who have qualified for the Dream Car Program.

Basically, if you sign up 100 active Clickfunnels users, you'll get paid an extra $500 towards your dream car! If you sign up 200 people or more a month, you'll get $1,000 towards your dream car monthly.
You'll even get some free training from Russel as your seven-figure mentor, and a ton of exclusive bonuses.
Get A FREE 14-Day Trial Of Clickfunnels And Start Making Money Now.
ClickFunnels Review: 5 Ways To Make Money Online with Clickfunnels – Conclusion
Now that you have read this Clickfunnels review, you can surely see that there are many ways to make money online with Clickfunnels.
Clickfunnels is one of the best funnel-building platforms out there.
The $97 monthly price tag may seem a little big when you first start, but once you get inside and see what it can do, you'll realize why it's that price and why it's worth it.
You could earn your investment back and then more, if you follow the tips mentioned above.
Give it enough time, and you could scale to life-changing earnings.
Just remember it can take a little trial and error, lots of hard work, and major focus until you start making great profits.
Do not be deterred if the cash doesn't roll in right away.
It can take a while to build up your authority and the know-like and trust factor to get people to spend their cash with you.